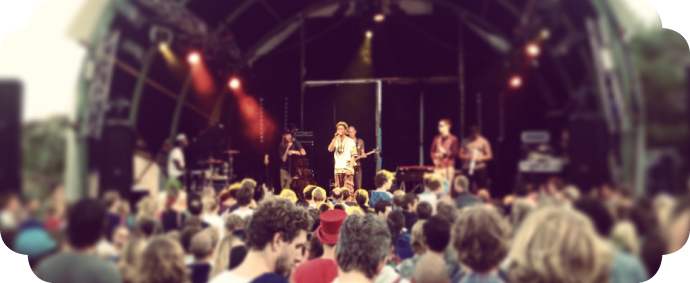 Eerder deze week liet ik jullie mijn insta moments zien van onze avonturen op Into The Great Wide Open. Nu laat ik jullie mijn favoriete bandjes van afgelopen weekend zien, want daar kwamen we immers voor.
THE KIK
ITGWO over The Kik: Toen The Kik een paar jaar geleden op donderdag Into The Great Wide Open opende, bestond de band net een week of twee. Met zelfs nog Engelstalige nummers in het repertoire, je gelooft het haast niet he? En toen was daar dat geweldige debuutalbum – Springlevend -, succesvolle club- en festivaltoers en natuurlijk onvermijdelijk om te noemen: het huisbandschap van De Wereld Draait Door. De band rond Dave von Raven komt hun zalige Merseybeat nog één keer voor ons spelen, voordat ze aan een nieuwe plaat gaan werken. Duimpies Up voor The Kik!
Ik over The Kik: (dat rijmt…) The Kik opende het festival. De zon scheen, er was bier in overvloed en de vrolijke liedjes van The Kik droegen bij aan de triomfantelijke sfeer. The Kik is een band die het erg goed doet op een festival, goede muziek, gezellige kletspraatjes en zelfs een stel festivalkraker om iedereen aan het dansen te krijgen. Beter had het festival niet kunnen beginnen.
TYPHOON
ITGWO over Typhoon: Typhoon, Vlieland en Into The Great Wide Open: het is al eerder een gouden combinatie gebleken. De meester van de dynamische, positieve en muzikale hiphop komt terug. Niet alleen met zijn vrienden van Fakkelbrigade, maar ook met een speciale eigen show met band. Verwacht dus hiphop met invloeden uit onder andere de traditioneel Afrikaanse, Oosterse en jazz-muziek. Een tweede solo album – de opvolger van Tussen Licht en Lucht – is onderweg. Super goeie gast ook, we zijn blij dat hij er weer is!
Ik over Typhoon: Voor mij het mooiste concert van het festival. Ook omdat alle omstandigheden perfect waren. Het was de eerste keer dat we bij het podium in de duinen stonden (het bleek ons favoriete podium), het was heerlijk weer, we hadden een goed plekje en iedereen om ons heen was even enthousiast. Ik kende deze jongen nog niet, maar Tom en Koos wisten dat het alleen maar mooi kon worden. Er werd ontzettend mooi gespeeld en op precies de goede momenten spatte de energie van het podium. Echt een aanrader om een keer live te gaan zien!
(De video is ook echt van afgelopen weekend, mooi hoe snel dat soort dingen op internet worden gezet!)
CAYUKAS
ITGWO over Cayukas: POPmuziek! Vrolijkmakende, luchtige, dansbare liedjes van Cayucas ("ky-yook-us") uit Californië. Debuutplaat Bigfoot is hommage aan het slaperig kuststadje in San Luis Obispo County, Californië. Die stad, Cayucos, is nauwelijks veranderd in de afgelopen vijftig jaar, in tegenstelling tot de schreeuwende, toeristische trekpleisters langs de rest van de nabijgelegen kust. Bigfoot is als Cayucos: gemoedelijk, ritmisch, dromerig en flirtend met vijftig jaar West Coast-pop.
Ik over Cayukas: Dit is het concert waar ik het meest naar uit had gekeken. En het stelde niet teleur. Wederom op ons favoriete podium en weer hadden we een mooi plekje gevonden om te kijken. Het was zondagmiddag, het had de hele ochtend pijpenstelen geregend, maar opeens brak de zon door. Daardoor was de stemming euforisch en de beachy liedjes van Cayukas pasten precies bij die sfeer. Na afloop kocht ik de CD, die ik de volgende dag op de boot terug liet signeren door de zanger die toevallig met een broodje kroket langs ons tafeltje liep. Dat vind ik een van de mooiste dingen van dit festival. De bandjes zijn ook publiek en zie je de rest van het weekend nog op het festival en op de boot rondlopen.
KITTY, DAISY AND LEWIS
ITGWO over Kitty, Daisy and Lewis: Gaaf is dat: als een band die al jaren hoog op onze wensenlijst staat dan eindelijk eens de reis naar het eiland kan maken. Toen wij Kitty, Daisy & Lewis voor het eerst zagen, wisten we direct genoeg: dit móet ooit het Sportveld platspelen. Op editie vijf gaat het dan eindelijk gebeuren, mensen.
Kentish Town broers en zussen Kitty, Daisy & Lewis zijn extreem getalenteerde, originele muzikanten, die min of meer alles wat ze in hun handen krijgen kunnen bespelen. Het trio springt van het ene instrument naar het andere, variërend van piano naar lapsteel, banjo's, ukelele, accordeon, xylofoon en trombone om er maar een paar te noemen. 
Hun muzikale referenties en vaardigheden zijn geworteld in de oude traditie waarin liederen en muziek worden overgeleverd, gespeeld en bedanst op bijeenkomsten van familie en vrienden. Waar kan dat beter dan op Into The Great Wide Open?
Ik over Kitty, Daisy and Lewis: Ook hier keek ik ontzettend naar uit. De jaren 50-geïnspireerde  muziek werkte heel aanstekelijk. We stonden wat verder weg, maar nog steeds was goed te merken dat er een hele goede show werd neergezet. Ook heel bijzonder was dat elk nummer bijna alle muzikanten van plek wisselden. De zanger werd opeens gitarist, de gitarist de drummer, de drummer zanger, enzovoort. Dat zorgde er wel voor dat er altijd even een pauze viel tussen elk nummer, wat de vaart er wel wat uithaalde.
CHIC FEATURING NILE ROGERS
ITGWO over Chic: Een eer te mogen ontvangen: Nile Rodgers, levende legende/muziek-freak/hitmachine/muziekfabriek van beroep. Van all time classic disco-formatie Chic tot producer van wereldsterren (David Bowie, Madonna, Diana Ross en Grace Jones, om er een paar te noemen), labelbaas en maker van bekende soundtracks. Speelde met Screaming Jay Hawkins, Aretha Franklin en Betty Wright. In 2013 haast populairder dan ooit, dankzij zijn bijdragen aan de nieuwste van Daft Punk.
Al vijf decennia bezig en nog altijd relevant. Dan ben je geen hele grote, dan ben je misschien wel de grootste? Grandioos dansen al zijn hits. Konden we maar een enorme discobal onder een helikopter hangen en boven Vlieland laten vliegen… Chic en Nile Rodgers, de optimistische soundtrack van meerdere generaties en dus gemaakt voor Into The Great Wide Open.
Ik over Chic: De klapper van het festival. Groot disco-liefhebber Tom (de boyfriend) kon al weken niet slapen van het idee dat hij grootmeester Nile Rogers live zou zien spelen. Het concert begon ietwat stroef omdat er wat technisch problemen waren. Daarnaast stonden we vlak voor een stel mensen die zich zeldzaam vervelend gedroegen. Ze schreeuwden en scholden en krijsten alles bij elkaar. En het gekke was, het bleken de jongens van Tangarine en aanhang te zijn, een Nederlands duo dat ook speelde op ITGWO en dit seizoen huisband van De Wereld Draait Door is. Na een kwartier besloten we te verhuizen naar een plekje 10 meter verderop. De krijsende mensen lieten we achter ons en de technische problemen waren inmiddels opgelost. En het was waanzinnig. Alle muzikanten waren onwaarschijnlijk goed, de nummers kenden we allemaal en de show zat rete-strak in elkaar. Ook speelden ze ruim een uur langer door dan de bedoeling was. Amazing!
Dat was mijn top zes. Ik ga nu voor de honderdste keer de CD van Cayukas draaien om nog even in de sfeer van het festival te blijven…