Afgelopen weekend waren we even helemaal weg. De katjes hadden een oppas, ik had flink vooruitgewerkt voor de blog, de internetverbinding was bijna non-existent en onze telefoontjes waren na een dag al zo goed als dood. Op een nachtelijk bezoekje naar de wc (rits, rits, kruip, kruip, struikel, struikel) en een tegenvallend bordje eten (chicken tonight IS GEEN CURRY) na, heb ik heeeeeel erg genoten van ons weekendje festival. Ik heb lekker geslapen, heerlijk gegeten, mooie muziek gehoord en een paar bijzondere dingen gezien..: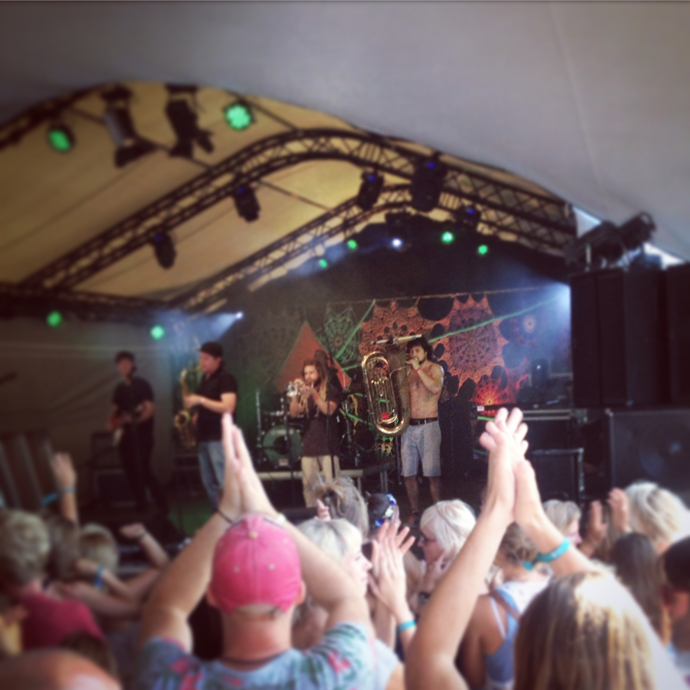 #1 Jon Snow die de tuba bespeelt. Zonder shirt.
Van tevoren had ik in mijn programma-boekje aangekruist wat ik wilde zien. Ik was uitgegaan van de paar nummertjes die me wel waren bevallen op de Spotify lijst die WTTV (ik was erbij, behoor bij de intimi en mag het festival dus voor het gemak afkorten) zo vriendelijk voor iedereen in elkaar had geknutseld. Er stond een cirkeltje om Nomadic Orchestra en dus liepen Tom en ik braaf naar de tent waar een hele groep mensen al op en neer stond te springen op de deuntjes van vrolijke balkan toeters. De perfecte muziek voor als je vrolijk bent en het mooi weer is. Tom en ik wrongen ons tussen het publiek en ik zag tot mijn verbazing tijdens het op en neer springen dat Jon Snow (als je niet weet wie dat is, ga dan als de wiedeweerga Game of Thrones aka de beste serie ooit kijken) zonder shirt de tuba aan het bespelen was. Happy days!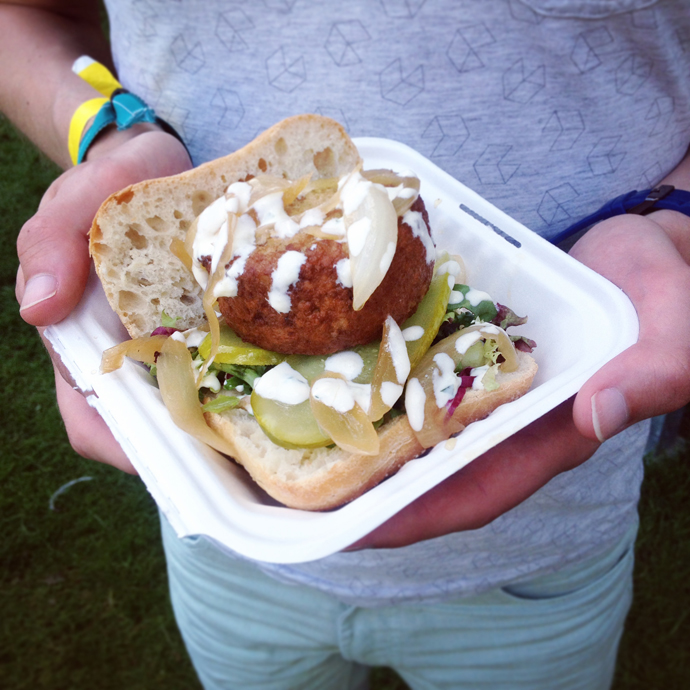 #2 Een vega-bal, vermomd als gehaktbal.
Festival-food is goooooooooood! Vroeger was het alleen patat en pizza, maar tegenwoordig kun je heer-lijk eten op festivals. Alleen de vega opties zijn wat aan de karige kant. Er zijn heerlijke broodjes pulled pork, hotdogs en kibbeling van verse vis, maar de vegetariër met stevige trek heeft flink minder keuze. En drie dagen alleen maar vlees eten vind ik ook niet zo prettig. Toen ik een vriendinnetje vroeg naar de enorme bal gehakt op brood die ze zat te eten zei ze: 'oh nee, dit is geen vlees hoor, het is vegetarisch, heel lekker.' En het wonder heette: de FESTI-BAL. I kid you not. Hij was enorm, hij was juicy en lekker hartig. Tom heeft zich behuild van het lachen toen ik een poging deed om mijn mond wijd genoeg open te krijgen zodat ie erin paste. Hij was heerlijk. En ik gok, dat met die naam, hij waarschijnlijk wel op meer festivals te vinden zal zijn. Houd je ogen dus open voor deze vegetarische krachtpatser!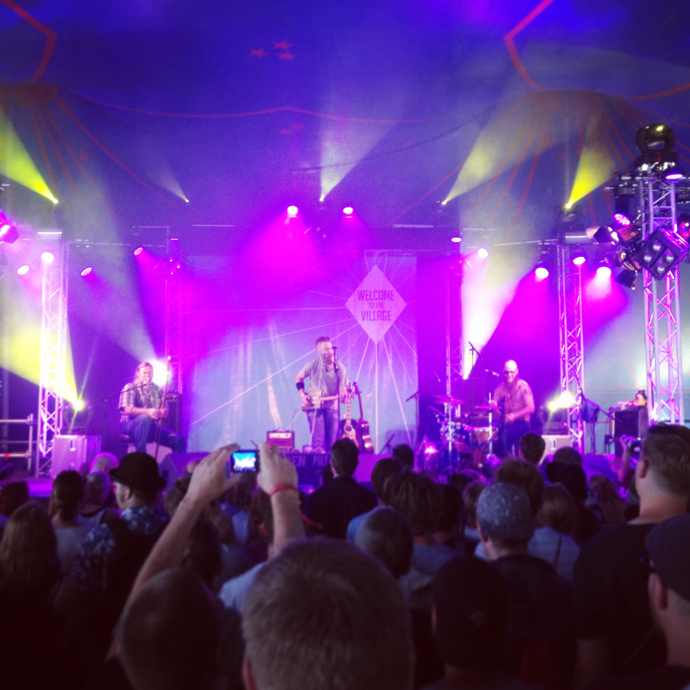 #3 Een wasbord met disco-lichtjes.
Een andere band die ik had omcirkeld in mijn programma-boekje was de Ben Miller Band. De paar nummers die ik had beluisterd had ik bestempeld als 'trucker blues' en daarmee was de helft van onze festivalgroep om en ging mee. De man op rechts trok op een gegeven moment een gegeven moment een stel handschoenen aan. Niet omdat hij het koud had (dan had hij beter een shirt aan kunnen trekken) maar… om op zijn elektrische wasbord te spelen. OW YES! En toen het ding ook nog voorzien bleek te zijn van discolampjes was het feest helemaal compleet. Wat mij betreft hét optreden van het festival. Muzikaal gezien geweldig, maar het was ook steeds weer een verrassing welk instrument er nu weer het podium opgesleept zou worden. Ik heb gitaartjes gezien van sigarenkisten, een ouderwetse telefoonhoorn die als microfoon werd gebruikt en tenslotte, elektrische lepels. Geen grapje. Het was geweldig.
#4 Een croissantje met knakworst.
We waren met een man of veertien naar het festival en hadden een kamp gebouwd met binnenplaatsje. En iedereen had heel sociaal heel veel eten meegenomen waardoor een ochtendsnack (iemand een appeltje?) veranderde in een gezellig ontbijtje (iemand een gebakken eitje?) wat weer overging in een uitgebreide brunch (wie heeft er zin in knakworsten?). Op de laatste dag was de proviand nog lang niet op en werd het koortsachtig uitgedeeld want God forbid dat we het allemaal weer mee moesten slepen naar huis. Er ontstonden wat bijzondere combinaties, waaronder het croissantje met knakworst. Het croissantje had betere tijden gekend en de knakworst stak er half uit. Door omstanders werd het tafereel beschreven als: 'het lijkt net alsof iemand anders het croissantje eerder al een keer heeft opgegeten, weer heeft uitgespuugd en jij er een knakworst hebt ingestoken.' Eet smakelijk.
#5 Japanse James Brown, compleet met pak.
Dit was het laatste optreden van ons festivalweekend en allebei onze telefoontjes waren al een hele tijd overleden. Hier is dus geen beeldmateriaal van, je zult me dus op mijn woord moeten geloven. Er kwam een zestal Japanse mannen in een donkerpaars pak met hele serieuze gezichten het podium opgelopen. Ze speelden twee nummertjes die ik graag omschrijf als 'filmmuziek voor Kill Bill' en net toen Tom en ik het wel welletjes vonden (leuk hoor, maar het was tijd om naar huis te gaan) kwam daar Japanse James Brown het podium opgestormd met een paar hele, eh, bijzondere danspasjes. Hij vroeg 'how y'all doin'?!' en begon James Brown-style nummers te zingen. Op de achtergrond voerden de drie blazers een ingestudeerd stukje uit (ik ben een sucker voor dat soort dingen) waarbij de ene blazer naar beneden dook terwijl de andere blazer rakelings met zijn blaasinstrument over zijn hoofd scheerde. Dat was vooral mooi toen één van de twee zijn move vergeten was en ze tegen elkaar opbotsten. De muziek was vrolijk en de band heel strak, maar we wisten niet zo goed wat we ervan moesten vinden, haha. Time to go home!
♥♥♥
In de Confetti Soap van aankomende zondag nog veel meer WTTV kiekjes en verhalen. ;)