Awwwww yessssss! Het is weer bijna zover. Het feest van glitter & glamour, van slechte nummers, catchy liedjes, overdreven outfits, vuurwerk, nepwimpers en te korte rokjes gaat bijna beginnen. #Teamdouwe is al present in Stockholm en ook ik heb mijn gouden pruik alweer van stal gehaald. Het is weer Eurovision tijd…
Het Songfestival is voor mij wat het WK/EK voor de rest van Nederland is. Alleen duurt het bij mij maar één weekje en gaan daarna alle vlaggetjes en confetti poppers weer de kast in. Nederland maakt tegenwoordig weer een beetje kans (als we de trainwreck van vorig jaar even vergeten) en dus is het zelfs weer een beetje spannend.
Om de feestvreugde extra aan te dikken en vooral om non-Eurovision-liefhebbers óók te overtuigen om mee te kijken, maakte ik weer een tiental bingo kaarten. In kleur met extra sterretjes dit jaar want ik heb er extra veel zin in: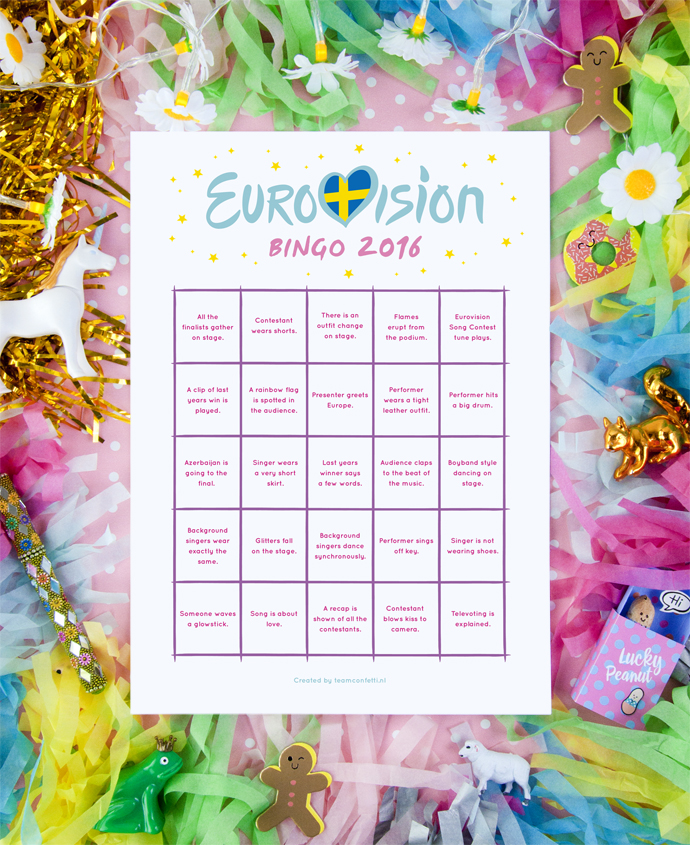 De over the top sfeer heb ik goed terug laten komen dit jaar en ik heb zelfs de 'lucky peanut' die Vera voor me maakte erbij gehaald. Want als je de Bingo wil winnen, heb je natuurlijk wel een beetje extra geluk nodig.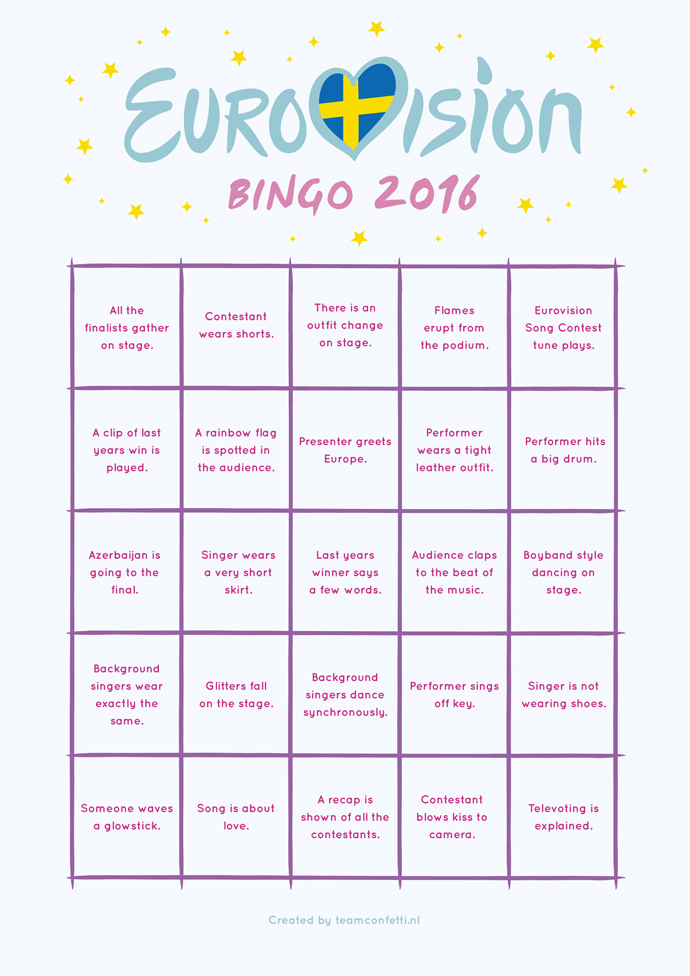 Zoals ik al zei zijn er tien verschillende bingo kaarten. Je kunt dus met tien mensen tegelijk spelen. Als er meer mensen aanwezig zijn op jouw Eurovision feestje (goed bezig) dan moet je even delen. En nog even een belangrijke mededeling: deze kaarten zijn bedoeld voor de eerste halve finale op 10 mei om 21.00, die waar Nederland sowieso aan meedoet.
Ik heb mijn best gedaan om de bingo zo leuk en spannend mogelijk te maken, maar ik kan niet in de toekomst kijken en het kán dus zijn dat er binnen vijf minuten al bingo is óf dat er helemaal niemand bingo heeft aan het einde van de uitzending (maar dat is tot nu toe nog niet voorgekomen). Bingo is bij mij vijf op een rij (horizontaal, verticaal of diagonaal) maar je kunt de spanning verhogen door de héle kaart vol te maken. En bij een valse bingo, je weet het, een liedje zingen! Shalalie Shalala lijkt me de meest voor de hand liggende keuze.
★  ★  ★
KLIK HIER OM DE EUROVISION BINGO 2016 TE DOWNLOADEN
★  ★  ★
Als je de bingo gaat spelen, laat het me dan vooral weten bij de comments of op social media.
Ik ben zo benieuwd wie er straks roept: 'JA! HIJ ZONG VALS, NU HEB IK BINGO!!!'