Het is winter, eindelijk! Of nouja, hier in het noorden dan. In de rest van het land schijnt het saai grijs regenweer te zijn. Maar hier heeft bijna iedereen ijsvrij (Tom ook, heel gezellig), schaatsen mensen over straat en loopt men over de weg alsof ze a. een zombie zijn of b. bij the ministry of funny walks werken. En voor iedereen die ijsvrij heeft en iets te doen zoekt en voor iedereen die in de saaie regen zit, heb ik een hele leuke nail art tutorial gemaakt. Hij is heel mooi, supersimpel en je zit meteen in winterse sferen…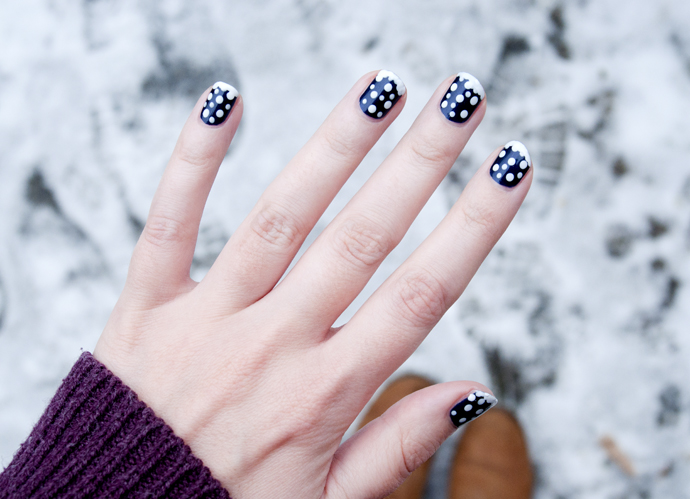 Let it snow, let it snow, let it snow… Met deze tutorial komt het niet zo precies en als je de juiste tools in huis hebt (en die heb je vast), dan is het zo gepiept. Drogen duurt wel eventjes, dus ik raad minstens een half uurtje tv kijken erachteraan. ^_^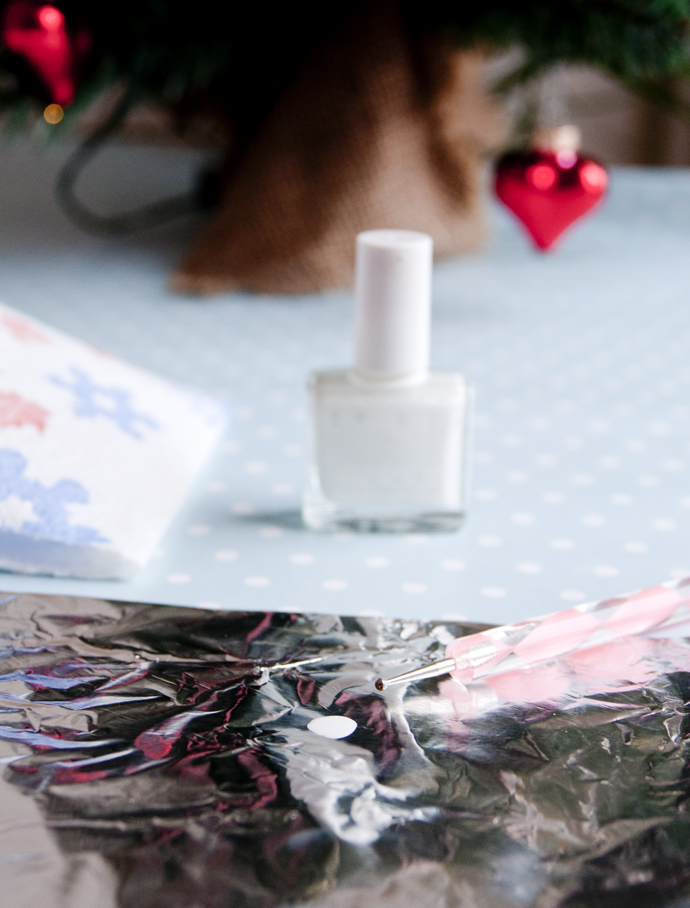 WAT HEB JE NODIG?
❄ Witte nagellak en donkerblauwe nagellak.
❄ Aluminiumfolie of een stukje karton.
❄ Een dotting tool of een speld met een kop.
❄ Een stukje keuken- of wc-papier.
❄ Eventueel een base-coat en een top-coat.
That's it! Zo'n tool is dus niet nodig, maar wel reuze handig. Anders wordt het toch een beetje pielen. Ze kosten bijna niks en je kan ze volgens mij makkelijk vinden bij HEMA of Kruidvat. En dan kun je voor de rest van je leven stipjes maken op je nagels (dat wil je toch niet missen?).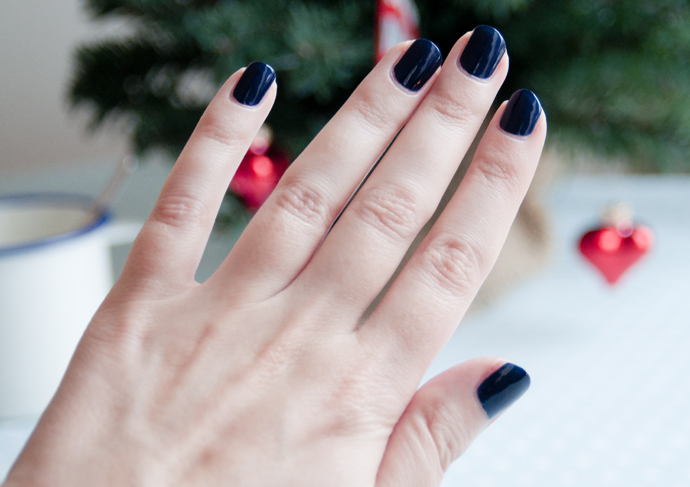 Logischerwijs doe je eerst de donkerblauwe nagellak op. Ik heb eentje van een oude collectie van Essie en die is heel fijn, maar niet meer te koop. En voordat ik twee blauwe laagjes op mijn nagels smeer (doe altijd twee laagjes, dat is zoveel mooier en schijnt bijna nooit door), breng ik eerst een base-coat aan. Deze beschermen je nagels een beetje tegen verkleuring en je nagellak blijft beter zitten. Ook zijn er base-coats die je nagels verzorgen en als je vaak nagellak op hebt, kan dat zeker geen kwaad.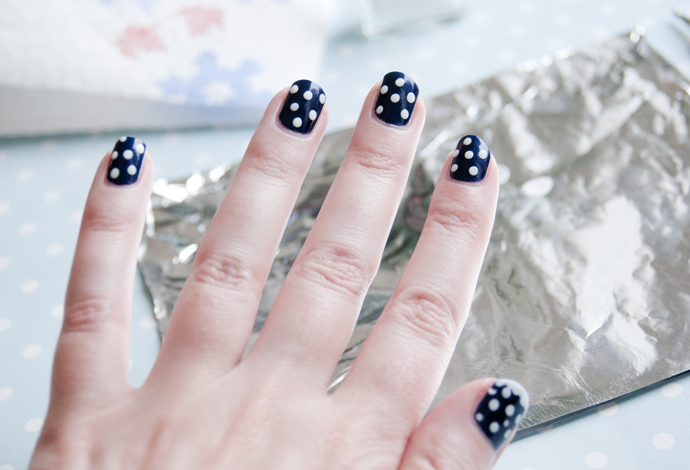 Als je blauwe nagels droog zijn, dip dan een klein kwakje witte nagellak op je aluminiumfolie of karton. Het droogt vrij snel uit, dus doe niet teveel, dat is zonde van je lak. Doop je dottingtool of speld in de lak en zet een stipje op je nagel. Herhaal dit. Dip, stip, dip, stip, dip, stip. Totdat je ongeveer zes grote stippen per nagel hebt. Als je kwakje opdroogt, maak dan een nieuw kwakje en veeg je tool tussendoor af aan je papiertje.
Je kunt het bij grote stippen laten, maar een paar kleine stipjes tussendoor, geeft het wat meer diepte. Dit kun je bereiken door de zijkant van je tool te gebruiken en wat 'lichter te stippen'. Ja, ik verzin hier de nail tutorial termen waar je bij staat…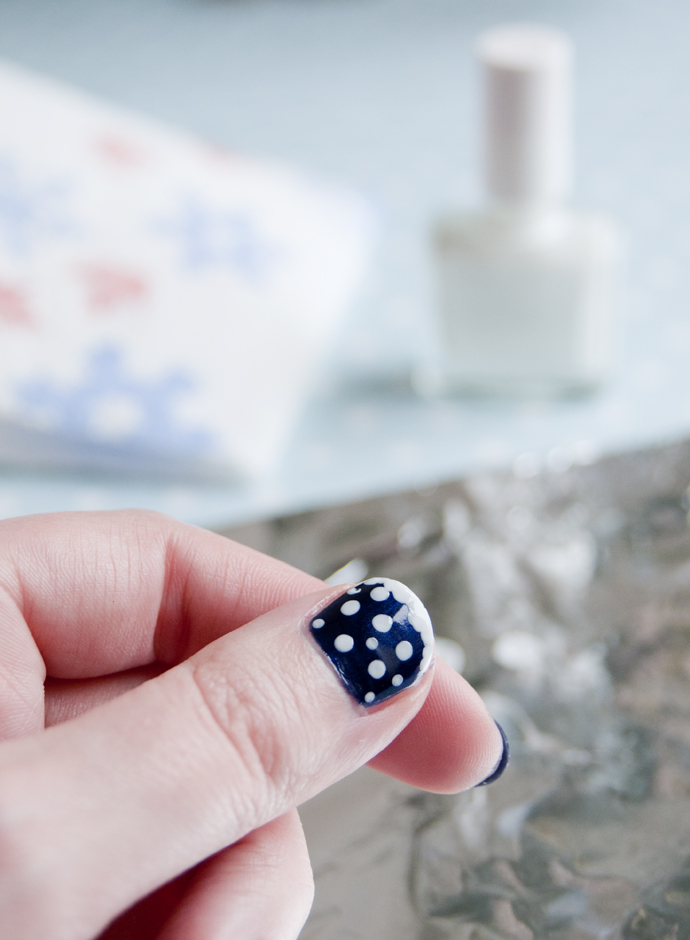 De laatste stap: een soort extreem rommelige french manicure maken met je tool. Gewoon weer stippen, maar dan met overlap. Kind kan de was doen.
De ALLERlaatste stap: top coat aanbrengen. Dat je een base-coat een beetje bullshit vindt, daar kan ik inkomen. Maar een top-coat is echt een must als je een tijdje plezier wil hebben van je noeste arbeid. En gebruik dan als-je-blieft Insta-dri van Sally Hansen. Want dat is echt wonderspul. Het spulletje kost €10,- (I know) maar ik kan niet zonder. Geen gekreukelde nagels meer na een nachtje slapen, I swear!
Et voila!
Prachtige winterse nageltjes met sneeuwvlokken die ook blijven liggen als het gaat dooien…
❄ ❄ ❄