Old maps, they are so beautiful, but overruled by all the modern maps we have nowadays.
Toen ik laatst weer eens aan het opruimen was, kwam ik een stel oude stadsplattegronden tegen. Ze zien er prachtig uit, maar laten we wel wezen, ik gebruik ze nooit meer. Ik heb nu gps op mijn mobiel, Google maps op de computer en TomTom in de auto. Ze zijn een stuk gebruiksvriendelijker en laten het me weten als ik de verkeerde kant op ga. Maar de charme van zo'n oude kaart zullen ze nooit krijgen…
Tijdens het opruimen kon ik het dan ook niet over mijn hart verkrijgen om ze weg te gooien. In plaats daarvan besloot ik iets moois te maken van die oude Stadsplattegrond van Groningen die nog van mijn ouders is geweest en die ik mee kreeg toen ik ging studeren.
I decided to make my old map of Groningen into a festive banner.
BENODIGDHEDEN:
– Een oude stadsplattegrond.
– Een stuk koord.
– Lijm.
– Schaar.
– Potlood + een glas (of cirkelpons).
WHAT YOU WILL NEED:
– An old map.
– A piece of string.
– Glue.
– A pair of scissors.
– Pencil + a glass (or a hole punch)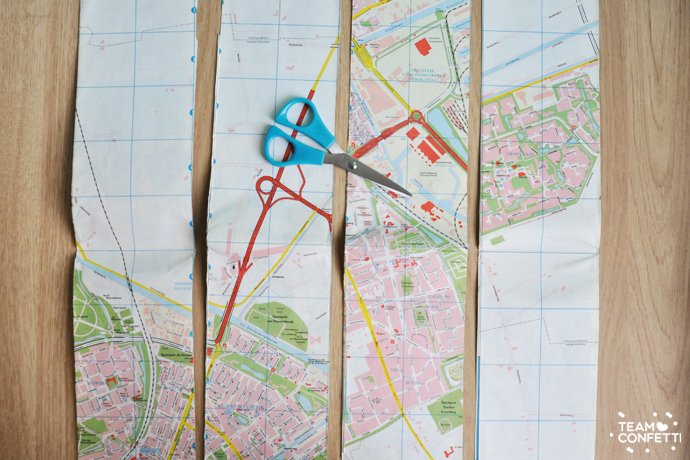 Knip de stadsplattegrond in lange repen.
Dit maakt hem wat handzamer en je kunt makkelijk over de vouwen knippen.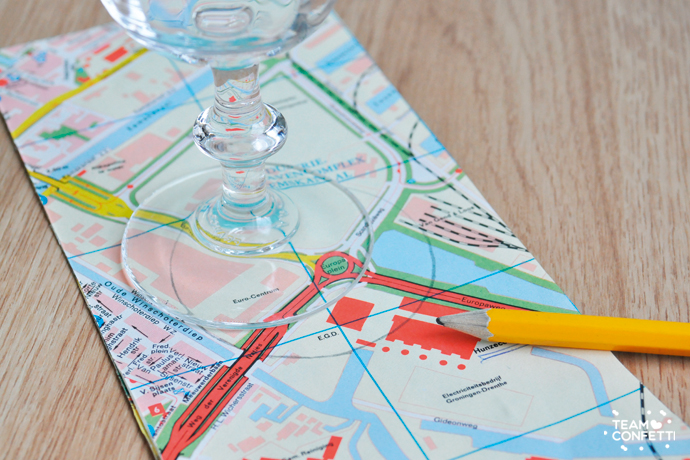 Teken met een potlood en een glas (of iets anders ronds) cirkels op de kaart. Het is extra leuk om je favoriete plekjes van de stad, waar je mooie herinneringen aan hebt, uit te kiezen. Zo ziet de slinger er niet alleen mooi uit, maar is het ook een mooi aandenken.
Draw a circle or use a hole puncher to make the circles.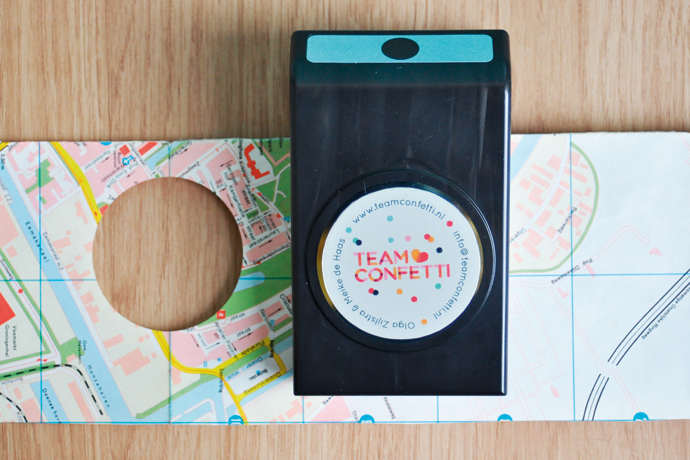 Knip de cirkels uit of gebruik een pons. Deze pons gebruiken wij om onze zelfgemaakte visitekaartjes mee uit te snijden, maar hij is ook erg geschikt voor het maken van slingers kwam ik achter…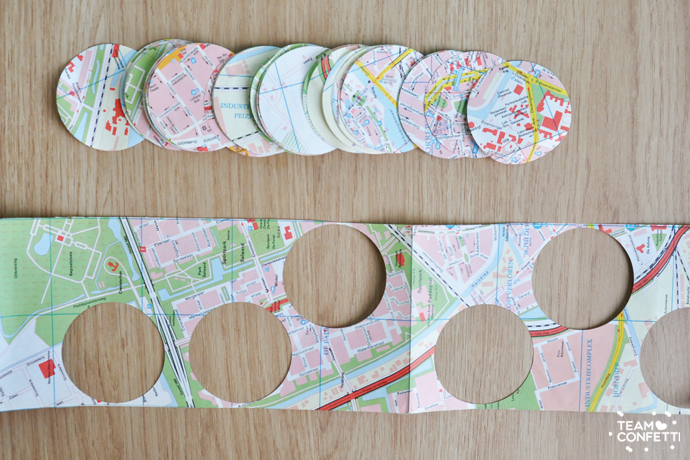 Je kunt heel veel cirkels uit een stadsplattegrond halen…
Vouw de cirkels eerst dubbel, vouw ze weer open en doe wat lijm op de binnenkant. Zorg dat er ook wat lijm in de vouw zit, zodat het koordje niet gaat schuiven. Plak de cirkel dicht en druk goed aan.
Maak de slinger zo lang als je wil, of maak er meerdere. Ze doen het ook goed als cadeautje aan vrienden of familie die bijvoorbeeld gaan verhuizen naar een andere stad.
***
Heb jij nog oude stadsplattegronden in huis?