Gisteren had ik een spontane actie. Dat gebeurt soms. Dan heb ik iets in mijn hoofd and I'll be damned als ik het niet meteen uitvoer. Tom en ik waren afgelopen weekend naar de Tuinland (zonder goede reden, ik vind het er gewoon fijn en ze bakken er geweldige uitsmijters). We kwamen een stel prachtige stoelen tegen die grandioos in de aanbieding waren, maar helaas niet in de goede kleur. Ze waren namelijk zwart en wij zoeken witte stoelen. 'Maar wat als ik ze nou eens wit spuit?' dacht ik gisterochtend en 's middags zat ik op de fiets, op weg naar Tuinland, om aan mijn experiment te beginnen…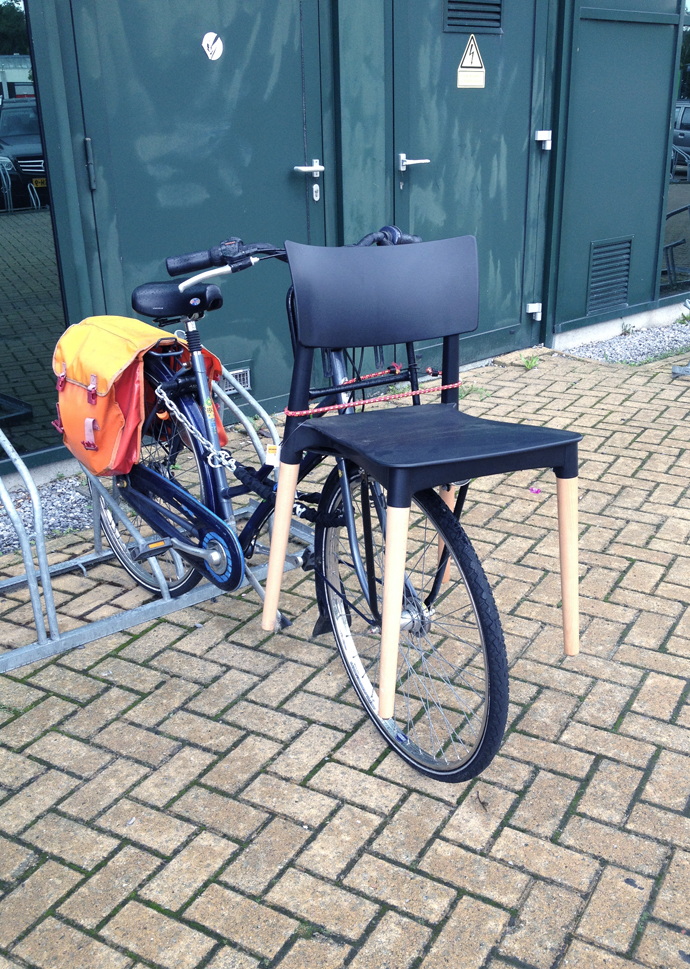 Dit is zo'n moment dat een rijbewijs hebben, heel handig zou zijn. Dus de volgende keer als ik motivatie probeer te vinden voor een autorijles, dan moet ik hier maar even aan denken, haha. Aan de andere kant is het me ook prima gelukt op de fiets (thank you fietsrekje) en ergens ben ik verbaasd dat er onderweg niet iemand voor op mijn fiets is gaan zitten, want het ziet er heel erg uitnodigend uit.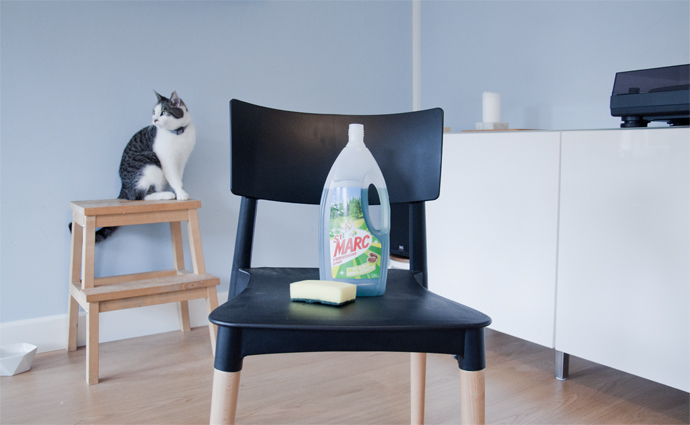 Thuis maakte ik de stoel stof- en vetvrij met mijn geliefde St Marc, terwijl Tetkees mijn project overzag. Hij bemoeit zich graag met alles waar ik mee bezig ben en laat tussen neus en lippen door weten dat hij wel een brokje zou lusten…
De pootjes moesten gewoon houtkleurig (dat is niet een kleur, but you know what I mean) blijven en daarom pakte ik ze in met plastic zakjes en schilderstape.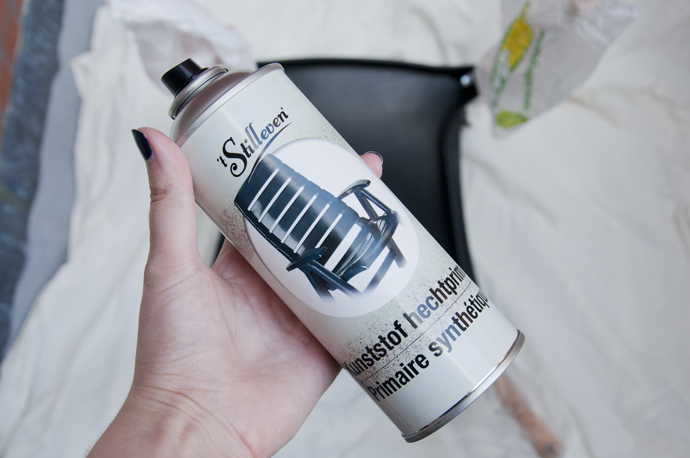 Dit vond ik zelf een ontzettend verstandige stap (very unlike me, ik heb heel weinig geduld als het om klussen gaat): primer! Twee laagjes over mijn stoel gespoten, geen idee of het ook echt nut had.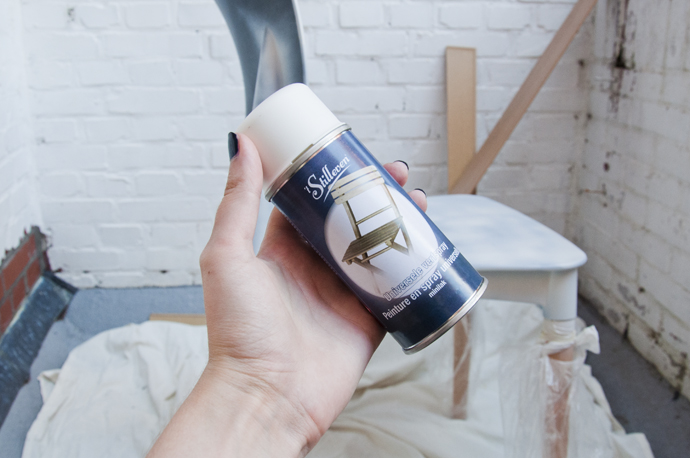 Tien minuutjes na de primer, mocht ik met mijn verfspray aan de slag. YES! En dit viel een beetje tegen. Het dekte niet heel goed (goh, gek met wit op zwart) en daarom zat ik na tien minuten alweer op de fiets om een nieuw busje te kopen. Beetje balen dat de Praxis bij mij om de hoek alleen mini busjes matte witte spuitverf voor op kunststof had. Grrrrom.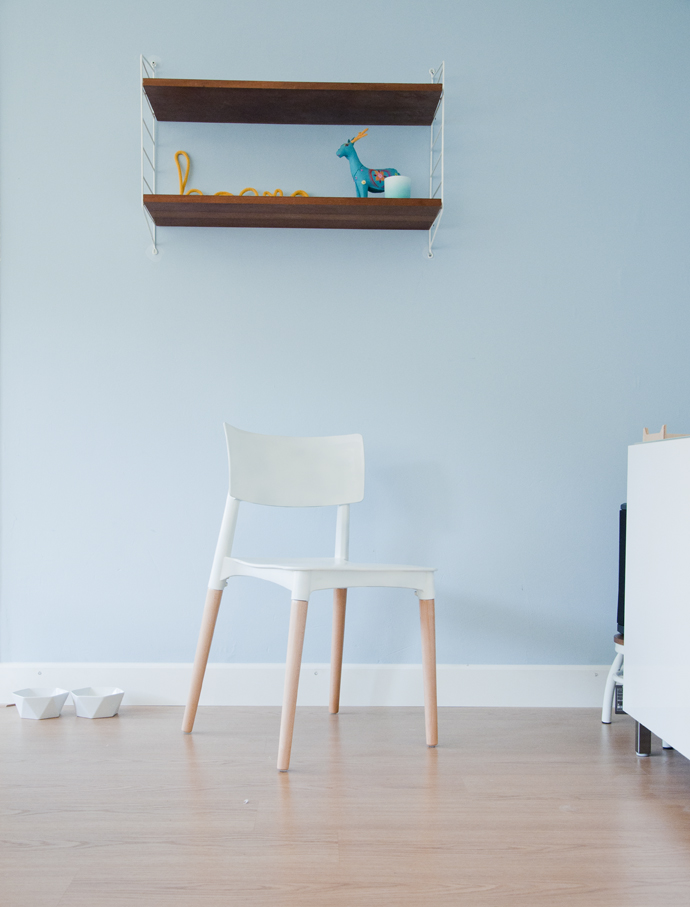 Met busje twee kwam ik een heel eind, maar een derde laagje zou het echt afmaken. Alleen had ik alle mini busjes verf in de Praxis al gekocht, ze waren op! Desalniettemin ben ik heel blij met het resultaat. Ik ga op zoek naar een GROTE bus matte witte verf voor op kunststof (please Action, ik hoop dat je me kan helpen en dat je een stukje voordeliger bent dan de Praxis) voor het laatste laagje. Als Tom het dan ook mooi vindt, dan halen we nog drie stoelen en houden we een spuit-party op ons balkon. :D
UPDATE: 25-01-2019
Op een klein krasje na her en der zien de stoelen er nog perfect uit. Wat denk ik goed heeft geholpen is a) de primer en b) het feit dat het kunststof ruw was en niet heel glad. Hierdoor bleef het goed zitten. Dat is wel iets om rekening mee te houden dus. ;)
☆☆☆
What do you say? Zal ik meer interieur DIY's gaan doen?
☆☆☆
Bovenstaanden stoelen zijn helaas niet meer te koop bij Tuinland, maar deze van LaForma lijken er sprekend op.