Gastblog door Heis – Net als mijn mede-Teamconfetti-ers en vele andere kerstliefhebbers kan ik niet wachten op kerst. Dit keer heb ik een hele makkelijke kerst DIY voor jullie. Een project met een hoog cuteness gehalte. Kriebelen je vingers al om het te maken? Kijk gauw mee!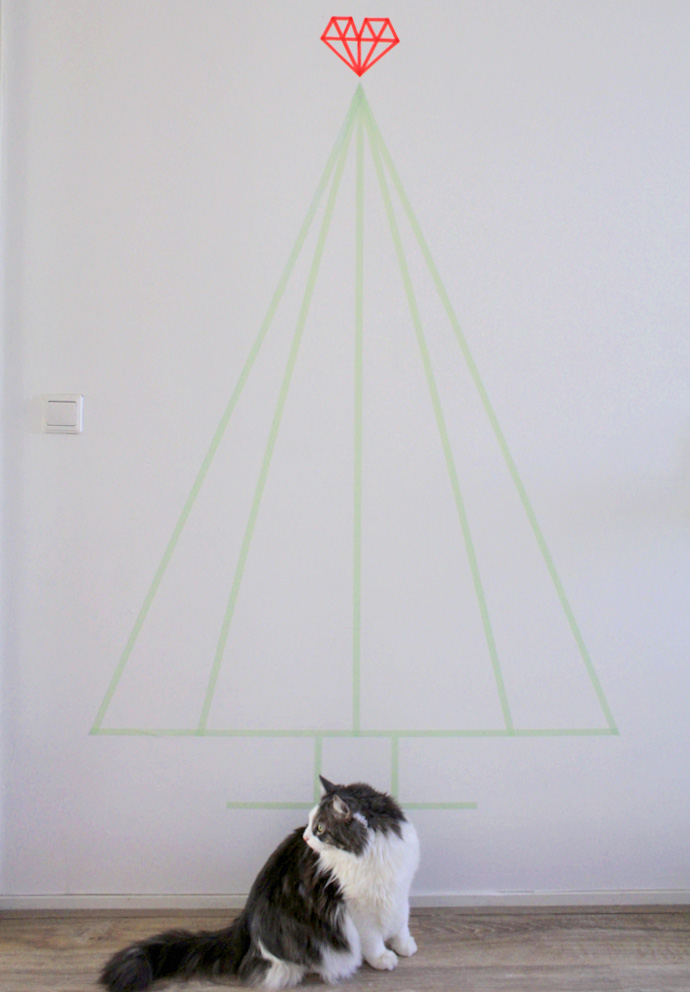 Ja, ik weet het. Het brengt ongeluk om de kerstboom op te zetten als Sint met zijn helpers nog in Nederland verblijven. En daarom maken we er eentje van tape, ik denk dat Sint dit keer wel over zijn hart kan strijken en een andere kant op kijkt.
Waarom zou je een kerstboom van tape maken? Nou, het neemt geen ruimte in, is beter voor het mileu, katbestendig en het ziet er ook nog eens super cute uit!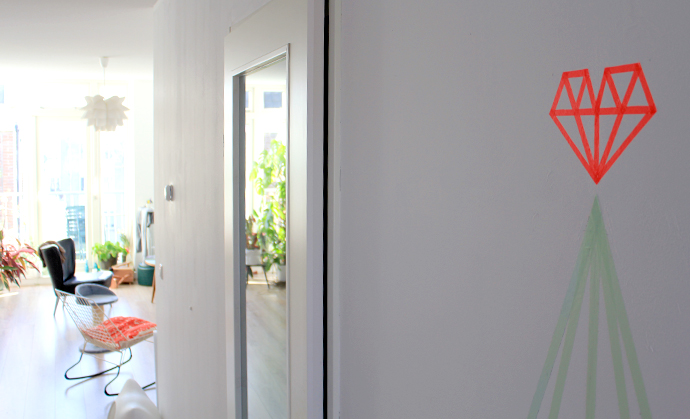 Je kunt mijn gebruiksaanwijzing volgen maar je kan het ook best een beetje improviseren. Met deze vorm kan je bijna niet de fout in gaan, hij bestaat alleen maar uit rechte lijnen!
Ik heb niet gekozen voor een ster of een piek bovenop de boom maar een hart. Ik merk dat de samenleving een beetje verhardt. En het is goed om even stil te staan bij de liefde en het medeleven dat jouw leven en dat van een ander veel leuker maakt. Een lach, een compliment, een kaartje sturen, voorrang geven op de weg, opstaan voor een ouder persoon in de tram en ik kan nog wel even doorgaan. Hopelijk maak je een paar nieuwe voornemens voor 2017.
Wat heb je nodig?
1 rol groene tape – je kan kiezen voor klassiek groen of misschien een zwarte boom!
1 smalle rol tape – voor het hart
een stuk touw
stanley mesje
potlood
meetlint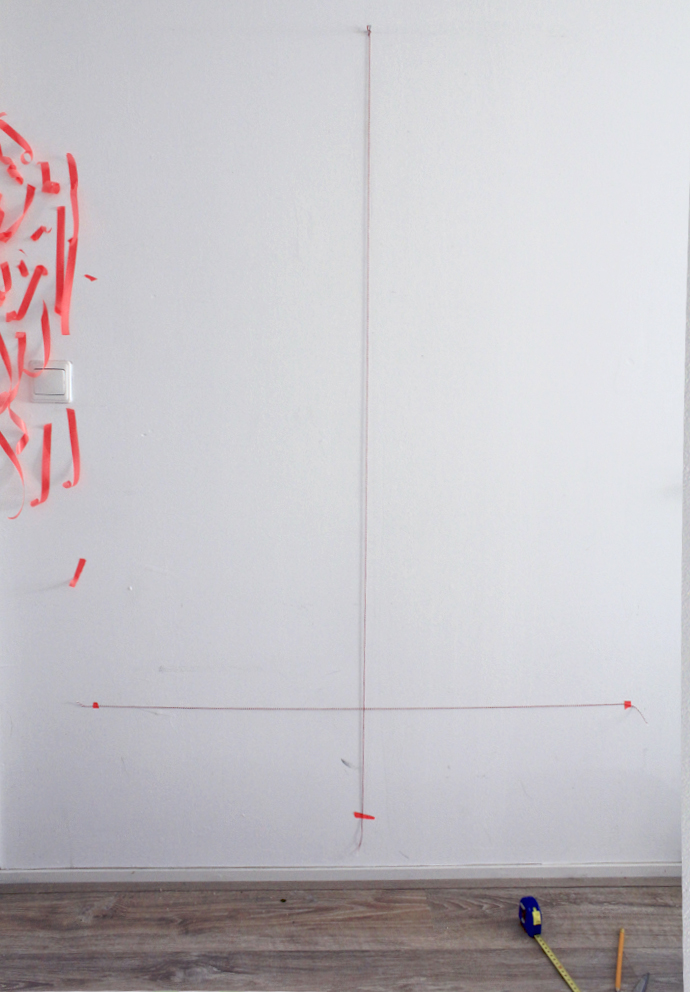 De kerstboom.
Mijn boom is ongeveer 150 cm hoog en 110 cm breed. Dat is net genoeg voor 1 rolletje tape om de boom te plakken. Kijk eerst op welke muur je de boom wilt tapen. Ook leuk in een kinderkamer – dan hebben je kleintjes een eigen kerstboom om zelf te versieren!
Plak op de muur een stuk touw om te kijken waar precies je de boom wilt. Dit geeft een goede indicatie of het niet te hoog of te dicht van de vloer staat.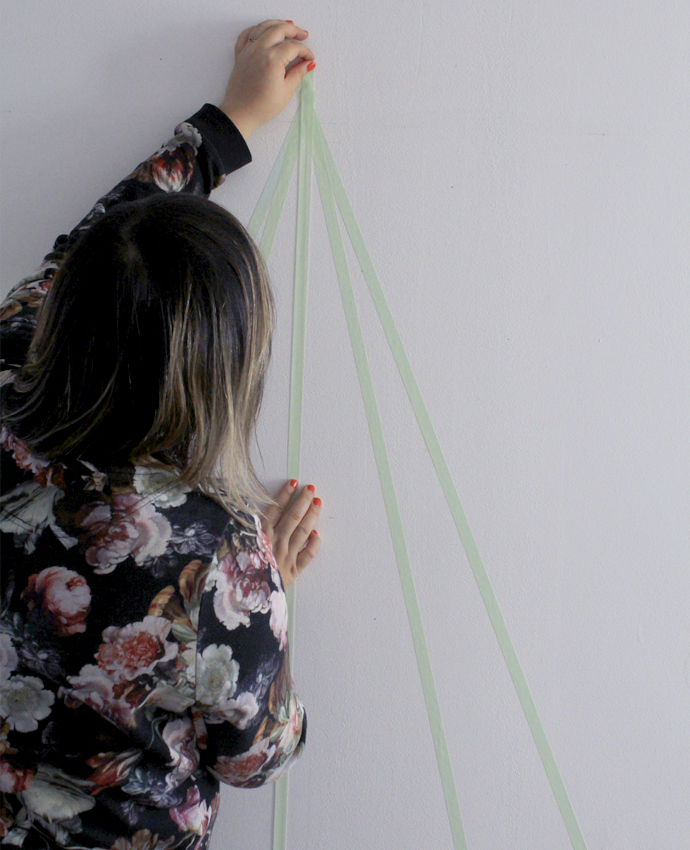 ☆ Plak eerst de rechte lijn van boven naar beneden – 135 cm.
☆ Kijk van een afstandje of de tape wel recht is geplakt.
☆ Dan de horizontale onderste lijn van de boom –  110 cm breed.
☆ Dan plak je de twee buitenste schuine lijnen. De boom is al bijna af!
Je kunt eventueel de twee binnenste schuine lijnen weglaten maar die lijnen maken de boom wel net even anders.
☆ Dan begin je aan de verticale lijnen van de stam – 15 cm breed.
☆ Vervolgens plak je weer een lange horizontale lijn onder de stam. Die is korter dan de horizontale lijn van de boom – 50 cm.
☆ Snij de overtollige tape voorzichtig af met een stanley mesje.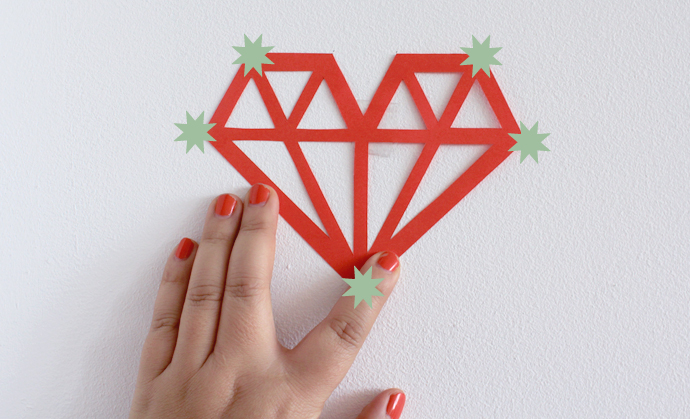 Het hart.
☆ Print het hart en knip de vorm uit. Ik heb een printable gemaakt die je hier kunt downloaden.
☆ Plak het hart met een stuk plakband op zijn plek bovenop de boom. Zet met een potlood kleine puntjes op alle hoeken van het hart.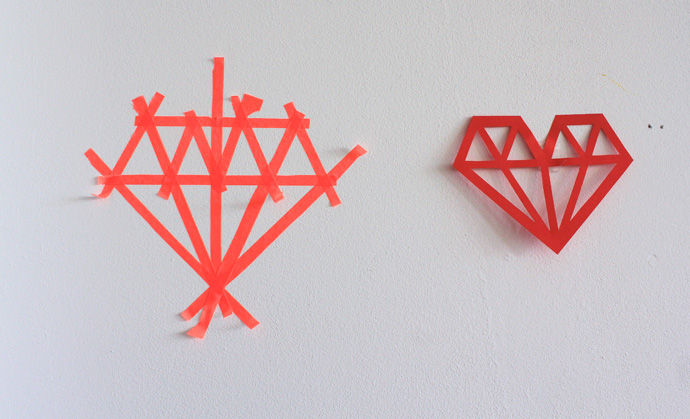 ☆ Haal het geprinte hart weg van zijn plek en plak het ernaast, zodat je kan kijken hoe het ook alweer in elkaar zit.
☆ Verbind de punten met tape.
☆ Heb je dat gedaan – begin dan pas het binnenste gedeelte te tapen. Blijf naar het geprinte hart kijken als je niet meer weet.
☆ Snij voorzichtig alle overtollige tape weg.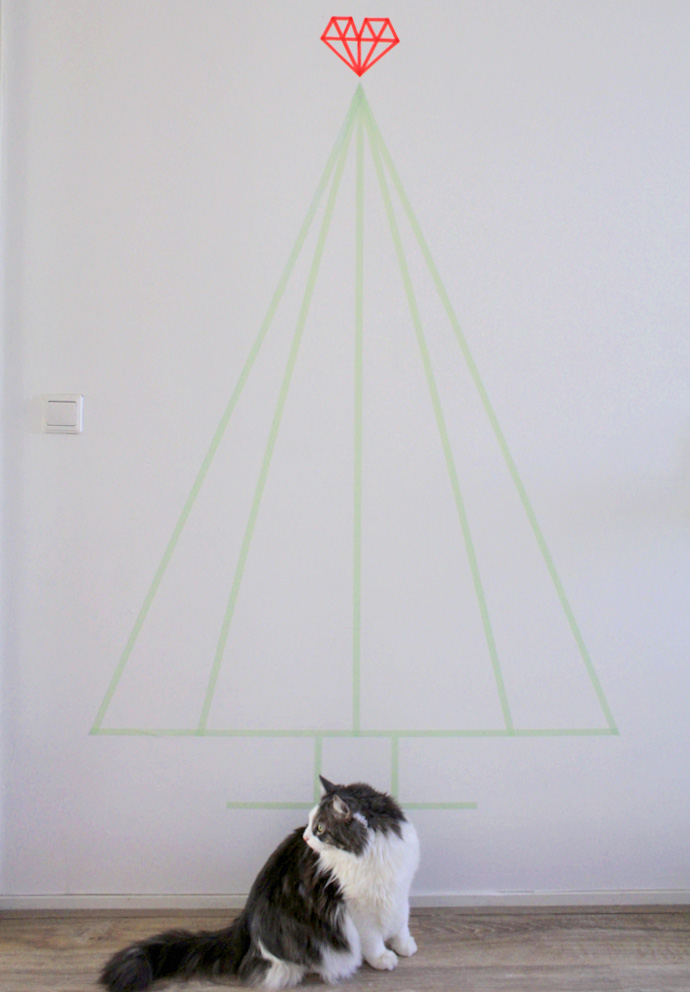 Klaar is kees! De boom is af. Het versieren van de boom van tape ga ik pas doen nadat Sint weer in Spanje zit. Dus kijk rond 7 december even naar mijn blog.
Vind je twee kerstbomen in je huis net iets teveel van het goede? Je kunt ook de ster van washi tape maken die ik vorig jaar heb geplakt.
♥♥♥
Heis is gek op kringlopen en mooie dingen en blogt één keer in de acht weken voor teamconfetti.nl.
Nieuwsgierig naar meer van Heis? Lees haar eigen blog of volg haar op instagram.