Gastblog door Vera – Zoals jullie inmiddels allemaal wel weten, ben ik zeer recent verhuisd. Vorige keer deelde ik al mijn home-office wishlist en ook deze gastblog staat in het teken van huis en interieur. Waar het hart vol van is, stroomt de blog van over. Ofzoiets.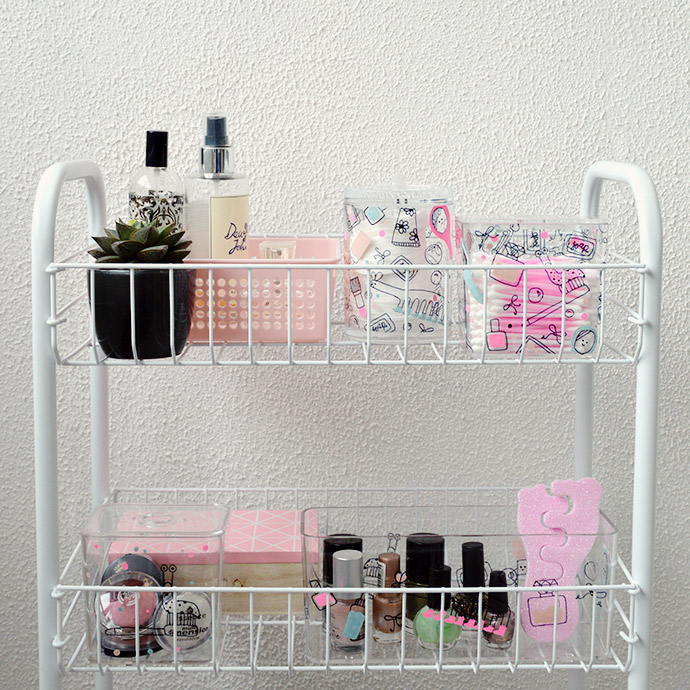 Natuurlijk vind ik ons nieuwe huis superleuk, maar als ik één minpuntje mag noemen, dan is dat wel de badkamer. Die is namelijk 2 vierkante meter groot. Echt waar. Ik overdrijf niet. Onze badkamer is 1 meter breed en 2 meter lang. Veel meer dan een douchebak en een wastafel past er dus niet in. Voor stijlvolle badkamermeubels en ditto kastjes is dus geen ruimte. En dat betekent dat John en ik met een slimme oplossing moesten komen voor onze toiletspullen. Dat is gelukt: we kochten een leuke trolley, zetten daar de spullen die we het meeste gebruiken op en die trolley stalden we in de slaapkamer. Wanneer we dan naar bed gaan, rijden we met onze trolley over de overloop van de slaapkamer naar de badkamer alsof we 'glampen' in ons eigen huis.
Maar je raadt het al: met zo'n trolley staan al onze toiletspullen wel altijd in het zicht in de slaapkamer. Niet de mooiste feature interior-wise. Daarom besloot ik de trolley eens goed te upgraden en er een toiletspullenwalhalla van te maken. En dat lukte zo goed dat ik dat vandaag in DIY vorm met jullie wil delen.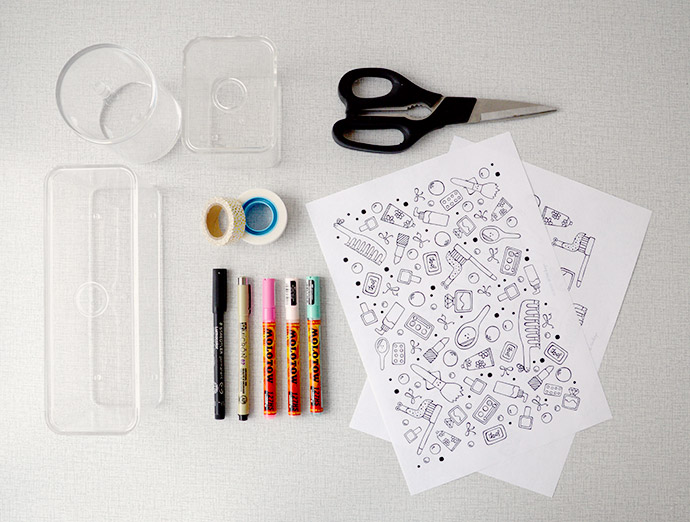 Je hebt nodig:
♥ plexiglas badkameraccessoires (ik kocht de mijne bij Xenos en Ikea)
♥ de printable die ik speciaal voor dit artikel maakte
♥ printer
♥ (tijdelijke) plakband of masking tape
♥ zwarte (waterbestendige) fineliner
♥ schaar
♥ optioneel: acrylstiften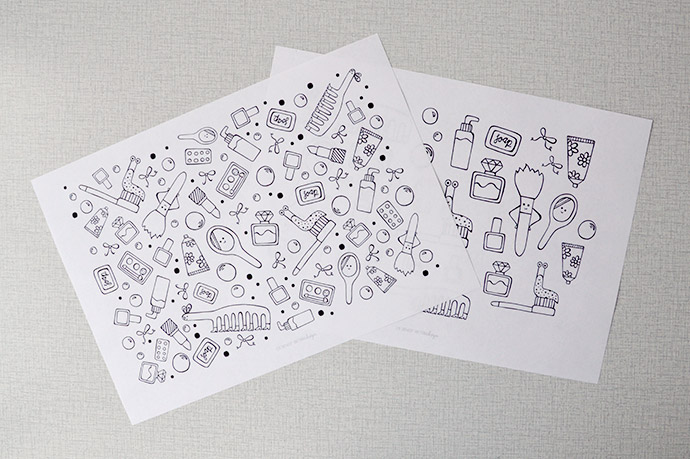 Zo doe je het:
Download de printable HIER en print de laatste twee pagina's.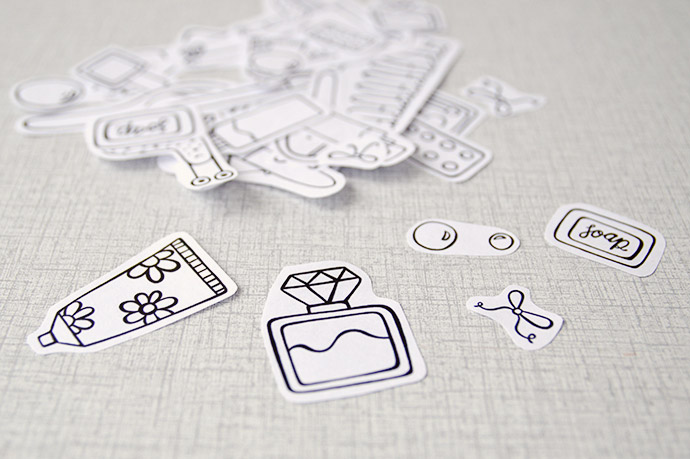 Zoals je op bovenstaande foto kunt zien, bestaat de printable uit twee pagina's: één 'patroonpagina' die je op maat kunt knippen van de accessoire die je ermee wilt betekenen en eentje met de illustraties los. Uit die laatste pagina kun je alle illustraties afzonderlijk knippen en op je accessoire positioneren zoals jij dat wilt. Ik maak in deze DIY met beide printablevellen een accessoire.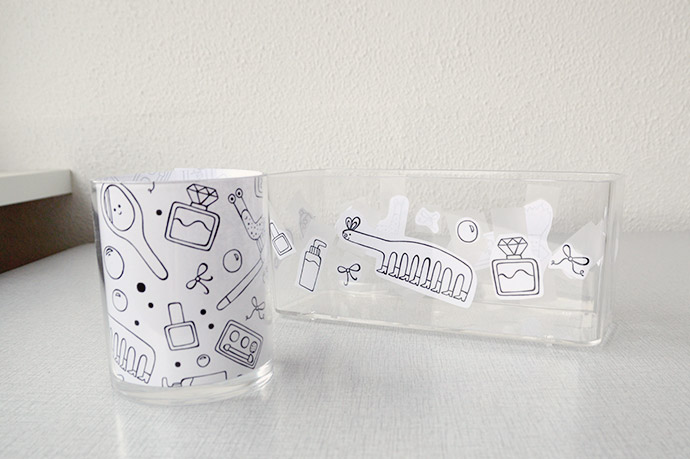 Plak je uitgeknipte printable(s) aan de binnenkant van je badkameraccessoires. Doe dit bij voorkeur met tijdelijke tape (dit bestaat echt: dit is verwijderbare tape van het merk scotch) of maskingtape. Gebruik het liefst een tape die niet te hard plakt omdat die ook makkelijk weer te verwijderen is, maar gewone plakband mag ook!
Nu komt het leukste deel, want we gaan de illustraties overtrekken op de badkameraccessoires! Probeer even op een klein stukje uit of je fineliner goed houdt op het plexiglas. Dit verschilt per soort plexiglas en per merk fineliner. Zelf behaalde ik de beste resultaten met fineliners van Staedtler. Ik koos ervoor om bepaalde delen die ik later wilde inkleuren niet over te trekken, zodat dat straks gekleurde vlakken zonder lijn worden. Leuk voor de afwisseling. Wil je geen kleur in je ontwerp, dan kun je gewoon lekker alles overtrekken en je hier en daar misschien extra uitleven met een arcering of een zwart vlakje. Maak bijvoorbeeld de schoenen van de kam helemaal zwart, of de haren van de kwast. Dit zorgt voor meer afwisseling en contrast in je illustraties.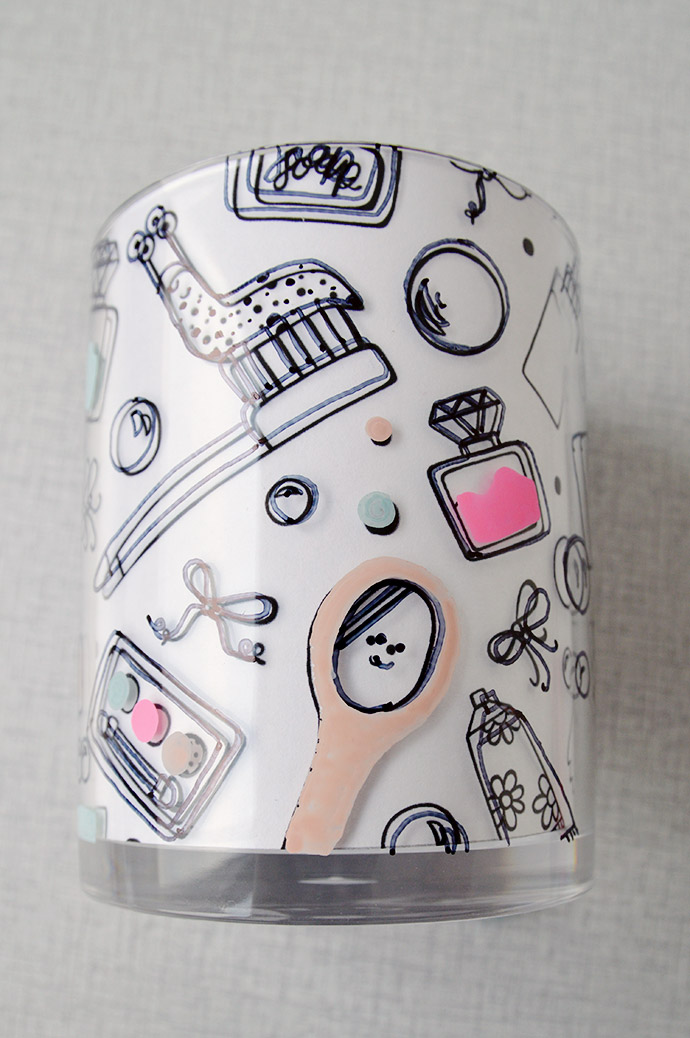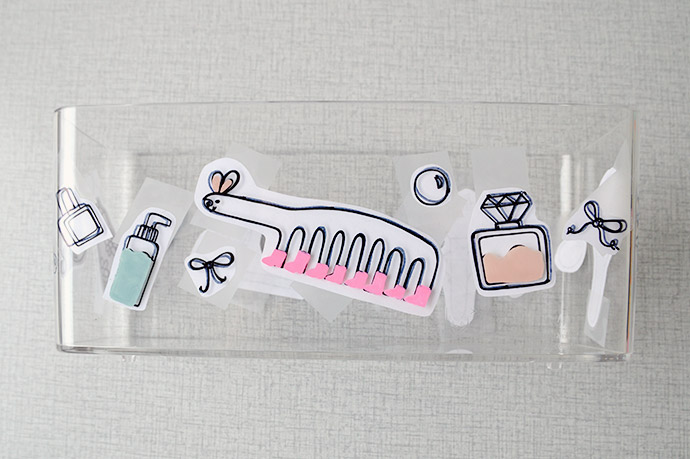 Heb je acrylstiften en wil je wat kleur toevoegen aan je illustraties dan kun je dat nu doen. Houd er wel rekening mee dat acrylstiften niet watervast zijn, dus het kan zijn dat je na een tijdje je illustraties hier en daar wat moet bijwerken als je de accessoires op een vochtige plaats bewaart.
Ben je klaar met tekenen? Haal dan de printable aan de binnenkant van je badkameraccessoires weg et voilà! Klaar is je toiletspullenwalhalla!
Heb je gewone plakband gebruikt en zijn er lijmresten achtergebleven op het plexiglas? Verwijder deze dan met nagellakremover of stickerverwijderaar. Ik had na het maken van dit artikel nog wat plexiglas accessoires over, dus ik leefde me extra uit. De resultaten daarvan zie je ook op de foto's hieronder.
Vul je accessoires met je toiletspullen en geef ze een mooi plekje. En mocht je je creatie delen op instagram, tag me dan even (@verabertens). Vind ik superrrrrleuk om te zien!
♥♥♥
Vera blogt één keer in de vier weken voor teamconfetti.nl. Ze is illustrator, allround mooie dingen maakster en ze heeft haar eigen label: Franje Design!