Gastblog door Heis – De uitgerekende datum nadert. Is de babykamer al af? Is de kamer geworden hoe ik het wilde hebben? Een update!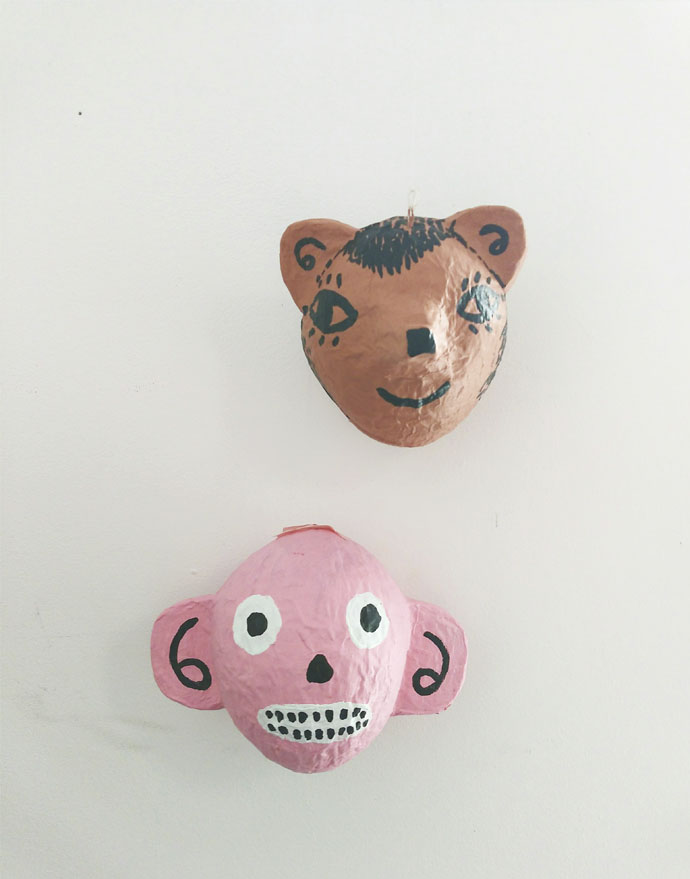 Een paar maanden terug vertelde ik over wat ik voor ogen had met de babykamer van kleine Reisje. (Ik heb het ongeboren wezentje een koosnaampje gegeven, dat maakt het veel makkelijker om tegen hem te praten!) Ik had grootste plannen in hoofd –  muren beschilderen, gekke accessoires en veel kleur. Als je benieuwd bent naar hoe de kamer eruit zag tijdens de grote schoonmaak kijk even naar mijn blog.
De grote schoonmaak heeft meer tijd in beslag genomen dan ik dacht. Jeetje, wat kan een mens veel verzamelen! Gelukkig heb ik veel spullen weggegeven en weggegooid.
Omdat we nog steeds bezig zijn met ons nieuwe huis, wilde ik eigenlijk zo min mogelijk nieuwe spullen kopen en daarnaast hou ik gewoonweg van leuke prijsjes. Nadat de kamer eindelijk leeg en opgeruimd was en de meubels (die ik al had) er stonden, kreeg ik een gigantisch huilbui. Ik wijt het ook aan mijn hormonale schommelingen van de zwangerschap. Maat wat was het een bij elkaar geraapt boedeltje – een eigenaardige lamp, felroze kast, donkerpaars tapijt en een verloren Deense vintage stoel. Ik dacht: gaat zo de babykamer er uit zien van onze eerste kindje?! Mijn vriend zag het probleem niet, mannen! Maar kleine aanpassingen, accessoires en het babybed bindden alles gelukkig weer een beetje bij elkaar.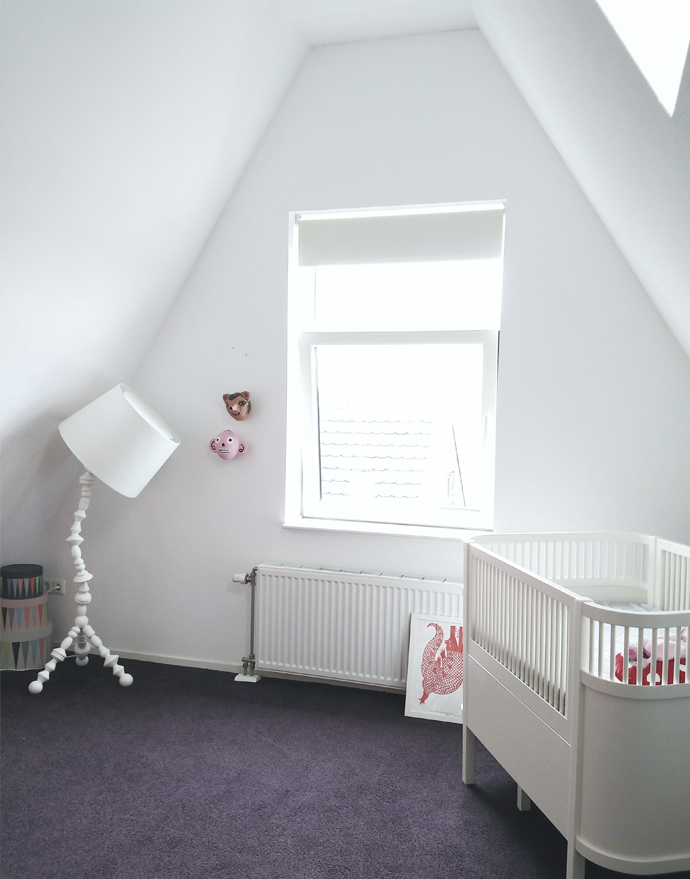 Ik hou jullie niet lang meer in spanning! Zoals jullie zien is het vrij sober! Na 5 jaar hebben we eindelijk een rolgordijn opgehangen. We hebben expres niet gekozen voor gordijnen. Ga ik ze anders weer gebruiken in het nieuwe huis?
De lamp is van de Ikea PS collectie uit 2009, die ik op marktplaats heb gekocht. De dozen zijn van de Ikea Brakig collectie. Het apenkopje en de vossenkop heb ik gemaakt door middel van papier maché. Ik vind het leuk om te maken en er komen straks nog meer leuke beschilderde gezichtjes!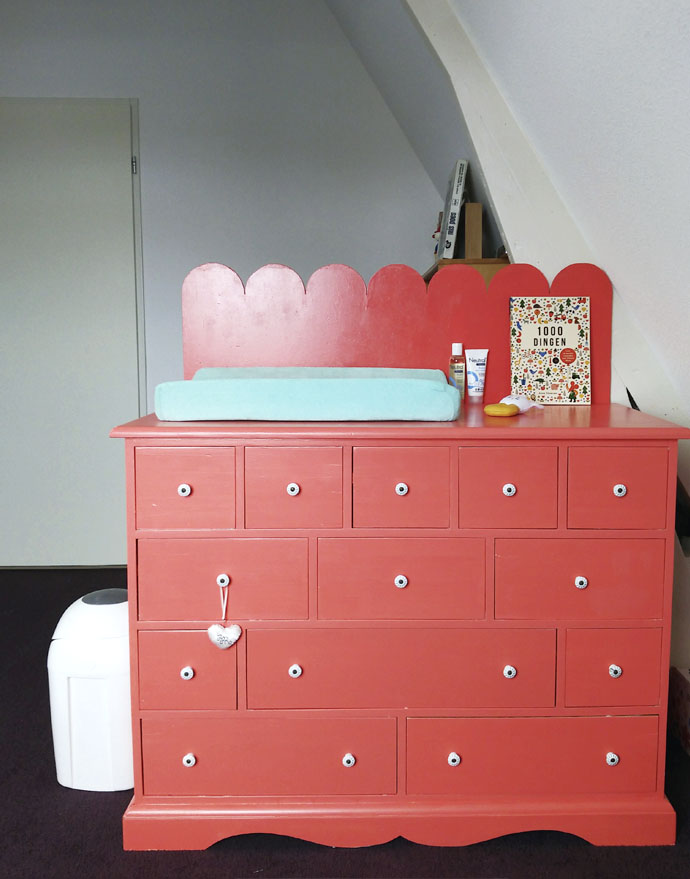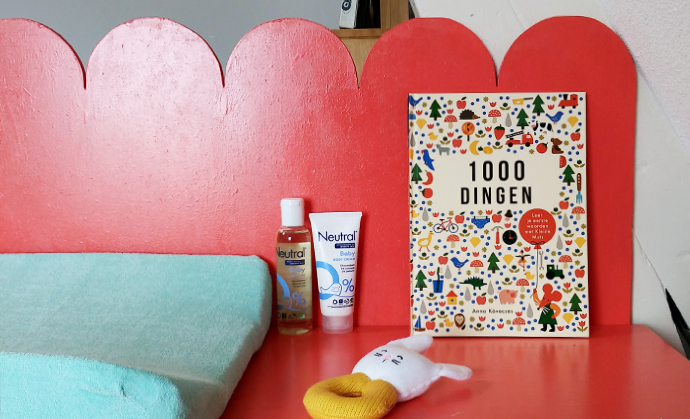 Het knalroze dressoir komt ook van marktplaats. Ik vond hem heel handig voor het opbergen van mijn vele prullaria. Het dressoir ga ik nu gebruiken als commode. Voor de veiligheid en voor wat extra cuteness gehalte hebben we een wand van mdf met ronde vormen erachter geplaatst. Nou jah, eigenlijk heeft mijn vriend dat gedaan. Liefst wilde ik de kast ook in een andere kleur maar door tijdnood hebben we dat maar niet meer gedaan, aangezien ze zeggen dat het niet goed is om te gaan verven als je zwanger bent en zeker niet vlak voor de uitgerekende datum. Wie weet ooit, als ik meer tijd heb!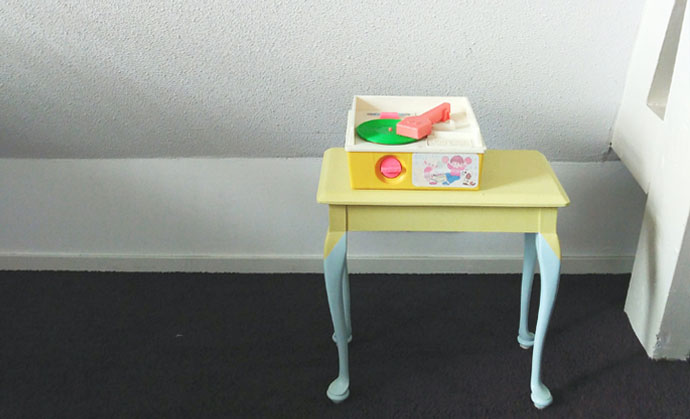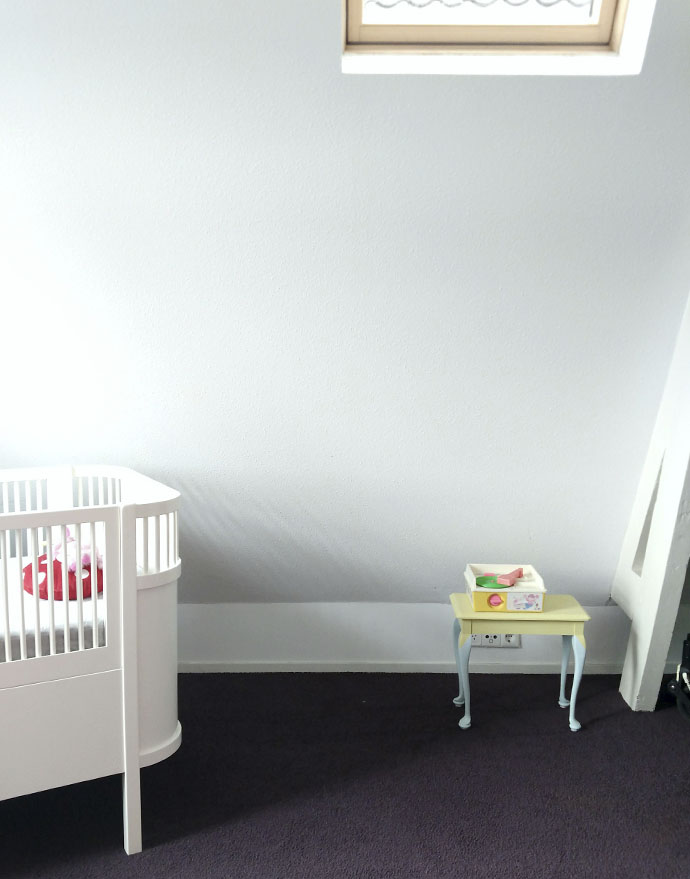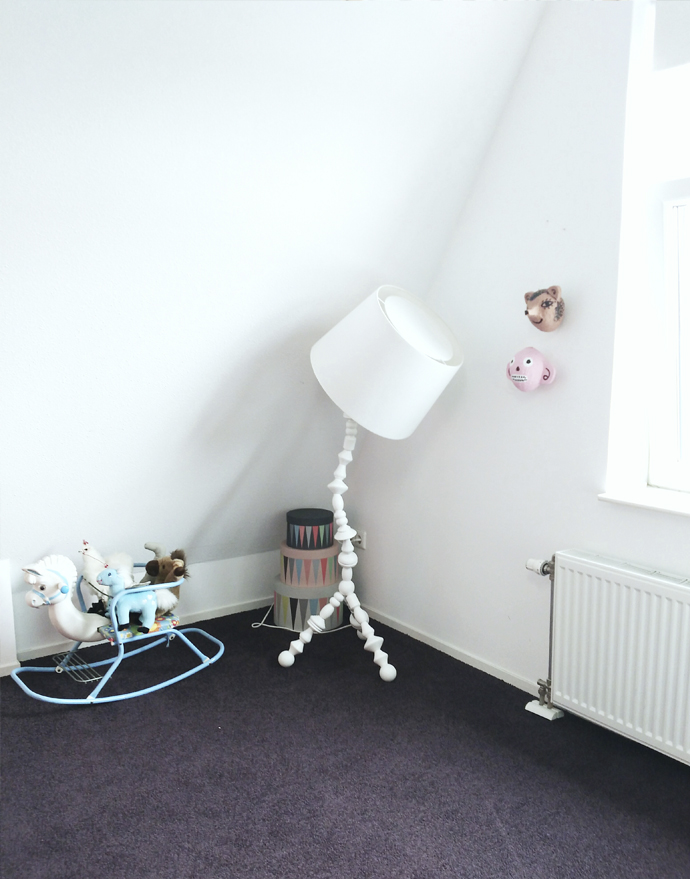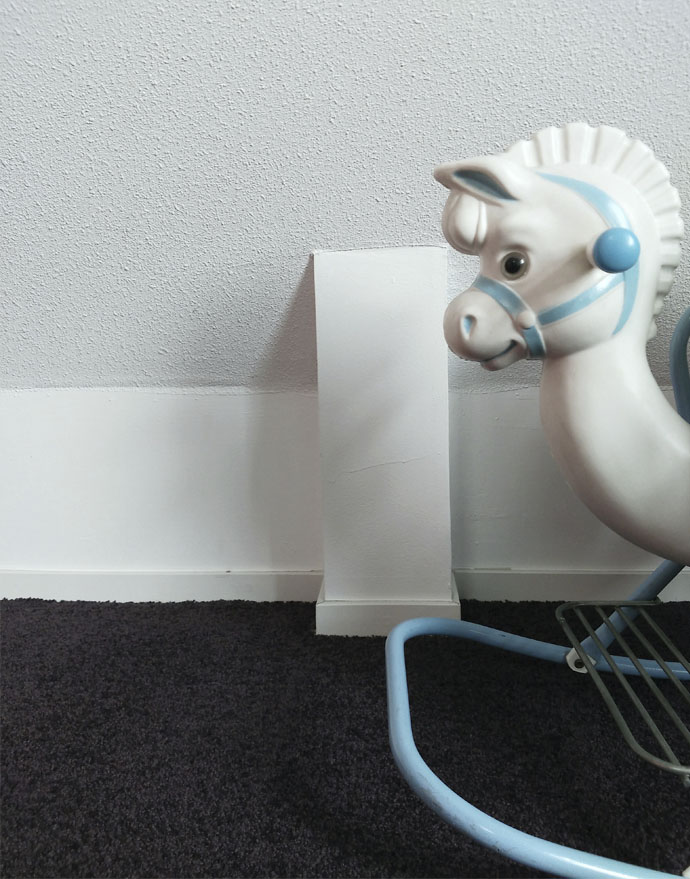 Het kleine tafeltje heb ik gekregen van mijn zusje en heb ik een een make-over gegeven een paar jaar terug. Het blauwe hobbelpaard heb ik dit jaar gescoord op de vrijmarkt op Koningsdag!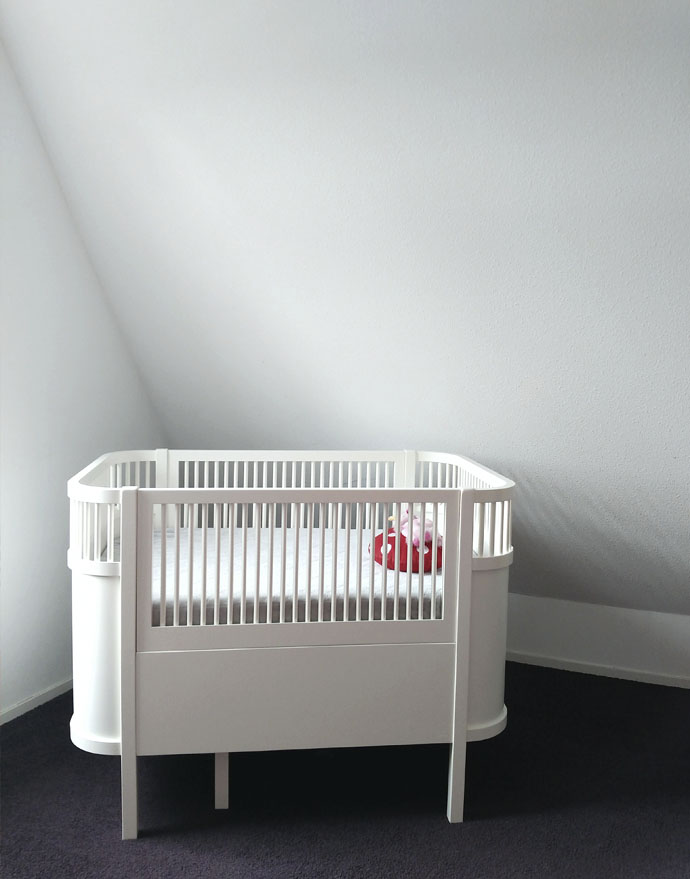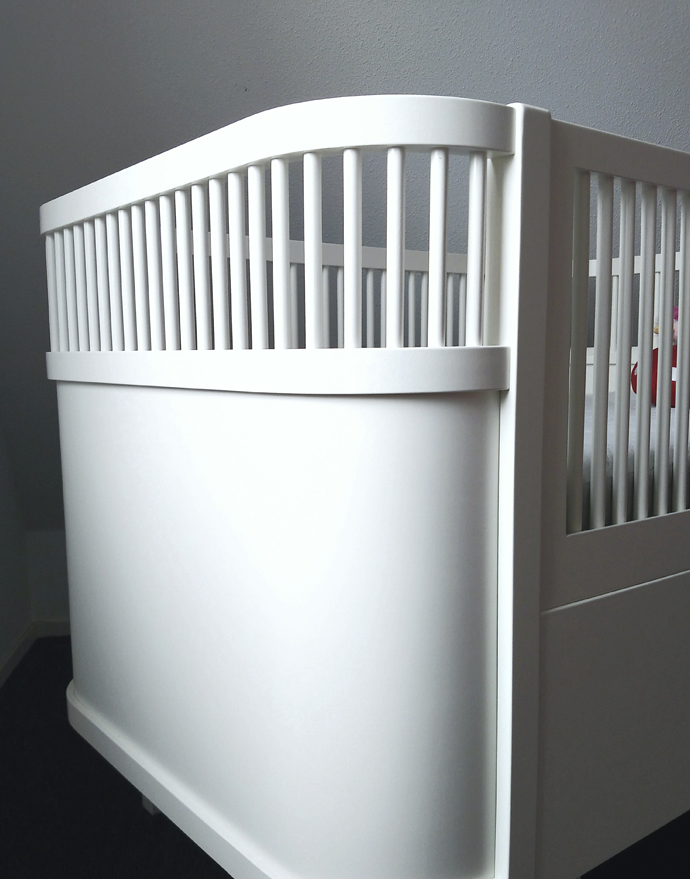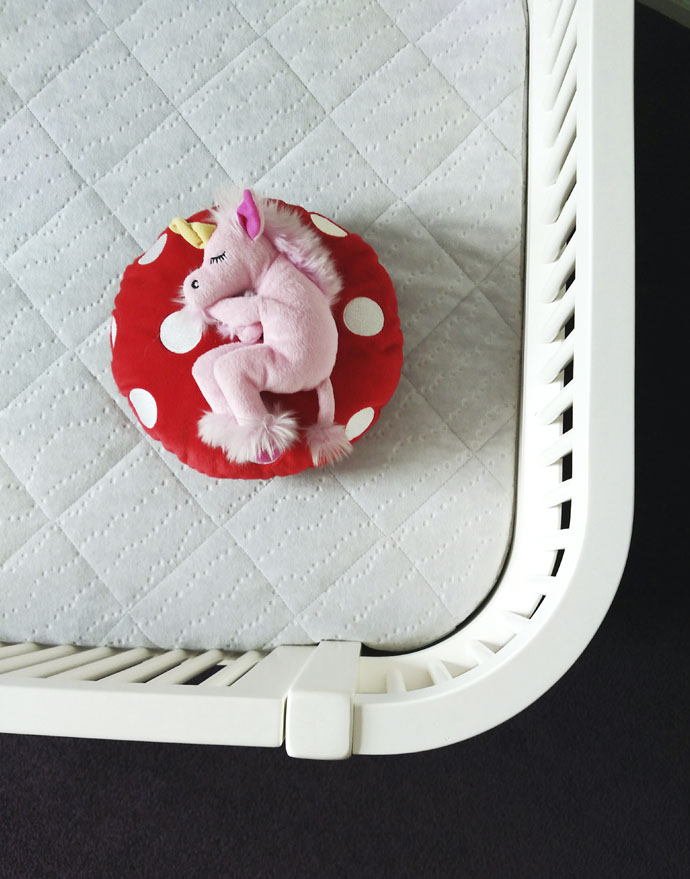 Het enige wat nieuw is, is het bedje! Het bed kreeg ik kado van mijn moeder en mijn schoonouders samen. Beiden wilden ze iets leuks geven aan de baby. Ik vind het een mooi idee dat het bedje waar Reisje gaat slapen een kado is van beide families. Het is van Sebra, een Deens merk. Het ziet er niet alleen mooi en schattig uit, het is ook een meegroeibed!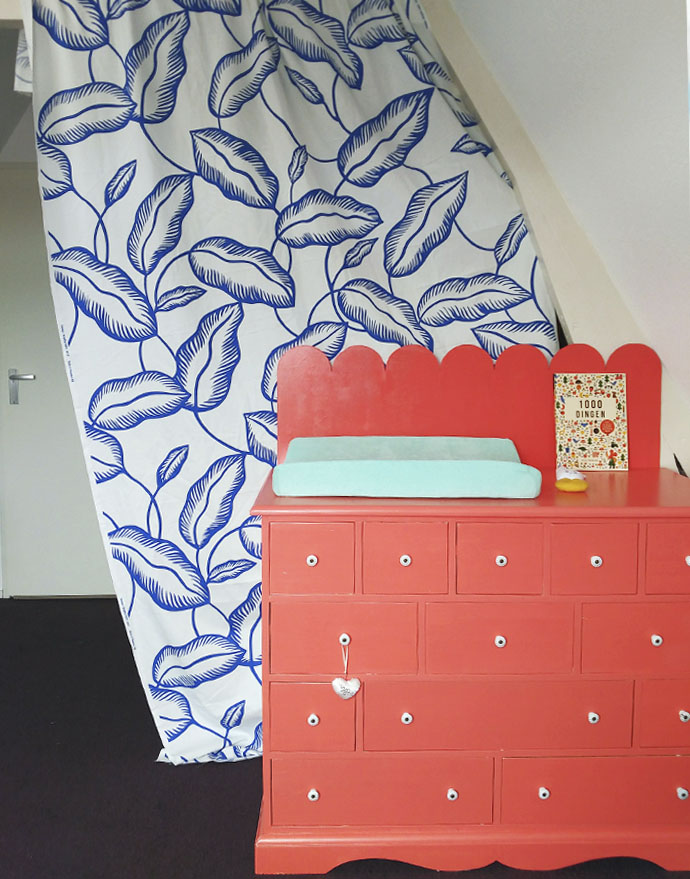 De basis is er, nu moet de kamer een beetje opgevuld worden met leuke accessoires.
Het is een best een grote kamer. Achter de commode ligt een kleine voorraad pampers, het badje met standaard en andere praktische spullen. Ik vind het nogal een onrustig beeld geven, dus wil ik nog steeds een stoffen afscheiding maken. De stof op deze foto komt ook van Ikea. Ik vind de blauwe bladeren erg mooi en het geeft mij een instant vreugdevol gevoel. Maar is het patroon niet net iets te groot? Ik twijfel nog of ik deze stof ga gebruiken of toch voor iets anders kies. Het wordt sowieso een stofje met een opdruk. Mag ook wel, want de rest van de kamer is vrij rustig.
♥♥♥
De grote vraag blijft: lukt het mij om dat af te maken voordat de baby er is?
De tijd tikt, ik heb nog 4 weken!
♥♥♥
Heis is gek op kringlopen en mooie dingen en blogt één keer in de vier weken voor teamconfetti.nl. Nieuwsgierig naar meer van Heis? Lees haar eigen blog of volg haar op instagram.