Afgelopen week was ik allllllll byyyyy myseeeeeeeeelf! Heel erg zielig, snif (Tom zat voor zijn werk in het buitenland). Maar Tetkees en ik hebben ons wel vermaakt hoor. Ik heb zelfs twee keer sushi gegeten, kittens geknuffeld en een uitstapje gemaakt naar Rotterdam.
Ik weet niet wat het is, maar op de een of andere manier doe ik er altijd duizend jaar over om eindelijk eens naar de kapper te gaan. Maar he ho, het is eindelijk gelukt. Mijn pony is weer in ere hersteld en ik kan mijn haar weer in een vrolijk staartje doen in plaats van een veel te lang bos touw wat slap tegen mijn achterhoofd hing. Heuj!
Tom was ondertussen vertrokken om een WEEK lang in Frankrijk te nerden met zijn collega's. Aan het zwembad. Terwijl hij aan het barbecuen was. Pffff.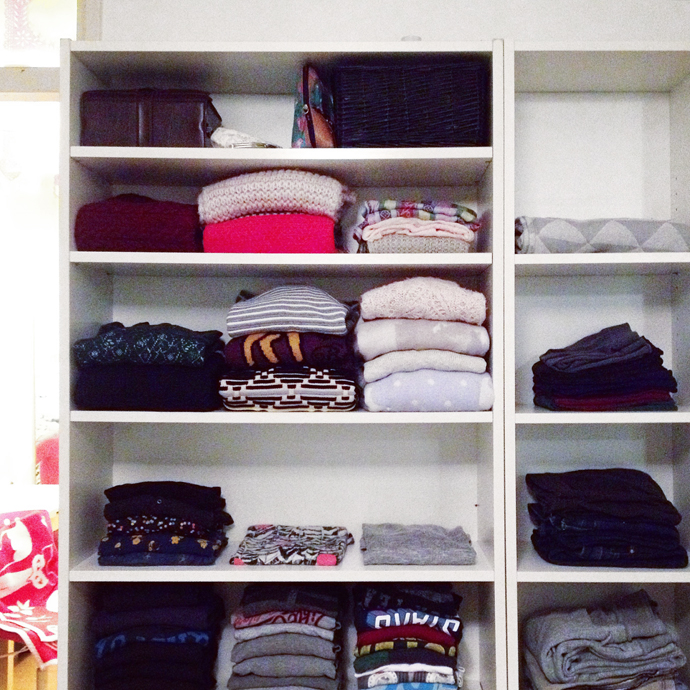 In plaats van mopperen en miepen omdat ik níét in Frankrijk zat, begon ik aan een opruimsessie en koopjesjacht. Met het luisterboek van Marie Kondo (opruimgoeroe extraordinaire) begon ik mijn kledingkast uit te mesten (want dat moest als eerste volgens mevrouw Kondo). Een paar vuilniszakken en opvouwinstructies later, lagen al mijn favoriete kledingstukken recht als een huis weer in de kast. Ik bleek ook als een barbaar met mijn sokken om te gaan, ahum. Daar mag je blijkbaar geen bolletjes van maken (vinden sokken vreselijk, who knew) maar moet je ook opvouwen. Goh. ;)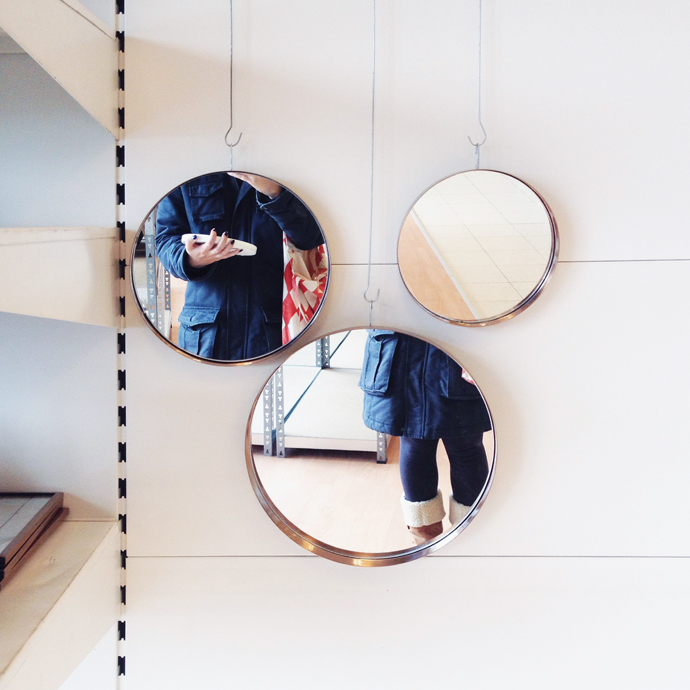 Nadat ik ook mijn boekenkast onder handen had genomen en Marie over 'papieren' begon, dacht ik "ja hallo, ik heb wel weekend hoor" en stapte ik op de fiets om ouderwets te gaan winkelen. Niet voor kleding, maar voor leuke dingen in de woonkamer, die we eindelijk af gaan maken. Bij Leenbakker kwam ik erachter dat de lamp die ik al heel lang eyeballde, heeeeel veel korting had (van €119 voor €20) dus die nam ik mee. Joepie de poepie! En ik zag een groepje ronde spiegels die leuk zouden staan in de hal. Maar aangezien we daar nog niet aan toe zijn, liet ik die nog even hangen. ;)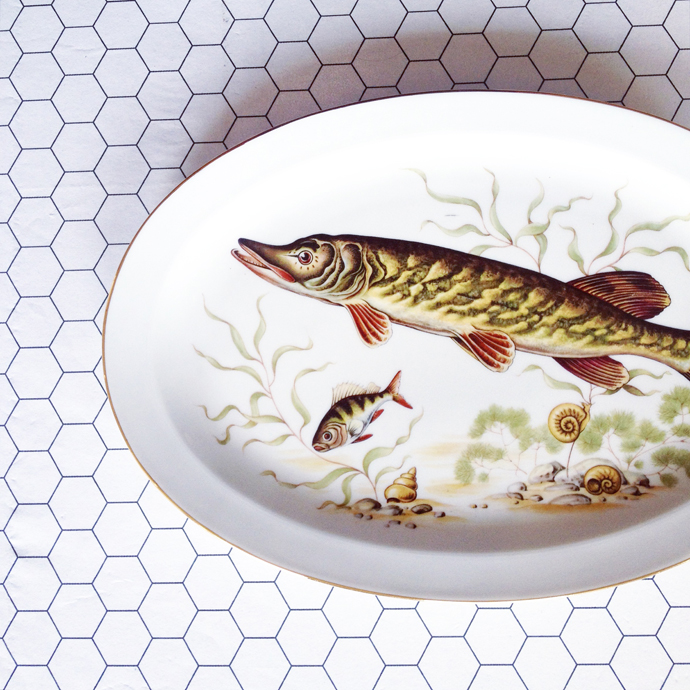 Zondag kwamen mijn ouders langs met appeltaart en een geweldig visservies. Deze schaal is al fantastisch en er horen ook nog een stapel bordjes en een kommetje bij. Zo leuk. Ik hou van dat soort dingen.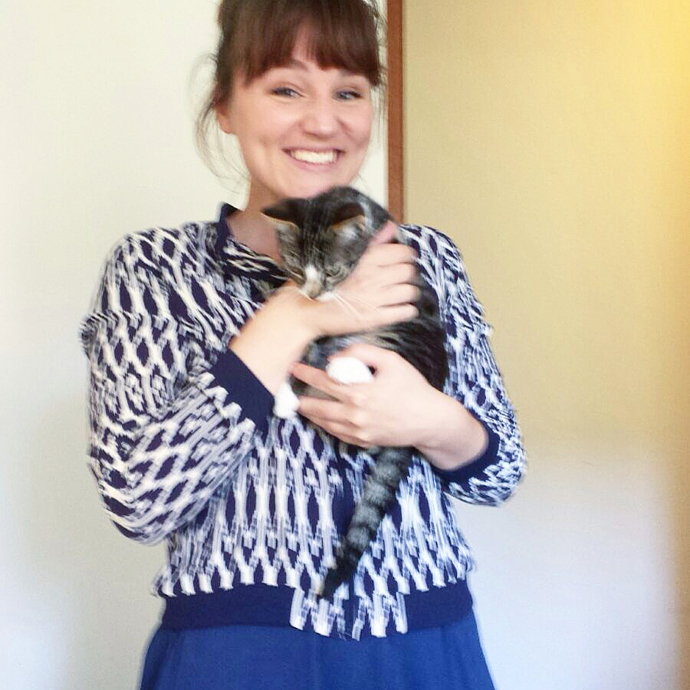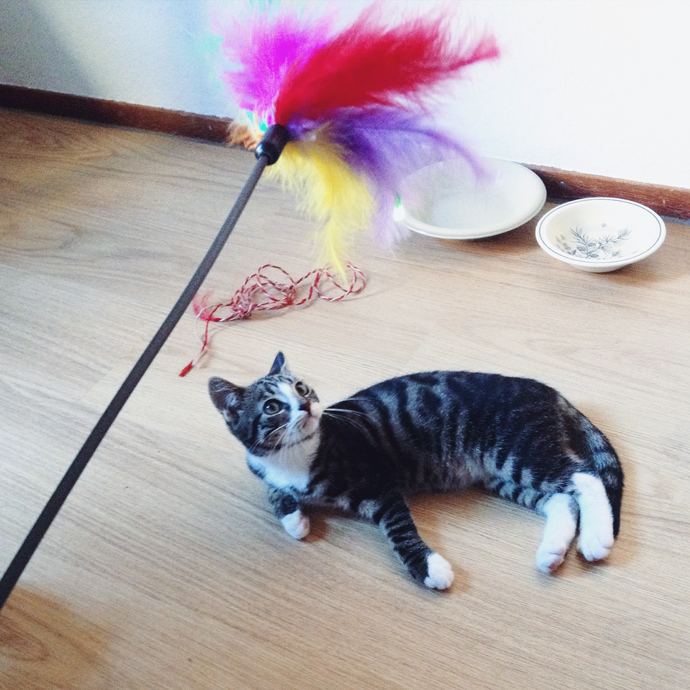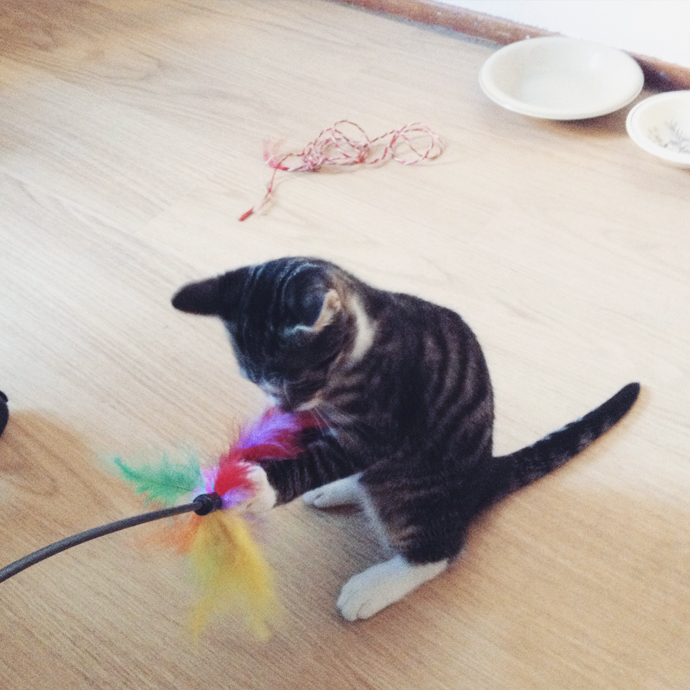 Vrienden van ons hebben net twee kittens in huis gehaald en ik ging op bezoek om te knuffelen en een cadeautje te brengen. Een verenstok is altijd een goed idee, believe me. Ik kan me bijna niet voorstellen dat Mo en Tetkees ooit ook zo klein waren. Tetkees vasthouden met één hand (of twee) is nu echt niet meer te doen…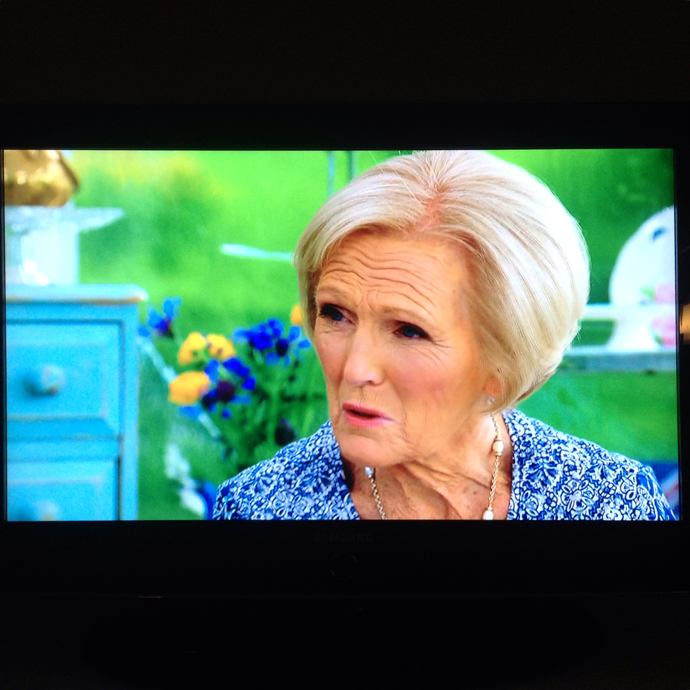 Woensdagavond, vaste prik: the great british bake off. Lees hier waarom je het ook moet kijken.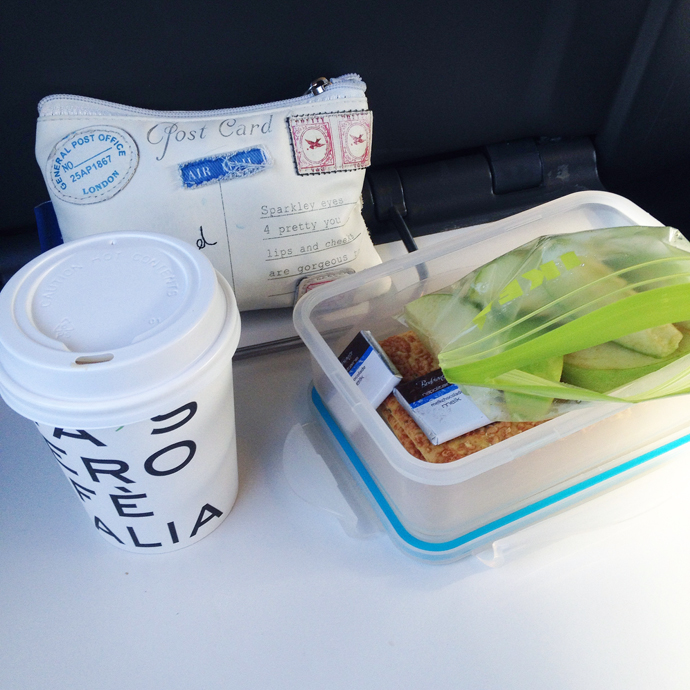 Donderdag werkte ik lekker niet maar ging ik in de trein zitten om Ingrid op te zoeken in Rotterdam. Dat is drie uur reizen (heen en terug) maar gek genoeg vind ik lang in de trein zitten helemaal niet erg meer. Ik ontbijt uitgebreid in de trein, schrijf blogjes en luister naar audiobooks. Heerlijk. Alhoewel de heenweg wel altijd plezieriger is dan de terugweg omdat het dan al donker wordt en ik niet zo goed meer naar buiten kan kijken.
We huurden een OV-fiets (ik hou zo van die dingen) en gingen op pad. Eerste stop in Rotterdam: kopje thee bij cappuccino (wij zijn zo rebels). Ik had een Sostrene Grene goodiebag voor Ingrid meegenomen (omdat cadeautjes geven altijd leuk is en omdat ze zo'n fantastische omslag heeft gemaakt voor de Team Confetti agenda 2016). Daar zat o.a. dit tegeltje in en een opblaasbare unicorn.
Toen we onze thee en taartjes op hadden, stapten we op de fiets. Op naar H&M home!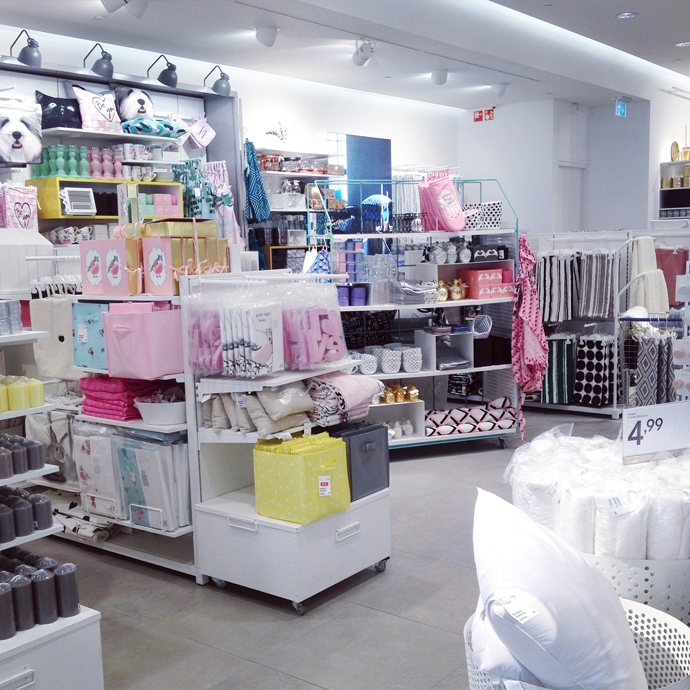 Ik schreef laatst in een artikel over de leuke nieuwe home collectie en kocht de kussenslopen met handjes en twee schaaltjes met marmer patroon. Too bad dat er geen Home afdeling is in Groningen, ik vond het echt een leuke winkel. :(
Daarna was het thriftshopping-time! Tony's Garage Sale was een hele leuke vintage winkel. Mooi ingericht en toffe spullen. Jammer alleen dat al die mooie jurken vaak veel te lang en veel te groot zijn voor ons ukkies.
En zonder Ingrid was ik 'Cheap Fashion' zo voorbijgelopen, haha. Maar zij weet waar je moet zijn. De winkel zat proppievol crazy vintage kleding. Ik heb nog getwijfeld over een jurk, maar nee, de stof was me toch iets te synthetisch. Wel ben ik helemaal geïnspireerd door alle geweldige patronen en kleuren van al die mooie jurken. :D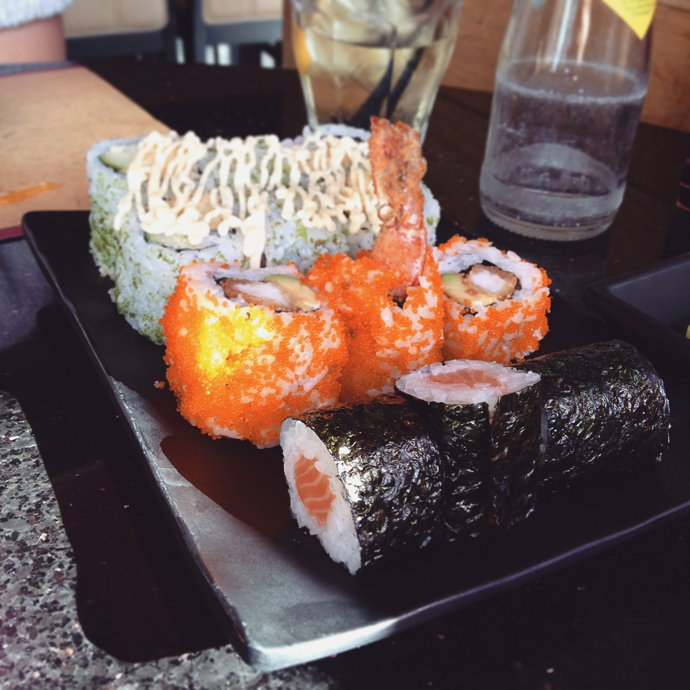 De buit was dus niet groot, maar we hebben het wel ontzettend leuk gehad. Even een dagje vrij midden in de week konden we allebei wel gebruiken, we zijn zulke stresskipjes! We sloten af met sushi en toen stapte ik weer op de trein.
Tetkees is echt zo'n weirdo. In de vorige keuken zat hij bijna nooit op het aanrecht, maar nu er een nieuw aanrecht is, vind hij het heel normaal om er casual overheen te lopen, op zoek naar snackjes. En om in de gootsteen te zitten. Crazy cat…
♥♥♥
Nog een fijne maandag y'all!
♥♥♥
Vind je het leuk om te zien wat ik de hele week uitspook? Volg Team Confetti dan op instagram.