Het was een experiment, maar het pakte héél mooi uit. En dan heb ik het over het zelfontworpen luxe kussen dat ik liet maken door CEWE. In dit artikel vind je het resultaat én kun je mijn ontwerp downloaden om je eigen TC kussen te laten maken. Naast het kussen laat ik nog een ander tof fotoproduct zien: stickers! En wie houdt er nou niet van stickers…
LUXE FOTO KUSSEN
Laten we beginnen met het kussen. Zoals ik al zei, was dit een experiment. Want je kunt bij CEWE foto's op heel veel producten (waaronder kussens) laten drukken, maar of mijn grafische patroon óók goed zou werken, dat was nog maar even afwachten. Nerveus trok ik de doos open om met een kreet van blijdschap het prachtige kussen eruit te halen. De kleuren zijn echt héél mooi en precies zoals ik wilde. Ik heb veel ervaring met drukkerijen en ik weet hoe groot het verschil tussen een beeldscherm en een gedrukt product kan zijn, dus ik was écht heel erg onder de indruk. De kleuren zijn fris en het patroon scherp.
Wat óók leuk is aan dit kussen, is dat je het aan twee kanten kunt laten bedrukken. Zo wordt ie multi inzetbaar, kijk maar:
Aan de ander kant maakte ik een verloop van geel naar lichtgroen en ook dat pakte heel mooi uit. Hij is zo leuk geworden dat ik niet weet waar ik hem neer moet leggen, haha. Wat denken jullie? Bed of bank?
Wil je mijn kussen ook graag bij jou op de bank/bed? Sla dan bovenstaande afbeeldingen op en bestel het CEWE luxe foto kussen. Niemand (ok behalve ik) heeft dezelfde, superleuk!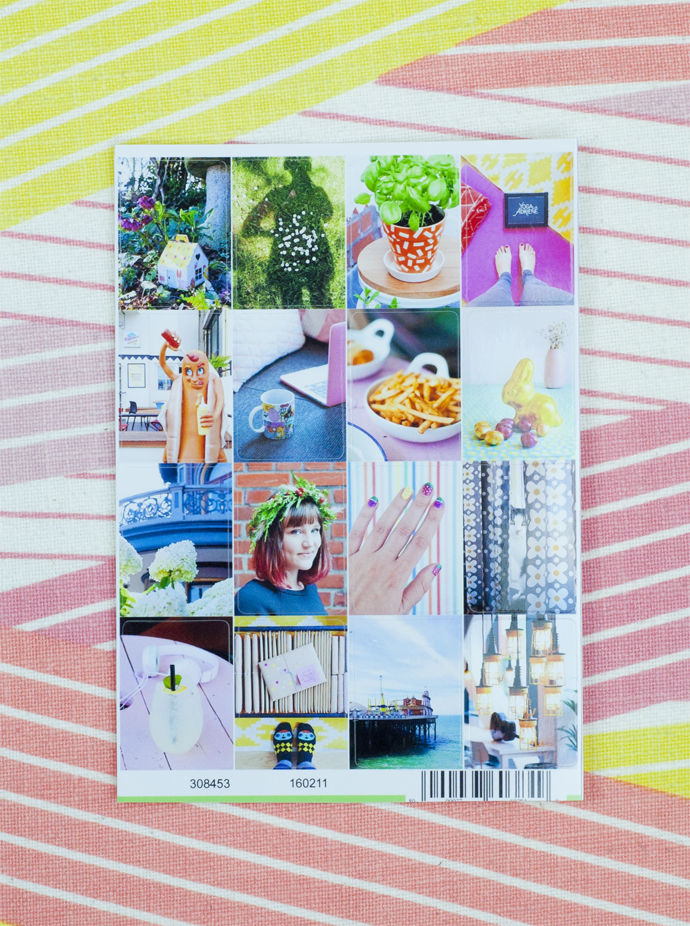 STICKERVEL
Omdat ik gek ben op stickers (wie niet?), bestelde ik naast het kussen ook een vel met 16 fotostickers. Ik zocht mijn favoriete afbeeldingen uit van afgelopen jaar en dat werd een kleurig feestje. Het zijn voornamelijk foto's van het voorjaar en de zomer en het is zo leuk om een heel stickervel met zomerse herinneringen te hebben.
De stickers voelen aan als pasfoto's die je op kunt plakken, ze zijn stevig en van echt fotopapier. Ik ga ze gebruiken om post en cadeautjes mee te versieren, maar ze zijn ook heel leuk voor op schoolartikelen, notitieboekjes of in je agenda. Tof om je foto's een tweede leven te kunnen geven!
♥♥♥