Verse limonade is heerlijk. Het is de nieuwe alcoholvrije cocktail en ik bestel het steeds vaker op terrasjes. Vandaag laat ik zien hoe je de originele citroenlimonade maakt en ik heb een versie met aardbeien. Let's get started!
STAP 1: PLUNDER JE GROENTEBOER
Ik had er zin in en dus haalde ik een grote zak citroenen, limoenen, aardbeien en munt. Want ik wilde een beetje experimenteren. Alleen het beste is goed genoeg voor mijn confetti peeps (het lijkt me sterk dat jullie zo aangesproken willen worden, sorry daarvoor).
Voor de BASISLIMONADE (ongeveer anderhalve liter) heb je nodig:
5 citroenen
4 a 5 cups met water (afhankelijk van hoe zoet / zuur je je limonade wil)
1/2 cup suiker
Daar heb je ze alweer, de cups. Als je de officiële mini maatbekertjes niet in huis hebt, ga dan uit van een hip jampotje of een gemiddeld drinkglas. Een cup is officieel 236 ml. De hoeveelheid suiker lijkt trouwens veel, maar omdat er flink wat water bij gaat, is het niet heel erg zoet. Ik heb geëxperimenteerd met hoeveelheden suiker (eerst een 1/4 cup suiker) en dit vond ik uiteindelijk het lekkerst.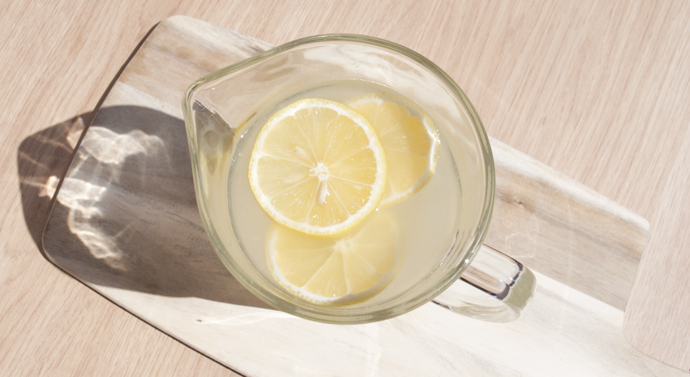 STAP 2: LIMO MAKEN
Kook een cup water in een pannetje en laat de suiker daarin smelten. Draai het gas uit en laat het afkoelen. Pers vervolgens vijf citroenen (je kunt ook een citroen vervangen door een limoen, voor een iets exotischer smaakje). Giet het suikerwater, het citroensap en drie cups met water bij elkaar in een kan. Proef en voeg water toe als het nog iets te zuur of te zoet is. Net zolang totdat je de perfecte limonade hebt!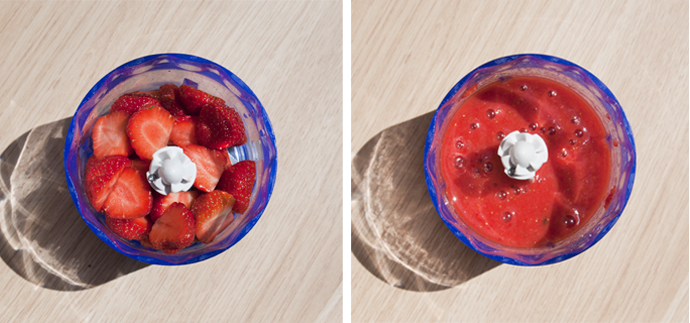 STAP 3: GO FANCY WITH STRAWBERRIES
De citroenlimonade op zich is al heel erg lekker, maar wil je echt indruk maken (op jezelf), roer er dan wat aardbeienpuree doorheen. Pureer een cup aardbeien, zeef het goedje (als je niet teveel zaadjes in je limo wil, hoeft niet) en kieper een paar lepeltjes aardbeienprut onderin een glas. Giet daar de citroenlimonade overheen: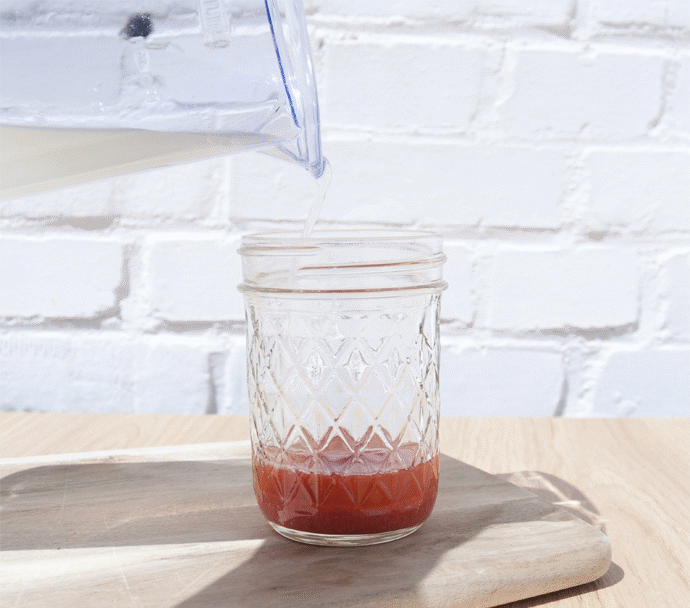 Nouja, en dan helemaal vol dus… (gif fail)
And there you have it! Een superlekkere, verse dorstlesser, bommetje vol gele citroentjes. Uiteraard hoort er in limonade ook een flinke dosis ijsblokjes, maar onze vriezer is ieniemini en ik wilde onze ovenfrietjes niet opofferen voor een paar ijsblokjes. Prioriteiten he?
Ik heb inmiddels ook al een tweede batch limonade gemaakt, dit keer met onze slowjuicer. Daar heb ik de citroenen, een limoen en een cup aardbeien door elkaar heen gejuiced. Daar het water en het suikerwater bijgedaan. Op die manier had ik iets minder afwas en het ging iets sneller dan citroenen persen met de hand.
♥♥♥
Ik heb het limonade virus helemaal te pakken en ga denk ik nog een paar smaken uitproberen.
Misschien met ananas of watermeloen?