Als het om tassen inpakken gaat, wil ik graag op álles voorbereid zijn. Teglijkertijd wil ik niet teveel meezeulen en overal meteen bij kunnen. Het heeft dan ook even geduurd voordat ik de perfecte inhoud en indeling van mijn dagelijkse handtas had gevonden. Die handtas was eerst een katoenen tasje, rugtas of een schooltas voor een kind (#unsuccessfuladulting yo). Maar dankzij de schatjes van Marington.nl ben ik nu de trotse eigenaar van een grote-meisjes-handtas. En hij is nog eerlijk geproduceerd ook!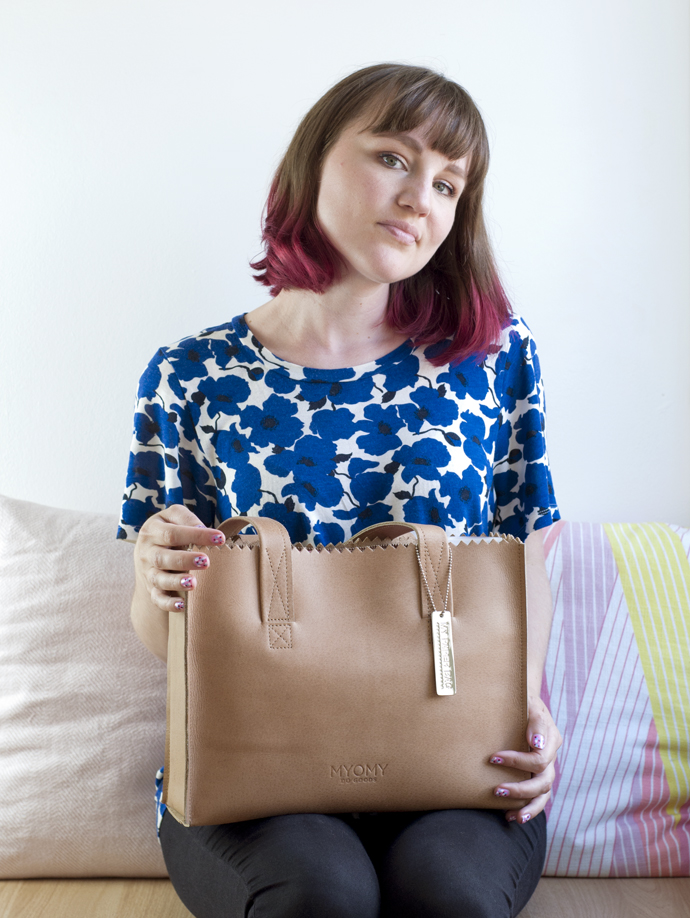 En dit is 'm: de My Paper Bag zip blond. Jaaaahaaa, een tas met een classy naam, het is wat! En daar dartel ik nu vrolijk mee rond, lucky me!
Zoals je ziet heeft hij een perfect maatje. Niet te groot en niet te klein. Hij is van leer, heeft een rits, drie mini vakjes en twee grote vakken met een rits. Hij is handig om boodschappen mee te doen, mijn laptop en mijn camera passen erin (niet tegelijkertijd) dus ik kan hem ook gebruiken als #girlboss business bag.
En dan ga ik nu laten zien wat ik waar in stop en hoe je heel veel handige dingen bij je kunt hebben en toch alles makkelijk kan vinden.
Voor een redelijk kleine tas, past er heel veel in omdat de verhoudingen perfect zijn. In het hoofdvak in het midden passen mijn laptop, portemonnee, agenda én een flesje water. Omdat ik elke dag 10.000 stappen loop, is een flesje water in mijn tas stoppen prioriteit #1 voordat ik wegga. Als ik de rits van mijn tas dicht doe, dan steekt alleen het dopje er nog bovenuit. Mijn laptop past er nèt in, de rits kan op zich nog dicht, maar dan moet de tas verder niet te vol zitten. Ik sleep dat ding niet elke dag overal mee naartoe, maar het is wel heel handig dat als ik dat wil, het kan.
In plaats van mijn laptop zou ik ook mijn camera veilig mee kunnen nemen omdat er onderin de tas een houten plaatje zit en omdat de tas breed genoeg is. Héél handig voor persdagen of andere blog activiteiten buiten de deur. Als blogger zijn er bijna geen momenten dat ik niet met mijn werk bezig ben, dus daar moest een nieuwe tas echt aan voldoen.
Binnenin de tas zitten drie mini vakjes waar ik mijn telefoon, een pen, mijn sleutelbos en een uitvouwbaar boodschappentasje bewaar. Een uitvouwbaar boodschappentasje bij je hebben heeft een wat moeke-achtige reputatie maar het is héél handig en het scheelt enorm op plastic-tasjes-misbruik-gebied. Ze zijn steviger, kunnen gewassen worden en je kunt ze in hele leuke patroontjes en maten krijgen. Dit is een kleintje van HEMA (ik heb ook een grote waar je een heel pak toiletpapier in kwijt kan).
Je sleutels altijd op dezelfde plek in je tas bewaren is trouwens ook een hele goede tip. Niet meer graven in je tas in de regen voor je eigen voordeur en niet meer in paniek het hele huis doorrennen omdat je ze kwijt bent. Zorg dat je ze ergens in je tas bewaart waar je met je ogen dicht bij zou kunnen.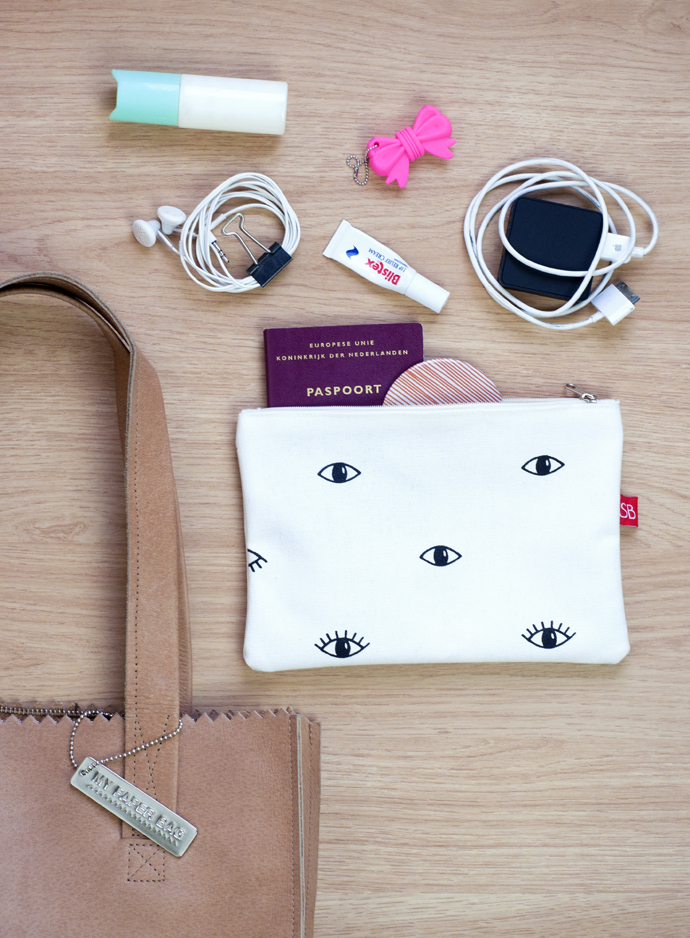 En dan nu de allerbeste tip als het gaat om je tas organisen: stop alle kleine, handige dingen die je mee wil nemen NIET LOS in je tas, maar in een etuitje. Ik heb er onder andere mijn paspoort, lippenbalsem (zoek niet verder naar een goede lippenbalsem, Blistex is de allerbeste), een externe oplader, oordopjes, een klein spiegeltje, een usb stick en zonnebrandcrème in zitten. Ook zitten er altijd een paar tampons, pijnstillers en een tubetje koortsblarencrème in (want die dingen komen altijd opzetten als je 100 km van je huis verwijderd bent).
Als je een andere tas wil gebruiken of MET HEEL VEEL HAAST het huis moet verlaten, kun je dit etuitje in je tas gooien en weten dat je op alles bent voorbereid. Ook hoef je niet je tas binnenstebuiten te keren om je lippenbalsem te vinden en zitten je oordopjes niet meer vastgeketend aan je sleutelbos en je agenda.
Dit etui stop ik in een groot ritsvak in mijn tas en zit dus niet in de weg. Dan heb ik nóg een groot ritsvak over waar ik eventueel mijn koptelefoon in kan doen als ik een eind ga lopen en een podcast of een luisterboek wil luisteren onderweg.
Dat was de inhoud van míjn (nieuwe) tas.
Ik ben heel benieuwd wat er in jullie tas zit en wat jullie handig vinden om áltijd bij je te hebben.
♥♥♥