Heb jij net als ik een kind (of meerdere zelfs) en is jouw woonkamer ook permanent bezaaid met speelgoed waar voornamelijk mee gegooid wordt? Vervelen ze zich snel terwijl ze stapels en stapels om mee te spelen hebben? En is opruimen een fucking nightmare? Het antwoord oh my lovely parents is: toy rotation.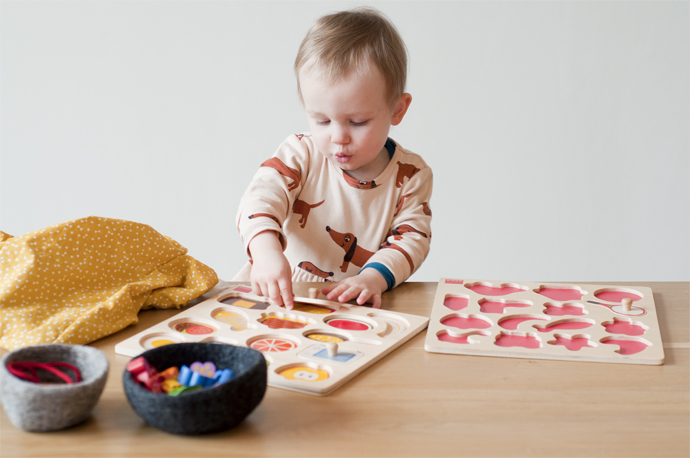 TOY ROTATION (VOOR PEUTERS)
Ugh, Olga, wat is dat nou weer en waarom moet je dat nou altijd in het éngels roepen?? Omdat speelgoed rotatie gewoon niet sexy klinkt ok? Maar dat is dus wel wat het is. Je regelt een plek waar je kinderen niet bij kunnen en waar je de bulk van het speelgoed verstopt. Één keer in de week (of 1x in de twee weken of 1x in de maand, wat je maar wil) trek je al het speelgoed waar niet meer mee gespeeld wordt, uit de woonkamer en je wisselt het om voor iets anders. Een soort capsule wardrobe voor speelgoed, het is fantastisch.
Wij doen het nu een dik half jaar en Kiki is bijna twee. Ik heb dus veel ervaring met één peuter. En voor die leeftijd blijkt Toy Rotation fantastisch te werken. Ik geloof dat het kan werken voor heel veel leeftijdscategorieën, maar houd er rekening mee dat dit blogartikel is geschreven door een peutermoeder. Just sayin'.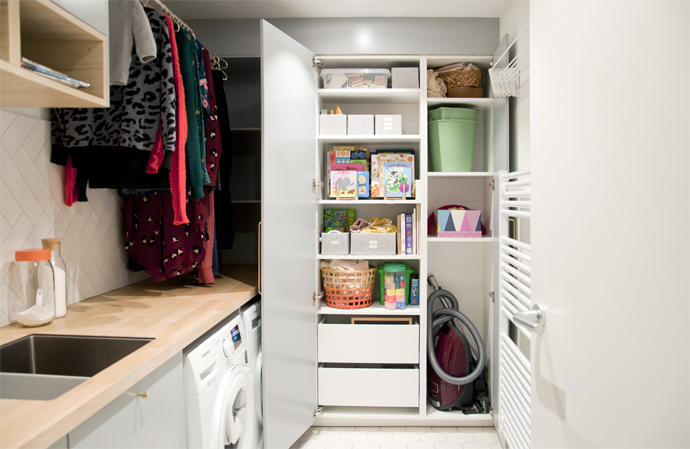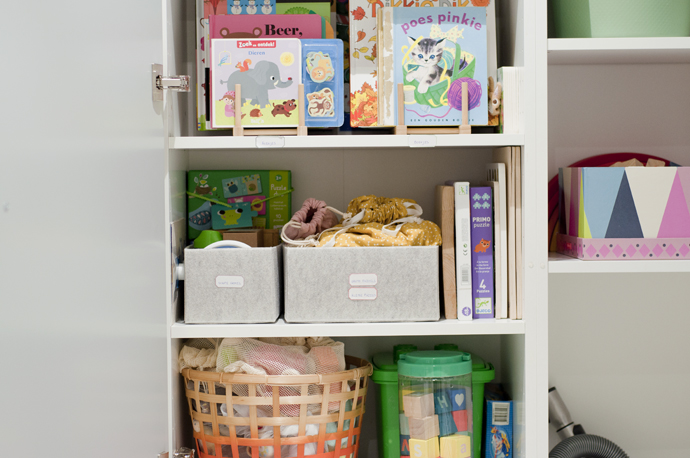 SPEELGOED DECLUTTER
Als je je geheime speelgoed verstopplek hebt gevonden (de onze is een kast in de wasruimte) kijk dan eerst naar wat je hebt voordat je al het speelgoed erin propt. Dingen die stuk zijn of waar je kinderen echt veel te oud voor zijn, kunnen gewoon wég. Geef het weg, breng het naar de kringloop of bewaar het voor een babyshower. Done.
Ook speelgoedjes die gigantisch zijn of waar mega irritante muziekjes uitkomen mag je kritisch bekijken van me. Kinderen vinden het prachtig maar ik word er stapelgek van. In mijn huis geen speelgoed met batterijen! Want het daagt niet uit tot creativiteit maar belangrijker: het is NIET ZEN. En monsterlijk grote speelgoedjes die lastig op te bergen zijn, daar doe ik dus ook (bijna) niet aan.
Waar hebben we dan wel veel van? Nou, voor ons puzzelmonster doe ik niks anders dan leuke puzzeltjes scoren, die van djeco zijn bij haar én mij (ik blijf een ekster) favoriet omdat ze zo mooi zijn én ook nog eens heel betaalbaar. En verder zoveel mogelijk houten speelgoed. Want dat staat veel mooier in de woonkamer, het gaat niet snel stuk en het voelt prettig aan de vingertjes.
All the good stuff over? Cool. Probeer het op categorie op te ruimen en zorg voor OVERZICHT. Ik had eerst alles in een paar grote plastic bakken en dat maakte roteren alsnog een pain in the ass. Zit je zelf weer te graven! No thank you.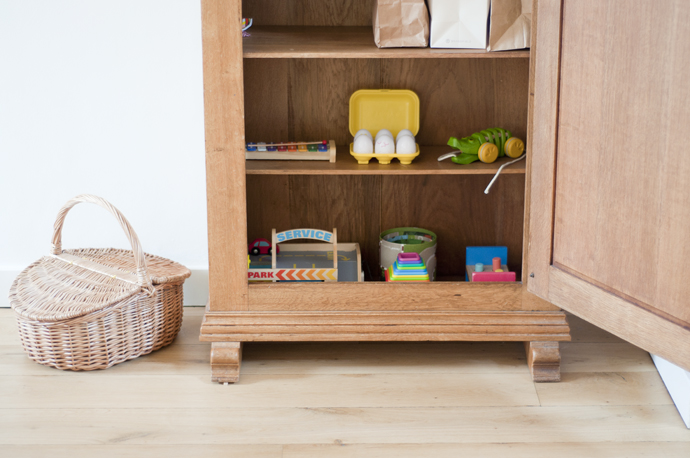 WAT TE KIEZEN
Het mooie is: het maakt geen flikker uit wat je kiest om neer te zetten de eerste keer. Doe gewoon maar wat en kijk dan wat ze ermee doen. Grote puzzel te moeilijk? Verwissel de volgende keer voor een wat makkelijkere. Autootjes worden niet aangeraakt? Trek de volgende keer de trein van stal. Wordt er vooral met alles gegooid? Kies de volgende keer dingen uit waarmee gegooid mág worden (ballen, veren, zandzakjes, knuffels, go nuts).
En het leuke is: het hoeft niet eens speelgoed te zijn! Kiki is al wekenlang bezig met haar slaapzak openritsen. Mega irritant natuurlijk (ik kreeg de tip om haar slaapzak om te draaien zodat de rits op haar rug zat, ge-ni-aal) maar doe met irritant kindergedrag je voordeel. Ik scoorde voor €0,30 een tweedehands portemonnee met vier ritsen voor haar en daar kan ze zich helemaal suf mee ritsen.
Het dwingt je op te letten waar die kleine spruit van je mee bezig is en als je dan iets uit de geheime speelgoedkast of uit de kringloop trekt waar ze helemaal loco op gaan dan kun je jezelf een high five geven. Doe ik in ieder geval wel.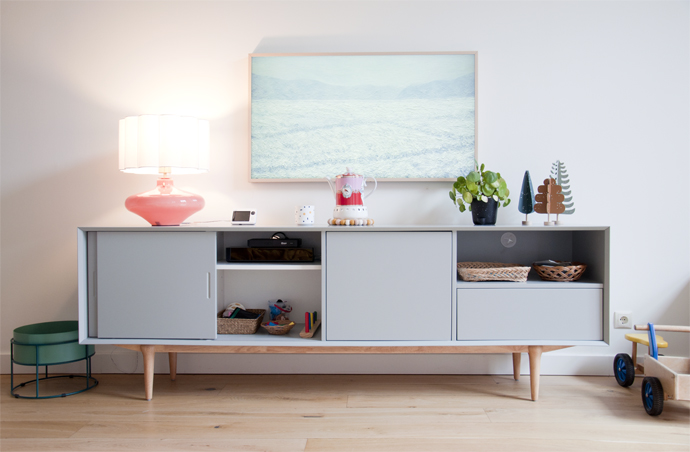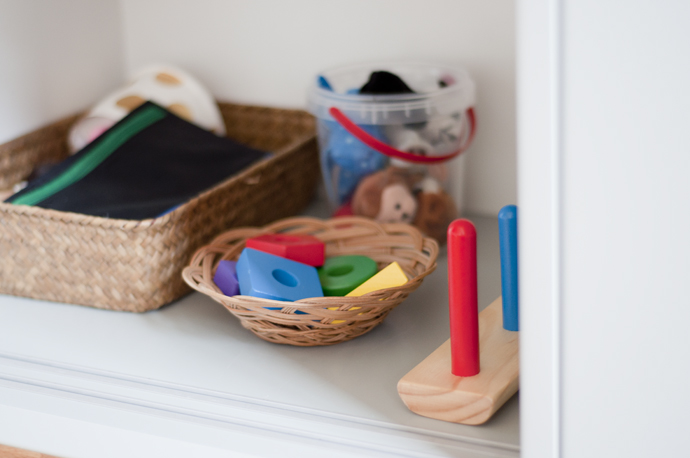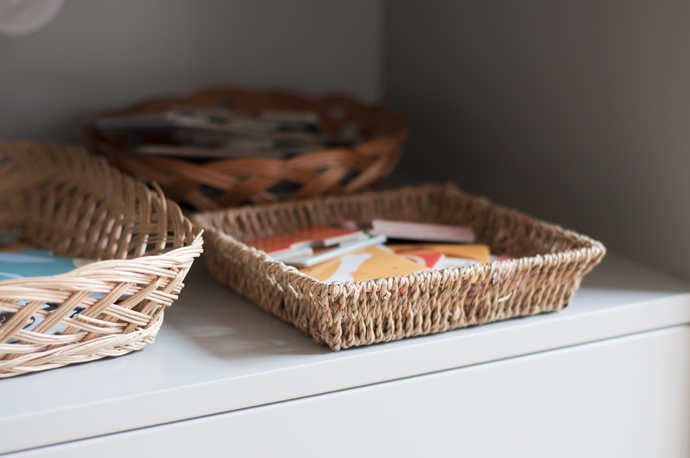 PRESENTATIE IS ALLES
Kijk hoeveel ruimte je op de speelplek hebt om speelgoed neer te zetten. Kies het liefst de onderste planken van een kast of een tafeltje/kubus kast waar je kind zélf bij kan en kan zien wat er precies is. In een grote speelgoedkist heb je bijvoorbeeld geen idee wat er op de bodem ligt.
Hou verschillende spelletjes/speelgoedjes uit elkaar door ze in individuele mandjes te stoppen of op dienblaadjes uit te stallen. Zo kan je kindje makkelijk een keuze maken, het in één keer uit de kast trekken EN! BELANGRIJK! Zelf heel makkelijk weer opruimen. Er is geen chaos, de speeltjes voelen véél bijzonderder en met een beetje creativiteit kun je zelf spelletjes 'maken' (alsin een emmertje, een lepel een paar kastanjes/pompoms op een dienblaadje pleuren ennnnn scheppen maar).
Kiki ruimt lang niet alles op waar ze mee heeft gespeeld, maar het gaat heel aardig en haar juffen op de kinderopvang vertelden laatst dat het haar een stuk beter afgaat dan leeftijdsgenootjes. (Ahem, humble brag, kuch.)
In onze woonkamer is ruimte voor ongeveer 15 activiteitjes, wat eigenlijk al best veel is. Daarnaast is er een bak met ballen waar áltijd mee gegooid mag worden, een houten fietsje, een bureautje om boekjes aan te lezen en een speelkeukentje in de keuken. Onze woonkamer is heel ruim en daarom voelt het niet als veel. Als je één keer in de week wisselt dan is acht ook zat voor als je wat minder ruimte hebt.
Bonustip! Leg puzzels klaar die nog níét in elkaar zitten. Leg de stukjes los in een bakje of mandje. Als jij een puzzel van 500 stukjes zou krijgen die al in elkaar zat, zouden je hem dan stukmaken en overnieuw beginnen? I don't think so!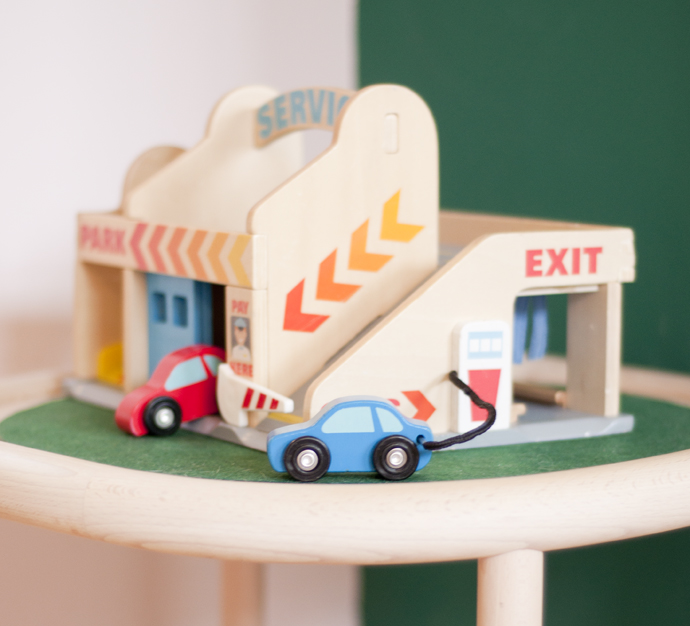 ROTEREN KUN JE LEREN
Toen ik dit fenomeen tegenkwam op YouTube (alle coole dingen vind je op YouTube) ben ik meteen losgegaan. Ik deed al een variatie op Toy Rotation maar ik miste de structuur en logica om het lekker te laten werken. Ik heb alle kringlopen in mijn omgeving geplunderd en ál hun mooie mandjes en dienblaadjes mee naar huis gesleept.
Het scheelt een hoop opruimwerk en struikelen over grote bergen plastic, maar ik vind Toy Rotation vooral heel erg leuk. Ik hou ervan 'nieuwe' dingen te shoppen in mijn eigen kast, ze klaar te leggen en met een kop koffie op de bank toe te kijken hoe mijn waggelende peuter op ontdekkingstocht gaat.
Ga je ook aan de speelgoed rotation? Laat me weten hoe het gaat!