Gastblog door Ingrid – Hoera het is oktober! Herfstmaand, wijnmaand en… woonmaand! En dus valt mijn nieuwe gastblog precies in de Team Confetti woonweek. Voor mij een mooi moment om het te hebben over mijn favoriete bezigheid: 'kringlopen'. Denk je nu 'iiiiieuw, nee!' of klinkt het jou wel als muziek in de oren? Voor wie goed kijkt en denkt in kansen is er altijd iets goeds te vinden in de kringloop, echt waar! Gelukkig zijn er veel verschillende manier om te 'kringlopen': in een fysieke winkel, onopvallend struinen over gezellige marktjes, bij online vintage winkels en voor de echte doorzetter is er natuurlijk nog Marktplaats… Take your pick! Vandaag zet ik voor jullie mijn do's en don'ts voor het kringlopen op een rijtje én laat ik een paar van mijn eigen favoriete vondsten zien!
Disclaimer: ik ben geen expert op het gebied van vintage, retro of design. Ik weet er natuurlijk wel iets vanaf, maar een kenner ben ik niet. Eerder een amateur schatzoeker met een intuïtie voor mooie dingen. Ik ga tijdens het kringlopen vooral af op mijn eigen smaak, op de object-potentie en natuurlijk ben ik een sucker voor printjes of awesome vormgeving (that's my thing!).
Laten we eerst eens kijken of jij zelf wel kringloop-material bent. Doe de test!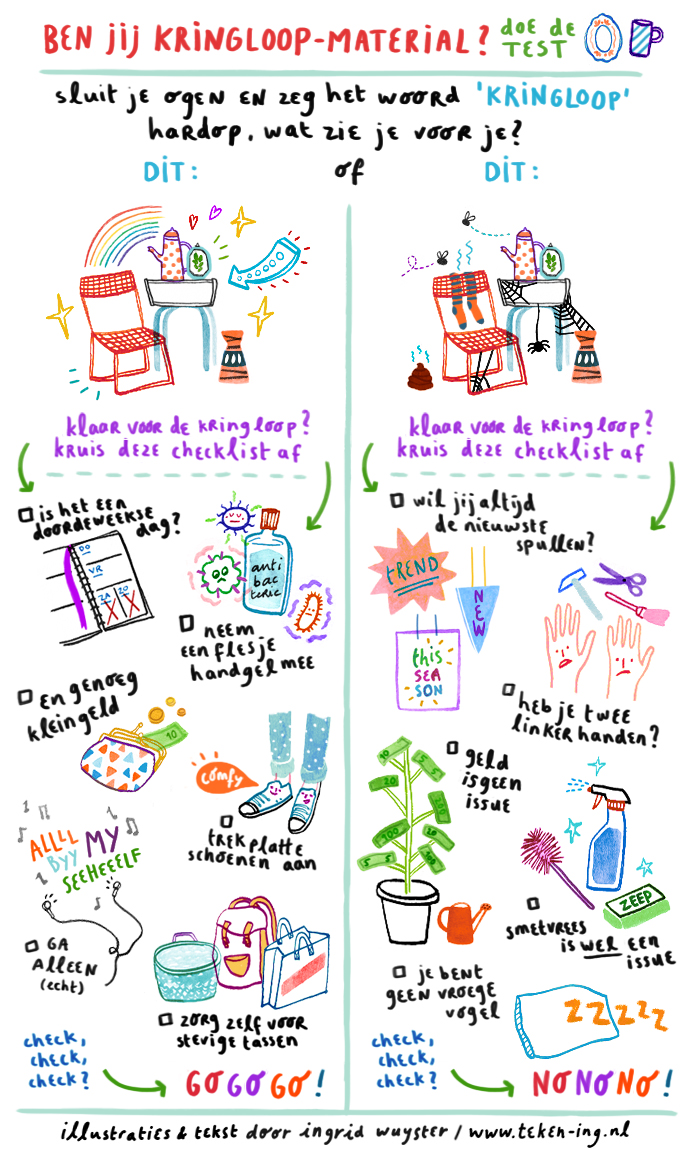 Oke, nu weet je of jij klaar bent voor de kringloop experience! Je kunt met een gerust hart bij de kringloop naar binnenstappen (of rechtsomkeert maken naar de eerste de beste woonboulevard).
Eenmaal binnen, hou de volgende do's en don'ts in je achterhoofd:
DO'S:
✓ Ga bij voorkeur lekker vroeg in de ochtend.
✓ Werk schap voor schap. Zo houdt je overzicht en kun je alles rustig scannen.
✓ Verplaats spullen en kijk overal in, op of onder.
✓ Loop minimaal een aantal rondjes kris-kras door de winkel. Mensen verplaatsen spullen en zo kun je de schappen van alle kanten zien. Work the angles!
✓ Denk in potentie, niet in stof en viezigheid.
✓ Let op vormen, kleuren, patroontjes en mooie stoffen/materiaal. Hiermee kun je snel de goede dingen eruit pikken.
✓ Ga regelmatig voor het vinden van echte schatten.
DON'TS:
✘ Ga nooit op zaterdag. Op zaterdag is het de hel bij de kringloop.
✘ Koop niet alles wat je in je mandje gooit. Kies op het einde alleen wat écht te moeite waar is.
✘ Specifiek zoeken. 'Zoekt en gij zult vinden' werkt niet in de kringloopwinkel.
✘ Koop niet iets alleen omdat het zo goedkoop is.
✘ Bij twijfel: gewoon niet doen. It's just not meant to be!
Je hart heeft een sprongetje gemaakt, je hebt een item gevonden! Nu is de vraag: to buy, or not to buy?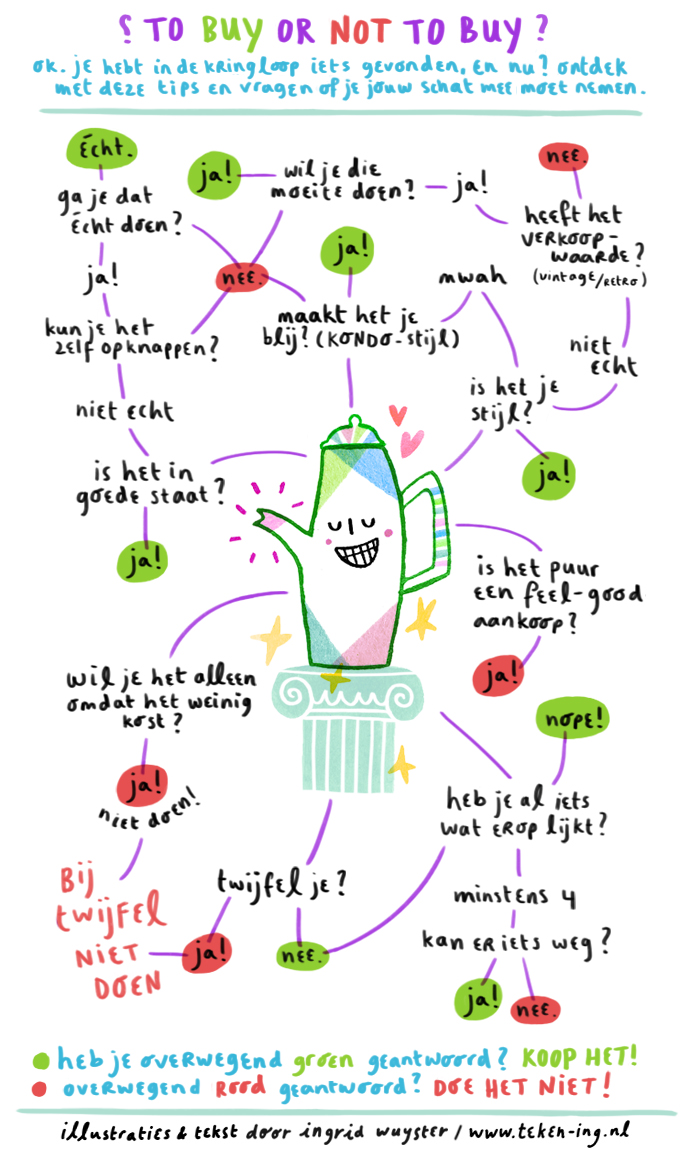 Wanneer je een item hebt gevonden geef je deze natuurlijk een mooi plekje in huis waar het kan shinen. Hieronder deel ik enkele van mijn favoriete vondsten: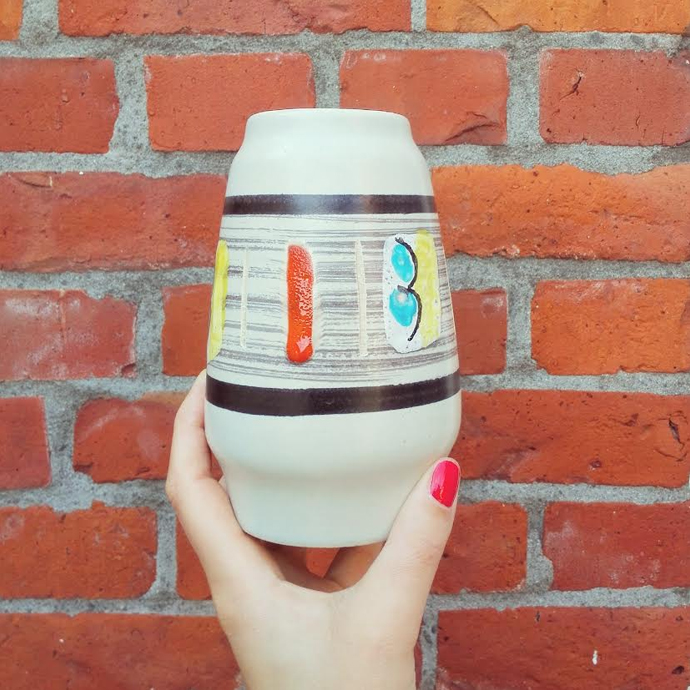 Dit kleine West Germany vaasje vond ik bij de kringloop voor 2 euro wegens schade (maar dan nog, 2 euro!). De schade heb ik nog niet gevonden trouwens.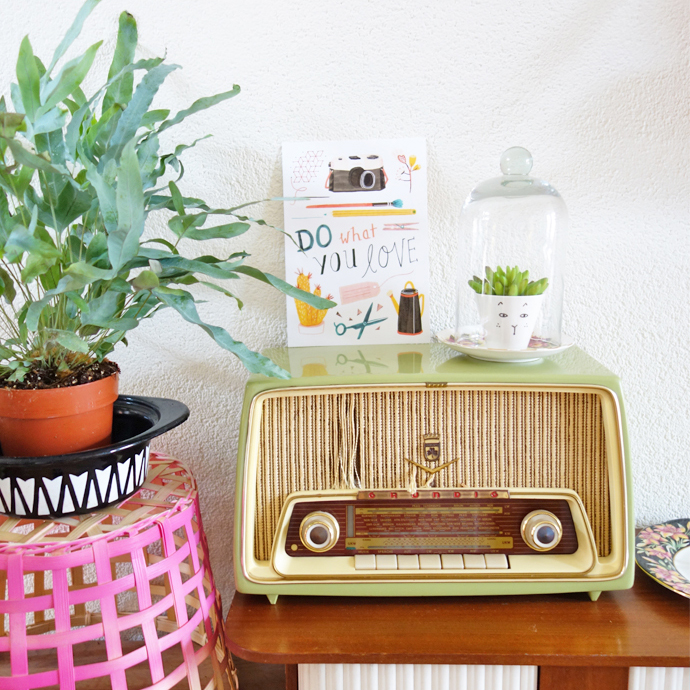 De oude, mintgroene Grundig radio kocht ik op Marktplaats, het houten kastje met witte roldeurtjes en het emaille kommetje bij de kringloop. Het bloemendienblad was van oma.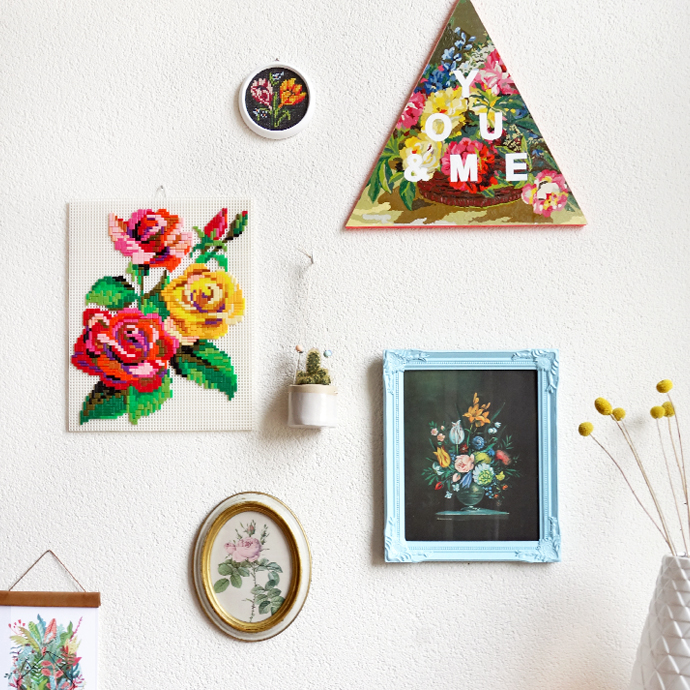 Alle bloemenschilderijtjes komen uit online vintagewinkels of uit de kringloop, ook het driehoekige schilderij. Deze sneed ik zelf in een driehoek en verfde de letters er op. De rozen ministeck kun je ook makkelijk zelf maken!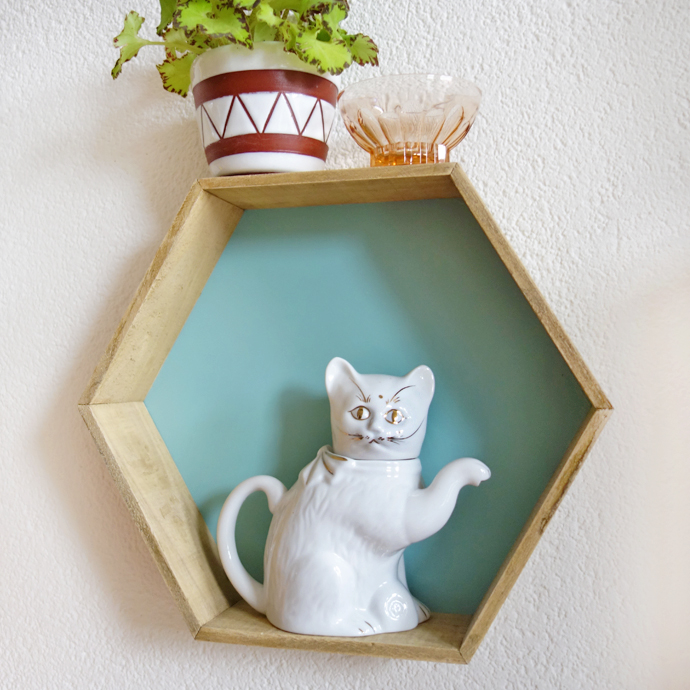 Deze geweldige theepot was een schot in de roos in de kringloop. Ik kwam, zag en overwon binnen 5 seconden. Al een tijdje was ik opzoek naar een soortgelijke katten thermoskan (die ik ooit heb laten staan, dom…) This one will do for now. Plantenpotje is ook tweedehands.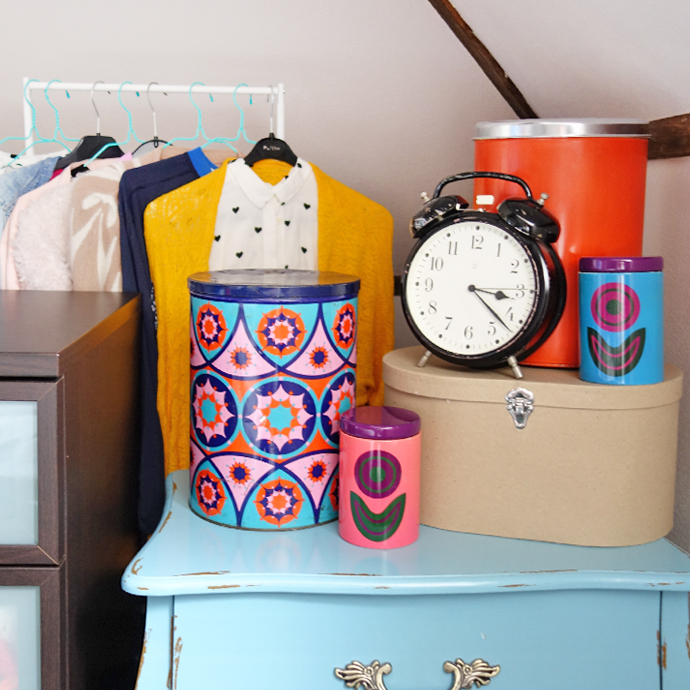 Iets wat ik nooit kan weerstaan uit de kringloop zijn opbergers: blikken, doosjes, potjes, bakjes. Mijn huis staat er vol mee en ik kan ze altijd gebruiken. Deze kleurencombi's vind ik het mooist. Ook de grote wekker komt uit de kringloop.
♥♥♥
Dit waren mijn do's en donts voor tijdens het kringlopen. Heb jij nog goede tips voor het vinden van een echte schat? En wat is jouw beste vondst ooit? Je kunt nog meedoen met de #tcwoonweek instagram challenge: ook leuk om je tofste tweedehands interieurschatten te showen! Plaats je foto met de hashtag #tcwoonweek op instagram, tag @teamconfetti en zet er in duidelijke taal bij dat je meedoet met de #tcwoonweek challenge . De allerleukste foto's komen volgende week allemaal terug in een #TCWOONWEEK-hall-of-fame-blogartikel!
♥♥♥
Ingrid Wuyster is illustrator / ontwerper en maakt veel moois onder de naam Teken-ing.
Eén keer in de vier weken blogt ze voor teamconfetti.nl.