Oh yeah! Thema-week-tijd! De laatste themaweek is alweer een tijdje geleden en aangezien oktober woonmaand is in interieurland, dacht ik dat er wel een woonweekje afkon, hier op teamconfetti.nl. De hele week wordt deze blog gevuld met tips, hotspots en binnenkijkjes waar ik de afgelopen tijd achter de schermen hard aan heb gewerkt…
Wat kun je deze week allemaal verwachten op teamconfetti.nl?
♥ Een woonwinkeltour door Groningen! Groningen is the place to be (dat weten jullie inmiddels wel) en afgelopen weekend ging ik zo ongeveer alle woonwinkels in Groningen af om kiekjes te maken en te kijken wat voor moois ze op dit moment in huis (hihi, see what I did there) hebben.
♥ Niet één maar TWEE binnenkijkjes in mijn Confetti huis. Tom en ik hebben onze kontjes eraf gewerkt om twee plekjes in ons huis op tijd af te krijgen voor deze woonweek en zoals het er nu uitziet, gaat dat lukken (er moet nog een belangrijk meubeltje bezorgd worden, fingers crossed!).
♥ Gastblogger Ingrid gaat het geliefde thema tweedehands aanpakken. Tips, inspirerende illustraties, mooie meubeltjes, ze komen allemaal voorbij.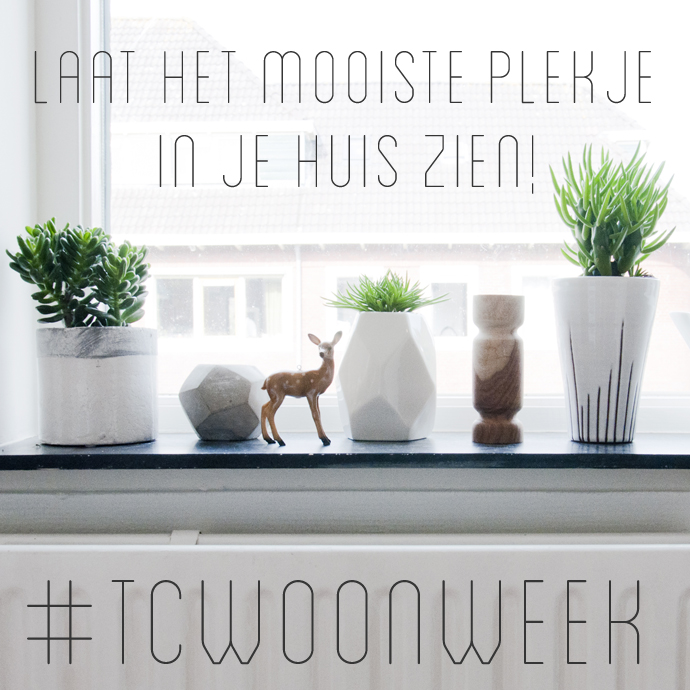 #TCWOONWEEK
En om het feest compleet te maken, organiseer ik een photo challenge op instagram waarbij alles mag en alles kan. There is no I in TEAM (wel in confetti, maar ach) en ik wil heel graag al JULLIE mooie plekjes in huis zien. Want twee kamertjes in mijn huis bekijken is één ding, maar hoe zien de fijnste plekjes van teamconfetti-lezers eruit? Dat zou ik weleens willen weten! Plaats je foto met de hashtag #tcwoonweek op instagram, tag moi (@teamconfetti) en zet er in duidelijke taal bij dat je meedoet met de #tcwoonweek challenge (zodat we iedereen gezellig aan kunnen steken)! De allerleukste foto's komen volgende week allemaal terug in een #TCWOONWEEK-hall-of-fame-blogartikel! Ook als je niet op instagram zit, kun je dan toch je hart ophalen bij het zien van al die mooie plekjes.
Dus: show dat gezellige behangetje off, post je hippe interieur-diy's en neem ons allemaal mee op tour door jouw interieur. Zelfs als je huis nog lang niet af is (net zoals het mijne) is het fijn om de plekjes waar je al wel helemaal mee in je nopjes bent, extra te laten bewonderen. En laat het ramen lappen en stofzuigen maar zitten, daar hebben we instagram filters voor, woohoo!
♥♥♥