Twee weken geleden schreef ik voor het eerst over de lakjes die ik opgestuurd kreeg van Cosmetics by Kim. Vandaag komen daar twee bij. Een mooie basiskleur en een hele bijzondere topcoat…
Color 02 by Fogan Cosmetics.
Het mintgroene lakje dat ik als basis gebruikte is van Fogan Cosmetics (nr. 02, geen kekke naam helaas). De dekking zou met twee laagjes goed moeten zijn, maar omdat het kwastje van de mijne nogal rommelig is, lakt hij heel streperig. Daarom waren er wel drie laagjes nodig om hem dekkend te krijgen. En dat is me een laagje te veel… Het andere lakje van Fogan had trouwens een prima kwastje, dus dit kwastje is waarschijnlijk niet standaard.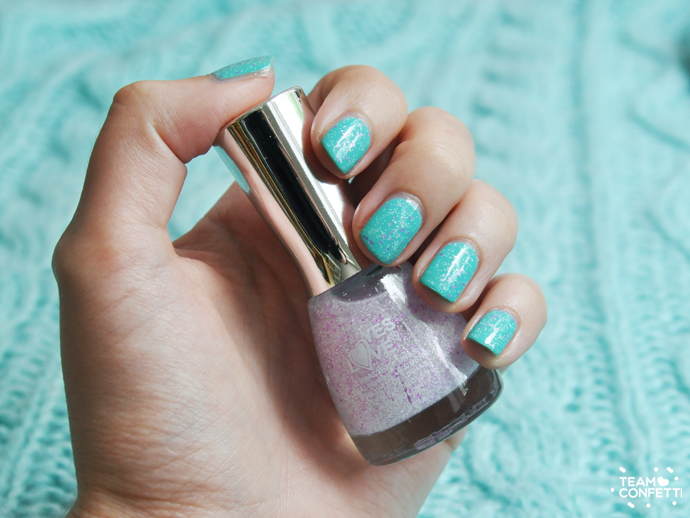 Glow In The Dark With Coke by Yes Love.
Als topcoat gebruikte ik Glow in the dark with coke van Yes Love. Er zitten heel veel kleine witte glitters in en her en der een lila glitter. Heel erg mooi en meteen favoriet. Deze staat waarschijnlijk over zoveel kleuren mooi! En wat extra speciaal is aan deze lak… Hij is echt glow in the dark! Ik schrok me rot van mijn eigen nagels toen ik gisteravond mijn nachtlampje uit deed, haha. Het lukte me niet er een foto van te maken (te donker, ahum) maar ik kan je verzekeren dat ik duidelijk al mijn tien nagels kon zien in het donker.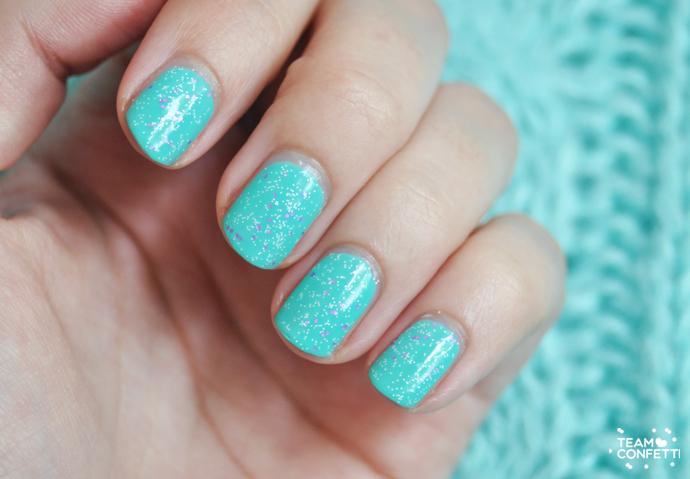 Weer een geslaagde combinatie dus! Volgende week laat ik de laatste topcoat zien van Yes Love die ik ontving. En er zijn er nog veel meer in de webshop van Cosmetics by Kim! Ik ben ontzettend enthousiast over de originele topcoats, de heeeele lieve prijsjes en het feit dat alles dierproefvrij is.
***
Lakjes van Fogan Cosmetics kosten €1 en kun je kopen bij Cosmetics by Kim.
De lakjes van Yes Love kosten €2 en zijn ook te koop bij Cosmetics by Kim.