Welkom terug bij een nieuwe aflevering van Nails of the week! Deze keer laat ik een van mijn laatste vondsten op lekker-makkelijk-leuke-nagels-gebied zien. Ik vond heel erg veel toffe nagelstickers bij Bershka. Ik probeerde ze uit om te kijken of het iets was…
Ik wil iedereen allereerst nog even bedanken voor alle lieve en leuke comments die ik vorige week kreeg op de vraag: wat te doen met deze rubriek? Wat bleek, ik moet er gewoon mee doorgaan. Lekker simpel en vrolijk houden, want daar houden jullie van. Een iemand zei zelfs dat ze zelf moeilijke nageldingen deed en bij mij graag keek naar de simpelere dingen. Kijk, dan doe je toch iets goed, als de echte nailart queens ook geboeid blijven hangen.
Conclusie: ik ga door met wat ik al deed, maar probeer het voor mezelf iets leuker en uitdagender te maken. Hoe kun je met zo min mogelijk tools de leukste nageltjes maken?
Ik begin met de makkelijkste manier die er bestaat: nagelstickers. Ik vind nagelstickers ontzettend leuk. Alleen zijn ze vrij prijzig als je goede stickers wil hebben. En dat vind ik dan weer minder leuk. Dus toen ik bij Berska een hele serie leuke nagelstickers voor €3.99 per setje zag hangen, besloot ik het erop te wagen!
Er waren veel verschillende patroontjes (waaronder palmbomen en zwart/witte streepjes) maar ik ging voor deze hectische met veel verschillende stickers. Er zitten 16 in een verpakking, genoeg maten dus om zonder veel bijknippen de juiste maten te vinden. De instructies zijn minimaal: erop plakken en de eindjes afvijlen. Dus dat deed ik.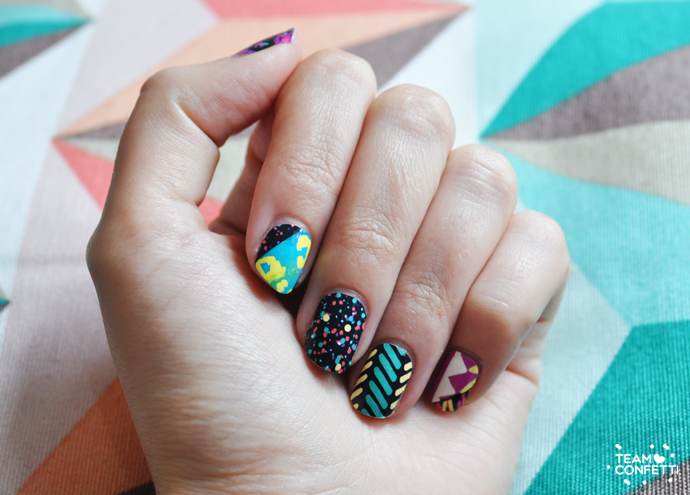 Tadaa! Op elke nagel een ander patroontje, heel erg tof. De kleuren matchen wel, daardoor is het toch een logisch geheel. Het plakken van de stickers ging heel aardig. Goed wrijven en dan zijn de meeste bobbeltjes wel weg. Wel scheuren de stickers heel makkelijk, oppassen dus als je de eindjes eraf vijlt!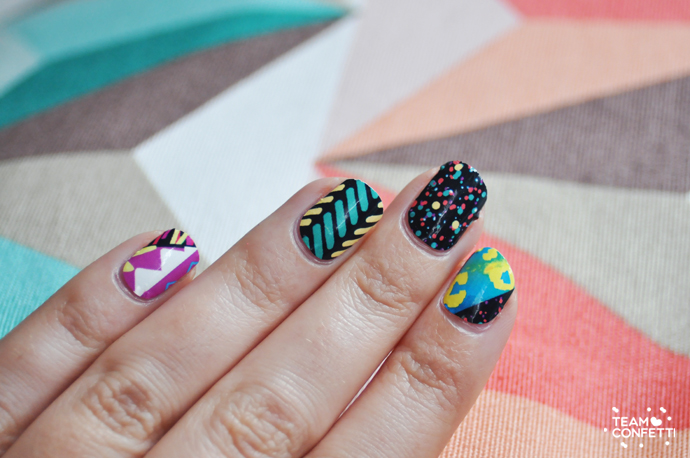 Bij de zwarte sticker met gekleurde stipjes zie je rechts nog een bobbeltje zitten, voor de rest zitten de stickers er heel netjes op. Dat valt me alles mee. Iets goedkopere stickers zijn meestal iets dikker en bobbelen daarom veel. Maar dat is hier dus (bijna) niet het geval. De instructies zeggen ook dat als je de stickers eraf wil halen, je je handen onder warm water en zeep moet houden, dan kun je ze er makkelijk afhalen. Hm. En wat nu als ik gewoon mijn handen wil wassen (dat doen we toch allemaal meerdere keren per dag)? Ik heb een topcoat over de stickers gelakt en hoop dat ze daardoor iets beter blijven zitten.
Net als de vorige keer dat ik nagelstickers reviewde, zal ik na een week een update hieronder plaatsen, zodat jullie kunnen lezen of ze zijn blijven zitten.
UPDATE: Helaas pindakaas, de nagelstickers bleven erg slecht zitten. Na een halve dag waren de topjes van mijn nagels alweer naakt en toen ik de volgende ochtend mijn haar ging wassen, was het een slagveld. Desondanks de missende stukjes heb ik er toch veel complimentjes over gehad omdat door het printje van een afstandje niet goed te zien was, dat ze er niet goed meer op zaten. Voor een avondje dus prima, maar voor een paar dagen niet aan te raden.
Wat vinden jullie van deze stickers? Leuk? Of een beetje te druk?