In mijn keuken lagen al veel te lang twee citroenen, langzaamaan te vergaan. Aangezien ik liever geen eten weggooi besloot ik het internet af te struinen, op zoek naar een doel voor mijn citroentjes. Wat blijkt?! Je kunt er heel gemakkelijk een heerlijk geurende scrub en body butter mee maken. Het enige wat je verder nodig hebt is kokosolie en wat suiker.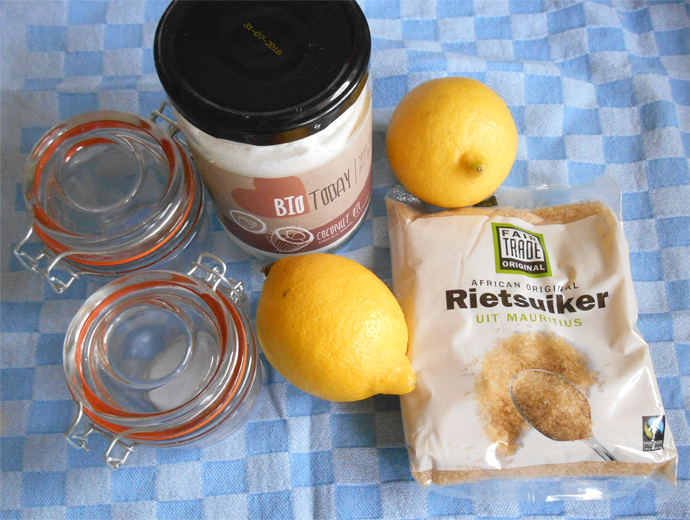 Kokosolie gebruik ik al langer op mijn lichaam, omdat ik een moeilijke, vrij droge huid heb, is het vooral in de winter een fijn middeltje tegen een schrale droge huid. Er zit verder geen troep in, wat ook wel zo prettig is! Kokosolie werkt antibacterieel. Daarnaast bevat het laurine- en caprinezuur. Zodra je het op de huid aanbrengt veranderen deze stoffen in monocaprine and monolaurin. Deze stoffen vervangen de beschermende laag van je huid in plaats van hem te verwijderen of beschadigen zoals veel zeepproducten doen. Super! En de geur van kokos met citroen, mjam!
Dit heb je nodig voor de Kokos Citroen Body Butter
– 8 eetlepels kokosolie (100% pure olie zonder toevoegingen)
– Het sap van 2 citroenen
– Een gesteriliseerd potje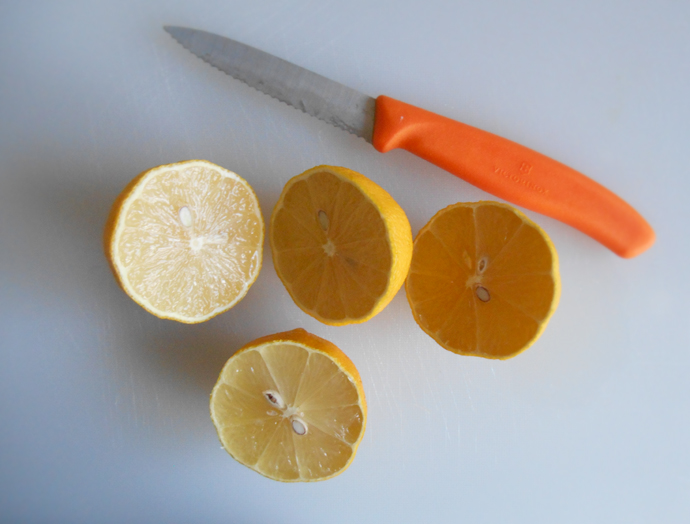 Snijdt de citroenen door de helft, verwijder de pitjes en pers deze uit.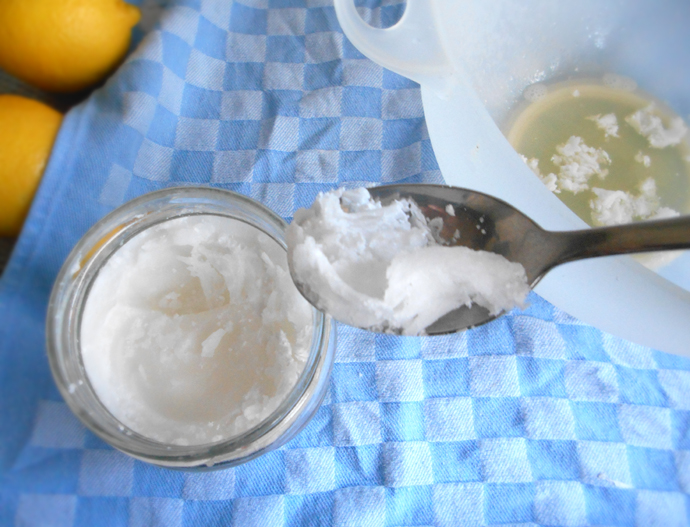 Je gebruikt de kokosolie in gestolde staat, wanneer deze vloeibaar is, zet 'm dan even in de koeling.
Voeg aan het sap ongeveer 8 eetlepels kokosolie toe.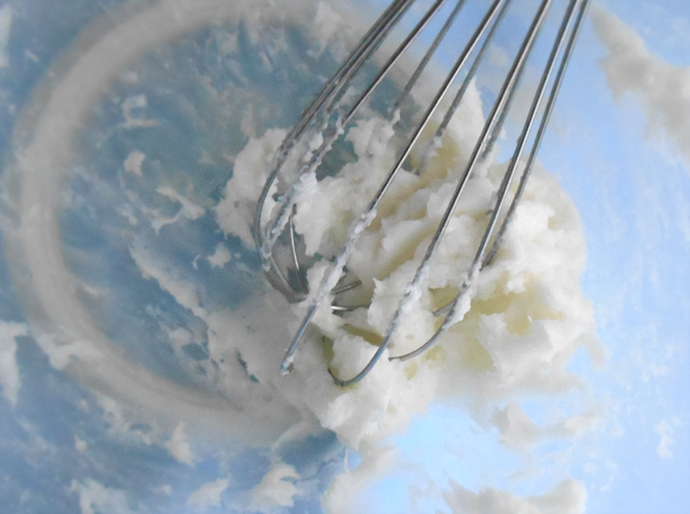 Begin nu als een malle de olie en het sap op te kloppen met een garde.
Als je een handmixer hebt, gebruik die dan, want dan gaat het proces net wat sneller.
Klop het op totdat je een romige massa krijgt.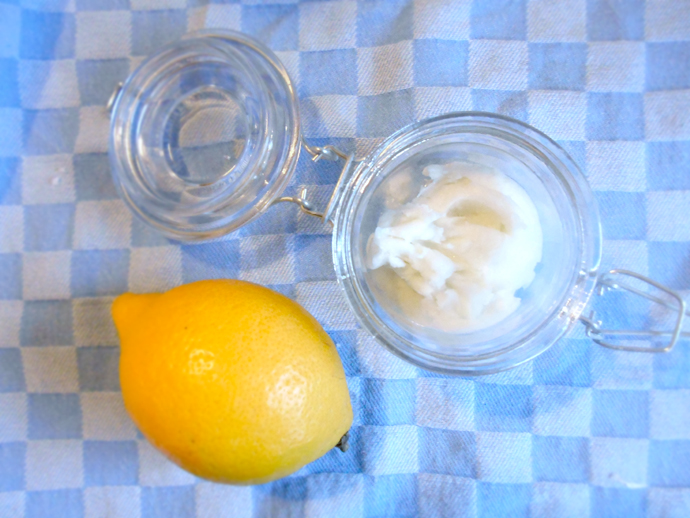 Spatel de bodybutter over in een schoon, gesteriliseerd potje. Zo blijft de body butter langer houdbaar. Bewaar het op een koele plek, dan zou het een paar weken mee moeten gaan.
Je kunt het als lippenbalsem gebruiken, voor schrale ellebogen en knieën en als je wil natuurlijk over je hele lichaam. De subtiele citroengeur gecombineerd met kokos vind ik erg lekker!
*
Dit heb je nodig voor de Kokos Citroen Body Scrub:
– 8 eetlepels Kokosolie
– Een klein beetje citroensap
– Rasp van een halve citroenschil
– 4 eetlepels suiker
Je maakt het precies hetzelfde als de body butter, maar voeg je dus de rasp en suiker ook toe.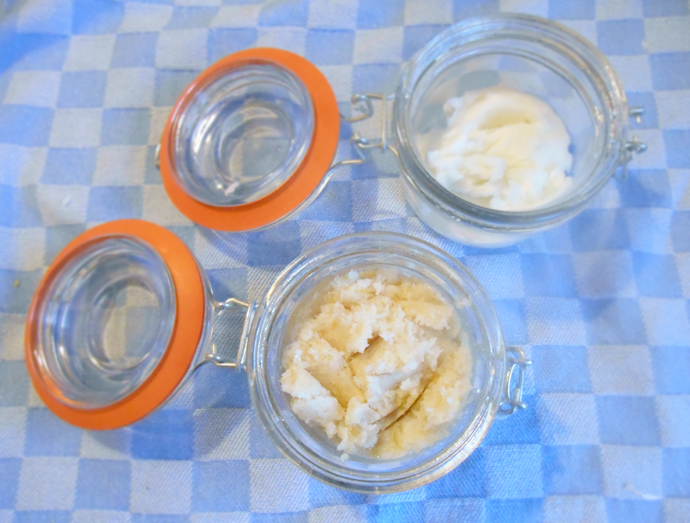 Ik moet zeggen dat de scrub variant echt mijn favoriet is. De citroen geur is duidelijk meer aanwezig, door de schil die erdoorheen zit. Je kunt de scrub gebruiken voor je handen, maar ook onder de douche. Even scrubben, afspoelen en je hoeft na het douchen geen bodylotion meer te gebruiken!
En stiekem heb ik 'm ook geproefd, IS ECHT HEERLIJK!!!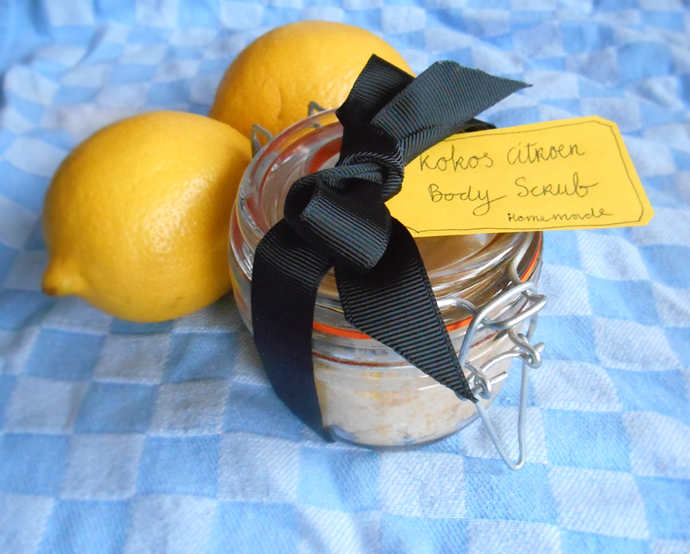 Het is ook een leuk last minute cadeautje, strik eromheen en klaar ben je!
***