Drawing on a plain tea cloth with a textile marker is an easy way to upcycle a boring piece of fabric!
Deze D.I.Y.'s wilde ik al zo lang uitvoeren, maar het kwam er steeds maar niet van….simpelweg met een textielstift een saaie theedoek opvrolijken!

1 – Aangezien ik een patroontje op de theedoek wilde maken, koos ik voor een effen theedoek.
2 – Toen kwam Flappie nog even wat last minute tips geven.
3 – Teken het figuurtje wat je wilt gebruiken op dik papier en snij deze uit. Dit is je sjabloon.
1 – My plan was to draw a pattern on the cloth, so I chose a plain tea cloth.
2 – My cat came over and gave me some last minute tips.
3 – Draw whatever shape you want to use on thick paper and cut out the shape.

4 – Bedenk hoe je het patroon wilt laten uitlijnen en trek het konijn over m.b.v. het sjabloon. Gebruik hiervoor een textielstift.
5 – Verwijder het sjabloon en kleur de vorm in.
6 – Je krijgt het niet direct volledig dekkend, door het reliëf van de stof.
4 – Trace the shape on the fabric with a textile marker.
5 – remove your template and color the rabbit.
6 – You won't get it fully colored, because of the surface.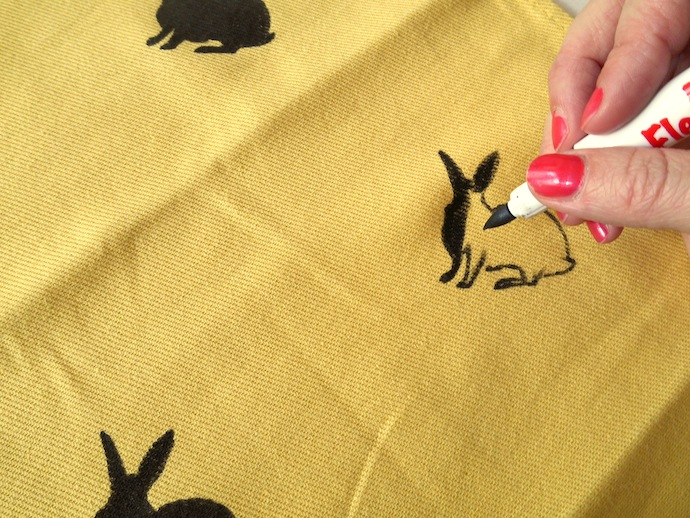 Herhaal stap 4 t/m 6, totdat je patroon klaar is.
De afwerking verschilt per textielstift, sommige kun je gewoon laten drogen, anderen moet je 2 minuten aan de binnenzijde strijken. Check wat de voorschriften zijn voor jou textielstift.
Repeat step 4 – 6 until you've finished your pattern. Some textile markers require the help of a flat-iron to get wash proof. Check if you need to do this.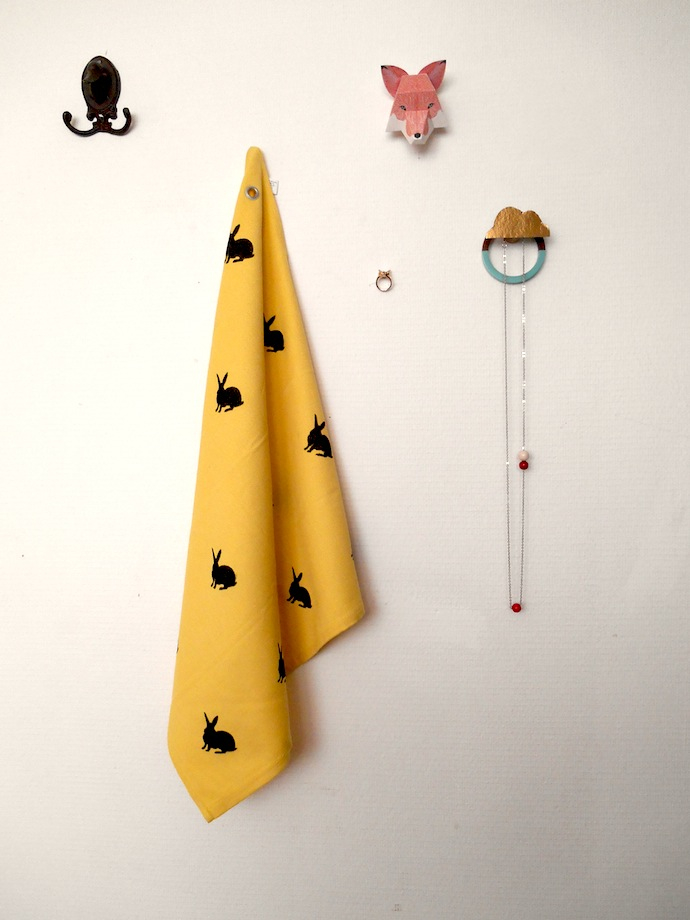 Tadaaa! De theedoek is ook leuk om cadeau te doen, voor als je even wat minder geld hebt. Versier 'm met de lievelingsdieren van de persoon, of iets anders wat het persoonlijk maakt!
Of pas dit idee toe op servetten, voor de paasdagen!
There you go, your own personalized tea cloth! It'll brighten up your kitchen, or serve well as a gift!