Baby stuff. Aan de ene kant heb ik er best veel over te vertellen, vooral vanuit het perspectief van een wat minder romantische moeder die snel overprikkeld is (HOEZO LEKKER GENIETEN VAN JE KRAAMTIJD PLEUR OP) en aan de andere kant heb ik niet de behoefte om een soort mommy blogger te worden. Maar toen een bekende ons vroeg of we nog tips hadden voor het vinden van een goed kinderdagverblijf bleek ik héél veel te vertellen te hebben. Dus bij deze, voor my peeps die ook niet van mommy blogs houden: onze gouden tips voor het vinden van een awesome crèche.
Disclaimer: Wij hebben twee keer een zoektocht gedaan naar kinderopvang. Toen ik net zwanger was (we hadden géén idee) en toen Kiki een jaar oud was en we gingen verhuizen. Onze gouden tips passen bij ónze karakters en óns kind. Elke ouder is anders en elk kind is anders, dus vast niet iedereen is het eens met onze gouden tips.
Denk je dat je best een beetje op me lijkt, herken je jezelf in onze situatie, awesome! Lees gerust verder en stel vooral extra vragen als je meer wil weten.
Ben je het niet met ons eens omdat je door jouw ervaringen met kinderdagverblijven tot andere conclusies bent gekomen: schrijf er zelf een stuk over op je eigen blog of andere media en laat een linkje achter. Dit artikel is geen uitnodiging voor een discussie maar een handig hulpje voor new parents of parents to be die geen idee hebben waar te beginnen (net als wij toen we voor het eerst begonnen met zoeken).
MEERDERE RONDLEIDINGEN
Boek in ieder geval drie rondleidingen bij verschillende crèches bij jou in de buurt (of een gastouder, daar hebben we geen ervaringen mee maar dat kan natuurlijk net zo goed). Zo kun je live vergelijken en een website zegt eigenlijk heel weinig over dit soort plekken. En ja, doe dat zo vroeg mogelijk. Het voelt heel raar maar je tekent nog geen contracten, het is alleen een reservering en reserveringen kun je gewoon opzeggen.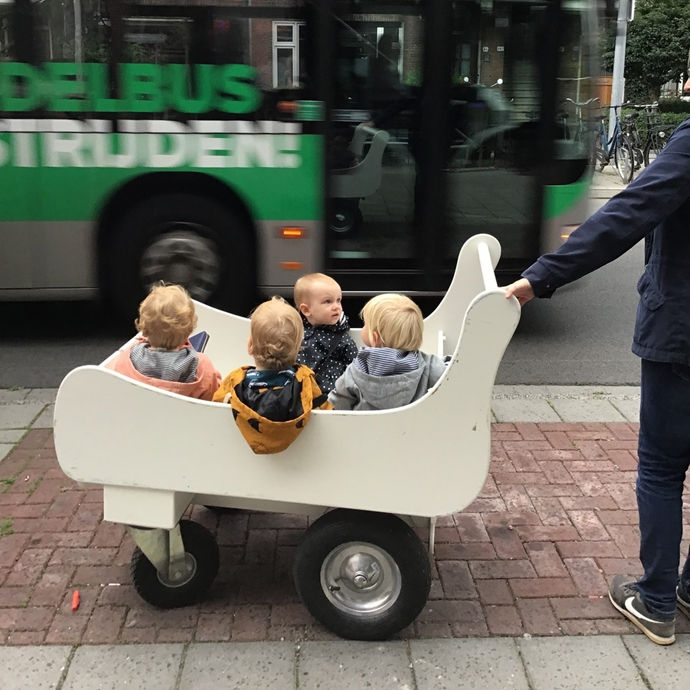 THIS IS A BIG ONE
Een opvang met veel verschillende leeftijdsgroepen (dus 0-1, 1-2 etc.) heeft de voorkeur! Crèches met maar één leeftijdsgroep (0-4) of twee (0-2, 2-4) roepen heel hard dat je kindje zo ontzettend veel van de oudere kindjes zal leren. En dat klopt vast en zeker. Maar er zitten in mijn ogen meer nadelen aan dan voordelen. Zo kunnen baby's letterlijk omver worden gelopen door grotere kindjes en de grotere kindjes kans op minder aandacht omdat de baby's nog niks zelf kunnen. Daarnaast zijn uitjes moeilijker te organiseren omdat er weinig is wat alle kindjes gemeen hebben en omdat babyslaapjes onvoorspelbaar zijn. Ook met gezamenlijke activiteiten is het zoveel handiger om een groepje kinderen te hebben die hetzelfde leuk vindt. Baby's willen lekker veel rust en aandacht, kindjes van 1-2 leren net lopen en praten en klooien en kliederen.
Kiki zat bij haar eerste opvang in een groep van 0-2 als baby en achteraf vind ik het jammer dat ze niet in een echte babygroep zat. Ze was een heel gevoelig kindje dat veel huilde en veel lichaamscontact nodig had maar ze lag in haar up in een box terwijl kindjes van anderhalf er een beetje omheen renden. Natuurlijk is ze daar goed verzorgd maar wat had ik haar een knusse, cozy babygroep gegund. Nu ze anderhalf is en in een groep van 1-2 zit, zie ik hoeveel ze kunnen ondernemen omdat ze niet worden teruggehouden door de baby's en ze more or less op hetzelfde nivea zitten, hetzelfde mogen eten en rond dezelfde tijd slapen. Ze gaan er bijna elke week eventjes op uit, er wordt geknutseld like crazy en alhoewel ze de kleinste is, is er geen kind groot genoeg om haar omver te lopen. It's great!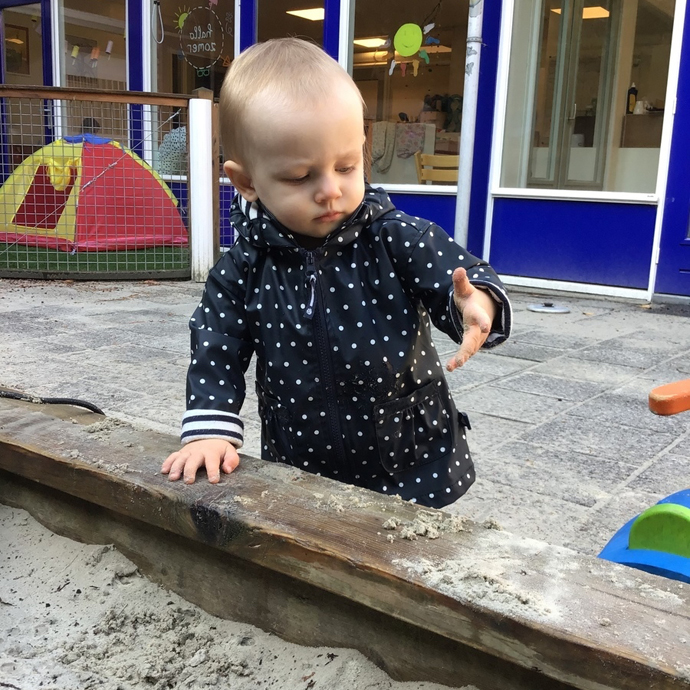 BIGGER IS NOT ALWAYS BETTER
Kiki's eerste opvang was redelijk enorm. Er waren meerdere 0-2 en 2-4 groepen, de lokalen stonden open zodat alle kindjes ook de gang over konden en er was veel personeel, veel ouders en veel slaapkamers. Er zat een machtig mooie tuin bij met kippen, een moestuin en een grote zandbak. Dat laatste hebben wij ons enorm door laten verleiden, het was echt een peuter paradijs. Maar Kiki was geen peuter, Kiki was een gevoelige baby die pas na een jaar of drie écht haar voordeel uit die mooie tuin kon halen. And guess what? Als je kinderen een glijbaantje, een stukje kunstgras en een kleine zandbak geeft zijn ze van 0-4 jaar godsgruwelijk gelukkig. En al die andere grote dingen vond ik uiteindelijk alleen maar heel overweldigend. Het was er heel druk, onoverzichtelijk en ik kon alle gezichten van de leiding, ouders en kindjes niet zo goed bijhouden. Ik kon mijn eigen kind amper vinden als ik haar kwam ophalen omdat alles zo open was ingedeeld. Toen ze na een jaar naar een drie-keer-zo-kleine opvang ging, hoefde ik nooit te zoeken, wilde ik liever blijven plakken dan weghollen en kende ik haar leidsters binnen de kortste tijd en belangrijker: zij kenden Kiki heel snel  omdat er niet een miljoen kiddo's rond krioelden. Als je voor het eerst gaat kijken kunnen de kleinere crèches wat claustrofobisch aanvoelen maar believe me: klein is overzichtelijk en je zult je er veel sneller thuis voelen.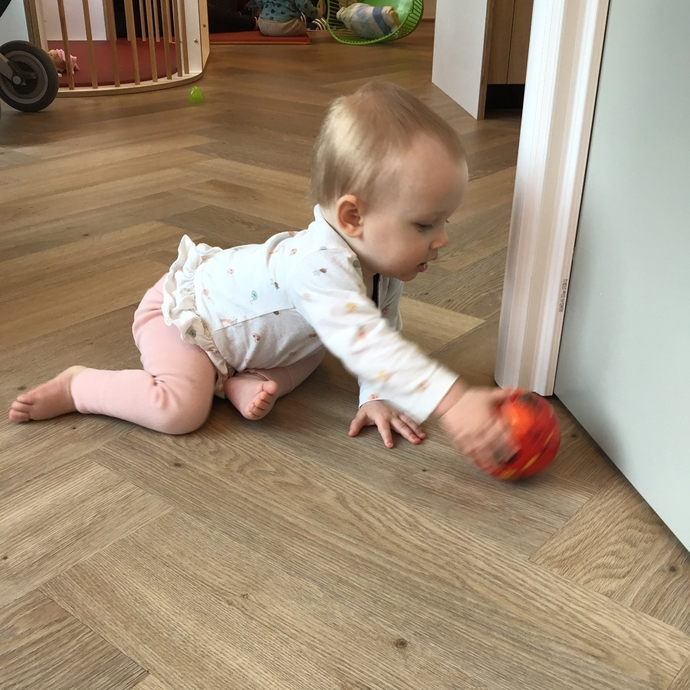 GO SLOFJES!
Deze is vooral belangrijk voor kindjes van 0-2 omdat die ontzettend veel op de grond liggen. Ik ben geen clean freak, verre van eigenlijk, maar als je mini mensje grijs van het vuil van de grond weer terugkomt aan het einde van de dag, is dat toch niet zo heel geweldig. De vloeren van lokalen in de crèche worden vaak één keer in de week grondig schoongemaakt en tussendoor uiteraard ook netjes bijgehouden. Doe je dat thuis dan is dat echt schoon zat. Maar bij een opvang komen er zóveel mensen met vieze schoenen binnen. Mensen die er werken, ouders die kindjes komen brengen en halen, vervangers en broertjes en zusjes uit een andere groep. Doe daar nog een seizoen zoals de herfst of winter bij and you got yourself a VERY nasty floor. Waar je tijgerende baby met zijn/haar kleine neusje de héle dag overheen schuift. Ben je van mening: goed voor de weerstand, helemaal prima. Maar ik trok het niet. Sommige crèches maken gelukkig gebruik van die blauwe ziekenhuis slofjes die je over je schoenen heen kunt trekken zodat de vloer een stuk schoner blijft. Zo ook Kiki's nieuwe crèche. En het verschil is mega. Hoe ze eerst aan één kant (de voorkant) helemaal grijs thuiskwam (ja zelfs haar snoetje zat eronder) is ze nu helemaal fris. Ja, er zit zand in haar schoentjes van de zandbak of een restje blauwe verf tussen haar vingertjes, maar niet meer van een ranzige vloer, hell no.
EEN VASTE SLAAPPLEK
Ook iets waar ik echt niet op lette toen ik zwanger was want ik wist niet dat het een ding was: dat je kind altijd in dezelfde kamer slaapt en het liefst ook in hetzelfde bedje. Met een deur die grenst aan het lokaal waar haar leidsters ook zijn óf met een babyfoon. Het aantal keren dat ik mijn baby na een flinke zoektocht verdrietig in een slaapkamer van een andere groep aantrof, zijn helaas niet op één hand te tellen. Een vast bedje met hetzelfde uitzicht en hetzelfde gezelschap is heel waardevol. Dat is ook veel geruststellender als ze gaan slapen én als ze wakker worden. 'Waar de fuck ben ik nou weer??' zal je baby dan niet snel denken. Uiteraard deelt jouw kindje haar/zijn bedje met kinderen die op andere dagen komen als hij/zij er niet is, maar het slapen in een bekende omgeving is pretty awesome. Het zal je niet verbazen dat Kiki's nieuwe opvang dat wél heeft. Hoera!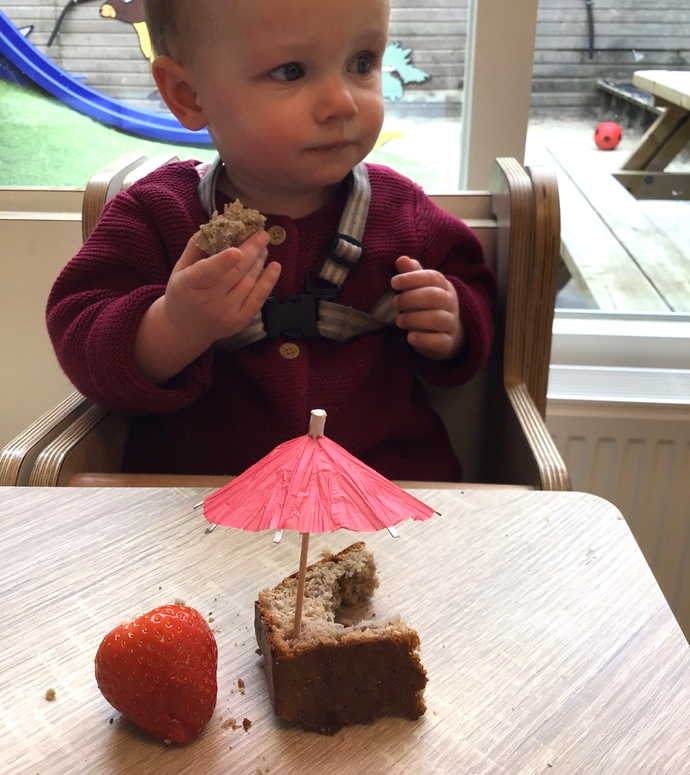 NIET DOOR LATEN AFLEIDEN
Zoals ik eerder al zei, hebben Tom en ik toen ik zwanger was ons laten verleiden door De Droomtuin. Ja, dat is een leuke bonus maar echt niet zo belangrijk als bovenstaande punten wat mij betreft. Ze moeten wel naar buiten kunnen en het liefst via de deur van hun eigen lokaal. En hoe kleiner de buitenplaats, hoe beter de leiding je kindje in de gaten kan houden. Dus tuin: yes please, maar een hele gigantische met alles erop en eraan hoeft echt niet.
Wat ook een afleiding kan zijn is home made bio dynamisch verantwoorde warme maaltijden in de middag. Heus een bonus maar echt geen must. Ik vind het fijn dat Kiki alleen water, lauwe thee en melk krijgt te drinken en niet went aan zoete drankjes, maar verder zijn praktisch alle crèches superverantwoord met hun snacks en broodbeleg. Het weegt niet op tegen een groep met leeftijdsgenootjes of een vast plekje om te slapen.
Mega verantwoorde speeltjes/opvoedmethodes. Ik ben anti-Ipad want dat is bij overmatig gebruik heel slecht voor de ogen van kindertjes maar verder maakt het me geen reet uit. Ze werken allemaal met thema's en ze hebben allemaal verstand van kinderen. Ik heb duizend keer liever een leidster die helemaal koekoek banana's gaat met knutselwerkjes en leuke uitjes en dat er wat plastic batterij speelgoed aanwezig is dan een knetterverantwoorde setting waar weinig lol te beleven is. Je wil het beste voor je kindje, ofcourse, maar het moet ook een beetje leuk blijven.
WAT TE VRAGEN BIJ EEN RONDLEIDING
Dan kom je daar bij zo'n rondleiding met een foetus in je buik en dan? Wat vraag je die mensen terwijl je je eigen baby nog niet eens hebt gevoeld, laat staan gezien? Veel van de bovengenoemde dingen zijn waarschijnlijk online wel uit te zoeken op de website en anders zie je het direct bij binnenkomst wel. Die blauwe ziekenhuisslofjes vallen echt wel op. Alleen of de kindjes een vast slaapplekje hebben moet je echt even vragen.
Het enige wat ik achteraf een goede vraag vind maar die ik destijds niet gesteld heb is: Hoe ziet een dag eruit op het dagverblijf, van élke leeftijdscategorie. Met concrete voorbeelden. Helemaal als er meerdere leeftijden door elkaar heen lopen is dat goed om te weten. Stel je hebt geen keuze in opvang met groepen van 0-1 of 1-2, hoe zorgen zij er dan voor dat alle kindjes krijgen waar ze behoefte aan hebben? Splitsen ze op? Gaan ze met zijn allen naar buiten? Wat voor activiteiten hebben ze voor de oudere kindjes?
♥♥♥
Tenslotte moet je natuurlijk ook letten op locatie, prijs en inspecties die je kunt terugvinden op hun website. Het moet er ook gewoon goed voelen en de mensen vriendelijk. En er zijn misschien persoonlijke voorkeuren waar je het nog even over kunt hebben. Zo hebben wij nu een deal met onze opvang dat we Kiki brengen in een wasbare luier en dat zij haar aan het einde van de dag weer een wasbare aandoen die we hebben meegegeven. Zo zijn we van 'nee wij doen niet aan wasbare luiers' naar twee wegwerpies minder gegaan. Even vragen kan altijd.
♥♥♥
Sidenote: Dit artikel is eigenlijk al een beetje te lang, maar ik wilde dit toch ook nog even zeggen: Je stem vinden als nieuwe ouder is best heel moeilijk, in mijn ervaring. Tom en ik waren niet de dag na haar geboorte van die leeuwenouders die meteen op hun achterste benen gingen staan als iets ons niet zinde. We vonden het niet zo leuk dat Kiki zo vies werd van de vloer en dat ze lag te slapen in een kamer bij een andere groep. Maar we wisten ook niet dat het anders kon en er gingen heel veel goede verhalen de ronde over de opvang die we in eerste instantie voor Kiki hadden uitgezocht. Weten wat goed voelt voor jou én je kindje kan even duren. So give yourself a break. And take a sisi. Als je een goed kinderdagverblijf hebt om mee te beginnen, dan scheelt dat gelukkig al heel erg.