Ja jongens en meisjes, het is al bijna weer zover. We kunnen weer onze rozenblaadjes van stal halen en de hartvormige bonbons af gaan rekenen: Valentijnsdag is around the corner! Gadget/leuke cadeautjes webshop radbag.nl vroeg mij een passende printable te maken voor deze romantische dag en dat heb ik gedaan. Tom heeft dit idee al dik goedgekeurd en is ervan overtuigd dat andere geliefden hier ook blij van zullen worden…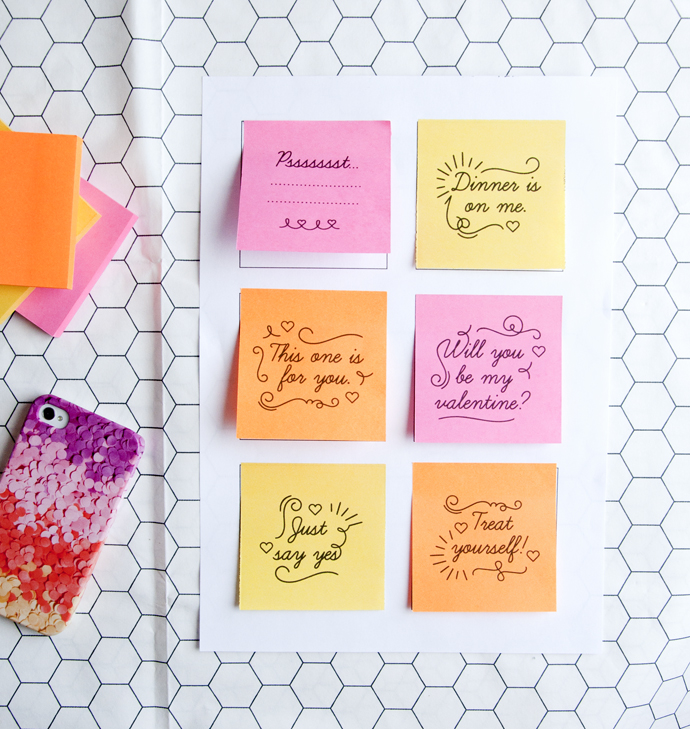 Het idee van deze printable is dat je heel makkelijk een stel sticky notes kunt voorzien van een lieve tekst en op verschillende plekken achter kan laten. Je geliefde (of geliefde to be) vindt overal lieve berichtjes en zal je hoogstwaarschijnlijk belonen met een grote glimlach en hopelijk ook nog een kusje (oooooooeh!)
Het enige dat je nodig hebt is een printer die A4 en zwart kan printen, sticky notes (kun je gewoon bij de supermarkt kopen, deed ik ook) en natuurlijk deze printable. Het enige waar je nog even op moet letten, is dat je sticky notes 7,5 x 7,5 cm zijn (ongeveer). Maar naar mijn weten is dat een standaard formaat.
De printable bestaat uit twee delen. Eerst print je pagina 1 (die met de vakjes) op een gewoon wit velletje papier. Op 100% grootte. Dus niet fit to page of zoiets, gewoon 100%. Als dat papiertje met vakjes uit de printer is gerold, plak je zes sticky notes op de vakjes. Beetje glad strijken en het papier weer terug in de printer stoppen. Nu denk je vast (want dat dacht ik ook): 'dit overleeft mijn printer nooit, straks moet ik 1000 stukjes sticky notes uit mijn printer gaan peuteren met een pincet'. Nou en dat hoeft dus niet. Als de sticky notes goed plakken, dan is er niks aan de hand!
Tijd om pagina 2 (die met de tekst) te printen. Je zult zelf moeten uitvogelen hoe je je pagina met sticky notes in de printer moet stoppen, want elke printer is anders. Bij mij ging het wonderwel in één keer goed en dit was het resultaat. Zes leuke sticky notes die je op geheime plekjes in huis, op cadeautjes of alledaagse spullen kunt plakken, opdat je geliefde ze zal vinden.
Een paar voorbeelden:
Vul een lunchbox (of een leuke bento box) met lekkere hapjes en plak de sticky note met 'this one is for you' erop. De box kan mee naar het werk, een romantische bioscoopfilm of mee naar een uitwaaidagje op 't strand. Go crazy.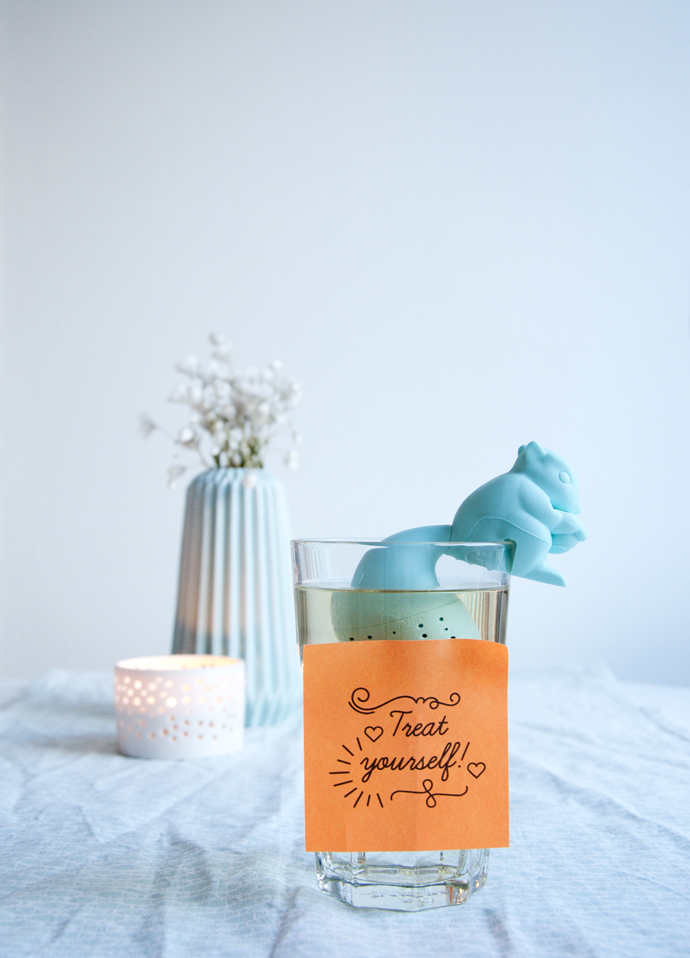 Of zet een lekker kopje thee klaar (en ok, hartvormige bonbons, want dat is nooit verkeerd) en plak ook hier een lief berichtje op. Een kopje thee zetten voor iemand is altijd al goed, maar met deze tekst is ie extra welkom.
Uitgebreid koken of je liefste mee uit eten nemen is misschien niet origineel, maar wel ALTIJD een goed idee (als je het mij vraagt tenminste). Wat wél origineel is, is het op deze manier aankondigen. Ik zou in ieder geval opspringen en een 'YESSS' gebaar maken. Lees je ook mee Tom? Hmmm?
RADBAG WEDSTRIJD EN WINACTIE VOOR BLOGGERS!
Heb jij nou ook een superleuk idee voor een valentijnsblog? Radbag.nl zoekt voor hun online magazine radmag bloggers die een origineel artikel kunnen schrijven dat de lezers zal inspireren. En wat kun je daarmee winnen? Een plekje in het radmag natuurlijk (gezellig samen met mij want dit artikel komt er ook in te staan). En een radbag kortingsbon van €200! Klik hier voor alle info en spelregels, ik hoop dat de bloggers onder jullie een kansje gaan wagen!
♥♥♥
Heel veel plezier met printen en lieve berichtjes door je hele huis/kantoor/studentenhuis plakken. Als je ergens niet uitkomt, dan hoor ik het wel bij de comments. Share the love!
De lieve bento box, het eekhoorn thee-ei en het panda bord komen allemaal uit de webshop radbag.nl. Een goede plek om een origineel valentijnscadeau te vinden. ;)