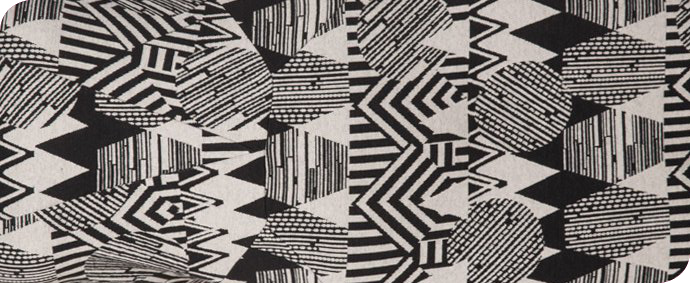 I got a new dress by the brand Nümph and it's gorgeous. Check out some other beautiful pieces by Nümph!
Ik heb een nieuwe jurk en hij is zoooo mooi! Ze (een jurk is vrouwelijk toch?) komt bij een van mijn favoriete kledingwinkeltjes in Groningen vandaan: Zheng. Ze is van het merk Nümph, is heel lekker zacht en warm en heeft een geweldig geometrisch patroontje. Op internet ging ik zoek naar meer moois van dit merk en oh boy, kwam ik mij daar een boel mooie spullen tegen!
Nümph is een merk dat oorspronkelijk uit Denemarken komt. Ze hebben vaak vrolijke kleuren, leuke patroontjes en eigenzinnige modellen. Ik heb een paar kledingstukken van Nümph en ze blijven lang mooi en zitten heel erg lekker. Ik kwam erachter dat ze een aardige hoeveelheid van Nümph bij Zalando verkochten en ben daar eens lekker gaan rondneuzen (windowshopping oh yes). Ik heb de leukste items op een rijtje gezet. Misschien zit er nog iets leuks voor jou bij! Nümph is niet extreem goedkoop, maar je hebt er lang plezier van. Gelukkig hebben ze bij zalando nog wat items in de sale…
Nümph is originally from Denmark, the cloths are original and colorfull and also very comfortable.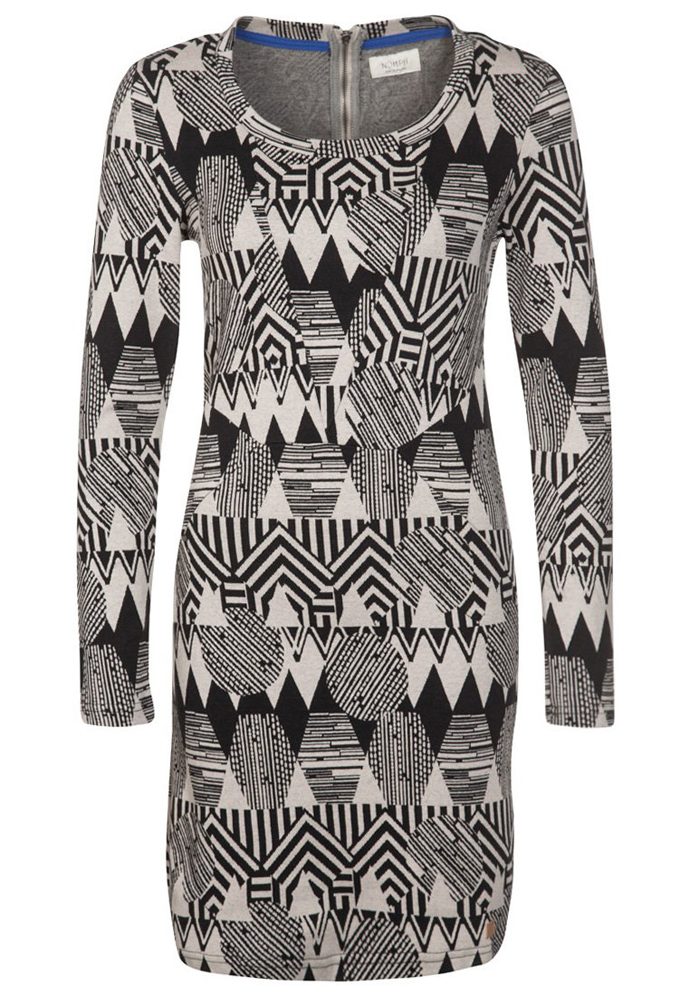 JUDY – € 79,95
En dit is ze dan: Judy de jurk! Ik zei toch dat het een meisje was!
***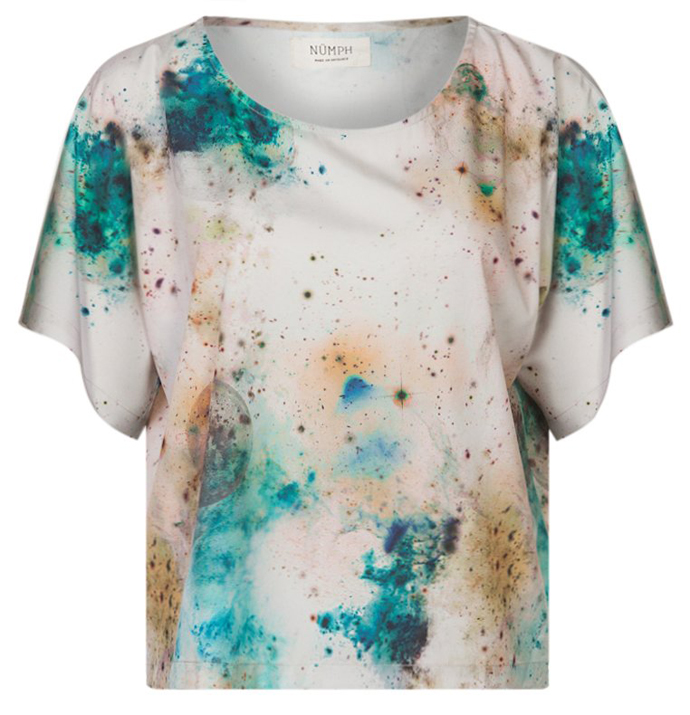 VANESSA – € 59,95
Vanessa is een prachtige croptop met galaxy print. Hipjes!
***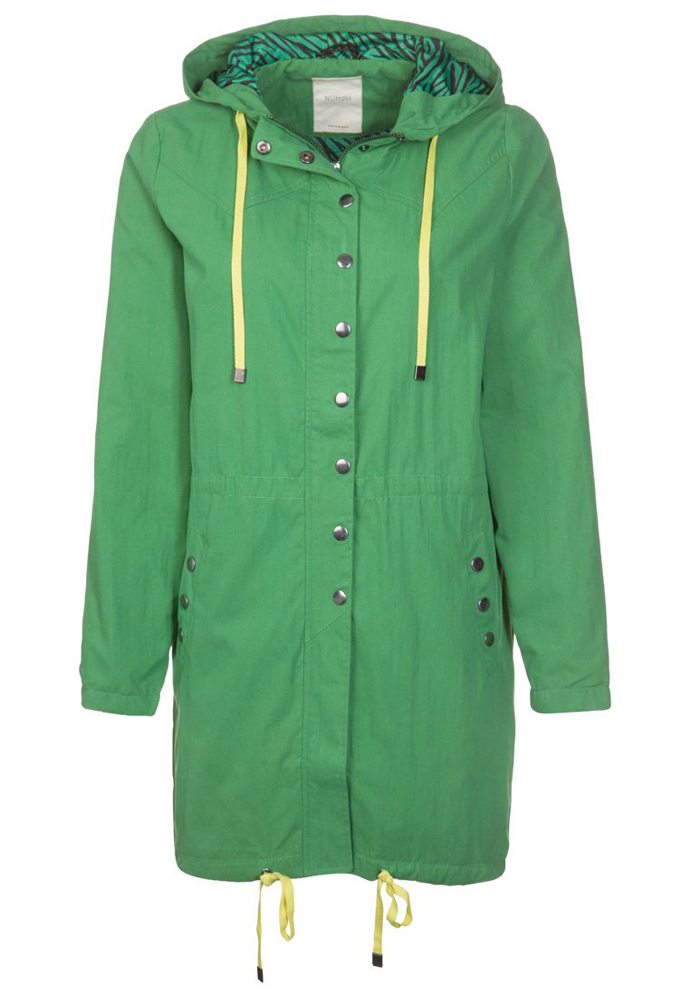 LAURA – € 109,95
Laura is een geweldige groene jas met koortjes in de taille die je wat strakker kunt trekken.
Ik vind de kleur echt heel mooi, net als het printje in de capuchon.
***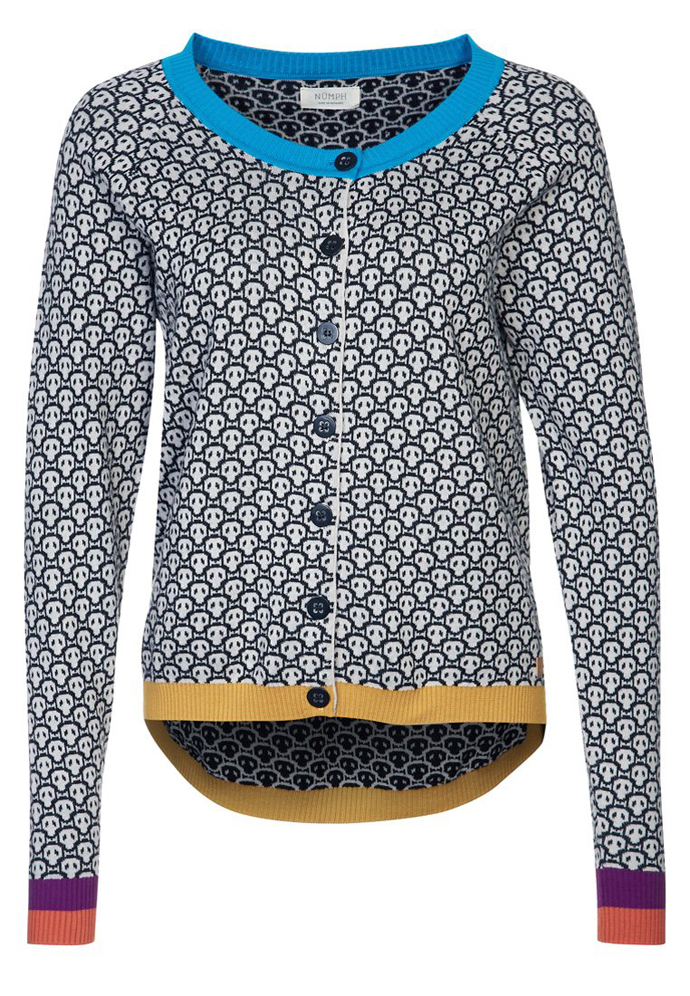 PRICILLA – € 59,95
De vestjes van Nümph zijn to die for. Ik word altijd zo blij van al die leuke printjes.
Hieronder volgt nog een reeks te gekke vestjes:
***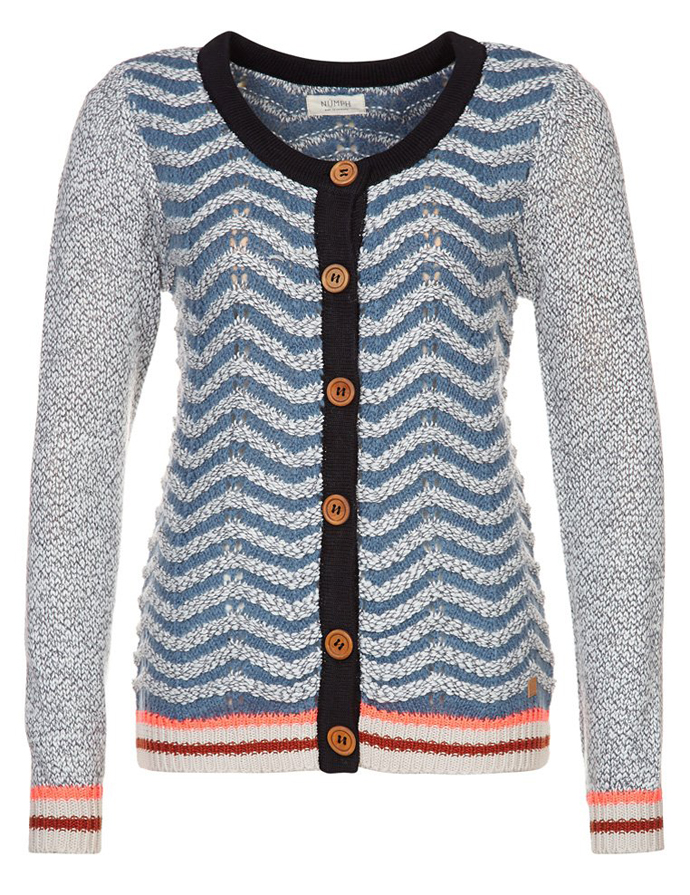 CASIOPIA – € 79,95 > € 69,95
Chevron en houten knoopjes, leuk toch?
***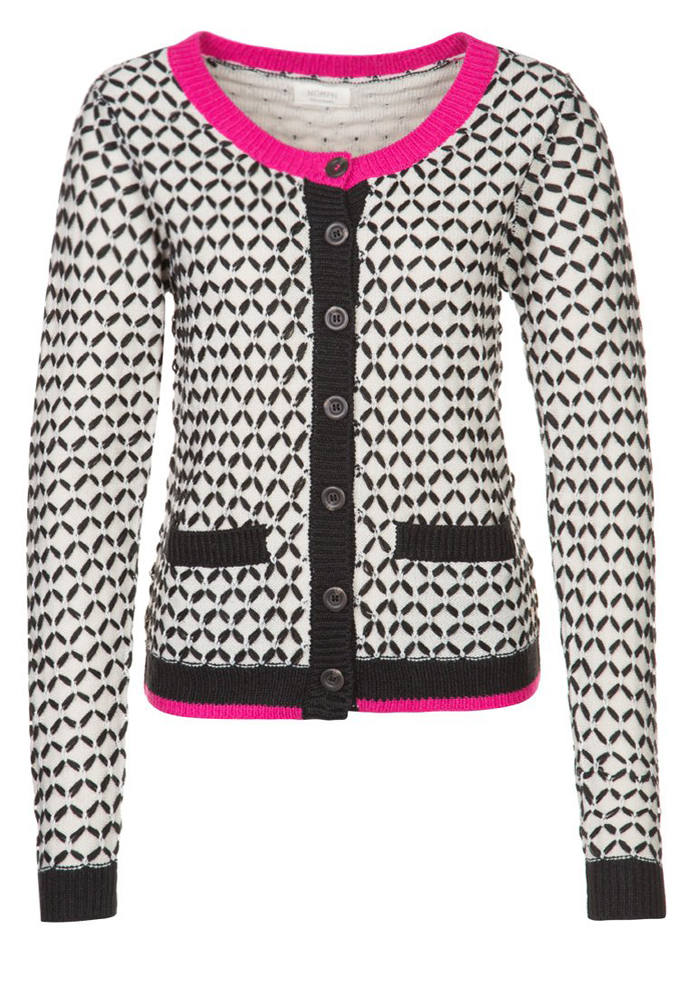 CHARLOTTE – € 69,95 > € 49,95
Ik vind dit ook echt een Charlotte vestje (Sex and the city).
***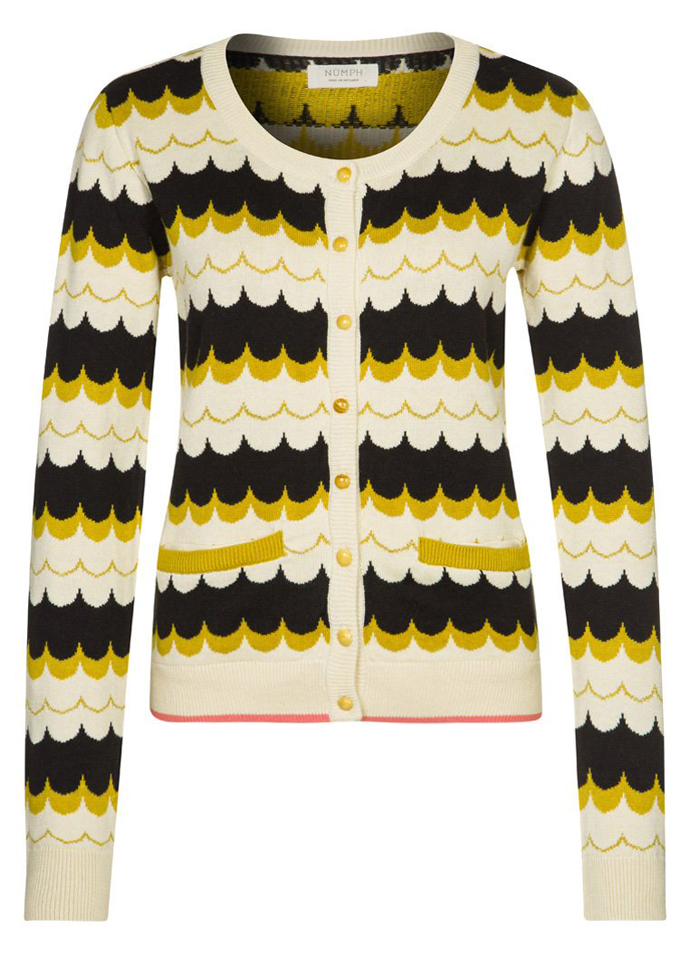 CARMEN – € 69,95 > € 59,95
Mijn favoriet van alle vestjes. De knoopjes zijn zo lief en de kleur goud/geel vind ik erg mooi.
***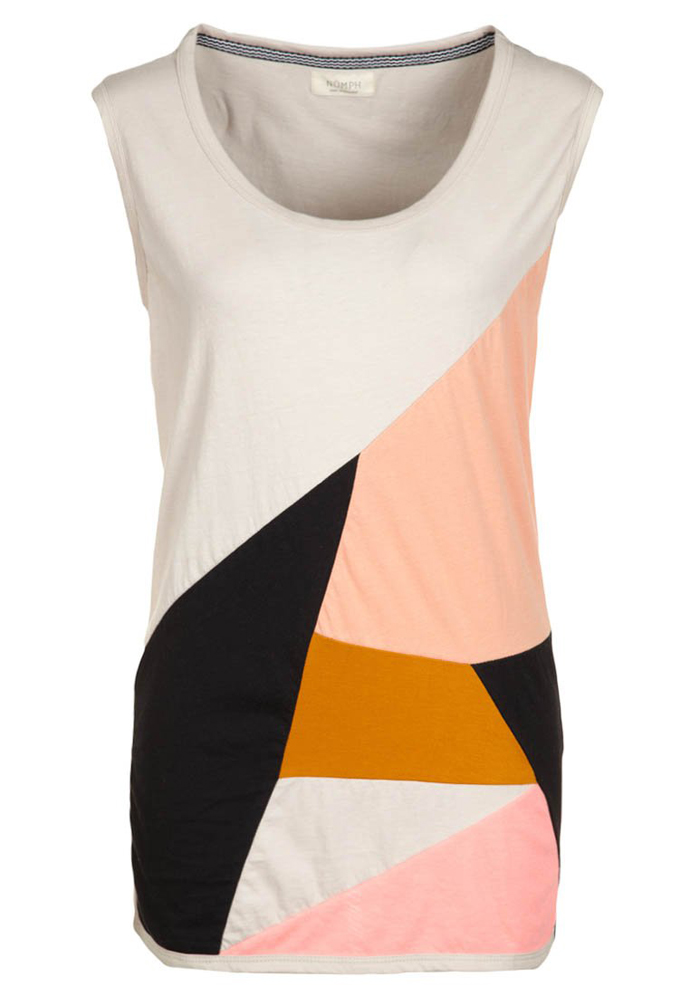 OCEAN – € 24,95
Mooie kleuren en vormen. Ik gok dat dit voor mij eerder een jurk zou zijn dan een shirt.
Haha, tiny Olga :)
***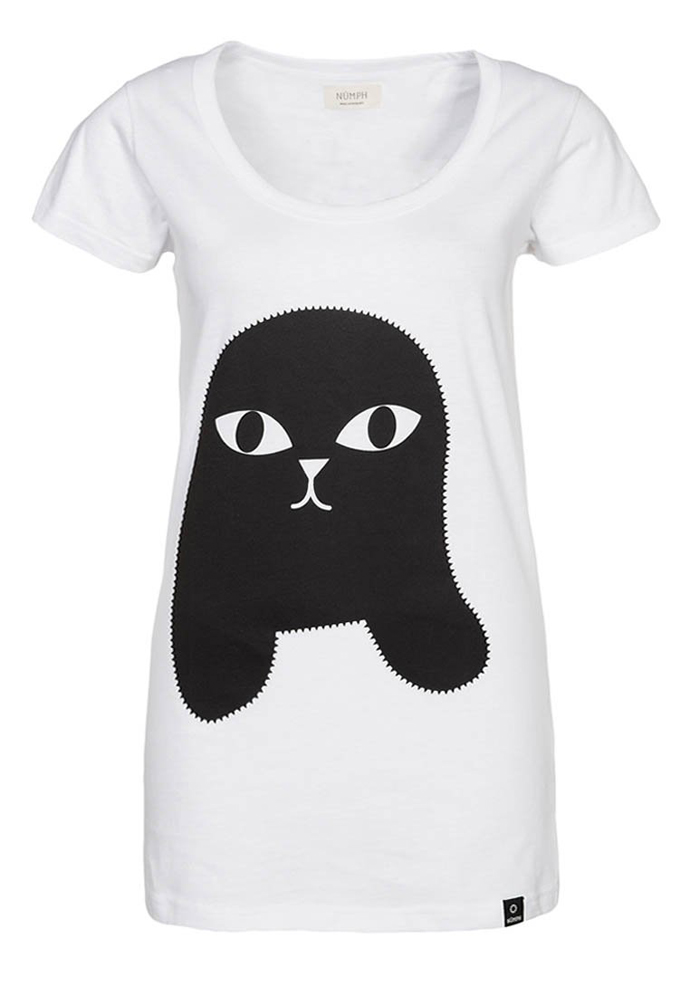 NESSIE – € 22,95 > € 14,95
Cute! Lijkt een beetje op een zeehondje.
***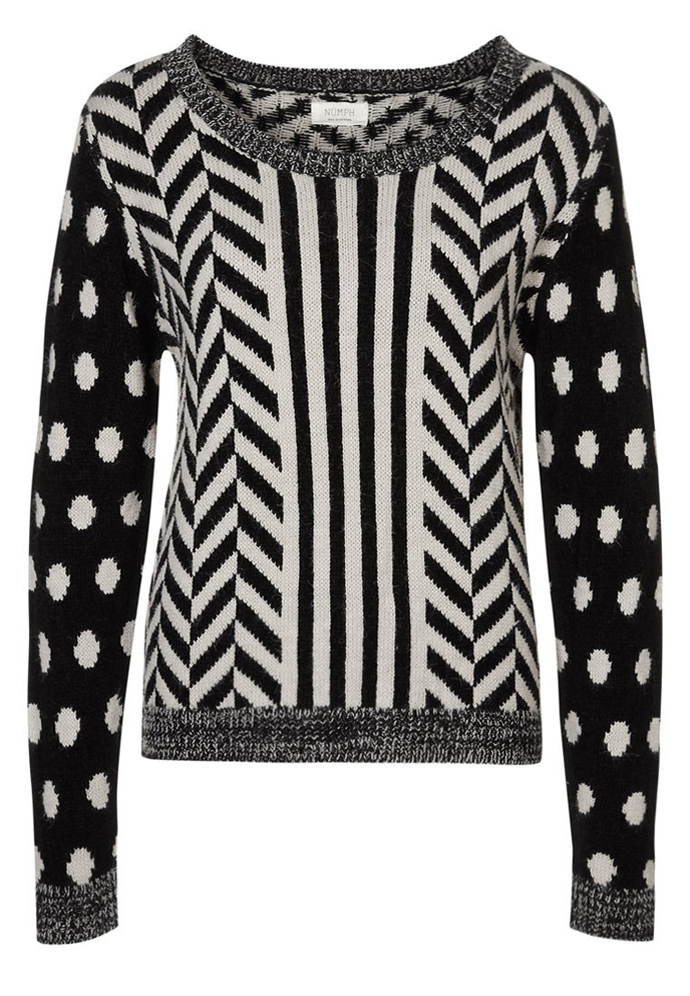 JOE – € 59,95 > € 44,95
Truien zijn blijkbaar jongetjes, haha.
***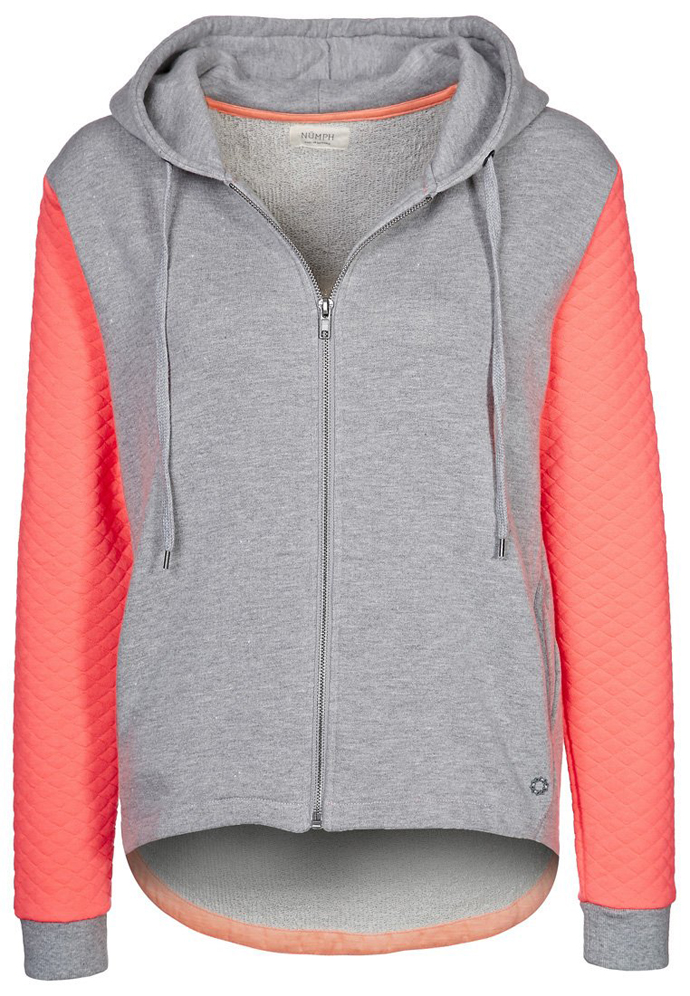 PINK – € 49,95 > € 29,95
Oef, wat ziet dit vest er heerlijk comfy uit.
Lekker voor lazy sundays of om aan te doen tijdens het hardlopen…
***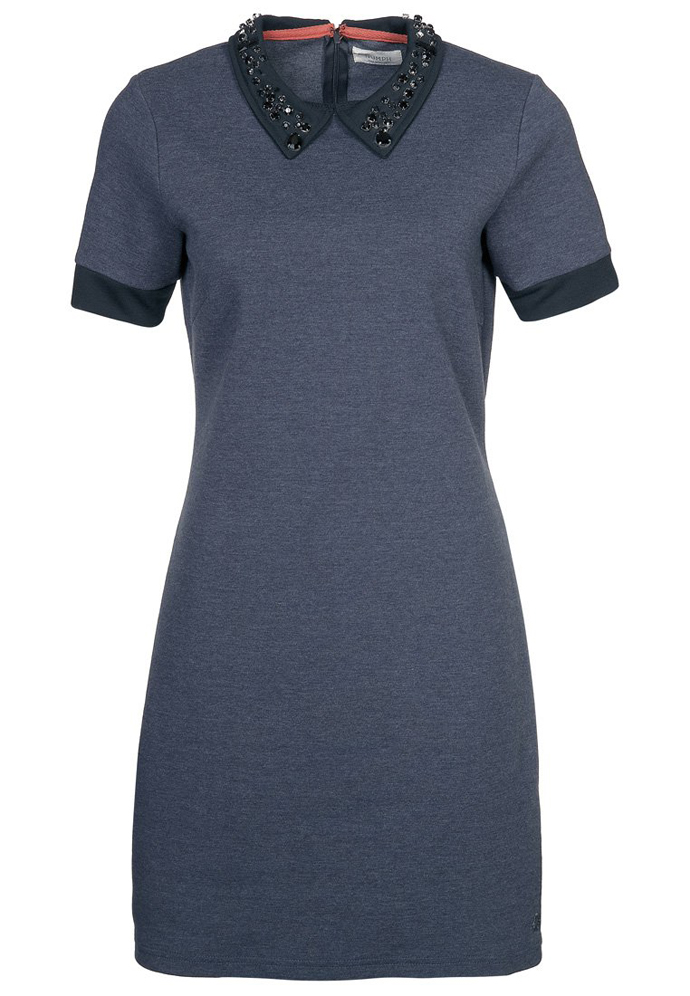 FREDDY – € 59,95 > € 46,95
Lekker comfortabel jurkje met een geweldig kraagje.
***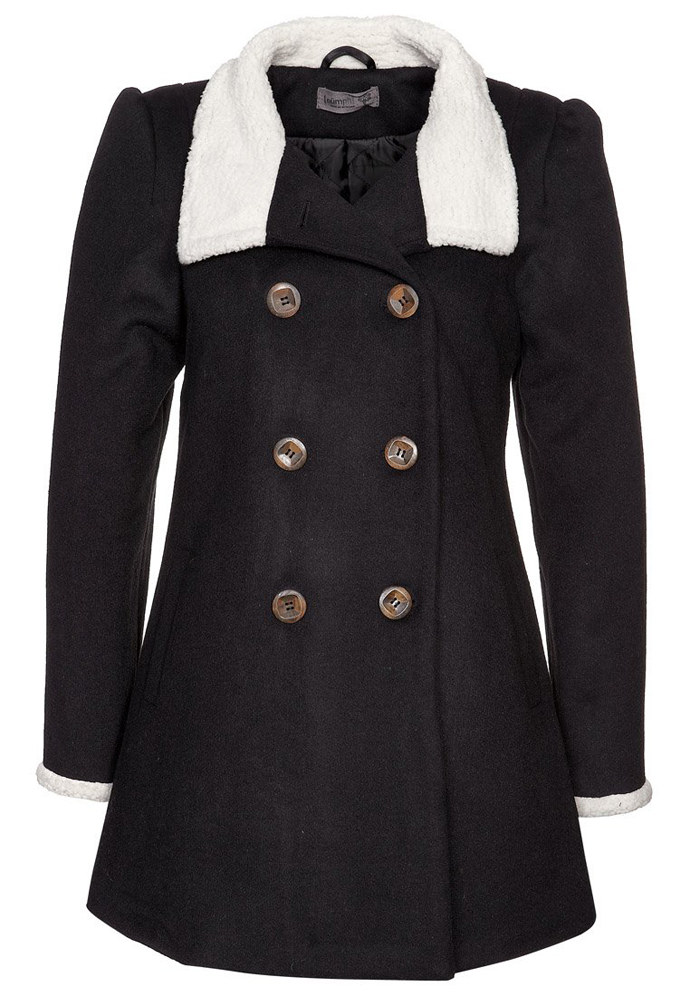 GAIA – € 179,95 > € 124,95
Kwijl, wat is dit een prachtig jasje. Maar er is er helaas nog maar eentje in maatje 34 en daar kan ik me niet inwurmen ben ik bang. Iemand anders misschien?
***
Kende je dit merk al? Wat vind je ervan?
Did you know this brand? Do you like it?
Warning: preg_match(): Compilation failed: invalid range in character class at offset 4 in /customers/a/8/1/teamconfetti.nl/httpd.www/wp-content/plugins/pinterest-pin-it-button/includes/simple_html_dom.php on line 1364 Warning: preg_match(): Compilation failed: invalid range in character class at offset 4 in /customers/a/8/1/teamconfetti.nl/httpd.www/wp-content/plugins/pinterest-pin-it-button/includes/simple_html_dom.php on line 1364 Warning: preg_match(): Compilation failed: invalid range in character class at offset 4 in /customers/a/8/1/teamconfetti.nl/httpd.www/wp-content/plugins/pinterest-pin-it-button/includes/simple_html_dom.php on line 1364 Warning: preg_match(): Compilation failed: invalid range in character class at offset 4 in /customers/a/8/1/teamconfetti.nl/httpd.www/wp-content/plugins/pinterest-pin-it-button/includes/simple_html_dom.php on line 1364 Warning: preg_match(): Compilation failed: invalid range in character class at offset 4 in /customers/a/8/1/teamconfetti.nl/httpd.www/wp-content/plugins/pinterest-pin-it-button/includes/simple_html_dom.php on line 1364 Warning: preg_match(): Compilation failed: invalid range in character class at offset 4 in /customers/a/8/1/teamconfetti.nl/httpd.www/wp-content/plugins/pinterest-pin-it-button/includes/simple_html_dom.php on line 1364 Warning: preg_match(): Compilation failed: invalid range in character class at offset 4 in /customers/a/8/1/teamconfetti.nl/httpd.www/wp-content/plugins/pinterest-pin-it-button/includes/simple_html_dom.php on line 1364 Warning: preg_match(): Compilation failed: invalid range in character class at offset 4 in /customers/a/8/1/teamconfetti.nl/httpd.www/wp-content/plugins/pinterest-pin-it-button/includes/simple_html_dom.php on line 1364 Warning: preg_match(): Compilation failed: invalid range in character class at offset 4 in /customers/a/8/1/teamconfetti.nl/httpd.www/wp-content/plugins/pinterest-pin-it-button/includes/simple_html_dom.php on line 1364 Warning: preg_match(): Compilation failed: invalid range in character class at offset 4 in /customers/a/8/1/teamconfetti.nl/httpd.www/wp-content/plugins/pinterest-pin-it-button/includes/simple_html_dom.php on line 1364 Warning: preg_match(): Compilation failed: invalid range in character class at offset 4 in /customers/a/8/1/teamconfetti.nl/httpd.www/wp-content/plugins/pinterest-pin-it-button/includes/simple_html_dom.php on line 1364 Warning: preg_match(): Compilation failed: invalid range in character class at offset 4 in /customers/a/8/1/teamconfetti.nl/httpd.www/wp-content/plugins/pinterest-pin-it-button/includes/simple_html_dom.php on line 1364 Warning: preg_match(): Compilation failed: invalid range in character class at offset 4 in /customers/a/8/1/teamconfetti.nl/httpd.www/wp-content/plugins/pinterest-pin-it-button/includes/simple_html_dom.php on line 1364 Warning: preg_match(): Compilation failed: invalid range in character class at offset 4 in /customers/a/8/1/teamconfetti.nl/httpd.www/wp-content/plugins/pinterest-pin-it-button/includes/simple_html_dom.php on line 1364 Warning: preg_match(): Compilation failed: invalid range in character class at offset 4 in /customers/a/8/1/teamconfetti.nl/httpd.www/wp-content/plugins/pinterest-pin-it-button/includes/simple_html_dom.php on line 1364 Warning: preg_match(): Compilation failed: invalid range in character class at offset 4 in /customers/a/8/1/teamconfetti.nl/httpd.www/wp-content/plugins/pinterest-pin-it-button/includes/simple_html_dom.php on line 1364 Warning: preg_match(): Compilation failed: invalid range in character class at offset 4 in /customers/a/8/1/teamconfetti.nl/httpd.www/wp-content/plugins/pinterest-pin-it-button/includes/simple_html_dom.php on line 1364 Warning: preg_match(): Compilation failed: invalid range in character class at offset 4 in /customers/a/8/1/teamconfetti.nl/httpd.www/wp-content/plugins/pinterest-pin-it-button/includes/simple_html_dom.php on line 1364 Warning: preg_match(): Compilation failed: invalid range in character class at offset 4 in /customers/a/8/1/teamconfetti.nl/httpd.www/wp-content/plugins/pinterest-pin-it-button/includes/simple_html_dom.php on line 1364 Warning: preg_match(): Compilation failed: invalid range in character class at offset 4 in /customers/a/8/1/teamconfetti.nl/httpd.www/wp-content/plugins/pinterest-pin-it-button/includes/simple_html_dom.php on line 1364 Warning: preg_match(): Compilation failed: invalid range in character class at offset 4 in /customers/a/8/1/teamconfetti.nl/httpd.www/wp-content/plugins/pinterest-pin-it-button/includes/simple_html_dom.php on line 1364 Warning: preg_match(): Compilation failed: invalid range in character class at offset 4 in /customers/a/8/1/teamconfetti.nl/httpd.www/wp-content/plugins/pinterest-pin-it-button/includes/simple_html_dom.php on line 1364 Warning: preg_match(): Compilation failed: invalid range in character class at offset 4 in /customers/a/8/1/teamconfetti.nl/httpd.www/wp-content/plugins/pinterest-pin-it-button/includes/simple_html_dom.php on line 1364 Warning: preg_match(): Compilation failed: invalid range in character class at offset 4 in /customers/a/8/1/teamconfetti.nl/httpd.www/wp-content/plugins/pinterest-pin-it-button/includes/simple_html_dom.php on line 1364 Warning: preg_match(): Compilation failed: invalid range in character class at offset 4 in /customers/a/8/1/teamconfetti.nl/httpd.www/wp-content/plugins/pinterest-pin-it-button/includes/simple_html_dom.php on line 1364 Warning: preg_match(): Compilation failed: invalid range in character class at offset 4 in /customers/a/8/1/teamconfetti.nl/httpd.www/wp-content/plugins/pinterest-pin-it-button/includes/simple_html_dom.php on line 1364 Warning: preg_match(): Compilation failed: invalid range in character class at offset 4 in /customers/a/8/1/teamconfetti.nl/httpd.www/wp-content/plugins/pinterest-pin-it-button/includes/simple_html_dom.php on line 1364 Warning: preg_match(): Compilation failed: invalid range in character class at offset 4 in /customers/a/8/1/teamconfetti.nl/httpd.www/wp-content/plugins/pinterest-pin-it-button/includes/simple_html_dom.php on line 1364 Warning: preg_match(): Compilation failed: invalid range in character class at offset 4 in /customers/a/8/1/teamconfetti.nl/httpd.www/wp-content/plugins/pinterest-pin-it-button/includes/simple_html_dom.php on line 1364 Warning: preg_match(): Compilation failed: invalid range in character class at offset 4 in /customers/a/8/1/teamconfetti.nl/httpd.www/wp-content/plugins/pinterest-pin-it-button/includes/simple_html_dom.php on line 1364 Warning: preg_match(): Compilation failed: invalid range in character class at offset 4 in /customers/a/8/1/teamconfetti.nl/httpd.www/wp-content/plugins/pinterest-pin-it-button/includes/simple_html_dom.php on line 1364 Warning: preg_match(): Compilation failed: invalid range in character class at offset 4 in /customers/a/8/1/teamconfetti.nl/httpd.www/wp-content/plugins/pinterest-pin-it-button/includes/simple_html_dom.php on line 1364 Warning: preg_match(): Compilation failed: invalid range in character class at offset 4 in /customers/a/8/1/teamconfetti.nl/httpd.www/wp-content/plugins/pinterest-pin-it-button/includes/simple_html_dom.php on line 1364 Warning: preg_match(): Compilation failed: invalid range in character class at offset 4 in /customers/a/8/1/teamconfetti.nl/httpd.www/wp-content/plugins/pinterest-pin-it-button/includes/simple_html_dom.php on line 1364 Warning: preg_match(): Compilation failed: invalid range in character class at offset 4 in /customers/a/8/1/teamconfetti.nl/httpd.www/wp-content/plugins/pinterest-pin-it-button/includes/simple_html_dom.php on line 1364 Warning: preg_match(): Compilation failed: invalid range in character class at offset 4 in /customers/a/8/1/teamconfetti.nl/httpd.www/wp-content/plugins/pinterest-pin-it-button/includes/simple_html_dom.php on line 1364 Warning: preg_match(): Compilation failed: invalid range in character class at offset 4 in /customers/a/8/1/teamconfetti.nl/httpd.www/wp-content/plugins/pinterest-pin-it-button/includes/simple_html_dom.php on line 1364 Warning: preg_match(): Compilation failed: invalid range in character class at offset 4 in /customers/a/8/1/teamconfetti.nl/httpd.www/wp-content/plugins/pinterest-pin-it-button/includes/simple_html_dom.php on line 1364 Warning: preg_match(): Compilation failed: invalid range in character class at offset 4 in /customers/a/8/1/teamconfetti.nl/httpd.www/wp-content/plugins/pinterest-pin-it-button/includes/simple_html_dom.php on line 1364 Warning: preg_match(): Compilation failed: invalid range in character class at offset 4 in /customers/a/8/1/teamconfetti.nl/httpd.www/wp-content/plugins/pinterest-pin-it-button/includes/simple_html_dom.php on line 1364 Warning: preg_match(): Compilation failed: invalid range in character class at offset 4 in /customers/a/8/1/teamconfetti.nl/httpd.www/wp-content/plugins/pinterest-pin-it-button/includes/simple_html_dom.php on line 1364 Warning: preg_match(): Compilation failed: invalid range in character class at offset 4 in /customers/a/8/1/teamconfetti.nl/httpd.www/wp-content/plugins/pinterest-pin-it-button/includes/simple_html_dom.php on line 1364 Warning: preg_match(): Compilation failed: invalid range in character class at offset 4 in /customers/a/8/1/teamconfetti.nl/httpd.www/wp-content/plugins/pinterest-pin-it-button/includes/simple_html_dom.php on line 1364 Warning: preg_match(): Compilation failed: invalid range in character class at offset 4 in /customers/a/8/1/teamconfetti.nl/httpd.www/wp-content/plugins/pinterest-pin-it-button/includes/simple_html_dom.php on line 1364 Warning: preg_match(): Compilation failed: invalid range in character class at offset 4 in /customers/a/8/1/teamconfetti.nl/httpd.www/wp-content/plugins/pinterest-pin-it-button/includes/simple_html_dom.php on line 1364 Warning: preg_match(): Compilation failed: invalid range in character class at offset 4 in /customers/a/8/1/teamconfetti.nl/httpd.www/wp-content/plugins/pinterest-pin-it-button/includes/simple_html_dom.php on line 1364 Warning: preg_match(): Compilation failed: invalid range in character class at offset 4 in /customers/a/8/1/teamconfetti.nl/httpd.www/wp-content/plugins/pinterest-pin-it-button/includes/simple_html_dom.php on line 1364 Warning: preg_match(): Compilation failed: invalid range in character class at offset 4 in /customers/a/8/1/teamconfetti.nl/httpd.www/wp-content/plugins/pinterest-pin-it-button/includes/simple_html_dom.php on line 1364 Warning: preg_match(): Compilation failed: invalid range in character class at offset 4 in /customers/a/8/1/teamconfetti.nl/httpd.www/wp-content/plugins/pinterest-pin-it-button/includes/simple_html_dom.php on line 1364 Warning: preg_match(): Compilation failed: invalid range in character class at offset 4 in /customers/a/8/1/teamconfetti.nl/httpd.www/wp-content/plugins/pinterest-pin-it-button/includes/simple_html_dom.php on line 1364 Warning: preg_match(): Compilation failed: invalid range in character class at offset 4 in /customers/a/8/1/teamconfetti.nl/httpd.www/wp-content/plugins/pinterest-pin-it-button/includes/simple_html_dom.php on line 1364 Warning: preg_match(): Compilation failed: invalid range in character class at offset 4 in /customers/a/8/1/teamconfetti.nl/httpd.www/wp-content/plugins/pinterest-pin-it-button/includes/simple_html_dom.php on line 1364 Warning: preg_match(): Compilation failed: invalid range in character class at offset 4 in /customers/a/8/1/teamconfetti.nl/httpd.www/wp-content/plugins/pinterest-pin-it-button/includes/simple_html_dom.php on line 1364 Warning: preg_match(): Compilation failed: invalid range in character class at offset 4 in /customers/a/8/1/teamconfetti.nl/httpd.www/wp-content/plugins/pinterest-pin-it-button/includes/simple_html_dom.php on line 1364 Warning: preg_match(): Compilation failed: invalid range in character class at offset 4 in /customers/a/8/1/teamconfetti.nl/httpd.www/wp-content/plugins/pinterest-pin-it-button/includes/simple_html_dom.php on line 1364 Warning: preg_match(): Compilation failed: invalid range in character class at offset 4 in /customers/a/8/1/teamconfetti.nl/httpd.www/wp-content/plugins/pinterest-pin-it-button/includes/simple_html_dom.php on line 1364 Warning: preg_match(): Compilation failed: invalid range in character class at offset 4 in /customers/a/8/1/teamconfetti.nl/httpd.www/wp-content/plugins/pinterest-pin-it-button/includes/simple_html_dom.php on line 1364 Warning: preg_match(): Compilation failed: invalid range in character class at offset 4 in /customers/a/8/1/teamconfetti.nl/httpd.www/wp-content/plugins/pinterest-pin-it-button/includes/simple_html_dom.php on line 1364 Warning: preg_match(): Compilation failed: invalid range in character class at offset 4 in /customers/a/8/1/teamconfetti.nl/httpd.www/wp-content/plugins/pinterest-pin-it-button/includes/simple_html_dom.php on line 1364 Warning: preg_match(): Compilation failed: invalid range in character class at offset 4 in /customers/a/8/1/teamconfetti.nl/httpd.www/wp-content/plugins/pinterest-pin-it-button/includes/simple_html_dom.php on line 1364 Warning: preg_match(): Compilation failed: invalid range in character class at offset 4 in /customers/a/8/1/teamconfetti.nl/httpd.www/wp-content/plugins/pinterest-pin-it-button/includes/simple_html_dom.php on line 1364 Warning: preg_match(): Compilation failed: invalid range in character class at offset 4 in /customers/a/8/1/teamconfetti.nl/httpd.www/wp-content/plugins/pinterest-pin-it-button/includes/simple_html_dom.php on line 1364 Warning: preg_match(): Compilation failed: invalid range in character class at offset 4 in /customers/a/8/1/teamconfetti.nl/httpd.www/wp-content/plugins/pinterest-pin-it-button/includes/simple_html_dom.php on line 1364 Warning: preg_match(): Compilation failed: invalid range in character class at offset 4 in /customers/a/8/1/teamconfetti.nl/httpd.www/wp-content/plugins/pinterest-pin-it-button/includes/simple_html_dom.php on line 1364 Warning: preg_match(): Compilation failed: invalid range in character class at offset 4 in /customers/a/8/1/teamconfetti.nl/httpd.www/wp-content/plugins/pinterest-pin-it-button/includes/simple_html_dom.php on line 1364 Warning: preg_match(): Compilation failed: invalid range in character class at offset 4 in /customers/a/8/1/teamconfetti.nl/httpd.www/wp-content/plugins/pinterest-pin-it-button/includes/simple_html_dom.php on line 1364 Warning: preg_match(): Compilation failed: invalid range in character class at offset 4 in /customers/a/8/1/teamconfetti.nl/httpd.www/wp-content/plugins/pinterest-pin-it-button/includes/simple_html_dom.php on line 1364 Warning: preg_match(): Compilation failed: invalid range in character class at offset 4 in /customers/a/8/1/teamconfetti.nl/httpd.www/wp-content/plugins/pinterest-pin-it-button/includes/simple_html_dom.php on line 1364 Warning: preg_match(): Compilation failed: invalid range in character class at offset 4 in /customers/a/8/1/teamconfetti.nl/httpd.www/wp-content/plugins/pinterest-pin-it-button/includes/simple_html_dom.php on line 1364 Warning: preg_match(): Compilation failed: invalid range in character class at offset 4 in /customers/a/8/1/teamconfetti.nl/httpd.www/wp-content/plugins/pinterest-pin-it-button/includes/simple_html_dom.php on line 1364 Warning: preg_match(): Compilation failed: invalid range in character class at offset 4 in /customers/a/8/1/teamconfetti.nl/httpd.www/wp-content/plugins/pinterest-pin-it-button/includes/simple_html_dom.php on line 1364 Warning: preg_match(): Compilation failed: invalid range in character class at offset 4 in /customers/a/8/1/teamconfetti.nl/httpd.www/wp-content/plugins/pinterest-pin-it-button/includes/simple_html_dom.php on line 1364 Warning: preg_match(): Compilation failed: invalid range in character class at offset 4 in /customers/a/8/1/teamconfetti.nl/httpd.www/wp-content/plugins/pinterest-pin-it-button/includes/simple_html_dom.php on line 1364 Warning: preg_match(): Compilation failed: invalid range in character class at offset 4 in /customers/a/8/1/teamconfetti.nl/httpd.www/wp-content/plugins/pinterest-pin-it-button/includes/simple_html_dom.php on line 1364 Warning: preg_match(): Compilation failed: invalid range in character class at offset 4 in /customers/a/8/1/teamconfetti.nl/httpd.www/wp-content/plugins/pinterest-pin-it-button/includes/simple_html_dom.php on line 1364 Warning: preg_match(): Compilation failed: invalid range in character class at offset 4 in /customers/a/8/1/teamconfetti.nl/httpd.www/wp-content/plugins/pinterest-pin-it-button/includes/simple_html_dom.php on line 1364 Warning: preg_match(): Compilation failed: invalid range in character class at offset 4 in /customers/a/8/1/teamconfetti.nl/httpd.www/wp-content/plugins/pinterest-pin-it-button/includes/simple_html_dom.php on line 1364 Warning: preg_match(): Compilation failed: invalid range in character class at offset 4 in /customers/a/8/1/teamconfetti.nl/httpd.www/wp-content/plugins/pinterest-pin-it-button/includes/simple_html_dom.php on line 1364 Warning: preg_match(): Compilation failed: invalid range in character class at offset 4 in /customers/a/8/1/teamconfetti.nl/httpd.www/wp-content/plugins/pinterest-pin-it-button/includes/simple_html_dom.php on line 1364 Warning: preg_match(): Compilation failed: invalid range in character class at offset 4 in /customers/a/8/1/teamconfetti.nl/httpd.www/wp-content/plugins/pinterest-pin-it-button/includes/simple_html_dom.php on line 1364 Warning: preg_match(): Compilation failed: invalid range in character class at offset 4 in /customers/a/8/1/teamconfetti.nl/httpd.www/wp-content/plugins/pinterest-pin-it-button/includes/simple_html_dom.php on line 1364 Warning: preg_match(): Compilation failed: invalid range in character class at offset 4 in /customers/a/8/1/teamconfetti.nl/httpd.www/wp-content/plugins/pinterest-pin-it-button/includes/simple_html_dom.php on line 1364 Warning: preg_match(): Compilation failed: invalid range in character class at offset 4 in /customers/a/8/1/teamconfetti.nl/httpd.www/wp-content/plugins/pinterest-pin-it-button/includes/simple_html_dom.php on line 1364 Warning: preg_match(): Compilation failed: invalid range in character class at offset 4 in /customers/a/8/1/teamconfetti.nl/httpd.www/wp-content/plugins/pinterest-pin-it-button/includes/simple_html_dom.php on line 1364 Warning: preg_match(): Compilation failed: invalid range in character class at offset 4 in /customers/a/8/1/teamconfetti.nl/httpd.www/wp-content/plugins/pinterest-pin-it-button/includes/simple_html_dom.php on line 1364 Warning: preg_match(): Compilation failed: invalid range in character class at offset 4 in /customers/a/8/1/teamconfetti.nl/httpd.www/wp-content/plugins/pinterest-pin-it-button/includes/simple_html_dom.php on line 1364 Warning: preg_match(): Compilation failed: invalid range in character class at offset 4 in /customers/a/8/1/teamconfetti.nl/httpd.www/wp-content/plugins/pinterest-pin-it-button/includes/simple_html_dom.php on line 1364 Warning: preg_match(): Compilation failed: invalid range in character class at offset 4 in /customers/a/8/1/teamconfetti.nl/httpd.www/wp-content/plugins/pinterest-pin-it-button/includes/simple_html_dom.php on line 1364 Warning: preg_match(): Compilation failed: invalid range in character class at offset 4 in /customers/a/8/1/teamconfetti.nl/httpd.www/wp-content/plugins/pinterest-pin-it-button/includes/simple_html_dom.php on line 1364 Warning: preg_match(): Compilation failed: invalid range in character class at offset 4 in /customers/a/8/1/teamconfetti.nl/httpd.www/wp-content/plugins/pinterest-pin-it-button/includes/simple_html_dom.php on line 1364 Warning: preg_match(): Compilation failed: invalid range in character class at offset 4 in /customers/a/8/1/teamconfetti.nl/httpd.www/wp-content/plugins/pinterest-pin-it-button/includes/simple_html_dom.php on line 1364 Warning: preg_match(): Compilation failed: invalid range in character class at offset 4 in /customers/a/8/1/teamconfetti.nl/httpd.www/wp-content/plugins/pinterest-pin-it-button/includes/simple_html_dom.php on line 1364 Warning: preg_match(): Compilation failed: invalid range in character class at offset 4 in /customers/a/8/1/teamconfetti.nl/httpd.www/wp-content/plugins/pinterest-pin-it-button/includes/simple_html_dom.php on line 1364 Warning: preg_match(): Compilation failed: invalid range in character class at offset 4 in /customers/a/8/1/teamconfetti.nl/httpd.www/wp-content/plugins/pinterest-pin-it-button/includes/simple_html_dom.php on line 1364 Warning: preg_match(): Compilation failed: invalid range in character class at offset 4 in /customers/a/8/1/teamconfetti.nl/httpd.www/wp-content/plugins/pinterest-pin-it-button/includes/simple_html_dom.php on line 1364 Warning: preg_match(): Compilation failed: invalid range in character class at offset 4 in /customers/a/8/1/teamconfetti.nl/httpd.www/wp-content/plugins/pinterest-pin-it-button/includes/simple_html_dom.php on line 1364 Warning: preg_match(): Compilation failed: invalid range in character class at offset 4 in /customers/a/8/1/teamconfetti.nl/httpd.www/wp-content/plugins/pinterest-pin-it-button/includes/simple_html_dom.php on line 1364 Warning: preg_match(): Compilation failed: invalid range in character class at offset 4 in /customers/a/8/1/teamconfetti.nl/httpd.www/wp-content/plugins/pinterest-pin-it-button/includes/simple_html_dom.php on line 1364 Warning: preg_match(): Compilation failed: invalid range in character class at offset 4 in /customers/a/8/1/teamconfetti.nl/httpd.www/wp-content/plugins/pinterest-pin-it-button/includes/simple_html_dom.php on line 1364 Warning: preg_match(): Compilation failed: invalid range in character class at offset 4 in /customers/a/8/1/teamconfetti.nl/httpd.www/wp-content/plugins/pinterest-pin-it-button/includes/simple_html_dom.php on line 1364 Warning: preg_match(): Compilation failed: invalid range in character class at offset 4 in /customers/a/8/1/teamconfetti.nl/httpd.www/wp-content/plugins/pinterest-pin-it-button/includes/simple_html_dom.php on line 1364 Warning: preg_match(): Compilation failed: invalid range in character class at offset 4 in /customers/a/8/1/teamconfetti.nl/httpd.www/wp-content/plugins/pinterest-pin-it-button/includes/simple_html_dom.php on line 1364 Warning: preg_match(): Compilation failed: invalid range in character class at offset 4 in /customers/a/8/1/teamconfetti.nl/httpd.www/wp-content/plugins/pinterest-pin-it-button/includes/simple_html_dom.php on line 1364 Warning: preg_match(): Compilation failed: invalid range in character class at offset 4 in /customers/a/8/1/teamconfetti.nl/httpd.www/wp-content/plugins/pinterest-pin-it-button/includes/simple_html_dom.php on line 1364 Warning: preg_match(): Compilation failed: invalid range in character class at offset 4 in /customers/a/8/1/teamconfetti.nl/httpd.www/wp-content/plugins/pinterest-pin-it-button/includes/simple_html_dom.php on line 1364 Warning: preg_match(): Compilation failed: invalid range in character class at offset 4 in /customers/a/8/1/teamconfetti.nl/httpd.www/wp-content/plugins/pinterest-pin-it-button/includes/simple_html_dom.php on line 1364 Warning: preg_match(): Compilation failed: invalid range in character class at offset 4 in /customers/a/8/1/teamconfetti.nl/httpd.www/wp-content/plugins/pinterest-pin-it-button/includes/simple_html_dom.php on line 1364 Warning: preg_match(): Compilation failed: invalid range in character class at offset 4 in /customers/a/8/1/teamconfetti.nl/httpd.www/wp-content/plugins/pinterest-pin-it-button/includes/simple_html_dom.php on line 1364 Warning: preg_match(): Compilation failed: invalid range in character class at offset 4 in /customers/a/8/1/teamconfetti.nl/httpd.www/wp-content/plugins/pinterest-pin-it-button/includes/simple_html_dom.php on line 1364 Warning: preg_match(): Compilation failed: invalid range in character class at offset 4 in /customers/a/8/1/teamconfetti.nl/httpd.www/wp-content/plugins/pinterest-pin-it-button/includes/simple_html_dom.php on line 1364 Warning: preg_match(): Compilation failed: invalid range in character class at offset 4 in /customers/a/8/1/teamconfetti.nl/httpd.www/wp-content/plugins/pinterest-pin-it-button/includes/simple_html_dom.php on line 1364 Warning: preg_match(): Compilation failed: invalid range in character class at offset 4 in /customers/a/8/1/teamconfetti.nl/httpd.www/wp-content/plugins/pinterest-pin-it-button/includes/simple_html_dom.php on line 1364 Warning: preg_match(): Compilation failed: invalid range in character class at offset 4 in /customers/a/8/1/teamconfetti.nl/httpd.www/wp-content/plugins/pinterest-pin-it-button/includes/simple_html_dom.php on line 1364 Warning: preg_match(): Compilation failed: invalid range in character class at offset 4 in /customers/a/8/1/teamconfetti.nl/httpd.www/wp-content/plugins/pinterest-pin-it-button/includes/simple_html_dom.php on line 1364 Warning: preg_match(): Compilation failed: invalid range in character class at offset 4 in /customers/a/8/1/teamconfetti.nl/httpd.www/wp-content/plugins/pinterest-pin-it-button/includes/simple_html_dom.php on line 1364 Warning: preg_match(): Compilation failed: invalid range in character class at offset 4 in /customers/a/8/1/teamconfetti.nl/httpd.www/wp-content/plugins/pinterest-pin-it-button/includes/simple_html_dom.php on line 1364 Warning: preg_match(): Compilation failed: invalid range in character class at offset 4 in /customers/a/8/1/teamconfetti.nl/httpd.www/wp-content/plugins/pinterest-pin-it-button/includes/simple_html_dom.php on line 1364 Warning: preg_match(): Compilation failed: invalid range in character class at offset 4 in /customers/a/8/1/teamconfetti.nl/httpd.www/wp-content/plugins/pinterest-pin-it-button/includes/simple_html_dom.php on line 1364 Warning: preg_match(): Compilation failed: invalid range in character class at offset 4 in /customers/a/8/1/teamconfetti.nl/httpd.www/wp-content/plugins/pinterest-pin-it-button/includes/simple_html_dom.php on line 1364 Warning: preg_match(): Compilation failed: invalid range in character class at offset 4 in /customers/a/8/1/teamconfetti.nl/httpd.www/wp-content/plugins/pinterest-pin-it-button/includes/simple_html_dom.php on line 1364 Warning: preg_match(): Compilation failed: invalid range in character class at offset 4 in /customers/a/8/1/teamconfetti.nl/httpd.www/wp-content/plugins/pinterest-pin-it-button/includes/simple_html_dom.php on line 1364 Warning: preg_match(): Compilation failed: invalid range in character class at offset 4 in /customers/a/8/1/teamconfetti.nl/httpd.www/wp-content/plugins/pinterest-pin-it-button/includes/simple_html_dom.php on line 1364 Warning: preg_match(): Compilation failed: invalid range in character class at offset 4 in /customers/a/8/1/teamconfetti.nl/httpd.www/wp-content/plugins/pinterest-pin-it-button/includes/simple_html_dom.php on line 1364 Warning: preg_match(): Compilation failed: invalid range in character class at offset 4 in /customers/a/8/1/teamconfetti.nl/httpd.www/wp-content/plugins/pinterest-pin-it-button/includes/simple_html_dom.php on line 1364 Warning: preg_match(): Compilation failed: invalid range in character class at offset 4 in /customers/a/8/1/teamconfetti.nl/httpd.www/wp-content/plugins/pinterest-pin-it-button/includes/simple_html_dom.php on line 1364 Warning: preg_match(): Compilation failed: invalid range in character class at offset 4 in /customers/a/8/1/teamconfetti.nl/httpd.www/wp-content/plugins/pinterest-pin-it-button/includes/simple_html_dom.php on line 1364 Warning: preg_match(): Compilation failed: invalid range in character class at offset 4 in /customers/a/8/1/teamconfetti.nl/httpd.www/wp-content/plugins/pinterest-pin-it-button/includes/simple_html_dom.php on line 1364 Warning: preg_match(): Compilation failed: invalid range in character class at offset 4 in /customers/a/8/1/teamconfetti.nl/httpd.www/wp-content/plugins/pinterest-pin-it-button/includes/simple_html_dom.php on line 1364 Warning: preg_match(): Compilation failed: invalid range in character class at offset 4 in /customers/a/8/1/teamconfetti.nl/httpd.www/wp-content/plugins/pinterest-pin-it-button/includes/simple_html_dom.php on line 1364 Warning: preg_match(): Compilation failed: invalid range in character class at offset 4 in /customers/a/8/1/teamconfetti.nl/httpd.www/wp-content/plugins/pinterest-pin-it-button/includes/simple_html_dom.php on line 1364 Warning: preg_match(): Compilation failed: invalid range in character class at offset 4 in /customers/a/8/1/teamconfetti.nl/httpd.www/wp-content/plugins/pinterest-pin-it-button/includes/simple_html_dom.php on line 1364 Warning: preg_match(): Compilation failed: invalid range in character class at offset 4 in /customers/a/8/1/teamconfetti.nl/httpd.www/wp-content/plugins/pinterest-pin-it-button/includes/simple_html_dom.php on line 1364 Warning: preg_match(): Compilation failed: invalid range in character class at offset 4 in /customers/a/8/1/teamconfetti.nl/httpd.www/wp-content/plugins/pinterest-pin-it-button/includes/simple_html_dom.php on line 1364 Warning: preg_match(): Compilation failed: invalid range in character class at offset 4 in /customers/a/8/1/teamconfetti.nl/httpd.www/wp-content/plugins/pinterest-pin-it-button/includes/simple_html_dom.php on line 1364 Warning: preg_match(): Compilation failed: invalid range in character class at offset 4 in /customers/a/8/1/teamconfetti.nl/httpd.www/wp-content/plugins/pinterest-pin-it-button/includes/simple_html_dom.php on line 1364 Warning: preg_match(): Compilation failed: invalid range in character class at offset 4 in /customers/a/8/1/teamconfetti.nl/httpd.www/wp-content/plugins/pinterest-pin-it-button/includes/simple_html_dom.php on line 1364 Warning: preg_match(): Compilation failed: invalid range in character class at offset 4 in /customers/a/8/1/teamconfetti.nl/httpd.www/wp-content/plugins/pinterest-pin-it-button/includes/simple_html_dom.php on line 1364 Warning: preg_match(): Compilation failed: invalid range in character class at offset 4 in /customers/a/8/1/teamconfetti.nl/httpd.www/wp-content/plugins/pinterest-pin-it-button/includes/simple_html_dom.php on line 1364 Warning: preg_match(): Compilation failed: invalid range in character class at offset 4 in /customers/a/8/1/teamconfetti.nl/httpd.www/wp-content/plugins/pinterest-pin-it-button/includes/simple_html_dom.php on line 1364 Warning: preg_match(): Compilation failed: invalid range in character class at offset 4 in /customers/a/8/1/teamconfetti.nl/httpd.www/wp-content/plugins/pinterest-pin-it-button/includes/simple_html_dom.php on line 1364 Warning: preg_match(): Compilation failed: invalid range in character class at offset 4 in /customers/a/8/1/teamconfetti.nl/httpd.www/wp-content/plugins/pinterest-pin-it-button/includes/simple_html_dom.php on line 1364 Warning: preg_match_all(): Compilation failed: invalid range in character class at offset 4 in /customers/a/8/1/teamconfetti.nl/httpd.www/wp-content/plugins/pinterest-pin-it-button/includes/simple_html_dom.php on line 684 Warning: Invalid argument supplied for foreach() in /customers/a/8/1/teamconfetti.nl/httpd.www/wp-content/plugins/pinterest-pin-it-button/includes/simple_html_dom.php on line 691 Warning: preg_match_all(): Compilation failed: invalid range in character class at offset 4 in /customers/a/8/1/teamconfetti.nl/httpd.www/wp-content/plugins/pinterest-pin-it-button/includes/simple_html_dom.php on line 684 Warning: Invalid argument supplied for foreach() in /customers/a/8/1/teamconfetti.nl/httpd.www/wp-content/plugins/pinterest-pin-it-button/includes/simple_html_dom.php on line 691
Dit vind je vast ook leuk: