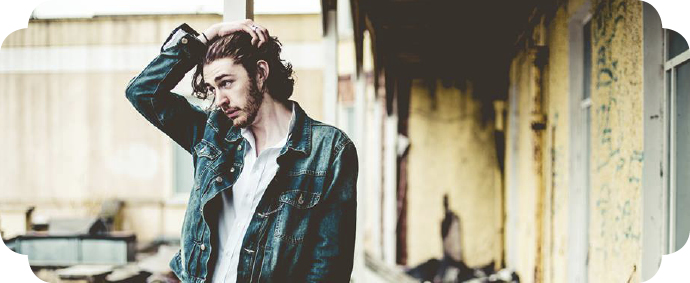 Vandaag is de eerste dag van Eurosonic en morgen is de tweede. Maar tegenwoordig kun je ook op woensdag naar Eurosonic. Voor een schijntje (€15) is er een kleine selectie van wat er de twee dagen erna zal gaan komen. Wij vonden het wel een mooie tussenweg. Toch naar Eurosonic geweest, maar niet de hoofdprijs betaald. Weken van tevoren had ik al uitgezocht wie ik graag wilde zien gisteravond: Hozier!
Eurosonic is leuk. Heel erg leuk. Maar het is ook heel erg veel werk. Want in twee dagen tijd treden er maar liefst 243 muzikanten op. En als je wil weten waar je naartoe moet (dat wil ik dan) dan moet je van al die 243 muzikanten tenminste een liedje luisteren. Vorig jaar ben ik weken bezig geweest met uitzoeken. Maar omdat er op woensdag maar 44 muzikanten zijn, was het gelukkig iets overzichtelijker.
Tijdens het voorluisteren sprong er voor mij al heel erg snel een muzikant uit: Hozier.
Dit is wat Eurosonic zegt over Hozier: 'Wat is de blues van deze eeuw? En wie moet die zingen? Die twee vragen stelt de Ierse Andrew Hozier-Byrne alias Hozier zichzelf. Het antwoord is hij zelf. Opgegroeid met de bouwstenen van de pop muziek kwam hij al op jonge leeftijd in aanraking met rhythm and blues, soul, jazz en de muziek uit het diepe zuiden van de VS. Op zijn vijftiende begon hij als zanger van een soulband, leerde gitaar en piano spelen en begon zelf met liedjes schrijven. Na een mislukte conservatoriumopleiding sloot hij zich op zijn zolder op en begon, geïnspireerd door Stevie Wonder, Billie Holiday, James Joyce en Oscar Wilde te werken aan wat zijn eerste EP Take Me To The Church zou worden. De titeltrack bereikte de top van de Ierse iTunes chart en de tweede plek in de officiële hitlijst.'
Zelf omschrijf ik het als een mix van James Blake en The Black Keys. Laat me na het luisteren weten of jullie je daar in kunnen vinden. ;)
Laten we ophouden met lullen en beginnen met luisteren. Hozier heeft al een paar prachtige nummers gemaakt, dit zijn mijn favorieten:
Het enige nummer met een eigen clip. Het zou zijn geïnspireerd zijn op de gebeurtenissen in Rusland. Altijd mooi als daar kritiek op geleverd wordt!
Dit vind ik zooooo mooi! De zingende engelen op de achtergrond had hij wel achterwege mogen laten maar ik kan dit nummer echt de hele dag op repeat zetten.
Een nummer met iets meer tempo. Dit nummer deed me aan The Black Keys denken.
Lijkt op een liefdesliedje, maar is het niet ;)
En daar zijn we dus ook geweest. Gisteravond. Maar er stond na Hozier nog een avondje dansen en een rijtje cocktails in de planning, vandaar dat ik dit artikel dinsdag al voor jullie schreef. Op een gegeven moment ga ik vandaag wakker worden met een kater, douchen, heel veel gebakken eieren eten en daarna zal ik gaan vertellen hoe het was. Dat stukje komt hier: 'Geweldig! Ontzettend mooie stem en een goede band. Tegen het einde van het optreden begon hij helaas zijn stem kwijt te raken omdat hij tegen een griepje aan hikte. Ik vind het nog steeds een aanrader en Tom heeft zich na gisteravond bij me aangesloten. Zijn favoriete nummer is Someone new.'
Was je er gisteravond niet bij en heb je kaartjes voor Eurosonic dan kun je vanavond nog naar een concert van Hozier! Hij speelt van 22.00 – 22.45 in Der AA-kerk. Gaan!
Helemaal geen kaartjes voor Eurosonic? Kom dan vanavond naar de Grote Markt voor La Pegatina. Last van de winterblues? Dat is als sneeuw voor de zon vertrokken met deze party party band uit Barcelona.