Gastblog door Noortje – Sinds begin februari ben ik de trotse eigenaar van een studio en vandaag laat ik zien hoe de inrichting hiervan tot stand is gekomen. Ik deel de studio samen met Inge, een oud studiegenootje. Dat is wel zo fijn want ik kan me veel beter concentreren als iemand anders ook aan het werk is en daarnaast is het ook nog eens supergezellig. We hebben al een heuze spotify playlist guess the 90's hit contest gedaan.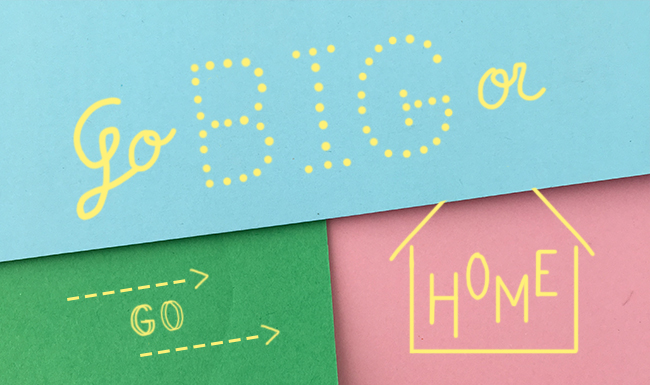 Het begon ermee dat Inge in oktober vroeg wat ik ervan zou vinden om samen een studio te delen. Op dat moment overviel het me een beetje, maar er gebeurden veel positieve dingen in die week. Hierdoor zag ik het als een teken voor een volgende stap in de goede richting. Een week later assisteerde ik bij een papercraftstudio en toen ik daar zag hoe groot hun ruimte was en ervaarde hoe prettig dat werkte, besefte ik me dat ik dat ook wilde.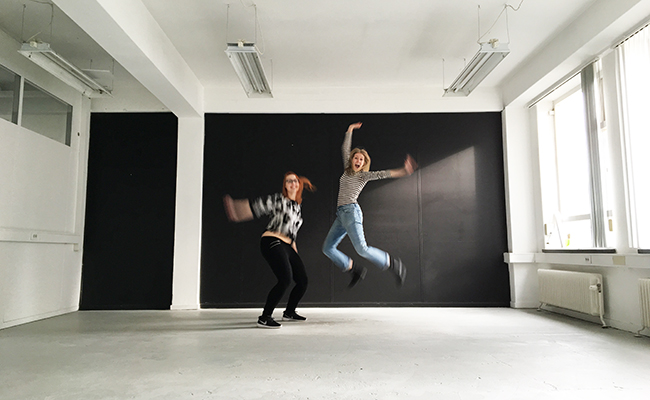 De zoektocht begon en in januari kwam ik dan eindelijk via via in contact met pandbeheerder Bas, die ons aan bovenstaande prachtige ruimte heeft geholpen. Inge en ik zijn nu de trotse bezitters van 43,5 m2, een zwarte muur en een betonnen vloer.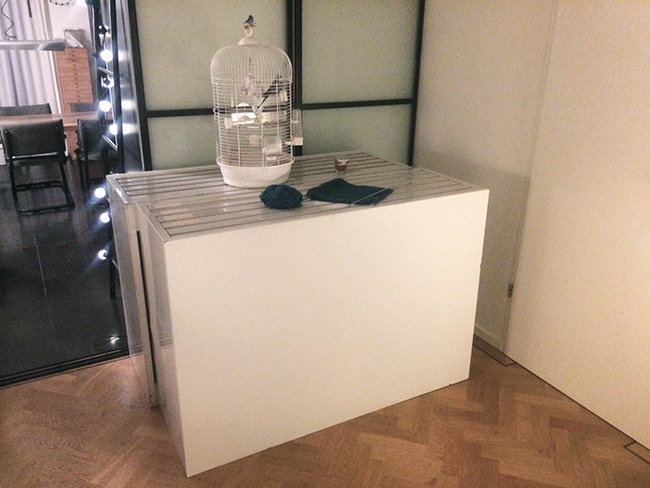 Een tijdje geleden heb ik twee A0 ladekasten in mijn bezit gekregen die na het ophalen stonden te pronken in de woonkamer van mijn ouderlijk huis. Het zijn twee enorme bakbeesten dus je kan begrijpen dat ze erg in de weg stonden. De enige die er blij van werd was onze parkiet, die had tijdelijk iets meer uitzicht dan normaal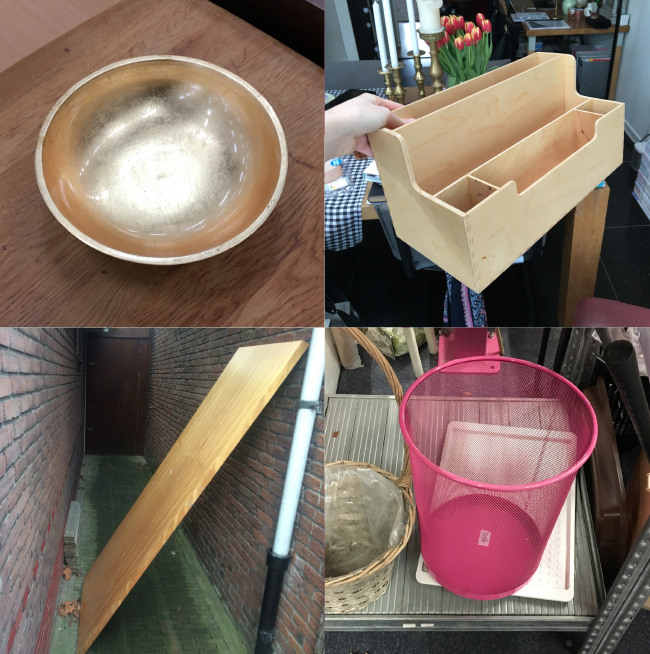 Gelukkig kon ik via de vriend van mijn zus een busje regelen en samen met spullen die ik bij de kringloop of via marktplaats verzameld had, konden de ladekasten vervoerd worden. De pennenbak wilden ze bij de kringloop zelfs weggooien. One man's trash is another man's treasure for sure... Hij was nog helemaal gaaf! Het tafelblad stond te verpieteren in de steeg van mijn vriend dus die mocht ik ook meenemen.
Via een huisgenootje kon ik een open kast van ikea overnemen. Ik vond het metalen frame niet mooi en bedacht meteen om deze zwart te spuiten. Doordat het frame nu mat zwart is heeft de kast een sjiekere uitstraling gekregen. En dat al met twee busjes verfspray van de action voor €2 per stuk. Ik wil nu nog veel meer dingen zwart spuiten nu ik ontdekt heb hoe makkelijk het is!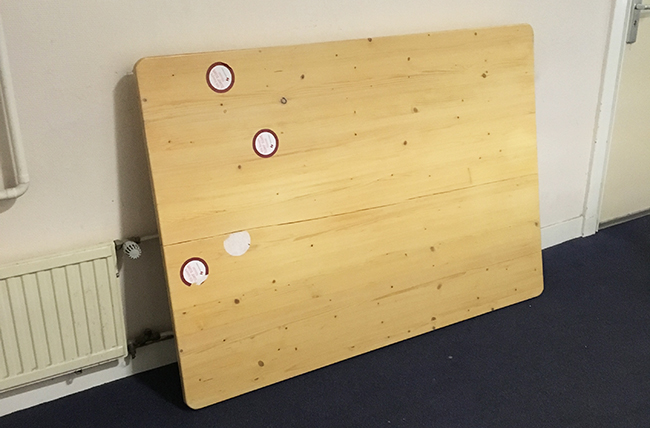 De kast is niet het enige dat ik meenam uit mijn studentenhuis. Ik was al een week op zoek naar een stevige houten plank voor onder mijn ladekasten. Ik had namelijk bedacht dat het wel handig zou zijn wanneer die loodzware dingen nog een beetje te verplaatsen waren als ik er een plank onder zou zetten met wielen. Nadat marktplaats en de vuilcontainers in de buurt me niets hadden opgeleverd, was ik toch overstag om dan maar een prijzige plank bij de bouwmarkt te halen. Maar toen zag ik dat mijn huisgenoten bezig waren een tafelblad buiten te zetten voor het grofvuil waarop ik riep: 'Gaat dat weg? Ik wil het hebben!'
Een vriend van me heeft een werkplaats en samen (of nou ja, eigenlijk stond ik erbij en keek ernaar) hebben we het tafelblad op maat gezaagd en er wielen onder gezet. Ik wil er nog handgrepen opzetten om het gevaarte iets handzamer te maken en het hout wil ik nog schuren en wit schilderen.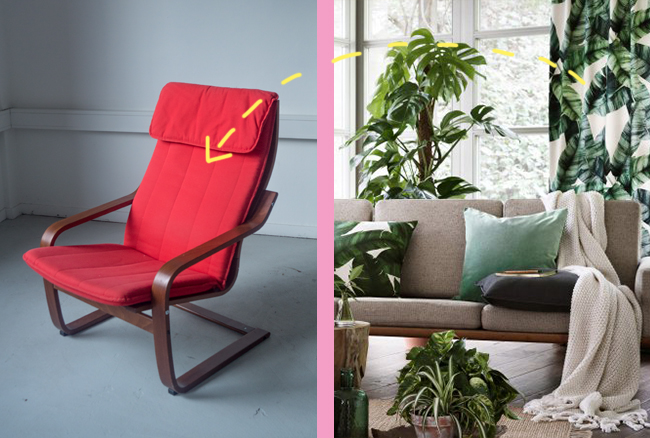 Ik had ook nog een oude Ikea-stoel van mijn schoonbroertje. Helaas waren daar de schroefjes van weggeraakt. Gelukkig was de Ikea zo awesome om die schroefjes gratis mee te geven!
Rood is het tegenovergestelde van mijn lievelingskleur dus het kussen wil ik bekleden met een tropische plantenstof. Als iemand van jullie nog tips heeft? Ik had bij H&M tropische gordijnen gezien maar helaas is die stof te dun om een stoel mee te bekleden.
De poten die ik al had bleken niet stabiel genoeg voor het grote bureaublad. Daarom maakten mijn vriend en ik een retourtje ikea om schragen te halen. Toen het bureau eenmaal op zijn plek stond, werd ik heel blij. De kleur van het hout steekt prachtig af tegen de zwarte muur. Schuren en beitsen was niet meer nodig en ik heb nu een heel groot bureau enkel en alleen om aan te knippen, snijden en plakken. Zo blij!
De lamp op de eerste foto kreeg ik van mijn moeder. Ik realiseer me dat ik heel veel gekregen heb en ik vind het zo ongelooflijk lief dat mensen het mij gunnen om mijn studio zo mooi en fijn mogelijk in te richten! Daar ben ik heel dankbaar voor. Het witte bureau stond eerst in mijn kamer. Je kan het verschil wel zien tussen mij en Inge, aan mijn kant heeft alles veel kleur, aan Inge haar kant is het rustig en strak. De gouden schaal gebruik ik nu om al mijn tools in te bewaren. Het werkt eigenlijk super fijn.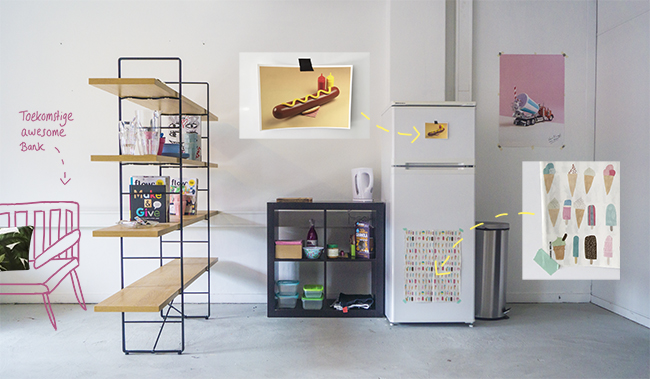 De basics hebben we en we kunnen aan het werk, maar er missen ook nog een aantal dingen.
Zo willen we een zithoek creëren en de zoektocht naar een bank lijkt oneindig. Ook hebben we nog een eettafel nodig. En stoelen. En een kleed. En moois aan de muur. Wanneer alles af is, zal ik nog een blogpost maken over de definitieve inrichting. Als jullie dat leuk lijkt tenminste!
Ik hoop dat jullie het leuk vonden om te lezen en te zien hoe de inrichting tot nu toe tot stand is gekomen. En als jullie nog tips hebben wat betreft de inrichting, stof voor op de stoel of andere ideeën hebben. Vind ik super leuk!
♥♥♥
Noortje is een vrolijke illustrator uit Rotterdam met een passie voor papier en kleur. Hier op teamconfetti schrijft ze artikelen waar je iets van kan leren, maar waar je vooral vrolijk van wordt.