TGIF everybody! Aaaaaah, het is weer vrijdag. De zon schijnt (soms) en het weekend staat weer voor de deur. We hebben hard gewerkt en ja, misschien moeten we nog aan de bak in het weekend, maar vrijdagmiddag heeft bij mij altijd een feestelijke stemming. Koken is uit den boze, maar koude biertjes en borrelhapjes: kom maar door! Deze party snack is easy peasy, er is geen friteuse nodig (hoera voor de oven) en de dip is ketchup with a twist. En ze zijn verslavend lekker (vraag maar aan Tom).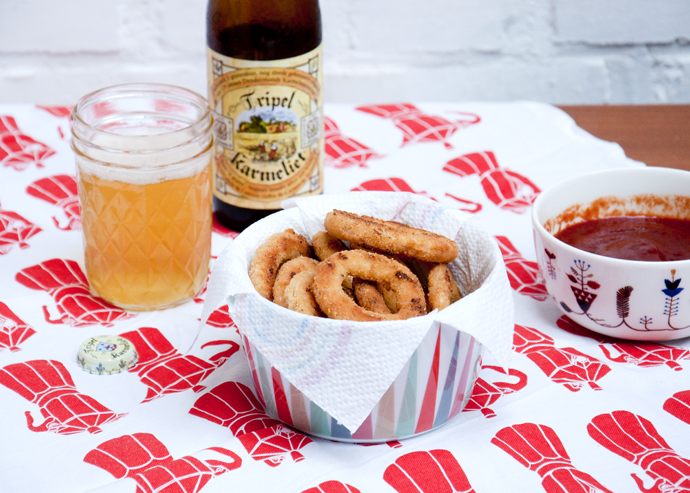 Het woord 'cheats' heeft je vast geïntrigeerd. Want dat betekent makkelijker en sneller dan anders toch? Klopt! Want we gaan geen uien snijden, kliederen met ei en broodkruimels en onze ogen eruit janken (als ik ergens niet tegen kan, dan zijn het wel rauwe uien). We gebruiken gewoon diepvries uienringen! Want die worden met de juiste methode óók heel krokant in de oven en ze zijn súperlekker. Waarom moeilijk doen als het ook makkelijk kan? Wij kopen ze bij Jumbo: een grote zak met Onion Rings erop. Je herkent hem wel als je hem ziet.
Maar we gaan die uienringen wel een personal touch geven. Het mag wel iets exotischer dan gewoon uienringen met ketchup (alhoewel die ook al heel lekker zijn). En we beginnen met de uienringen:
Verwarm de oven voor en leg een portie uienringen (10 stuks) op een bord en spray er lichtjes olijfolie overheen. Ja, er bestaan nu olijfolie spray's en ik ben er verzot op. Niks geen gedrizzle meer. BAM! Sprayen die handel! Daarna een sprinkle knoflookpoeder, gerookte paprika en zwarte peper. Leg de uienringen op een bakplaat bekleed met bakpapier en stop ze in de oven. Draai ze halverwege de baktijd om zodat ze aan twee kanten bruin worden. De temperatuur en de baktijd staan op de zak uienringen vermeld (misschien heb je een ander merk dan ik te pakken, vandaar dat ik die er niet bij zet).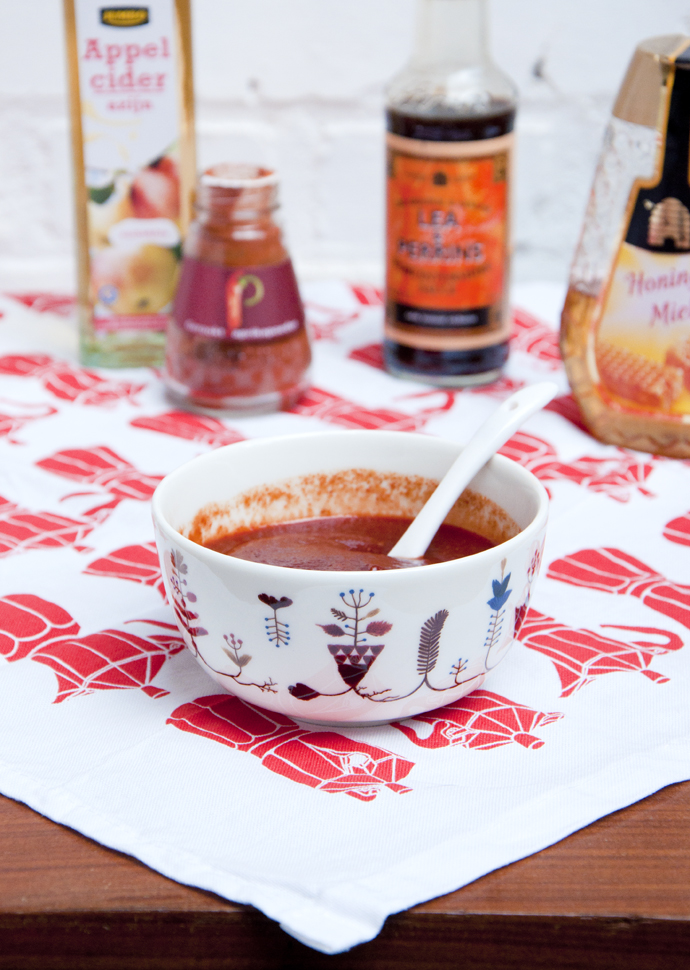 Ondertussen kunnen we de ketchup barbecue dip maken. Deze is zoetzuur, smokey en een beetje pittig. Kieper de volgende ingrediënten bij elkaar in een schaaltje:
1/2 cup ketchup
1 eetlepel appel cider azijn (of iets anders zuur zoals citroensap)
1 eetlepel honing
2 theelepels worcester sauce
2 theelepels gerookte paprika poeder
1 theelepel mosterd
1 theelepel knoflookpoeder
snufje chili poeder (als de mosterd het nog niet pittig genoeg maakt)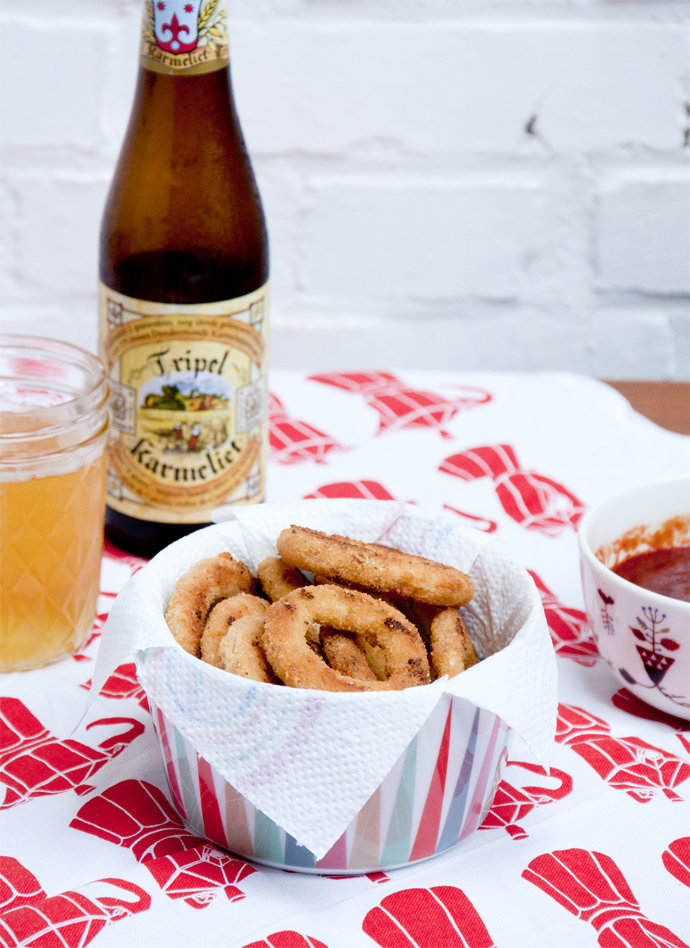 Doe je onion rings in een schaaltje, trek een biertje open of schenk een glaasje wijn/fris in en borrel away! Dit kan op je balkonnetje, in de tuin of op een kleedje in het park. Of binnen als het schijtweer is. Get psyched playlist erbij aan en genieten maar.
Door de olijfolie spray zijn de onion rings knapperig, maar ze baden niet in het vet. Je huis stinkt niet naar friteur en je keuken zit niet onder de broodkruimels. Easy peasy onion squeesy!
♥♥♥
Wat is jullie favoriete vrijdagmiddag borrel snack?