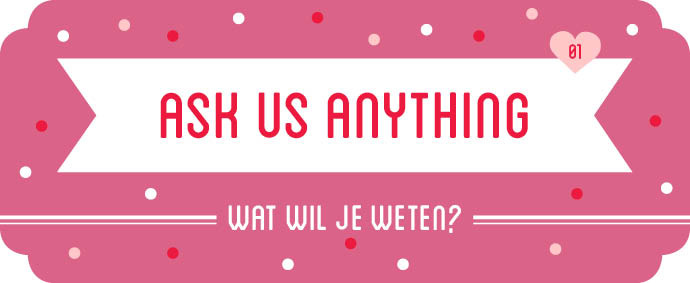 If there is anything you would like to know about us, now's the time!
Vroeg je je nu altijd al af hoeveel tassen Meike heeft of hoelang Olga over haar zwemdiploma heeft gedaan (ahem, lang)? Of heb je een veel originelers en interessantere vraag voor ons? Vandaag kun je hem stellen!
Wij zijn vooral heel erg nieuwsgierig of jullie überhaupt nieuwsgierig zijn naar ons… Dus brand los bij de comments, dan beantwoorden we (volgende week in een speciaal-aan-mooie-vragen-gewijd-artikel) jullie vragen!
Als je onze blog al een tijdje volgt, weet je waarschijnlijk al best veel over ons. Het is geen geheim dat Olga twee schattige katten heeft (Mo en Tetkees) en dat ze graag lekkere dingetjes eet. Meike knutselt heel wat af en houdt niet zo van duiven. Kom je net aanwaaien, dan kun je op onze ABOUT pagina iets meer over ons te weten komen. De Team Confetti basics if you will…
Maak het ons makkelijk en laat ons weten voor wie de vraag bedoelt is, of dat je van ons allebei het antwoord wil horen. Wees vooral creatief, want daar houden we van!
***
Fire away!