Even voor de duidelijkheid: een podcast is een radioprogramma dat je op internet kan luisteren. Geen liedjes, wel praatjes. De audiobooks op mijn luisterlijstje begonnen een beetje op te raken en daarom ben ik nu de wereld van de podcasts aan het verkennen. In korte tijd heb ik al drie favorieten, die allemaal te beluisteren zijn (gratis!) via dezelfde app. Geen gedoe, altijd entertainment bij de hand, grappig en ook nog eens leerzaam, win, win, double win!

FREAKONOMICS RADIO
By far mijn favoriete podcast (en Tom is ook fan). Steven en Stephen zijn twee economen die gekke vragen beantwoorden met data in plaats van emoties. Je kunt over van alles en nog wat nadenken en er een mening over hebben, maar waarom niet gewoon de feiten het antwoord laten vormen? Omdat dit nogal abstract klinkt, een paar vraagstukken die langskomen: Hoe kun je het wereldrecord hotdogs eten verbreken? Hoe kun je ervoor zorgen dat je meer gaat sporten en dat ook leuker gaat vinden? Waarom heeft de riem het van de bretels gewonnen? Waarom volgen we het nieuws eigenlijk? Waarom hebben kinderen goocheltrucs veel sneller door dan volwassenen? En ga zo maar door. Er komen specialisten aan het woord (zelfs een nobelprijswinnaar van de economie) en het is NOOIT SAAI. Want zo klinkt het misschien wel. Alles is vlot in elkaar gemonteerd, de onderzoeken zijn creatief en interessant en de uitzendingen zitten vol humor. I LOVE IT!
Favoriete afleveringen zijn: Should kids pay back their parents for raising them? | How did the belt win? | A better way to eat. |  Make me a match. | Diamonds are a marriage counselor's best friend. | When willpower is not enough.
♬♬♬

HERE'S THE THING (with Alec Baldwin)
Alec Baldwin (acteur) interviewt bekende mensen. Acteurs, politici, muzikanten en andere bekenden vertellen 'hoe het allemaal zo gekomen is'. Welke belangrijke keuzes ze hebben gemaakt en wie een grote invloed op hun carrière heeft gehad. Een mini biografietje dus (afleveringen duren ongeveer driekwartier). En het is heerlijk om naar te luisteren. Want die grote filmsterren, filmdirectors, goochelaars en bekende popmuzikanten zijn ook maar gewoon ergens begonnen. Van het één kwam het ander en nu zijn ze wat ze zijn. Ik vind het fijn om naar anekdotes te luisteren, onzekerheden, grappige verhaaltjes en liefde die mensen hebben voor hun vak. Mijn werk is mijn alles en definieert wie ik ben en ik vind het heel erg leuk om andere mensen met veel liefde over hun werk te horen babbelen.
Favoriete afleveringen zijn die met: Lena Dunham | Rosie O'Donnell | Julianne Moore | Jerry Seinfeld.
♬♬♬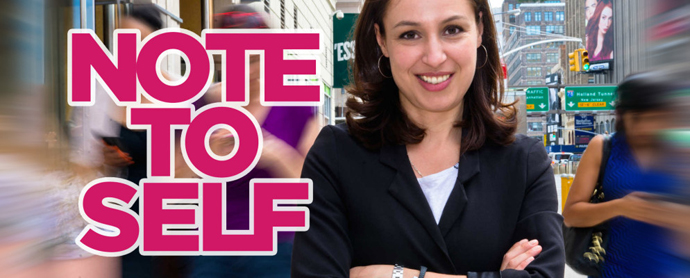 NOTE TO SELF
Deze ontzettend lieve podcast gaat over de relatie die wij hebben met technologie en hoe we ermee omgaan. Luistert je telefoon je stiekem af? Wat moet je doen met de overkill aan digitale foto's die je hebt? Wat gebeurt er als je een app installeert waarmee je alle reclame op websites blokkeert? Als blogger zit ik automatisch vastgeplakt aan mijn telefoon en social media en ik vind dit soort vraagstukken daarom heel interessant. De sfeer is luchtig en gezellig, ik heb een beetje een voice-crush (bestaat dat? Zo niet, bij deze) op de presentatrice en ook hier komen er experts langs met interessante vondsten. De duur van deze show is iets korter (half uurtje).
Favoriete afleveringen zijn: Is my phone eavesdropping on me? | It's time to deal with your photo clutter. | Why Google 'thought' this black woman was a gorilla. | Seriously, listen to your voicemail.
♬♬♬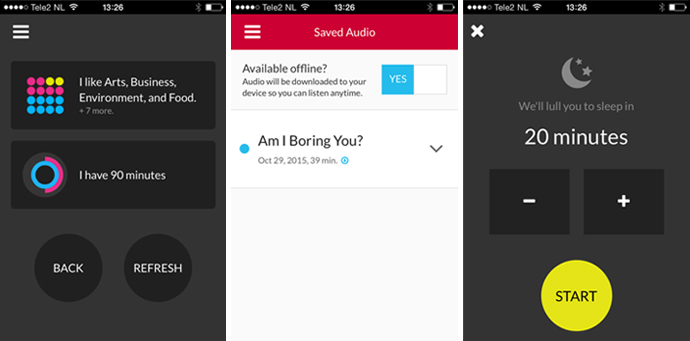 'MAAR HOE LUISTER IK DAT DAN?' hoor ik jullie denken. Nou, easy peasy. Al deze shows zijn onderdeel van WNYC RADIO. Je kunt de podcasts online luisteren, maar wat veel makkelijker is, is de app (klik hier voor android) downloaden. Die is helemaal gratis en je kunt er nog veeeeeeeeel meer podcasts op beluisteren. Ik ben nog maar net begonnen, er staan vast nog veel meer pareltjes op. Ook kun je podcasts downloaden om offline te luisteren of door je favoriete luister-onderwerpen aan te vinken, je laten verassen. De functie die ik pas net ontdekt heb is: 'We'll lull you to sleep in … minutes'. Wij luisteren graag Freakonomics als we gaan slapen en met deze functie sterft de podcast na 20 minuten (of langer) langzaam weg. Nog niet getest, maar dat gaan we nog wel doen. :)
♬♬♬
Wie gaat er luisteren?