TGIF! I got you some very beautiful, fun and adorable goodies from the web. Enjoy!
Joepie, het is bijna weekend! Ik heb weer een paar hele mooie en bijzondere internetvondsten voor jullie!
DIY zipper book clutch by See Kate Sew.
Hier vind je duidelijke instructies van hoe je deze boekkaft-clutch kunt maken. Geweldig idee! Helemaal om een speciale kit van te maken. Dat is een geweldig cadeau!
***
Cute shoes over at Unique Vintage.
Zulke leuke schoenen, ik wil ze allemaal!
***
Chocolate barks by Unelefante.
Bijzondere chocoladerepen. :)
***
Stone works by Mitsuru Koga.
Van simpele stenen kun je de mooiste dingen maken. Vooral de stenen op pootjes vind ik ZO MOOI!
***
Fruit & vegetables by Heidi Voet.
Geniaal. Ik hou van dit soort dingen. :)
***
Easy classic creme brûlée by Averie cooks.
Volgens dit recept is crème brûlée maken helemaal niet moeilijk. Well, let'so go for it!
***
Cute shirts over at felissimo.co.jp.
Superrrrrschattige shirtjes uit Japan. Die kraagjes!
***
Finkelsteins one of a kind toys.
Dit zijn de leukste knuffels ooit. Punt.
***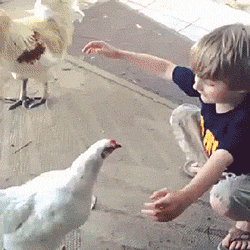 Nu wil ik ook een knuffelkip!
***
Wil je al deze dingen op je pinbord voorbij zien komen? Dat kan, volg ons op Pinterest!
Follow Team Confetti on Pinterest!