TGIF! I got you some very cutesie, fun and designer goodies from the web. Enjoy!
Deze week zit de What I love friday helemaal propvol cutesie stuff en designer spullen. Wat kan ik zeggen, ik hou van mooie spulletjes… ;)
Clothing by Mary Katrantzou.
Deze kledingstukken van Mary Katrantzou zijn werkelijk onbetaalbaar maar oh my wat zijn ze mooi! Foto's van architectuur staan ZO MOOI op kleding.
Creative packaging by Feeldesain.
Te gek relatiegeschenk!
Egg hunt kit at worldmarket.com.
Ik heb dus als kind nooit eieren gezocht en daar baal ik stiekem nog steeds wel een beetje van. Ik ben een sucker voor speurtochten dus misschien moet ik lost time inhalen en iemand deze easter egg hunt voor me uit laten zetten…
Helveticat by Neatshop.
Dit is een poster van de Helveticat. Een klassiek font in combinatie met katjes? Ik ben om!
Styling by Charlotte Love and photography by Andrew M. Boyd.
In dit huis wil ik wonen! Dat behang! Die kleuren! Pegboard! Mijn werkkamer is in desperate need of a makeover, misschien ga ik hem wel helemaal schilderen en volproppen met felgekleurde spulletjes…
Cushions by Lazy Boy Sunday.
Deze kussens van Lucky Boy Sunday zijn eigenlijk een beetje creepy maar ik vind ze echt te gek. Vooral die met die hand, hebbeeeeeen!
Creations by Cardboard Dad.
Dit is Cardboard Dad, een toegewijde Russische papa die zijn baan als architect heeft opgezegd en fulltime kartonnen bouwsels maakt voor zijn kinderen en iedereen die ze maar wil: bedrijven, evenementen, beurzen, kinderfeestjes enz. Droombaan als je het mij vraagt ;)
ROOM Collection by Erik Olovssen & Kyuhyung Cho.
Dit is echt de ALLERMOOISTE kast die ik OOIT heb gezien! Magisch gewoon. Ik kan nergens een verkooppunt vinden en heb dus bedacht dat IKEA hier maar de budgetvariant van moet gaan maken. Please IKEA, pleeeeeeeeease…?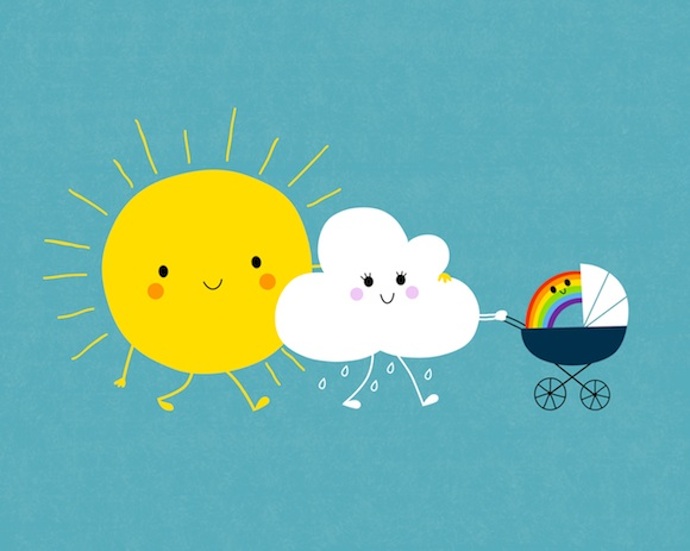 Illustration by Neskoncept.
Het was een wispelturig weekje qua weer en stiekem was ik er een beetje chagrijnig van geworden, maar als ik deze illustratie zie dan vind ik het al niet erg meer ;)
***
Een fijn weekend alvast!
Have a nice weekend!
***
Wil je al deze dingen op je pinbord voorbij zien komen? Dat kan, volg ons op Pinterest!
Follow Team Confetti on Pinterest!