Het is weer gelukt! De Team Confetti agenda 2020 is gedrukt en verzonden. Elk jaar weer een flinke klus en altijd weer bijzonder dat er genoeg mensen zijn die mijn agenda kopen. A dream come true. En vandaag deel ik mijn tips zodat ook jij je papieren droom waarheid kan laten maken.
Lang LANG geleden was mijn grootste werk-droom om een ontwerp voor de V&D schoolcampus te mogen maken. Ik weet nog dat ik er met mijn zzp collega's in onze gedeelde werkruimte over fantaseerde. 'Ja, dat is de droom.' Verzuchten we allemaal.
Inmiddels is de V&D niet meer maar toch is de droom uitgekomen. Ok, niet een hele lijn (alhoewel ik genoeg patroontjes heb ontworpen voor een magazijn vol tof kaftpapier) maar wel al jarenlang the one and only Team Confetti agenda. Als je zelf de touwtjes in handen neemt en het succes niet af laat hangen van oplages maar van blije klanten, dan kun je zo'n droom eigenlijk best makkelijk uit laten komen.
Dus vandaag, speciaal voor alle papier dromers een berg tips en een schop onder je kontje: make it happen!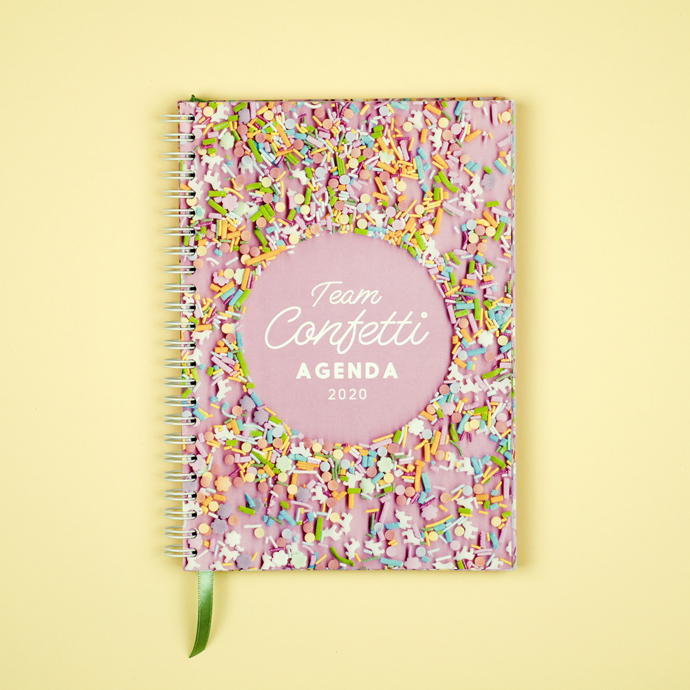 FANCY DETAILS ON A BUDGET
Als je in eigen beheer drukt, dan is je oplage (aantal producten) waarschijnlijk niet heel erg groot. Hoe groter de oplage, hoe lager de stuksprijs wordt en hoe meer the fancy details uit kunnen. Denk goudfolie, een harde kaft, extra pagina's met stickers etc.
Ik heb me helemaal kapot geresearched toen ik de eerste TC agenda maakte. Ik wilde een elastiekje, een vakje in het kaft, een mooie omslag etc. Maar ik kwam er al snel achter dat dat niet eens mogelijk was met mijn oplage en als het wel kon, dan was het niet te betalen. En dus moest ik creatief zijn. Ik koos voor een plastic insteekvakje wat ik zelf aan de binnenkant van het kaft kon plakken (zoek naar 'insteekhoeken zelfklevend') en vogelde de beste manier uit om een elastiek aan het kaft vast te maken:
In het drukbestand zette ik twee stipjes die ik met een gaatjesprikker uit kon prikken. Een simpel knoopje et voila! Een mooi elastiekje waarvan je de bevestiging alleen kon zien op de allerlaatste pagina van de agenda. Het kan een stuk meer sexy maar dit is budget technisch vrij geniaal. Minimale moeite en een zeer betrouwbaar resultaat wat er goed uitziet uit alle hoeken.
EEN DRUKKER KIEZEN
Als je niet een grote oplage hebt, dan is een digitale drukkerij je beste vriend. Lage startkosten en elke oplage is mogelijk. Zelf druk ik al jaren mijn agenda bij een drukkerij waar ik zelf op de ontwerpafdeling heb gewerkt. Ik wist dat ze prachtig papier hadden en mooie heldere kleuren drukten. Daarnaast wist ik als geen ander hoe ik het beste daar de bestanden moest aanleveren. Perfect! Omdat ik er heb gewerkt, voelt het voor mij logisch om direct contact met hen te hebben, máár ze hebben tegenwoordig ook meerdere online shops waar je zelf je product, papiersoort, oplage etc. kunt uitzoeken en meteen weet wat het kost.
Één van die shops is studentendrukwerk.nl (als je geen student bent kun je er ook prima terecht, no worries). Dit is een mooie basis om mee te werken, maar zoek je naar meer opties dan kun je het beste voor de almanak gaan (die heeft iets meer keuze in formaten en bindwijzen).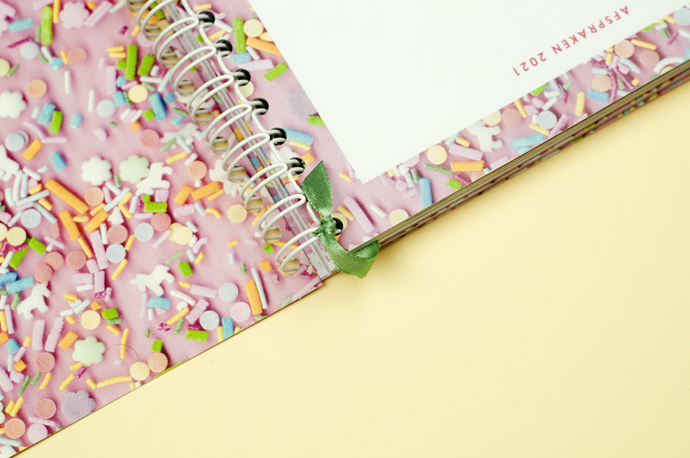 TIPS VOOR HET KIEZEN VAN PAPIER EN BINDWIJZEN
Mocht je nou net als ik een agenda willen maken, dan is een spiraal bindwijze (ook wel wire-o genoemd) ideaal. Vind ik persoonlijk. Die valt mooi open en je kunt er veel pagina's in kwijt. Ook kun je er zelf nog een lintje aan bevestigen, dat gaat met een harde kaft wat lastiger.
Voor het binnenwerk heb ik zelf gekozen voor 120g stevig mat papier. Dat is dik genoeg zodat je niet door de pagina heen kunt kijken (erg handig voor als je met een stift in je agenda schrijft) en mat schrijft erg prettig met potlood en pen. Ik vind het ook wat natuurlijker en fijner aanvoelen.
Voor het omslag een zo dik mogelijk papier met een matlaminaat. Zo bescherm je de omslag, kun je eventuele vlekken makkelijk verwijderen en omdat het mat is, voelt het niet zo plastickig aan. Voordeel van glans laminaat is wel dat de kleuren nog wat meer van het papier springen, dus voor beide is iets te zeggen. Je kunt ook in plaats van een laminaat een extra voor- en achterblad nemen van doorzichtig plastic. Maar dat staat niet mooi en het is weer extra veel plastic de wereld inhelpen. Dikke DON'T wat mij betreft.
Bij studentendrukwerk.nl is ook de optie om je drukwerk te laten controleren voor €10 en doe dat! Ik weet waar ze op checken omdat ik dat zelf heb gedaan toen ik er werkte en vrij vaak iets tegenkwam wat niet pluis was. Ze beschikken over fancy ass pdf programma's waar ze kunnen zien of er nog ergens een RGB afbeelding zit verstopt, of je de juiste crop marks hebt ingesteld, of je je tekst wel hebt ge-outlined (omgezet van font naar vectoren). Als jouw gebruikte font niet op een standaard computer staat, wordt je font vervangen door een default en dat kan BIG TROUBLE veroorzaken. Sowieso is drukwerkbestanden opsturen SUPER STRESSFULL dus als je weet dat er nog iemand met verstand naar gaat kijken dan scheelt dat toch weer.
NOG VEEL MEER
Naast agenda's heeft studentendrukwerk.nl ook wanddecoratie in het assortiment zoals canvas, dibond, forex etc. En stickers you guys! Ze hebben stickers! Ik weet niet wat het is, maar je eigen ontworpen stickers hebben is zo geweldig. Ik maak nog regelmatig iemand blij met een unicorn sticker die ik voor het geval dat in mijn portemonee bewaar…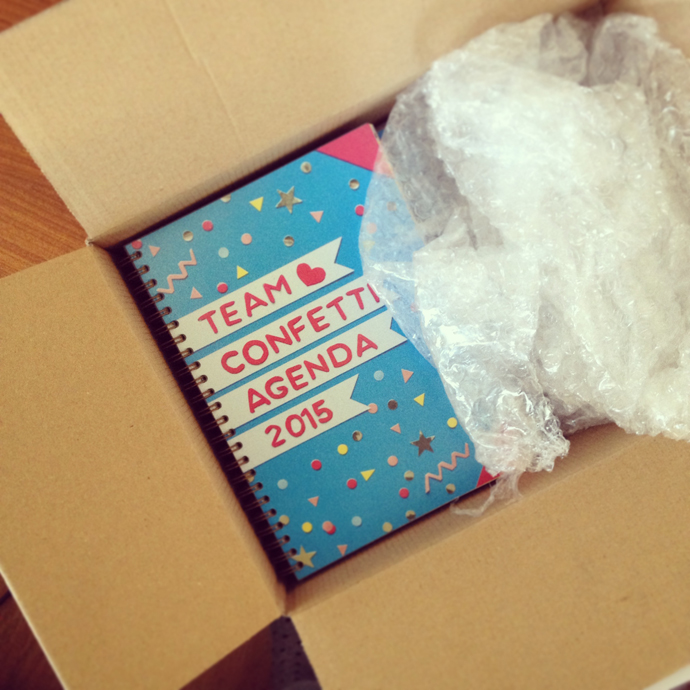 ASK ME ANYTHING! (about drukwerk)
Ik lever niet dagelijks drukwerk meer aan (gelukkig maar, beter voor de stresslevels) maar ik weet er heus best veel vanaf. Heb je een vraag of nog een dikke tip nodig, roep het bij de comments.