Today soccer themed nails with lots of glitter!
Aangezien Nederland zich al door aardig wat voetbalwedstrijden heeft geworsteld, dan nu toch eindelijk voetbal-geinspireerde nageltjes. Eigenlijk ben ik niet zo'n ontzettende voetbalfan, maar tijdens een WK wil ik nog best enthousiast mee roepen en een leuke oranje strik in mijn haren doen. Maar ik ben vooral gek op de oranje jelly beans die we eten tijdens de wedstrijden (hoe meer je eet, hoe meer doelpunten, smakelijk bijgeloof)…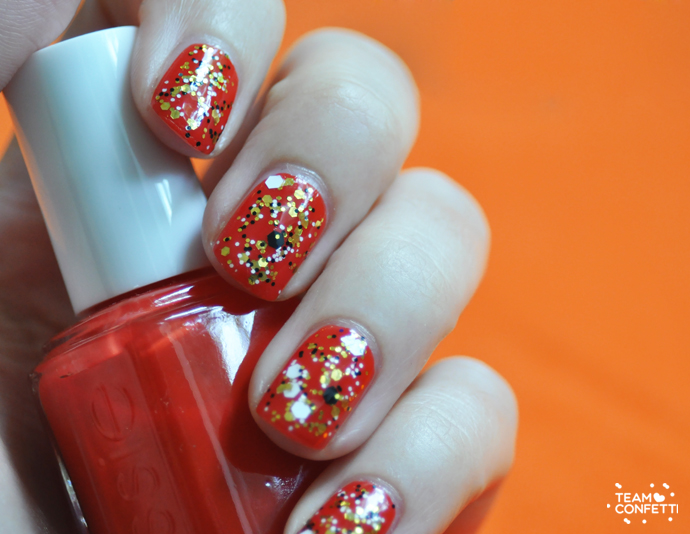 67 Meet Me At Sunset by Essie.
Eigenlijk is dit lakje niet ech fel oranje, het is eerder een rood die een beetje neigt naar oranje. Het is een van mijn favoriete kleuren van Essie en lakt zo ontzettend mooi. Ik zou deze eigenlijk de hele zomer wel willen dragen, echt prachtig.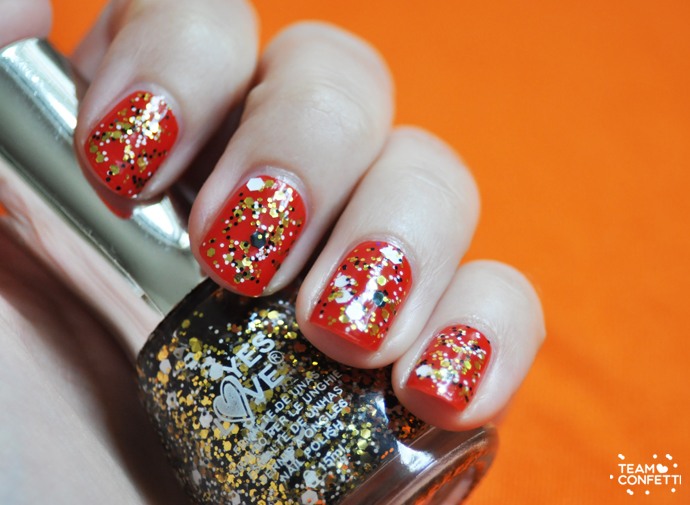 Snowflake Speckled by Yes Love.
En erbovenop de glitter topcoat van Yes Love. Er zit goud (de beker) en zwart/wit (kleuren van een ouderwetse voetbal) in. Er zitten heel veel glitters in de lak, je hoeft niet te vissen (dat gevaar loop je meestal wel met de wat goedkopere lakjes). Leuk ook dat er verschillende maten glitters in zitten. Heel feestelijk!
Ik ben alvast klaar om Nederland  zaterdag weer toe te juichen (met een mond vol jelly beans).
***
Dof jij je ook op als je voetbal gaat kijken?
***
De lakjes van Yes Love kosten €2 en zijn ook te koop bij Cosmetics by Kim.
Essie nagellakken kosten €9,99 en zijn verkrijgbaar bij de meeste filialen van Etos en DA.