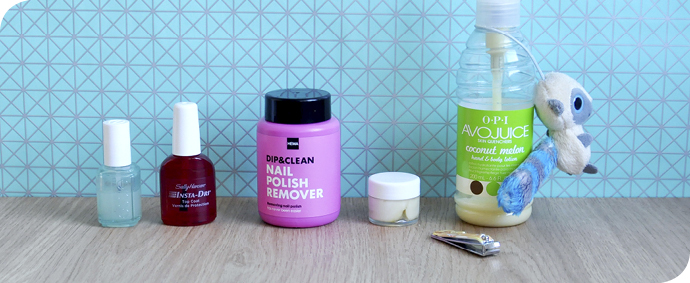 Today I'm going to show you what basics I use when I paint my nails.
Deze week liet ik mijn plakband en glitters in de kast en schilderde ik mijn nageltjes klassiek rood. Maar omdat dat natuurlijk niet zo interessant is, besloot ik eens te laten zien wat ik gebruik om mijn nageltjes mooi te maken en ervoor te zorgen dat mijn nagellak zo lang mogelijk blijft zitten!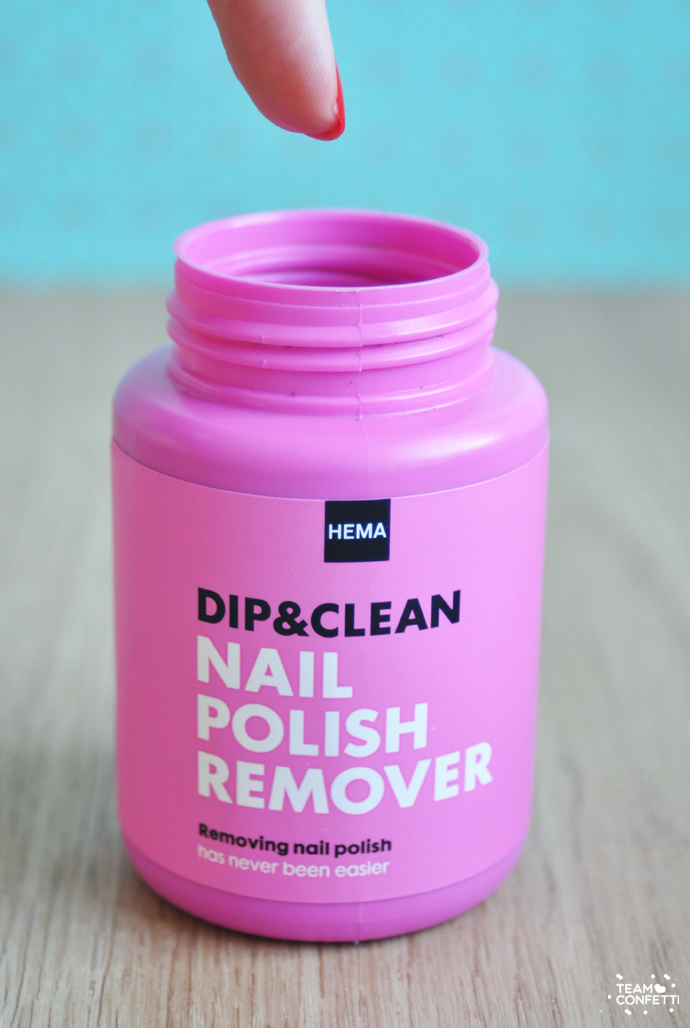 Dip & Clean Nail Polish Remover by Hema – €2.75.
Om mijn oude nagellak te verwijderen gebruik ik graag een potje met een sponsje erin. Hier kun je je vinger in dopen, rond draaien, et voilà! Weg nagellak! Je kunt hier alleen niet met een glitternagel in gaan roeren, want dan gaat het sponsje stuk en zitten er allemaal kleine zwarte sponsstukjes op je vingers. Deze is van Hema, maar ik heb ook andere merken geprobeerd. Ik vind er niet zoveel verschil in zitten.
Nail clippers by Sostrene Grene.
Ik knip mijn nagels bijna elke week. Ik hou niet van lange nagels en al helemaal niet van nagels met haakjes die overal achter blijven hangen. Ik weet dat je je nagels het beste kort kunt vijlen, maar ik krijg de kriebels van vijlen en doe dat dus alleen als er na het knippen nog wat haakjes zijn achtergebleven. Dit nagelknippertje is niets bijzonders, maar heeft een gezellig meisje in bikini erop en daar word ik vrolijk van.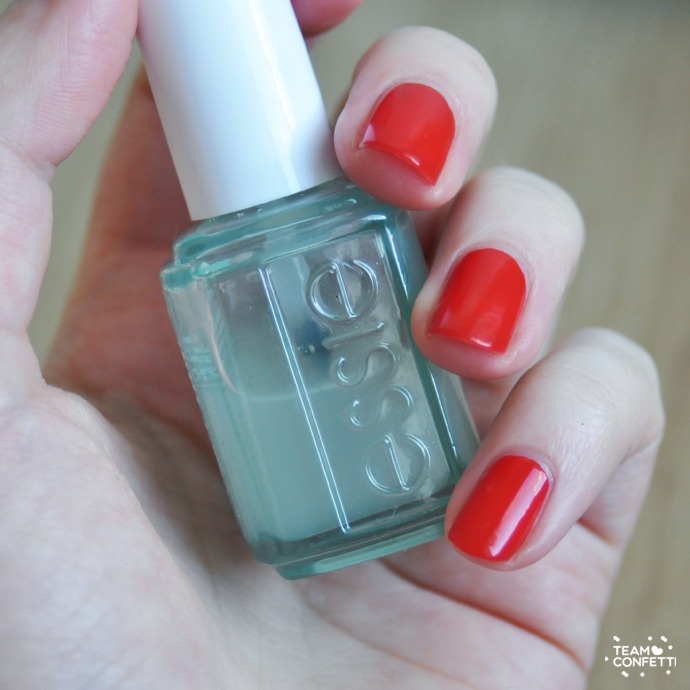 Essie Help Me Grow – € 12.99. Available at ETOS and DA.
Daarna lak ik mijn nagels met deze 'Help Me Grow' basecoat van Essie. Voordat ik deze basecoat gebruikte, waren mijn nagels wat aan de slappe kant en bleef mijn nagellak niet goed zitten. Het duurt een tijdje voordat je resultaat ziet, maar volgens mij werkt het echt. Daarnaast doe je er een eeuwigheid mee. Ik kan me niet eens meer herinneren wanneer ik deze kocht, volgens mij bijna een jaar geleden en ik lak mijn nagels elke week. Het droogt snel op en het goedje is zelfs na bijna een jaar niet stroperig geworden.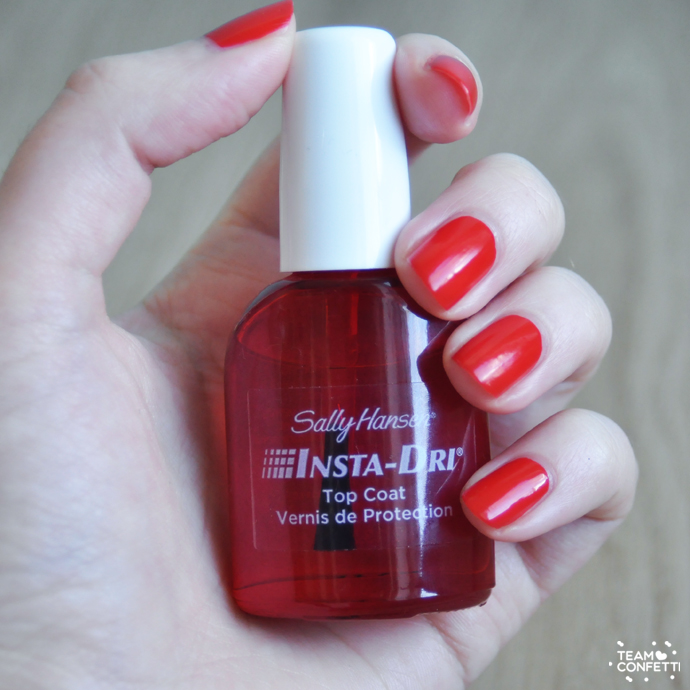 Sally Hansen Insta-Dri – around €10. Available at Kruidvat and Bol.com.
Nadat ik mijn nagels heb gelakt doe ik er de Sally Hansen Insta-Dri Top Coat overheen. Dit spul is magie in een flesje. Het droogt namelijk meteen je nagellak. Ik lak altijd 's avonds mijn nagels en voordat ik dit wondergoedje had, stonden de volgende ochtend altijd de afdrukken van mijn dekbed op mijn nagels. En dat is met deze Top Coat verleden tijd. Je moet niet meteen gaan klussen of de wc gaan schoonmaken, maar hij is zeker slaap-proof. Ook als ik een nailart maak met plakband, gebruik ik deze topcoat tussendoor zodat ik sneller doorkan met het volgende laagje zonder dat ik mijn nagellak eraf trek. Het enige nadeel is dat hij na een paar maanden stroperig wordt, omdat het een sneldrogende Top Coat is…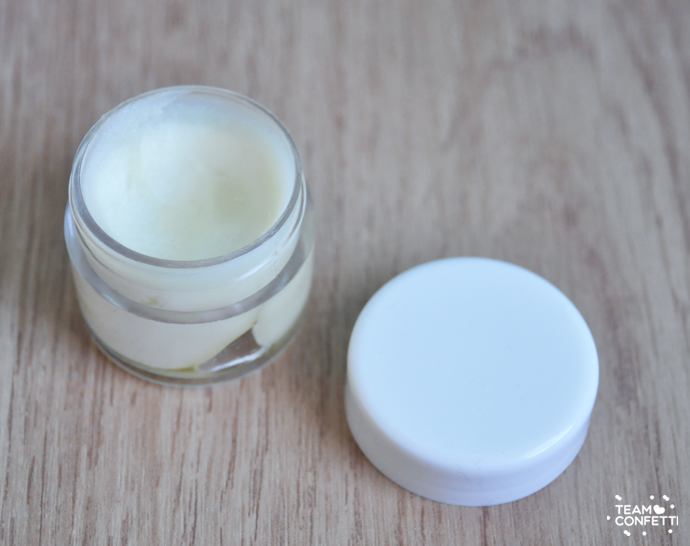 Lush Lemony Flutter – €10,65 / 45g.
Om mijn nagels te verzorgen gebruik ik het cult product van Lush: Lemony Flutter. Mijn moeder kocht eens een potje van dit spul, en maakte een sample voor me. En aangezien ik het maar een a twee keer in de week gebruik, is dat meer dan voldoende. Ik smeer een beetje op mijn nagelriemen en op mijn vingertoppen.
OPI Avojuice in Coconut Melon €12,50 / 200 ml.
Lemony Flutter duurt even voordat het is ingetrokken en omdat ik dat vettige gevoel niet zo prettig vind, smeer ik mijn handen meteen daarna in met handcreme. Zo smeer ik de Lemony Flutter een beetje uit over de rest van mijn handen en trekt het geheel wat sneller in (en zijn mijn hele handen zacht ipv alleen de topjes van mijn vingers). Ik gebruik al een hele tijd Avojuice van OPI. Het was een keer zwaar in de aanbieding bij de DA en het ruikt heel lekker.  Het pompje is heel handig en het trekt heel snel in. Ik heb geen flauw idee of ze deze handcreme nog steeds verkopen bij DA, je kunt ook een andere fijne handcreme gebruiken. O, en het schattige knuffeltje kreeg ik er niet bij, die komt uit een Happy Meal…
***
Heb jij nog goede tips op nagelverzorgingsgebied?
Do you have any tips I might find helpful?