Gastblog door Tea – Ik vond het wel weer eens tijd voor een artikeltje over Londen, dus ik ga weer een paar leuke hofspots met jullie delen. Ik heb eerder hier geschreven over een paar hippe hotspots. Maar het nadeel is vaak dat je helemaal niet in de buurt zit van mijn goede tips en dat je geen zin hebt om daarvoor naar de andere kant van Londen te gaan (begrijpelijk). Óf dat je eigenlijk niks geeft om cornflake cafés of hotspots waar ze koffie serveren die door blinde nonnen in Chili zijn gemalen…
Daarom dus een blogartikel met ketens die je overal in de stad zal vinden en die de Tea stempel van goedkeuring hebben gekregen. Ketens hebben een slechte naam en 'reizigers' vermijden ze ook vaak, maar het zou zonde zijn wanneer je deze over zou slaan.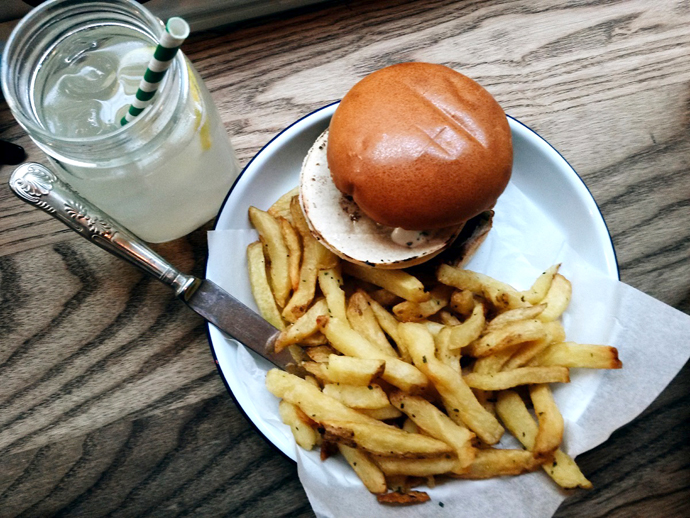 Honest Burger maakt de beste Burgers (ja, met een hoofdletter B) en heerlijke friet met rozemarijn-zout. Je zult ze niet om elke hoek zien zoals Gourmet Kitchen Burger of Byron (die vind ik persoonlijk dan weer géén aanraders), maar er zijn genoeg locaties in de stad zodat je nooit ver hoeft te reizen om er eentje te vinden.
  ◐   ◑   ◒   ◓
Elke zichzelf respecterende straat heeft een Pret-A-Manger en het is ok voor een snelle lunch: er is keuze uit broodjes, soepen en salades. Er is ook EAT, maar ik vind het aanbod bij Pret net iets fijner.
  ◐   ◑   ◒   ◓
Itsu –  volgens mijn collega's is dit dé to go keten voor je portie rauwe vis. Ik ben fan van hun noodle soep en hotpots die me warm houden tijdens de koude maanden. Wasabi is ook een keten die je veel zult zien, daar kun je terecht voor warme gerechten zoals katsu curry.
  ◐  ◑  ◒  ◓
Wahaca – Elke keer als er bezoek komt, probeer ik ze mee te nemen naar Wahaca: een keten met heerlijke tapas-achtige Mexicaanse gerechten die je kunt delen. Je kunt het in principe net zo duur of goedkoop maken als je wilt en het blijft één van mijn favoriete ketens in Londen.
  ◐   ◑   ◒   ◓
The Diner – ze hebben locaties in de belangrijkste toeristische delen van de stad, dus is er waarschijnlijk wel eentje in de buurt van waar jij zit. Ze hebben de hele dag American style ontbijt, een selectie van hamburgers en andere diner-achtig eten voor een redelijke prijs. Er is trouwens ook the Breakfast Club en hoewel ik de voorkeur geef aan hun pannenkoeken, loop ik ze vaak voorbij want de wachtrijen zijn niet normaal lang.
  ◐   ◑   ◒   ◓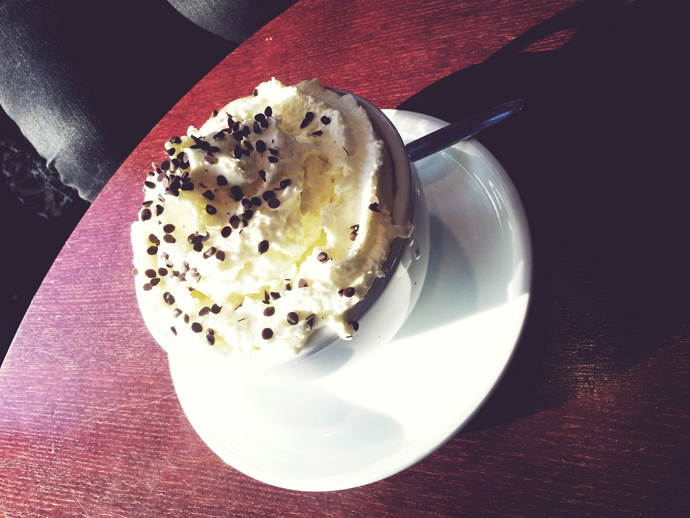 Caffè Nero – Als het gaat om ergens zitten, wat wi-fi stelen en iets teveel geld uitgeven aan een warme chocolademelk, dan ga ik graag naar Caffè Nero de Milano met Belgische chocolade. De warme chocolademelk van Costa en Starbucks voldoen helaas niet aan mijn verwachtingen. Ik neem aan dat de koffie bij Caffè Nero ook goed is.
  ◐   ◑   ◒   ◓
Nando – is een Zuid Afrikaanse keten die Portugese kipgerechten verkoopt en je kent ze misschien wel van de 'Cheeky Nando's' meme. Qua beleving is het een plek waar je de meest uiteenlopende Londoners ziet. Maar verwacht niet al te veel van het eten want de kwaliteit zit maar net boven de McDonalds. Wil je toch het gevoel hebben dat je in een sterren restaurant zit, dan moet je zeker naar hun mooiste locatie in Clink Street bij London Bridge.
  ◐   ◑   ◒   ◓
Gail's – Move over droge cupcakes en regenboogcake van Hummingbird Bakery want artisan bakkerij Gail's is de plek om te zijn voor een kopje thee / koffie met gebak (de carrot cake is mijn favoriet, heb geen betere in Londen gevonden). Met meerdere locaties, waaronder Soho, Portobello Road en South Kensington, is het makkelijk om er bij één naar binnen te struikelen.
♥♥♥
Heeft er iemand nog een bezoek aan Londen op de planning staan?
♥♥♥
Tea woont in Londen, houdt van films en heeft zelfs een baan kunnen vinden waar ze veel films mag kijken. Ze heeft een eigen blog, teawashere.com en één keer in de vier weken blogt ze voor teamconfetti.nl.