Mijn favoriete bezigheid op het internet is het zoeken naar mooie plaatjes. Urenlang kan ik  doorbrengen op site's als Pinterest en Tumblr. Het enige nadeel vind ik, dat er weinig info bijstaat over de beelden. Gelukkig ken ik een aantal sites die beide bieden, kwalitatief mooie plaatjes met inspirerende achtergrondinformatie. Dit zijn mijn lievelings sites: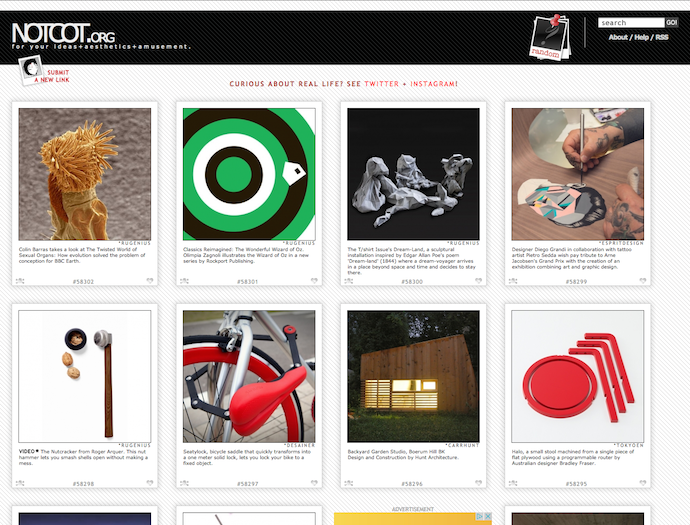 Notcot.org richt zich op design, architectuur, fotografie, mode, reizen en eten. Op deze Amerikaanse site ben ik zo een paar uur zoet. Ik weet niet hoe ze het voor elkaar krijgen, maar ik vind werkelijk alles wat erop staat mooi. Via de artikelen kom je vaak ook weer uit op een andere inspirerende site, dubbel zo leuk dus!
*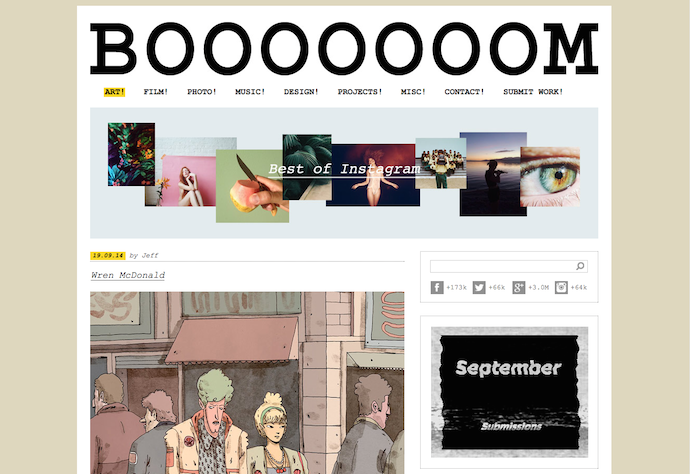 De Canadese site Booooooom geeft een podium aan, vaak nog redelijk onbekende, kunstenaars. Je vindt er veel illustratoren en schilders, maar ook toffe video's, muziek en inspirerende projecten. De wekelijkse categorie 'Best of Instagrams' toont een selectie van 5 Instagrammers die het waard zijn om te volgen. Altijd fijn!
*
Het fijne aan IGNANT is dat er per kunstenaar veel beeld wordt getoond. De van origine Berlijnse site richt zich veelal op fotografie, maar andere disciplines als architectuur en illustratie komen ook genoeg aan bod. IGNANT heeft daarnaast nog een geweldige shop; Draw a line, waar je mooie art prints kunt kopen.
*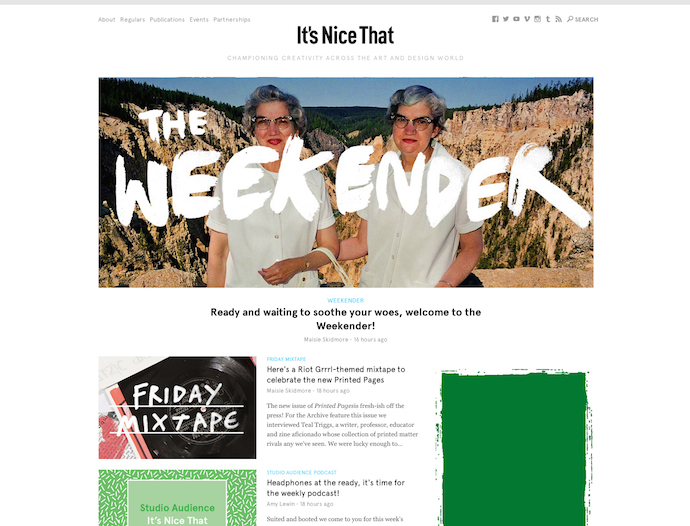 De london based site It's nice that gooit iedere dag minimaal 9 nieuwe artikelen online, altijd interessant, veelal gericht op grafisch ontwerp, print en fotografie. Het toffe aan deze site is dat ze echt eigen content creëren, bijvoorbeeld een atelier bezoek & interview met een kunstenaar, i.p.v. alleen een showcase van iemands werk. Zeker een klik waard!
*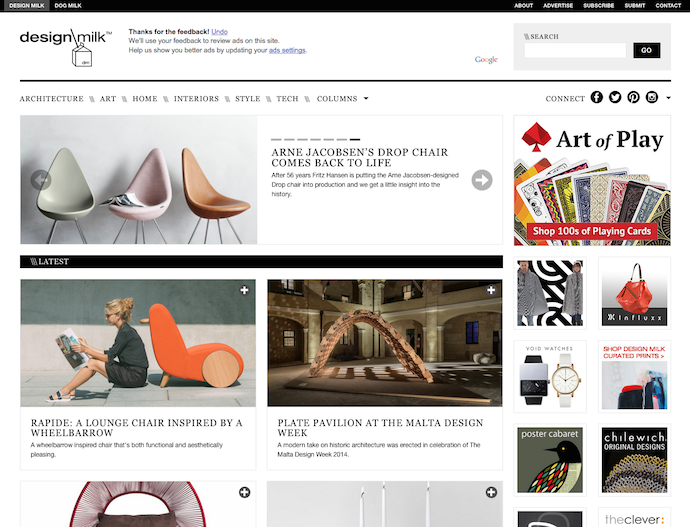 Ben je naast 2d kunst ook geïnteresseerd in interieur- en product design, dan moet je Design Milk bezoeken. Een online magazine welk vol staat met mooie spullen / kunst / technische snufjes. Ik bezoek de site zelf dus vaak voor alle prachtige meubels die erop gepost worden.
*
Op welke site's kunnen jullie uren zitten?