Gastblog door Noortje – In mijn vorige artikel over online tips, vroeg ik of jullie het leuk zouden vinden wanneer ik een speciaal artikel zou wijden aan het maken van een html handtekening. Een aantal van jullie reageerden positief en ook mensen uit mijn omgeving smeekten me om een tutorial. Okee, dat is misschien een beetje overdreven, maar een handleiding om je mailtjes professioneel de deur uit te kunnen doen was dus welkom.
Om deze handtekening te maken, gaan we HTML gebruiken. Dus daar wil ik eerst iets over vertellen, want, wat is dat nou eigenlijk? HTML staat voor HyperText Markup Language en is een opmaaktaal waarin je kan beschrijven waar bepaalde onderdelen op een pagina zich moeten bevinden. Het is als het ware een taal die wij begrijpen maar onze computer ook. Zodat hij tekst, links en plaatjes kan opmaken zoals wij dat willen. Het is werkelijk een beetje toveren. In deze tutorial leg ik stap voor stap uit wat je moet doen en ik weet zeker dat jij na het volgen van deze tutorial in staat bent om ook je eigen HTML handtekening te creëren.
Ik werk in deze tutorial met het standaard mailprogramma van apple en ook met apple software. Ik weet niet hoe je met windows een handtekening aan je mail kan toevoegen, sorry windows users! Gebruik je Gmail of een andere maildienst in je browser, dan kun je vaak in je instellingen ook een handtekening invoegen, hoe precies weet ik niet, maar Google weet dat vast!
STAP 1. VOORBEELDCODE AANPASSEN
Surf ten eerste naar w3schools.com en klik op try it yourself. Op deze website kan je heel veel leren over HTML en ook tutorials vinden. In het geopende venster ga je jouw persoonlijke code schrijven en testen. Je zou nu het volgende moeten zien: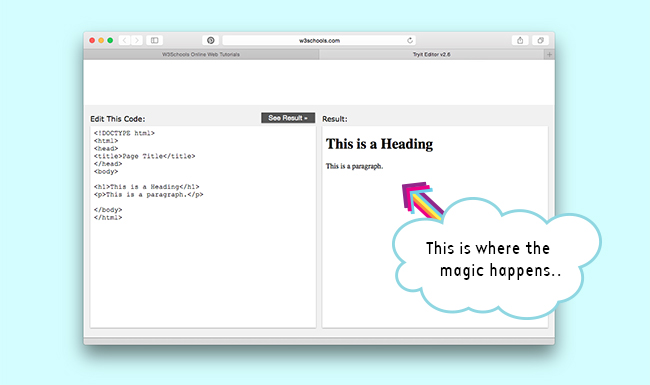 Download hier de voorbeeldcode en plak deze in het linkerscherm. Het zou er nu zo uit moeten zien: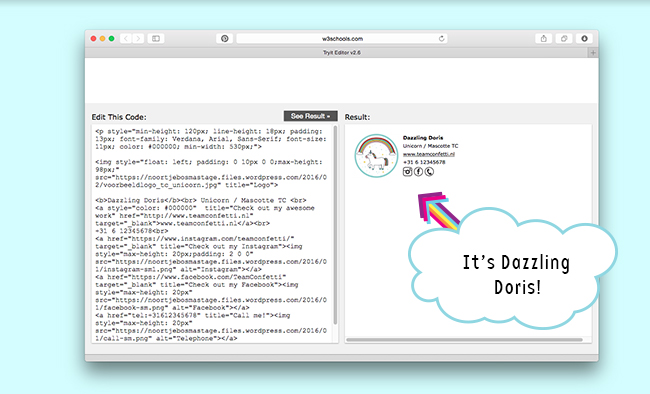 In onderstaande afbeelding leg ik de code uit en laat ik zien welke stukken je moet vervangen voor jouw persoonlijke informatie. Wanneer je meer wilt weten dan hieronder uitgelegd staat, kijk dan op w3schools. Hier kun je veel meer informatie vinden.

STAP 2. PLAATJES UPLOADEN VOOR HTML
Je kan niet zomaar een plaatje van je computer in je code plakken. Hiervoor moet je de plaatjes eerst uploaden en de link daarvan in je code gebruiken. Als je wordpress hebt, kun je de plaatjes toevoegen aan de map media. Wanneer je het plaatje geupload hebt en er op klikt, zie je rechts in beeld de url verschijnen die je nodig hebt.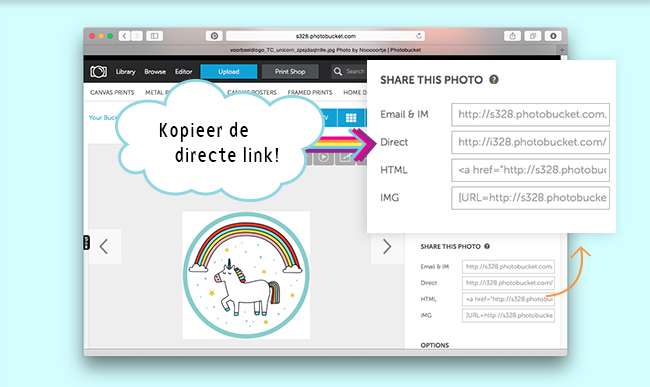 Wanneer je geen wordpress hebt, is het handig om een website te gebruiken die jouw plaatjes HTML proof maakt. Je kunt bijvoorbeeld een account aanmaken bij Photobucket en hier je plaatjes uploaden. Wanneer je op het plaatje klikt, zie je aan de rechterkant de url verschijnen. Die kan je kopiëren en op de juiste plek in je code plakken. Het formaat van het plaatje maakt voor het uploaden niet uit. De grootte bepaal je namelijk pas later in je code. Het plaatje moet wel groter zijn dan 98 pixels anders rekt hij uit.
In de voorbeeldcode zie je ook plaatjes die linken naar facebook, instagram, en bellen. Die plaatjes staan echter online onder mijn beheer. Wanneer ik ze verwijder, zullen ze het ook bij jou niet meer doen. Daarom is het belangrijk om hiervoor ook je eigen plaatjes te uploaden. Je kunt heel veel verschillende iconen vinden op google of je kan ze zelf maken. Je mag echter ook die van mij overnemen, klik hier om de plaatjes te downloaden. Belangrijk is dat je het plaatje in ieder geval op je eigen computer opslaat en weer upload naar photobucket of wordpress. Zo staan ze onder jouw beheer. Wanneer je al je plaatjes geupload hebt, kun je de links in de voorbeeldcode vervangen voor de links van jouw plaatjes.
STAP 3. JE HTML HANDTEKENING TOEVOEGEN AAN JE EMAIL
1. Ga nu naar je mailprogramma, ik ga uit van het mailprogramma voor mac.
2. Kies Mail -> Preferences -> Signatures en klik op de + om een nieuwe handtekening aan te maken. Noem deze HTML handtekening (dit kan je later nog veranderen).
3. Sluit je mail af en open het moederbestand van je nieuwe handtekening.
4. Ga naar Finder -> Go -> (houd alt ingedrukt dan verschijnt) library -> mail -> V2 -> Maildata -> Signatures.
5. Klik op bestanden weergeven als lijst. Zo kun je makkelijk zien welk bestand je het laatst aangemaakt hebt. Open nu het bestand in een simpel tekstbewerking programma zoals notepad, of texteditor. Je zou dit moeten zien: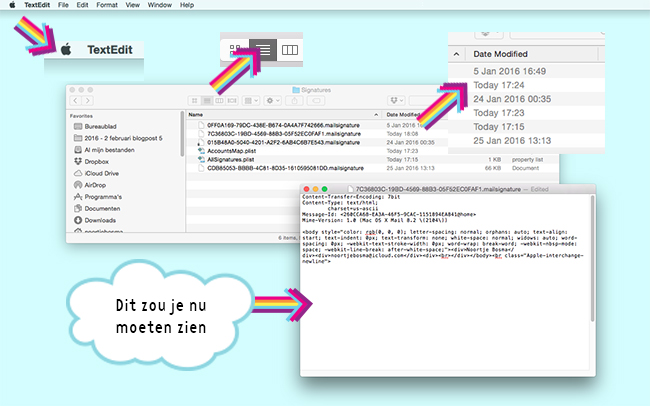 Plak nu je gemaakte code in het moederbestand en sla hem op. LET OP! Het bovenste stukje tekst moet je laten staan anders gaat je handtekening het never nooit doen.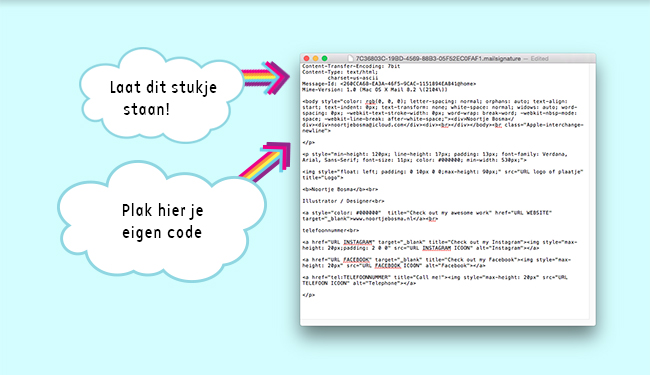 Om je handtekening straks te kunnen gebruiken, moet je het bestand eerst 'locken'. Kijk naar het voorbeeld hieronder om te zien hoe dat moet: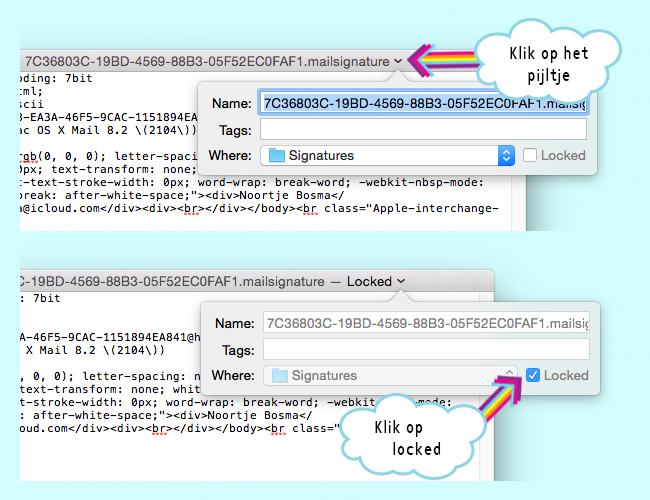 Open je mail en het handtekening menu. Sleep je html handtekening over het account waarvoor je het wilt gebruiken. Klik hier om te zien hoe dat moet. Maak nu een nieuw mailtje en voeg je handtekening toe. Tadaa daar staat je zelfgemaakte handtekening de show te stelen!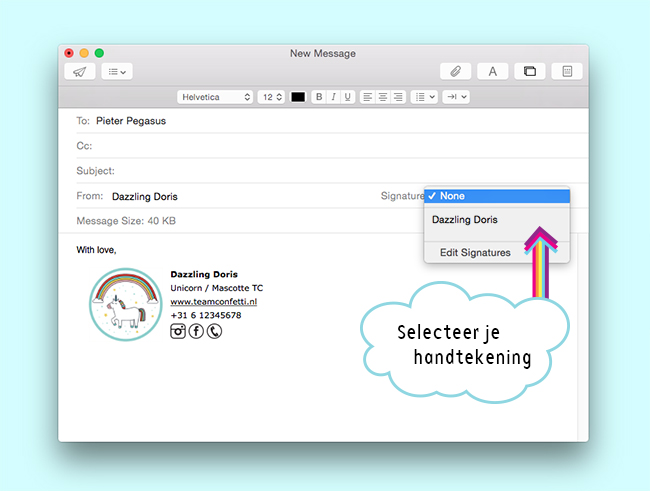 Tenslotte wil ik nog even zeggen dat ik in principe begrijp hoe HTML werkt, maar heb je straks toch nog vragen dan zal ik je misschien niet kunnen helpen. Ik ben geen whizzkid en met hulp van mijn vriend heb ik het vooral voor elkaar gekregen door trial and error. Natuurlijk zal ik proberen te helpen waar het kan, maar sommige dingen zal ik niet weten. Hier vind je trouwens het originele artikel waar ik deze tutorial op gebaseerd heb (anders lijkt het net of ik het hélemaal zelf bedacht heb, hihi).
♥♥♥
Heel veel succes!
♥♥♥
Noortje is een vrolijke illustrator uit Rotterdam met een passie voor papier en kleur. Hier op teamconfetti schrijft ze artikelen waar je iets van kan leren, maar waar je vooral vrolijk van wordt.