Gastblog door Tea – "WOW! LONDEN?? Zo jaloers!" of "Nee, jij mag niet klagen want jij zit in Londen." krijg ik wel eens te horen. Nou hoor, ik kan jullie vertellen dat het echt niet altijd even leuk is hoor, in Londen (of algemeen in het buitenland). Uiteindelijk is Londen voor heel veel mensen niet de plek waar het om een middagje Oxford Street of een rondje London Eye gaat, maar is het een gewone stad waar mensen wonen en werken. Vandaag daarom een blogje over de andere kant van Londen (inclusief symbolische foto).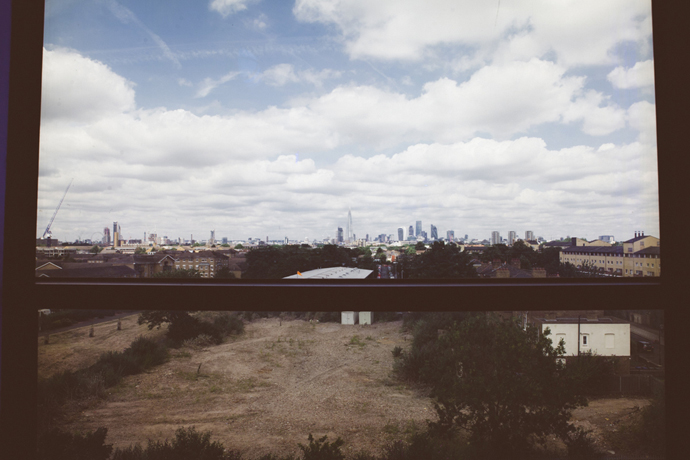 Je betaalt veel te veel voor het hok dat ze een appartement noemen. Ik weet dat het natuurlijk ook in bijvoorbeeld Amsterdam niet zo heel goedkoop is, maar de prijzen in London slaan werkelijk nergens op. Ik heb mensen horen opscheppen over hun £3000 Dalston appartement met een beschimmelde slaapkamer en een keuken met de afmetingen van een vliegtuigtoilet. Een tinyhouse is er niks bij. En dan wil ik het niet eens hebben over eventueel een huis kopen…
?   ?   ?   ?
Aan het chloorwater hier ben ik aan gewend, maar het kalkwater is echt een ding en dan vooral voor mijn haar. In Nederland heb ik bijna nooit conditioner gebruikt  – laat staan een haarmasker, maar sinds ik hier zit, is mijn haar zo futloos geworden dat ik er toch aan moet geloven.
?   ?   ?   ?
Luchtvervuiling is nog zoiets. Sinds een jaartje heb ik altijd het gevoel dat er een teerachtige rooklucht om me heen hangt en heb ik voor het eerst in mijn leven hooikoorts.
?   ?   ?   ?
Ik zit al bijna vier jaar in Londen, maar toch zijn er vrienden in Nederland die een event aanmaken op Facebook en me – uit beleefdheid – uitnodigen. Ik kan helaas niet overal bij zijn en mis bijna alles. Het wordt nog minder als ze tijdens/na het bovengenoemde event foto's en Snaps plaatsen en jij was er niet bij. Daar zit je dan gezellig alleen in een superhip en ubergehyped brunchtentje in Londen.
?   ?   ?   ?
De deur uitgaan staat bij wijze van gelijk aan £50 armer terugkomen. Dat superhippe en ubergehypte gerecht voor twee en twee glazen water kost je al snel £40.Het is bijna een soort straf om je huis uit te gaan.
?   ?   ?   ?
De concurrentie op de werkvloer is soms moordend, ik hoorde altijd al de verhalen van vrienden, maar sinds kort zit ik in een kantoor met meer dan 10 mensen en nu merk ik het ook. Mensen zijn zó bezig met aandacht trekken om zo aan het einde van de maand kans te maken op een betere titel. En daar houdt het niet op, want met zoveel slimme en succesvolle mensen op één plek, kan je bijna niet anders dan alle drankjes, introducties en evenementen afgaan om zo niks mis te lopen. En dat is soms zo zonde van de echte talenten.
 ?   ?   ?   ?
Soms praat ik met iemand die zichzelf tot een onofficiële PR van Londen heeft verklaard, het is bijna alsof ze denken dat er geen restaurants, bars of musea buiten Londen bestaan. In Nijmegen zit ook een hip koffietentje en in Haarlem kun je ook een speciaal biertje krijgen – waar je veel minder voor betaalt…
?   ?   ?   ?
Dan zijn er ook nog momenten dat je beste vriendin is gedumpt en je kan niet zomaar naar haar toe om haar mee te nemen voor afleiding. Lang leve Just Eat, die me eerder hielp om paar bakken Ben & Jerry te bezorgen en de geweldige mensen achter Brownies Per Post (no spon). Maar serieus… Ik wacht nog steeds op de eerste echte Eerste Hulp Als Je Beste Vriendin Is Gedumpt En Jij Zit In Het Buitenland box.
?   ?   ?   ?
Ik weet niet waarom de underground en de rode dubbeldekker een soort van romantisch beeld hebben bij toeristen… Bedenk je maar dat je tijdens de spits elke dag in de Central Line tegen de bezweette medepassagier wordt geplet en dat je slechts zes van de tien keer op tijd op je werk komt omdat er weer een trein is uitgevallen. En dan realiseer je je ook nog hoeveel je voor het het OV betaalt. In Nederland klaag ik dan ook niet meer over de trein prijzen.
 ?   ?   ?   ?
En soms hè, soms mis je gewoon een knuffel van je moeder.
?   ?   ?   ?
Hebben jullie ook nog iets te klagen vandaag?
?   ?   ?   ?
Tea woont in Londen, houdt van films en heeft zelfs een baan kunnen vinden waar ze veel films mag kijken. Ze heeft een eigen blog, teawashere.com en één keer in de vier weken blogt ze voor teamconfetti.nl.