Gastblog door Vera – Hoewel John en ik alweer ruim een jaar in ons huidige huis wonen, zijn er kamers die pas nu langzaam het stempel 'klaar' verdienen. Wanneer je net verhuisd bent, zijn de goede voornemens er altijd om alles binnen een week helemaal af te maken en dan forever in een mooi, schoon afgestyled huis te wonen. Maar dan realiseer je je dat je ook nog een bedrijf, baan, huishouden, vrienden en familie hebt en dan verdwijnen alle kleine klusjes lekker naar de bottom of je to do list. Am I right?
Wij staken echter de afgelopen weken de handen eens flink uit de mouwen en maakten de slaapkamer 'af' (voor zover iets ooit af kan zijn, dan).
Hoewel mijn home office vrij snel helemaal klaar was (dat mag ook wel, want daar breng ik verreweg de meeste tijd door), gold dat voor de slaapkamer nog niet zo. Al ongeveer een jaar wilden we leuke lampjes naast ons bed, eens investeren in een paar leuke nieuwe dekbedovertrekken en van die slaapkamer eens een fijne ruimte maken in plaats van eentje die alleen maar functioneel is.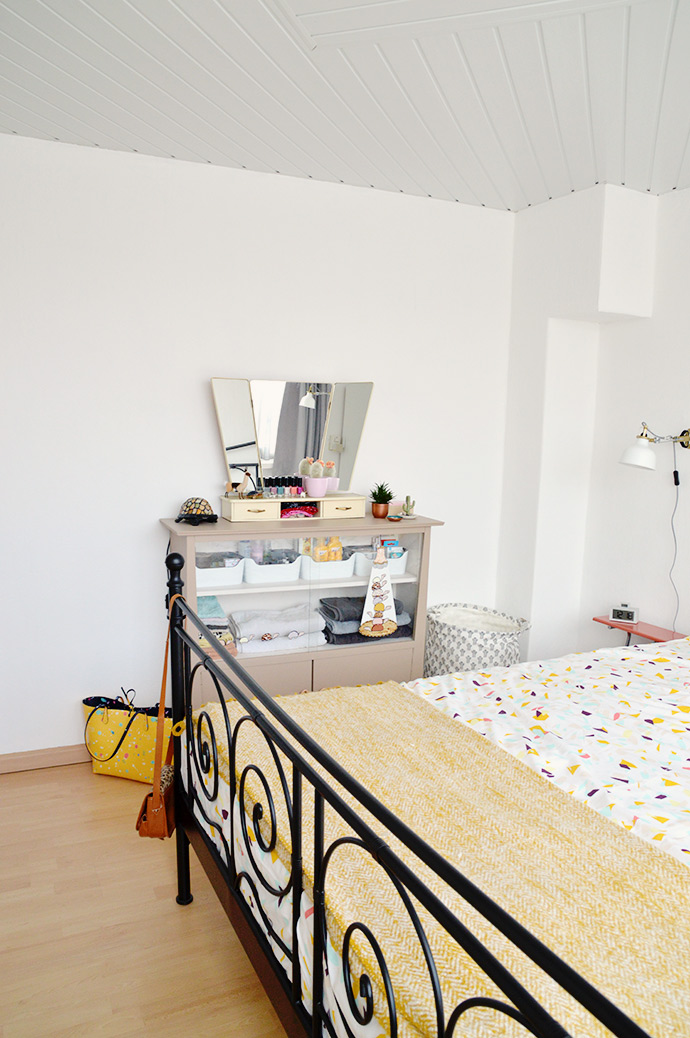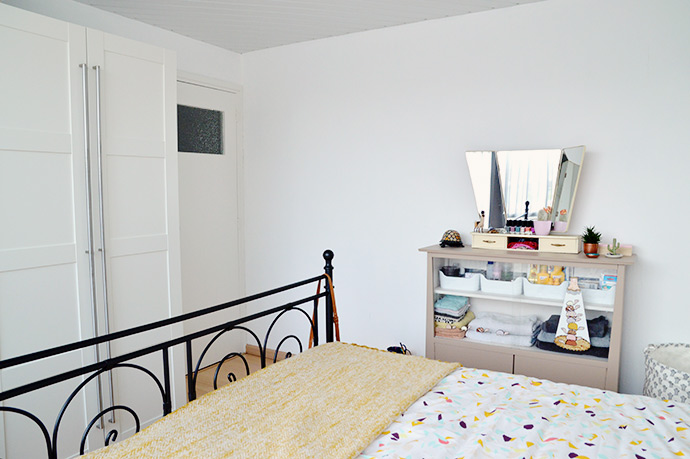 Toen ik via Olga de mogelijkheid kreeg om matrassen van het merk Emma te reviewen, wist ik dat dit het moment was om eens wat energie in onze ongezellige, onaffe slaapkamer te steken. Vandaar vandaag deze room tour!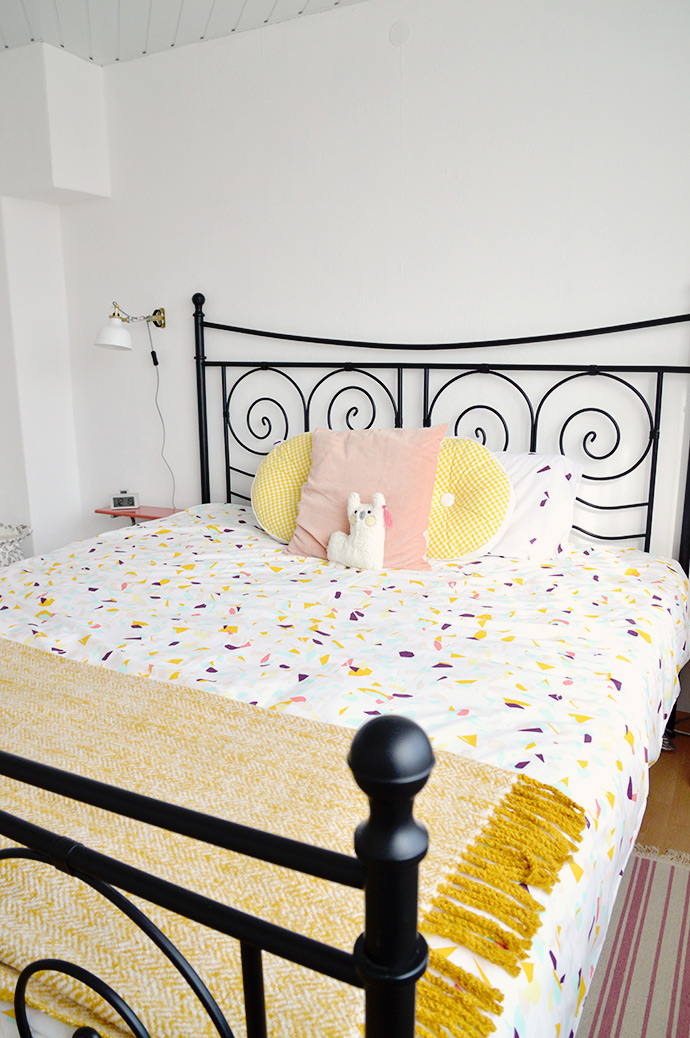 Ik begin bij het belangrijkste item in deze kamer: het bed! Hoewel ons bed al een oudje is en het hoog op de lijst der vernieuwing staat, hebben we nog niet geïnvesteerd in een nieuw ledikant. Ondanks dat de ijzeren krullen niet meer zo aansluiten bij onze huidige smaak, besloten we het bed vooral leuker te maken met een nieuw dekbedovertrek en wat leuke kussens. Aangezien we weten dat we hier niet voor eeuwig willen blijven wonen, hebben we besloten pas een nieuw ledikant aan te schaffen als we ons forever home hebben gevonden.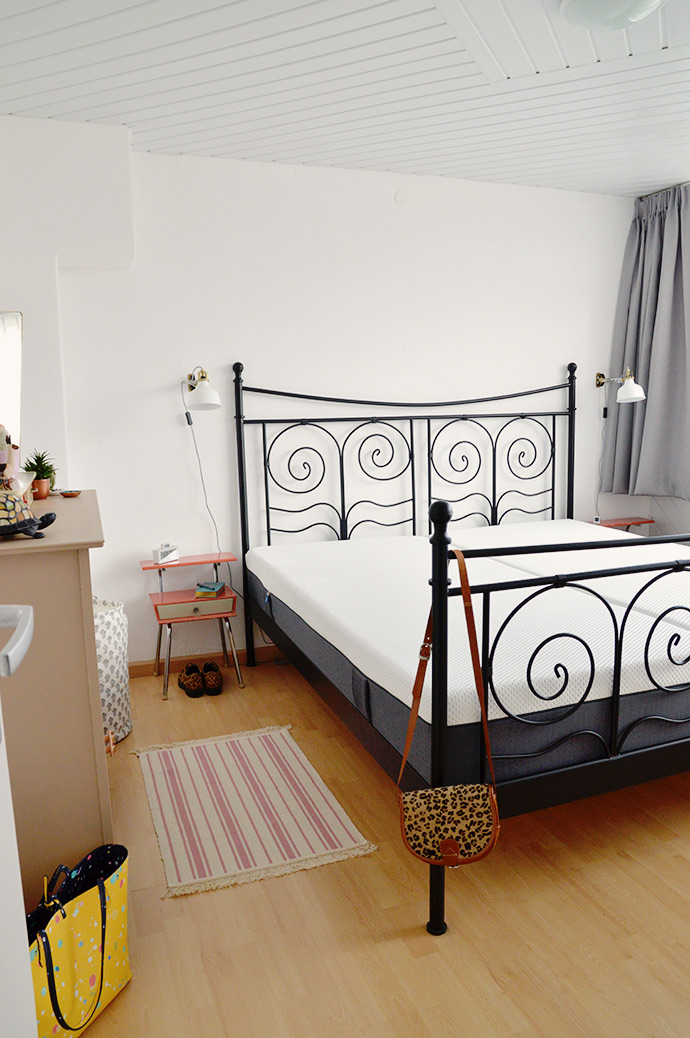 Emma matras
We waren al een behoorlijke tijd toe aan nieuwe matrassen. Ik had in mijn eigen huisje (voor we gingen samenwonen) een heel fijn traagschuim matras, maar omdat dat niet de juiste maten had heb ik dat met pijn in mijn hart met de verhuizing weg moeten doen. Sindsdien slapen we alweer geruime tijd op de meer dan tien jaar oude matrassen van John. En die lagen inmiddels niet meer zo lekker.
En ondanks dat goed slapen heel belangrijk voor je is, vind ik een dergelijke uitgave altijd een beetje 'sneu geld' (zo zeggen wij dat in Brabant). Ofwel: met een bruiloft in het vooruitzicht kon ik wel leukere dingen bedenken om dat geld in te investeren.
Daarbij komt dat ik nogal snel last heb van pijn tijdens het liggen. Leg mij op een te hard matras en ik word halverwege de nacht wakker met een enorm irritante pijn in mijn heupen. Aangezien ik dit vrijwel altijd krijg in een 'vreemd' bed, was ik een beetje huiverig een nieuw matras uit te zoeken, omdat ik die pijn niet elke nacht in mijn eigen bed wil hebben en de aanschaf van een matras nogal een commitment is.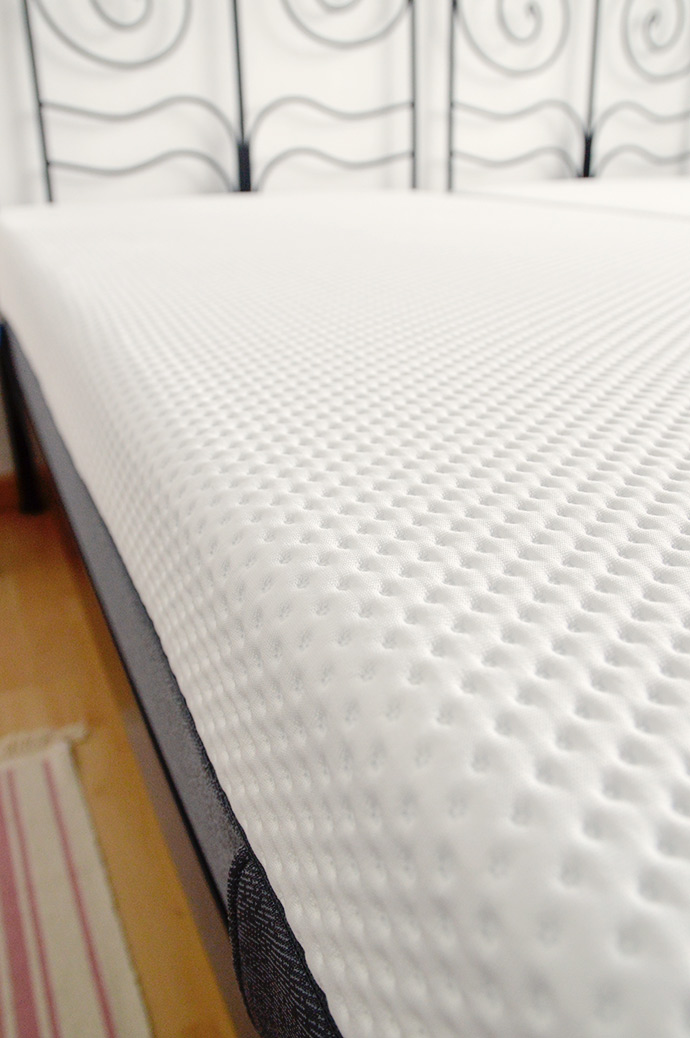 Toen ik dus hoorde dat ik matrassen mocht testen, sprong ik een gat in de lucht. Mede omdat ik zag dat ook het Emma matras een traagschuim laag heeft. Binnen no-time had ik twee matrassen van 90 x 180 cm in huis (we hebben een lits-jumeaux). Ze werden super handzaam (voor zover dat kan met matrassen) geleverd: opgerold in een doos. Het uitpakken en uitrollen was easy peasy en we konden er dezelfde avond nog op slapen.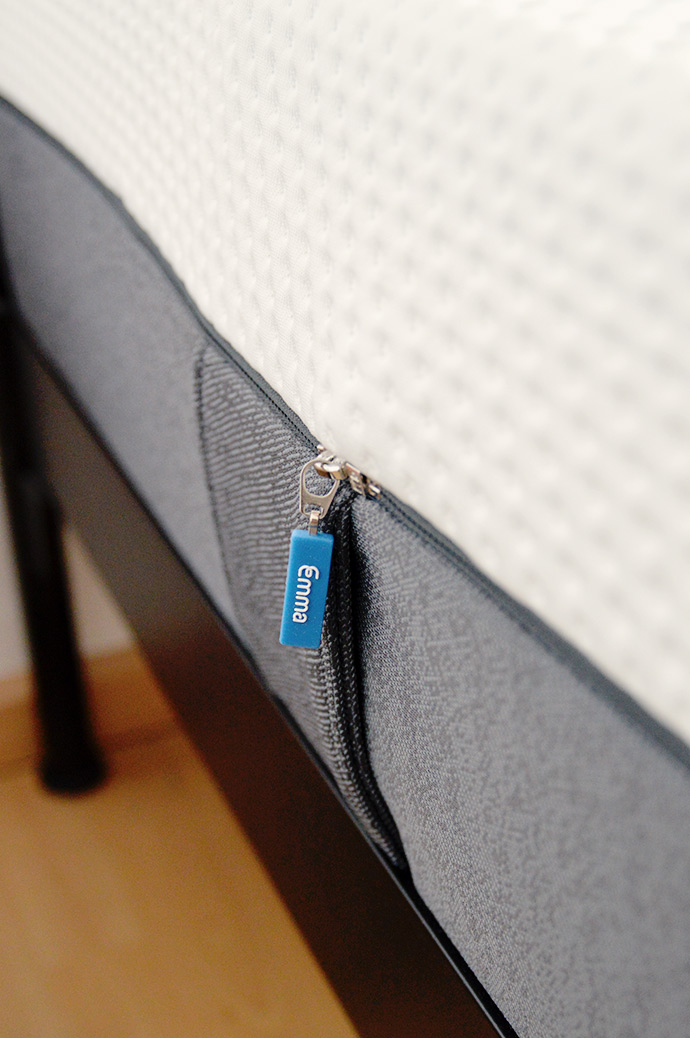 En dat slapen, dat ging super goed en vooral pijnloos (zo fijn!). Daarnaast is het matras heerlijk dik, waardoor ik meteen een ontzettend hotel-gevoel kreeg in mijn eigen slaapkamer.
Hoewel een nieuw matras altijd even wennen is, kan ik zeggen dat ik nu ik ze een paar weken heb niet meer anders wil. Het matras is écht niet te hard en niet te zacht (zoals in de tv-reclame wordt beweerd) en ik begrijp heel goed dat het daarom bij zoveel mensen in de smaak valt: het is niet voor niets drie keer het beste getest door de Consumentenbond.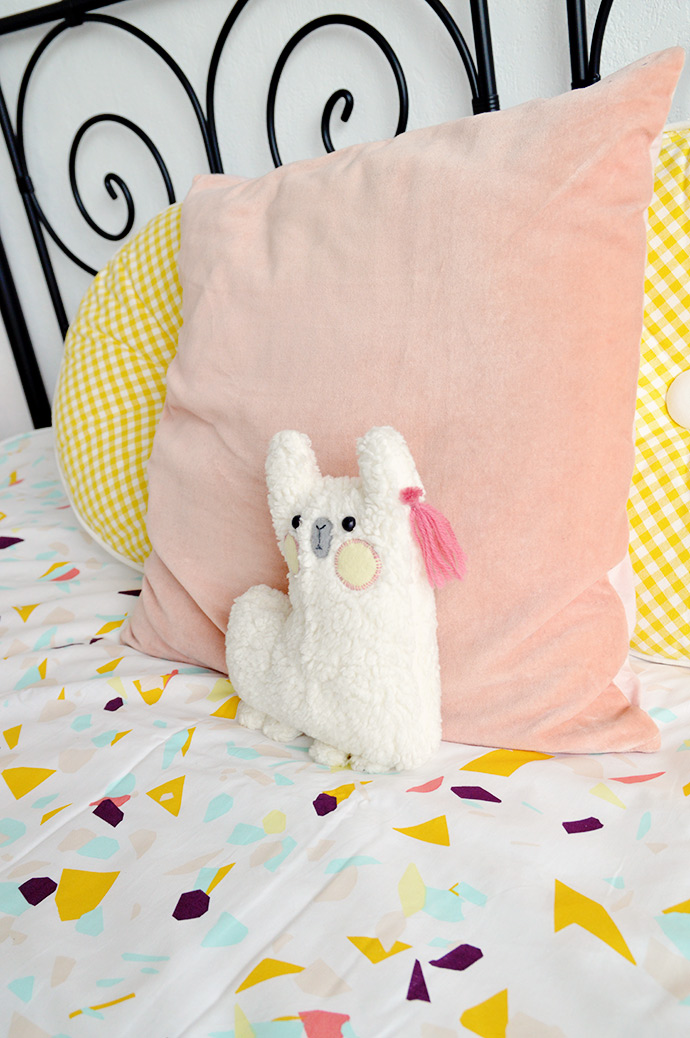 Ik word altijd super blij van mooi opgemaakte bedden. Je kamer ziet er in één klap meteen tien keer beter uit. Het lama-knuffeltje kreeg ik van mijn peettante toen we net in dit huis woonden. Ze maakte het zelf, zo leuk!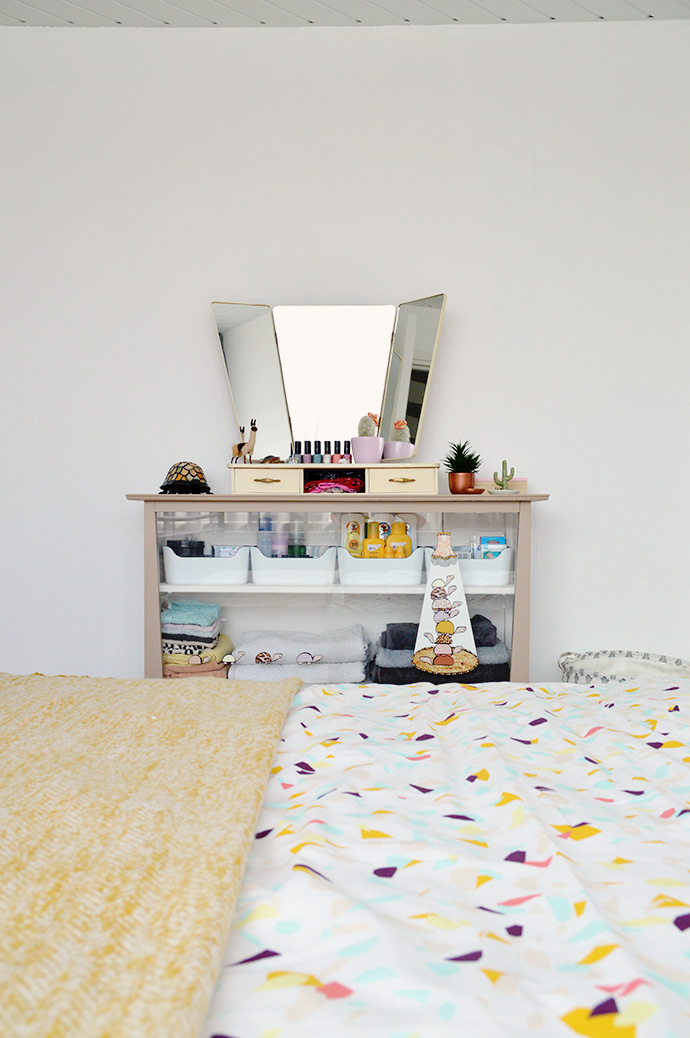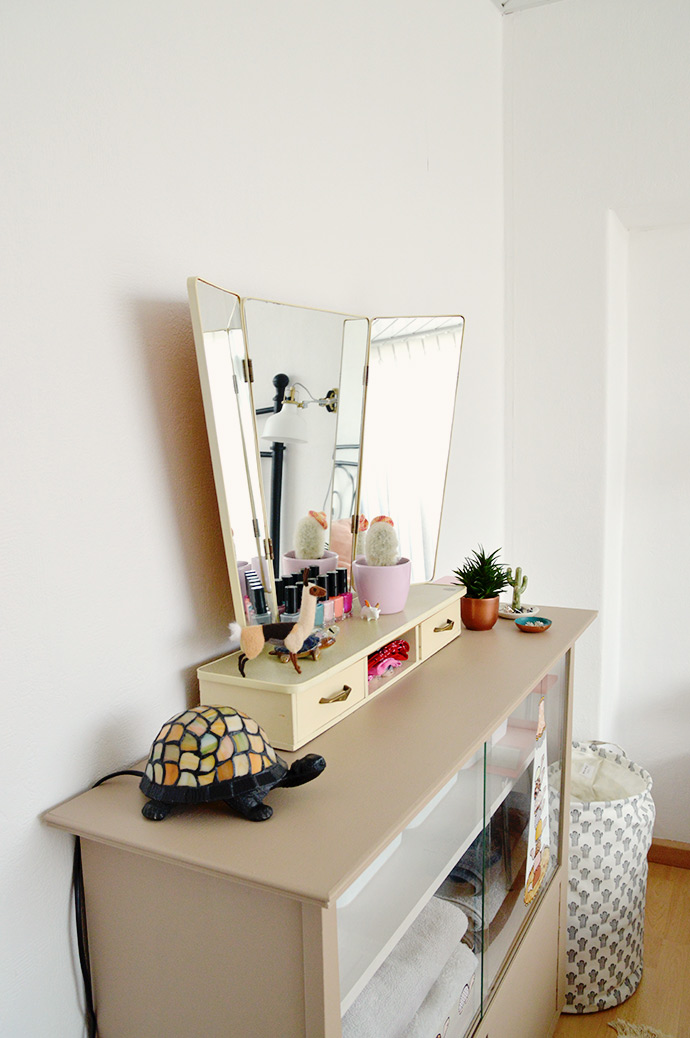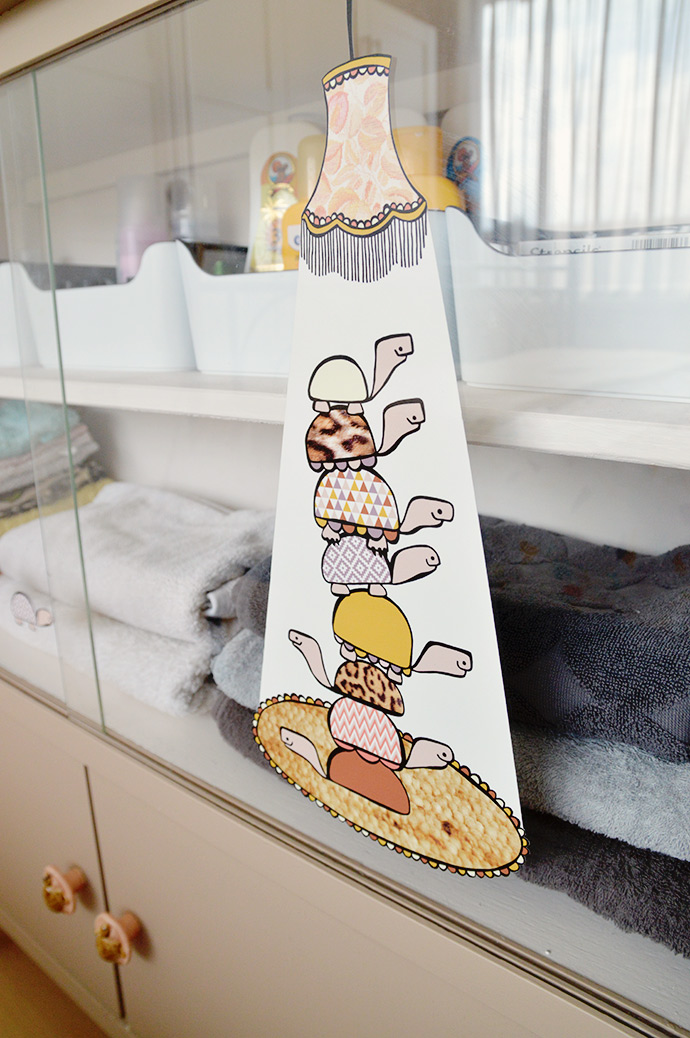 Het vintage kastje komt nog uit John zijn appartement. Jaren geleden heb ik het als cadeau voor hem helemaal opgeknapt en voorzien van de schildpad-illustraties. De spiegel vonden we bij een vintage-winkel hier in Tilburg en ik vond het de perfecte aanvulling voor onze slaapkamer.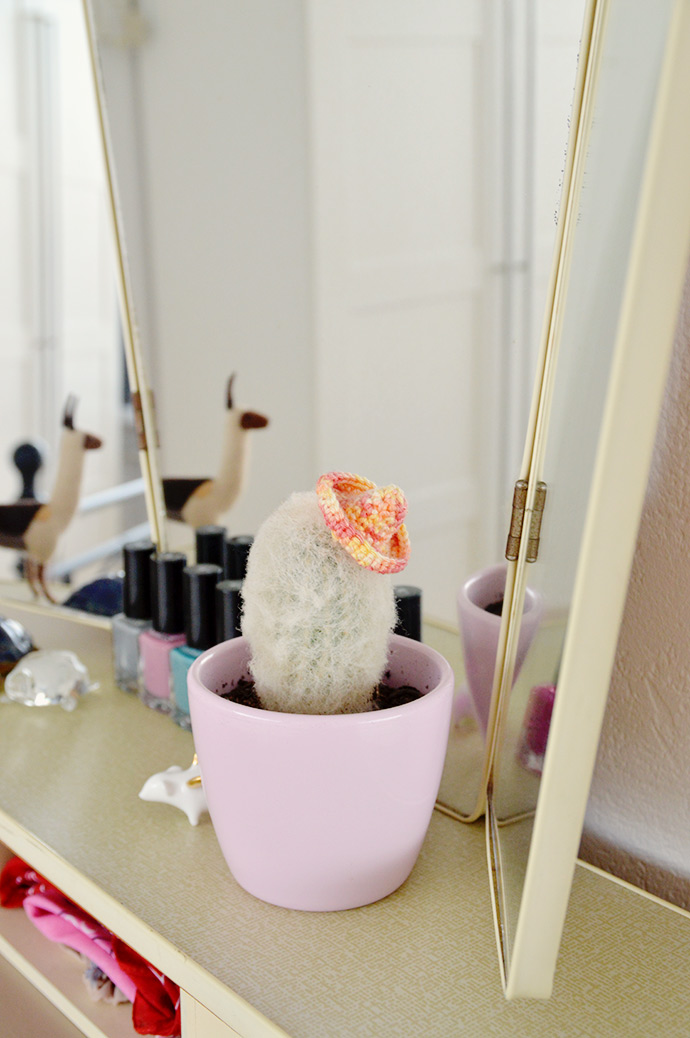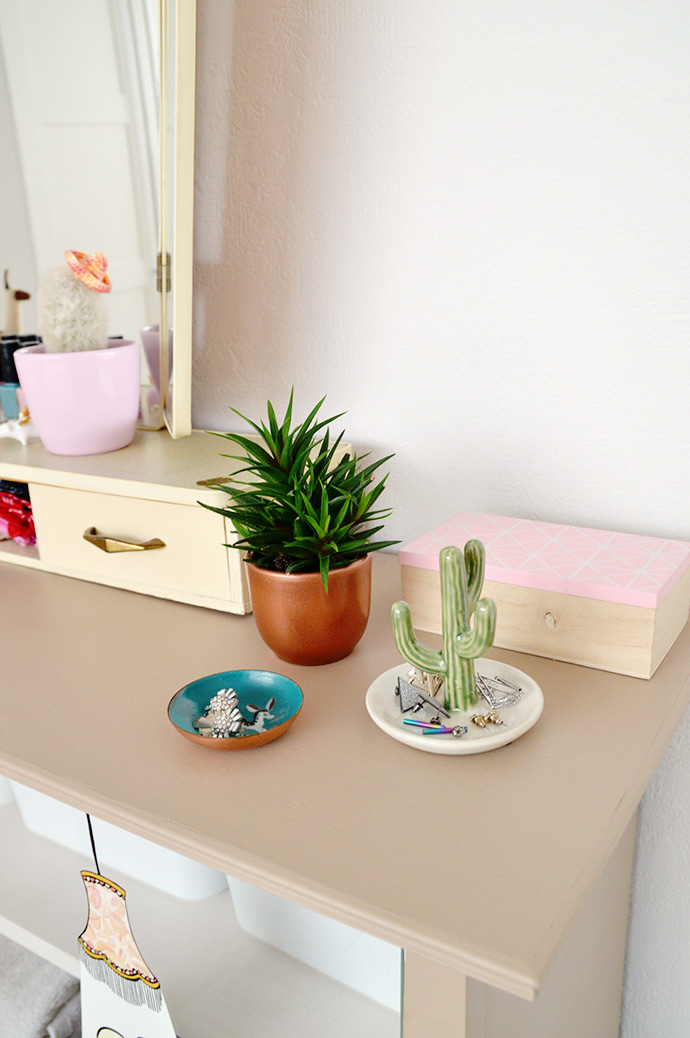 Nooit helemaal af
Hoewel onze slaapkamer er veel beter aan toe is dan een paar weken geleden, is het nooit helemaal af. Bovenaan ons wensenlijstje staat dus nog een nieuw ledikant, maar dat heeft geen haast. Verder wil ik nog wel een mooie foto of prent boven het bed. Misschien eentje van onze engagement shoot of straks van onze trouwdag. Ach, we'll see. Vooralsnog ben ik heel blij met wat we met relatief weinig kosten en middelen met deze ruimte hebben kunnen doen en heb ik er nu ook graag mijn ogen open in plaats van dicht.
♥♥♥
Wat staat er bij jou in huis nog op de to do list? Laat het me weten in de comments!
♥♥♥
Vera blogt één keer in de vier weken voor teamconfetti.nl. Ze is illustrator, allround mooie dingen maakster en ze heeft haar eigen label: Franje Design!