Yeeeeehaaaaaw! Je kunt vanaf nu de Team Confetti agenda 2016 bestellen! Dan heb je hem niet overmorgen in huis (pas over een paar weekjes) maar dan weet je in ieder geval zeker dat je er eentje hebt. :) In dit artikel vertel ik iets meer over de agenda (wat staat er allemaal in?) en wanneer je hem kan verwachten als je hem NU bestelt.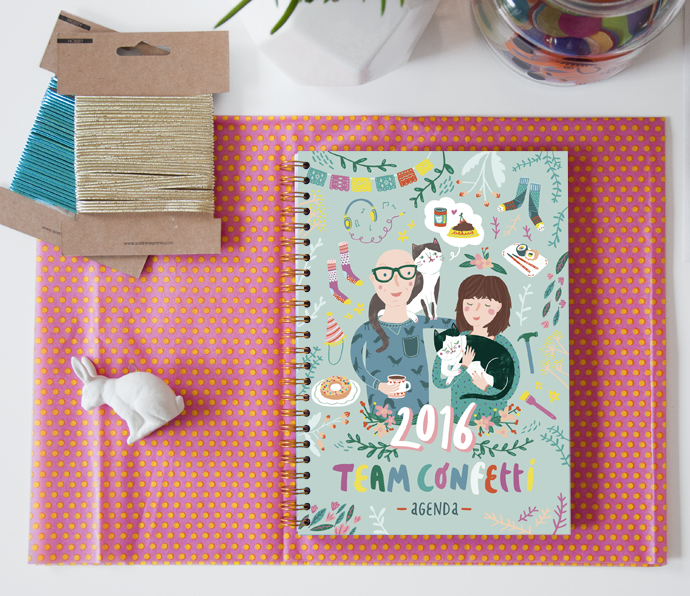 Allereerst even een disclaimer: de foto's in dit artikel zijn mock-ups. De agenda moet nog gedrukt worden, maar om een goed idee te geven van hoe hij eruit komt te zien, heb ik een mooi voorbeeld voor jullie in elkaar geknutseld. De omslag is ontworpen door Ingrid Wuyster, maar dat wist je natuurlijk al als je dit artikel gelezen hebt. Het formaat is net als vorig jaar A5 en er zit een goud/bronskleurig ringbandje om die het handeltje bij elkaar houdt. Zo blijft hij op elke pagina netjes open liggen en klapt hij dus niet stiekem dicht als je even niet kijkt.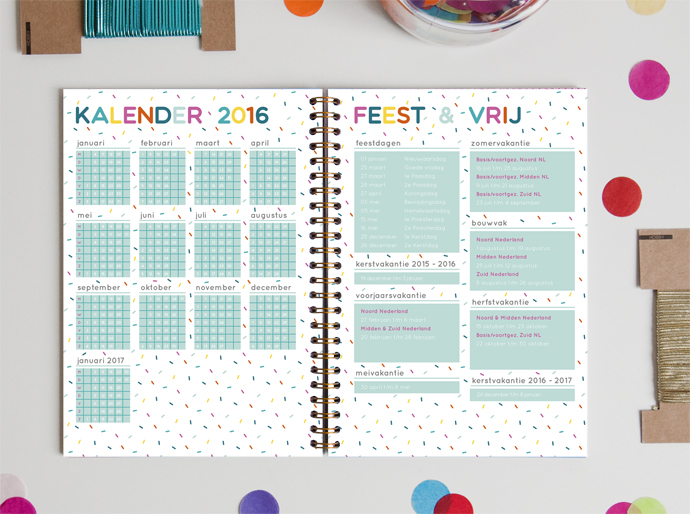 Het ontwerp voor de algemene pagina's (zoals contactinformatie, adressen, kalender & schoolvakanties, maandoverzichten en afspraken 2017) zitten vol gekleurde hagelslag. Praktisch, maar ook supervrolijk!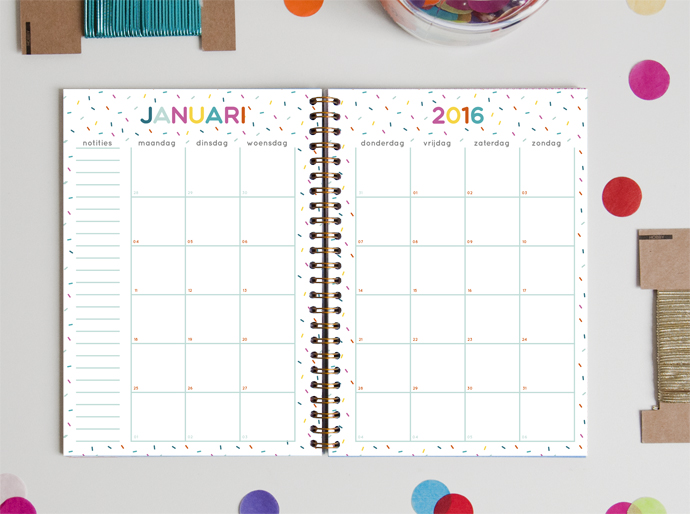 Een nieuwe toevoeging (en wat ik persoonlijk een hele goede toevoeging vind) is een maandoverzicht voordat elke maand begint. Zo heb je overzicht over de hele maand en kun je in één oogopslag zien wat er allemaal gaat gebeuren en of je niet per ongeluk dingen te dicht op elkaar plant.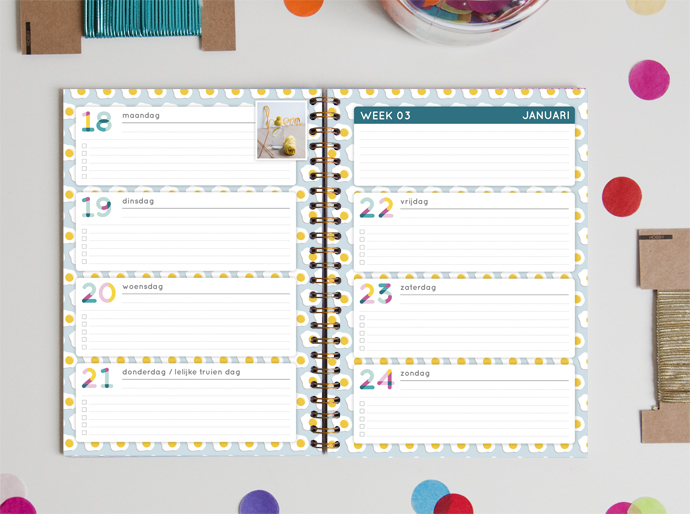 Ook het ontwerp voor de weken zelf hebben jullie al een paar keer voorbij zien komen. Alle dagen van de week hebben evenveel ruimte en er is ook nog een hoekje voor losse notities. Alle officiële feestdagen staan erin. En ook een paar hele leuke, niet zo officiële feestdagen, zoals lelijke truien dag hierboven. Want daar word je vrolijk van en zo is er wat meer te vieren dan alleen Koningsdag en oud en nieuw. :)
Elke week is weer een ander patroontje, wat van de pagina's omslaan een feestje maakt. Niks geen sleur met deze agenda! Ook krijgt elke agenda een lintje, zodat je in één beweging in de goede week terechtkomt.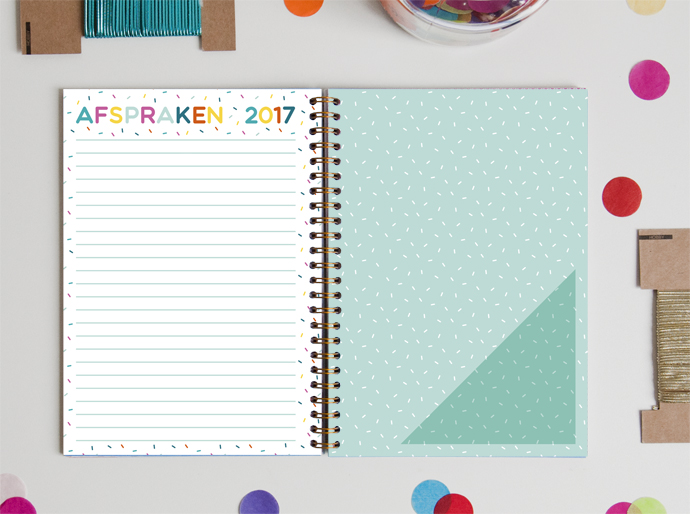 Helemaal achterin is ruimte voor je afspraken van volgend jaar en om dat dat reuze handig is, een vakje om al je losse papiertjes in op te bergen.
Maar er is ook een upgrade ten opzichte van vorig jaar, er komt namelijk ook een elastiek om de agenda, zodat alle losse papiertjes, kaartjes en bonnetjes er niet uitvallen. Welke kleur dat elastiek gaat krijgen (net als het lintje trouwens) wordt een verrassing. De elastieken die je hierboven in de foto ziet staan, maken grote kans. Ik wacht nog even totdat ik de proef in handen heb voordat ik mijn definitieve keuze maak, maar ik beloof dat het een hele mooie match gaat worden. ;)
Wat ik je nog meer kan vertellen:
Deze agenda heeft hetzelfde aantal pagina's als vorig jaar, namelijk 140 (inclusief omslag). Er zit dit jaar een extra beschermlaagje op de omslag, zodat hij langer mooi blijft. De omslag is van 350 grams papier en het binnenwerk 90 grams. De agenda gaat €17,95 kosten inclusief verzenden.
'En wanneer wordt hij dan verzonden?' Hoor ik jullie denken. Nou, aangezien de agenda ook een mooi cadeautje is om weg te geven tijdens Sinterklaas of Kerst, heb je hem ruim voooor december in huis. Op 23, 24 en 25 november ga ik versturen, dus dan heeft iedereen (als PostNL zich netjes gedraagt) zijn exemplaar op 26 november in huis.
Als je de agenda nu bestelt, ben je zeker van een exemplaar. Nadat de agenda's gedrukt zijn, is er een beperkt aantal over. Ik hoop van niet, maar het kan dus zijn dat de agenda's op een gegeven moment uitverkocht zijn…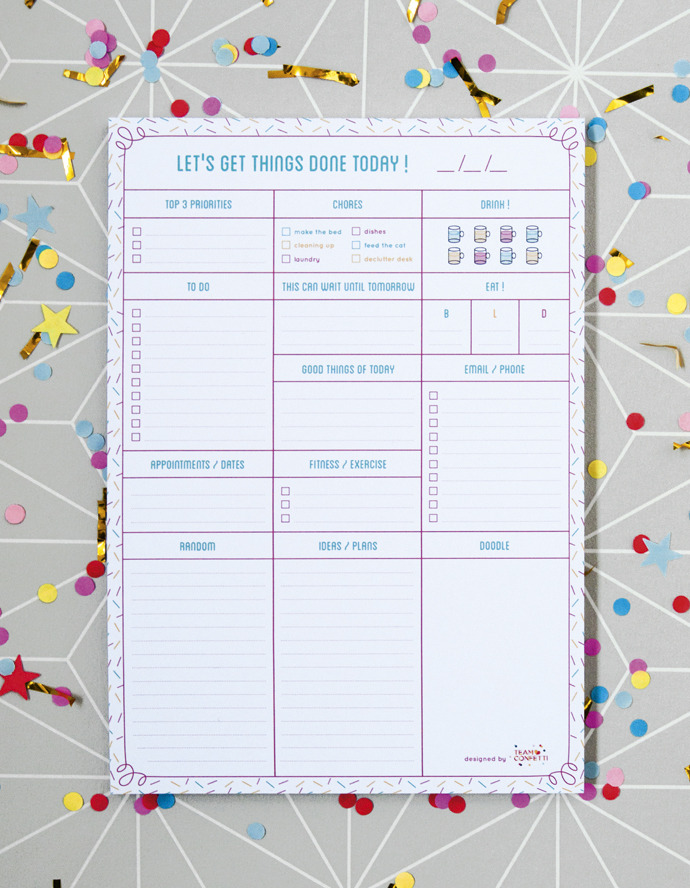 En voor de vroege vogels is er nog een voordeel! Als je bestelt tijdens de pre-order tijd (dus voor 23 november) maak je kans op een 3-pack daily planner pakket ter waarde van €18,25! Nou en dan kan het plan-technisch dus écht niet meer misgaan!
KLIK HIER OM DE TEAM CONFETTI AGENDA 2016 TE BESTELLEN.
♥♥♥
Heb je nog vragen over de agenda, stel ze gerust bij de comments!