Ik heb nou toch een ontdekking gedaan! Blijkbaar kun je met French manicure nagellak hele mooie bloemblaadjes op je nagels schilderen. Madeliefjes zijn weer helemaal terug (we hebben ze bijna niet meer gezien sinds de jaren negentig) en met het dunne French manicure kwastje is het een fluitje van een cent om ze op je nagels te zetten…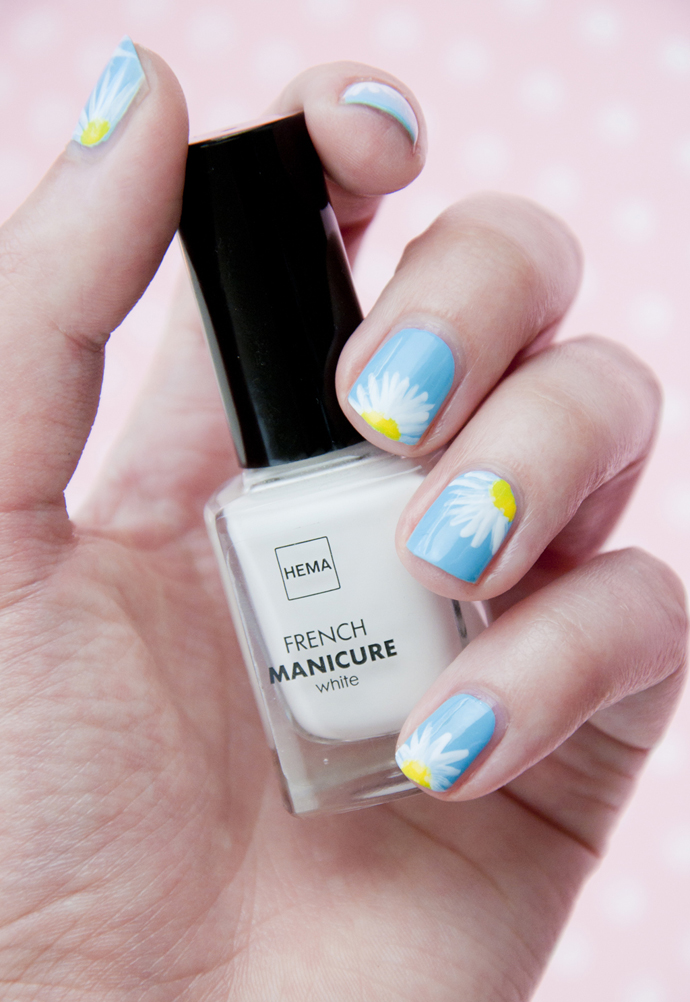 Speaking of the devil, hier heb je hem hoor. De French manicure nagellak van HEMA heeft een héél dun kwastje waar je dus hele dunne lijntjes mee kan trekken. Madeliefjes nagels maken doe je zo:
Lak je nagels in een neutrale kleur, blob gele bolletjes op een paar plekken. Dit kan met een dotting tool of gewoon met het kwastje van je nagellak. En dan whip je de French manicure tevoorschijn. Een stel kleine streepjes om de gele bolletjes heen en je hebt opeens lieve madeliefjes op je nagels!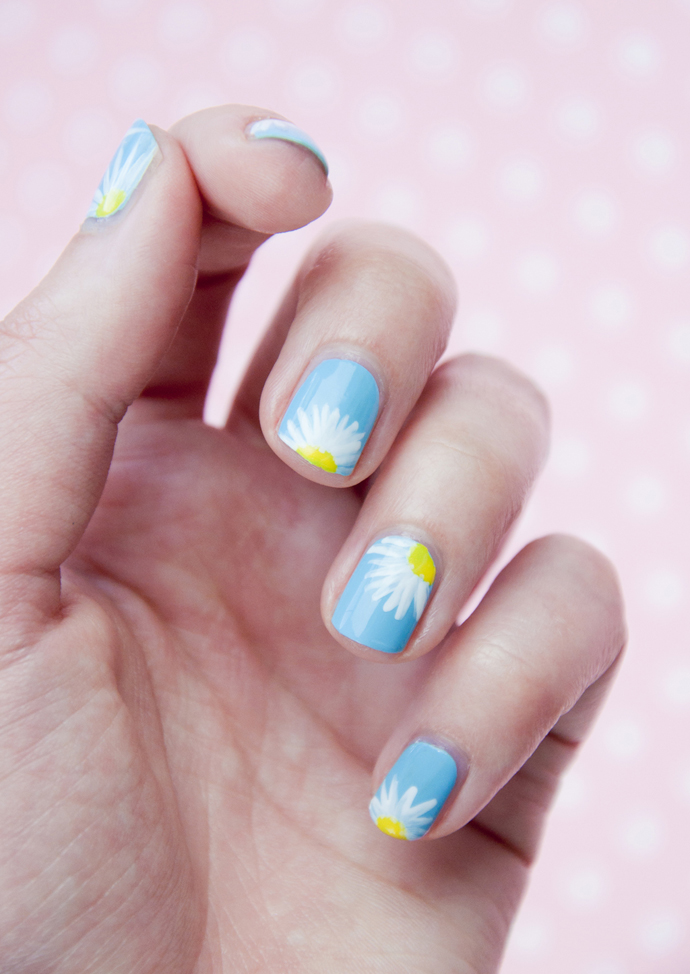 Probeer de streepjes kort te houden zodat je de achtergrondkleur ook nog kan zien. Ik kan je vertellen dat bloemetjes op je nagels een echte mood booster is. Bekijk voor alle materialen en de magische French manicure lak het artikel op de HEMAblog.
♥♥♥
Ik heb nog veel meer leuke blogartikelen voor HEMA geschreven, dit zijn mijn favorieten:
Wil je een prachtige cactus jungle bouwen? KLIK HIER.
Ben je toe aan een houder waar al je washi tape in past? KLIK HIER.
Vind je dat enveloppen wel wat vrolijker kunnen? Ik ook! KLIK HIER.
Heb je nog kruidnoten over en wil je daar een milkshake van maken? KLIK HIER.
Wil je weten hoe je een mooi gouden hagelslag-kussen maakt? KLIK HIER.
Wil je je ordners in een nieuw jasje steken met een free printable? KLIK HIER.
En heb je mijn eerste HEMA DIY met memoblaadjes en photo props gemist? KLIK HIER.
♥♥♥