Helemaal hot and happening: de cactus. En ik ben klaar om mee te doen! Twee weken geleden liet ik een paar ideeën voor onze gang zien en iedereen ging MASSAAL voor de optie met een vensterbank vol cactussen. En ik ben het helemaal met jullie eens! Cactussen zijn niet duur, makkelijk te vinden en je hebt er geen hele groene vingers voor nodig. Check, check, dubbel check. Tijd voor een beetje extra inspiratie, want cactussen kunnen in veel verschillende leuke potjes…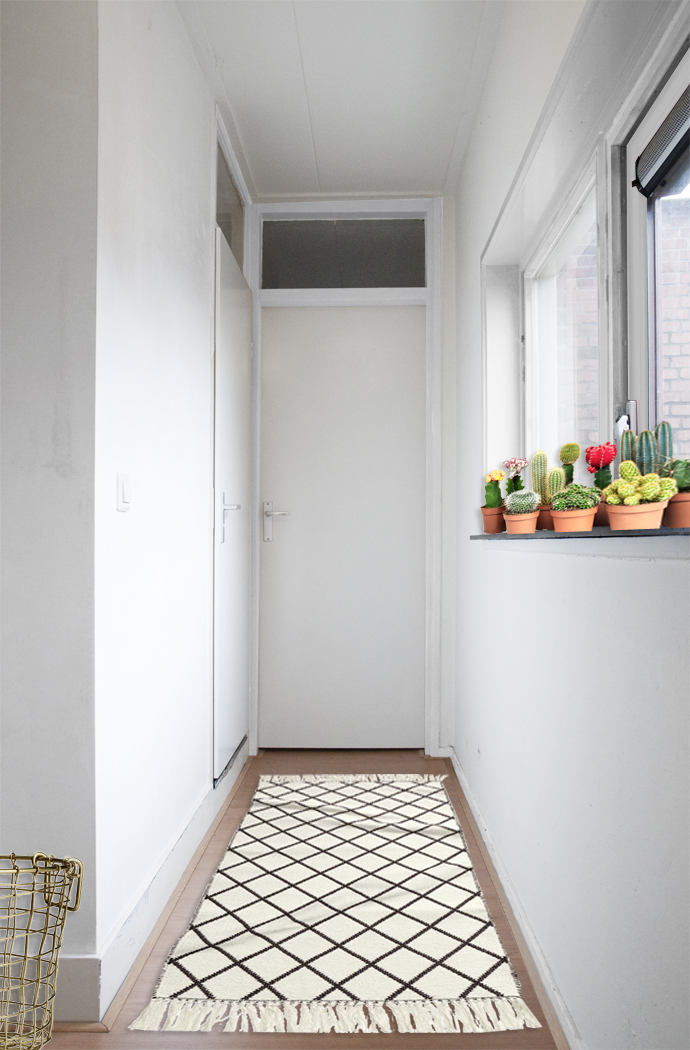 Nog even een kleine reminder, zo zag mijn schets eruit. Ik heb zo goed en zo kwaad als het ging een stapel cactussen in de vensterbank geshopt, maar dat kan natuurlijk nog veel leuker. Weg met de standaardpotjes, wat is er nog meer? Nou, dat ga ik je laten zien!
Maar eerst nog tussendoor nog even iets heel erg handigs voor mensen zonder groene (cactus)vingers (like myself):
Een infographic over hoe je vetplantjes het beste kunt verzorgen, nice! Blijkbaar is de vensterbank een hele goede plek, lekker veel zonlicht.
✿✿✿
Alle cactussen in een enorme bak stoppen, dat vind ik stiekem heel erg gezellig staan. Het is natuurlijk onzin, maar in mijn hoofd is het voor de cactussen zo ook veel leuker, lekker knus. Op mijn vensterbank past niet zo'n grote schaal, maar misschien kan ik langwerpige vinden…
✿✿✿
Dan schijn je ook plantenbakjes van poppenkastpoppen te kunnen maken… Ik hou wel van een beetje een freakshow, maar deze gaan me denk ik iets te ver. Ik vind zo'n hoofd wel heel tof, maar zou dan eerder een dier nemen (iets minder creepy).
✿✿✿
Kijk nou wat een leuk stel! Ik vind potjes met grappige gezichtjes of patroontjes toch het leukst. En ik ben er zeker van dat ik een potje met pootjes wil hebben! Maak me gek!
✿✿✿
Terrariums van glas blijf ik ook ontzettend mooi vinden. Deze kosten een smak geld, maar er duiken gelukkig tegenwoordig een heleboel goedkopere namaaksels in woonwinkels op. Ik heb nog zoiets staan, een stukje kleiner en ik weet niet of hij geschikt is voor een plantje, maar ik kan het erop wagen.
✿✿✿
Ok, dit kan natuurlijk helemaal niet op een vensterbank, maar ik kon ze niet overslaan. Hoe leuk?! Helemaal als je een hele rij van deze jongens hebt. Ik ben wel bang dat de katten erin zouden gaan klimmen…
✿✿✿
Voor de bad-assen onder ons: een schedelpotje. Leuk gemixt met andere potjes vind ik 'm wel leuk. Bij mij is altijd alles zo cutesie, een van deze badboys ertussen maakt het een beetje stoerder.
✿✿✿
En om het allemaal wat minder kil te maken, zijn houten bakjes ook heel mooi. In retro- of kringloopwinkels zijn er zat houten bakjes te vinden. Ik moet maar weer eens op kringloopjacht!
✿✿✿
ECHT GEEN GROENE VINGERS?
Ondanks de geweldige infographic, twijfel ik toch nog een beetje aan mijn cactus-in-leven-houd-skills, dus ik heb ook een paar back-up plans:
Fake cactussen! Ha! Ik zie het verschil echt niet, haha. Bij Otto hebben ze er best veel, van klein tot medium. Zodat er echt niks mis meer kan gaan. Een goed plan B als je het mij vraagt.
✿✿✿
En mochten de fake cactussen ook niet werken omdat ze teveel stof vangen of de katten ze kapot knagen (het zijn rare beesten, je weet nooit wat ze nou weer gaan doen), dan is Ingrid mijn laatste redding.  Mijn lieve gastblogger heeft de allerleukste cactus poster OOIT gemaakt. Hij is op het moment even uitverkocht (goh, gek met zo'n toffe poster), maar in maart weer volop verkrijgbaar in haar eigen webshop.
✿✿✿
 Ik denk dat ik op zoek ga naar een heleboel gekke potjes met gezichtjes en pootjes eronder. Ik voel een kringloop/DIY aankomen… Welke vind jij het leukst?