In de rubriek IK ZOEK BAAS zetten we elke maand tien (of meer) asieldieren in het zonnetje. Deze maand o.a. een fantastische seniorkat, een gezellig cavia duo en een rimpelhondje.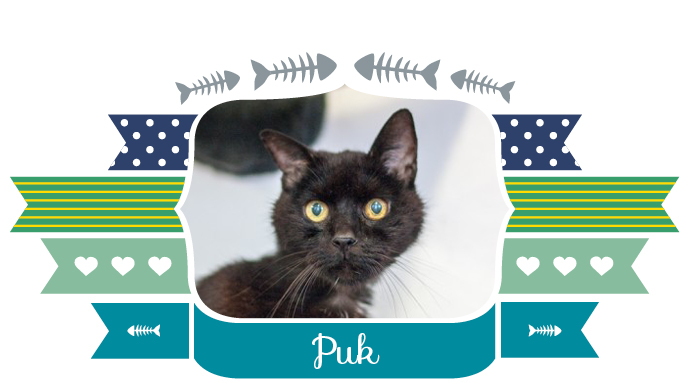 Puk uit Kampen.
Deze lieve senior kater van 10+ heeft echt een hartje van goud. Aandacht vindt hij heerlijk en hij vindt alle mensen even gezellig. Puk heeft een zacht karakter en doet het allemaal lekker rustig aan op zijn oude dag. Mag deze lieverd gezellig bij u op schoot komen zitten?
Klik hier voor meer info over Puk.
***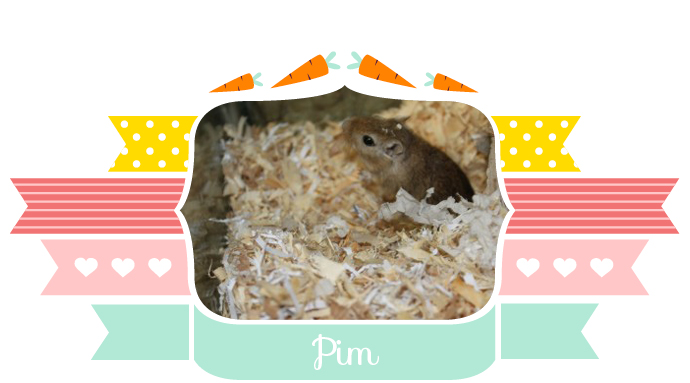 Pim uit Amersfoort.
Pim is een wat schuchtere gerbil die het fijn vindt om in zijn hok te graven, knabbelen en spelen. Pim is op zoek naar een leuke vriend met wie hij samen een hok kan verbouwen en oud kan worden.
Klik hier voor meer info over Pim.
***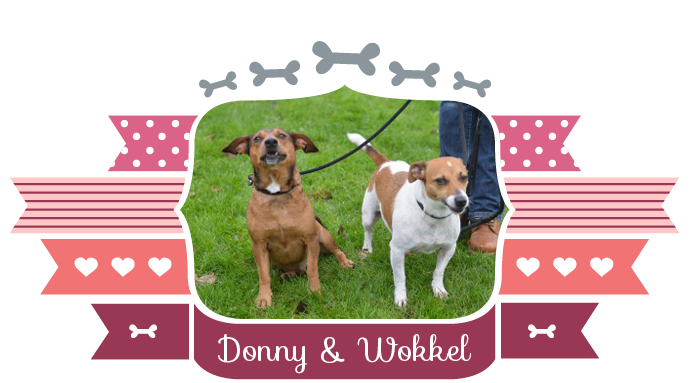 Donny & Wokkel uit Vlaardingen.
Donny (bruine teckel/jack russel) & Wokkel (wit bruin jack russel) zijn gezellig maar vooral ook druk en eigenwijs en zijn samen op zoek naar een mooie nieuwe start. Ze zijn in het asiel terechtgekomen omdat hun vorige baasje overleden is. Ze zijn gek op zwemmen, ballen en andere hondenspeeltjes. Donny is nogal fel op zijn voerbak en kluifjes, dus dat is wel een aandachtspunt. Ze hebben een goede ervaring met katten, maar hebben weinig ervaring met kinderen. Vanaf een jaar of 12 moet geen probleem zijn. Auto rijden zijn ze ook gewend.
Klik hier voor meer info over Donny & Wokkel.
***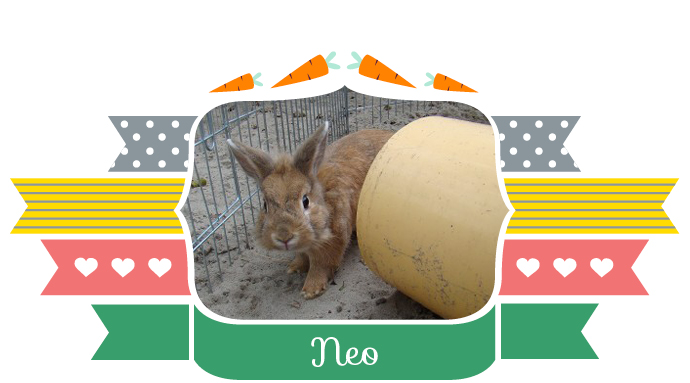 Neo uit Soest.
Neo is een superleuk konijntje! Hij is vrij klein, hartstikke nieuwsgierig en houdt van aandacht. Neo houdt alleen niet van opgepakt worden. Neo is gecastreerd en kan al aan een vrouwtje worden gekoppeld.
Klik hier voor meer info over Neo.
***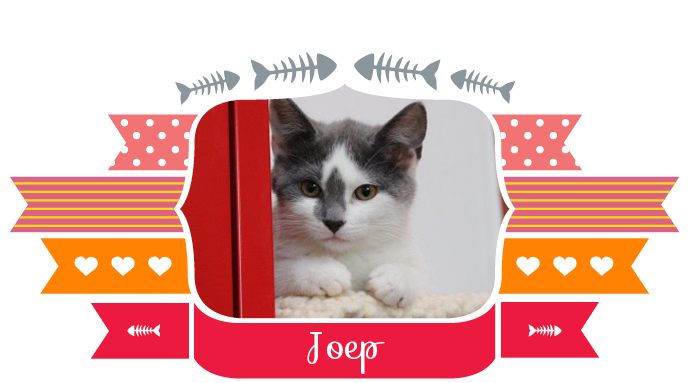 Joep uit Numansdorp.
Joep en zijn vriendje Frank zijn gevangen in een manege en in een gastgezin terechtgekomen toen ze 10 weken oud waren. Inmiddels zijn ze 6 maanden oud. Schuwe Joep boekt nog altijd vooruitgang en durft steeds meer. Het sociale gedrag van de andere katten in het gastgezin wordt goed gekopieerd, soms laten Joep en Frank zich al aaien! Maar een toekomstig baasje moet wel verder gaan met het socialiseren van deze leuke en speelse knullen. Veel aandacht en geduld is dus een vereiste! Joep hoeft niet samen met Frank geplaatst te worden, maar een andere soortgenoot in huis is wel belangrijk. Hij kan hier het sociale gedrag van afkijken. Omdat Joep en Frank nog niet beet gehouden kunnen worden is (nog) niet bekend of het katers of poezen zijn. Men vermoedt het laatste.
Klik hier voor meer info over Joep.
***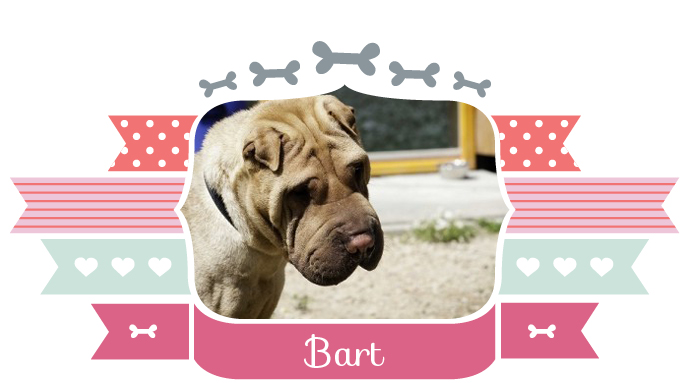 Bart uit Born.
Bart is een gevonden Shar-pei van 7,5 jaar. Hij heeft even tijd nodig om aan nieuwe mensen te wennen, maar zodra hij je kent, is hij vriendelijk. Hij heeft zoals een echte Shar-pei betaamt een individueel karakter. Tijdens het wandelen trekt Bart een beetje. Hij wordt hiervoor getraind en heeft dit al aardig onder de knie, vooral voor koekjes doet hij veel. In de opvang is hij vriendelijk naar de meeste honden, vooral de dames vindt hij erg lief. Een veel voorkomende aandoening bij het ras Sharpei zijn de naar binnengekrulde oogleden. Ook Bart had hier veel last vast. Helaas is na een operatie gebleken dat zijn hoornvlies permanente schade heeft opgelopen en hij daardoor minder goed ziet. 'Blind vertrouwen' in de toekomstige eigenaar is dan ook wat Bart nodig heeft.
Klik hier voor meer info over Bart.
***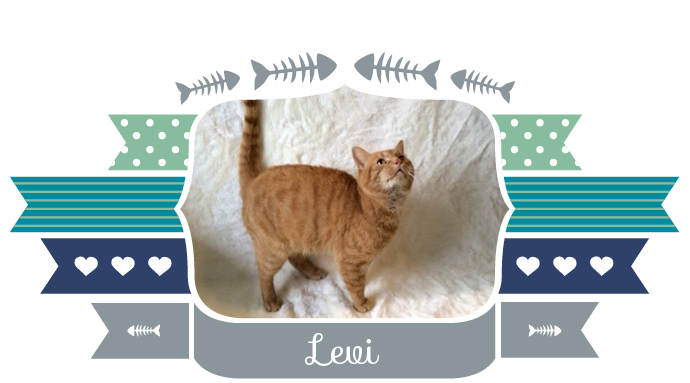 Levi uit Enschede.
Levi is een lieve kater van ongeveer 4 jaar. Hij komt graag bij je voor een knuffel. Hij kan goed met kinderen en andere katten, maar of hij honden gewend is, is nog niet bekend. Levi liep bij zijn vorige eigenaar veel buiten, of hij ook als binnen kat gehouden kan worden is niet duidelijk.
Klik hier voor meer info over Levi.
***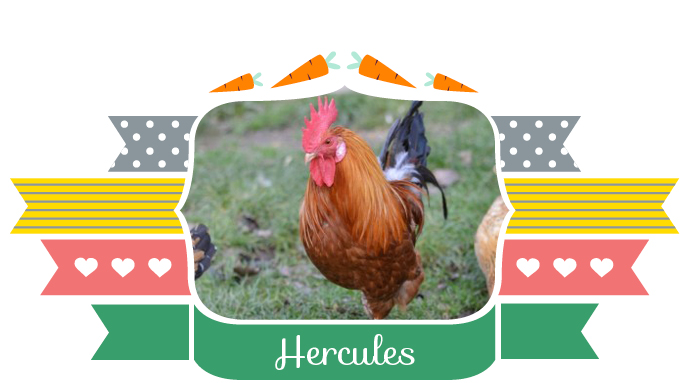 Hercules uit Tuitjenhorn.
Deze mooie jongeman zoekt een gezellige groep hennen en een ruim verblijf. Het is een forse jonge haan.
Klik hier voor meer info over Hercules.
***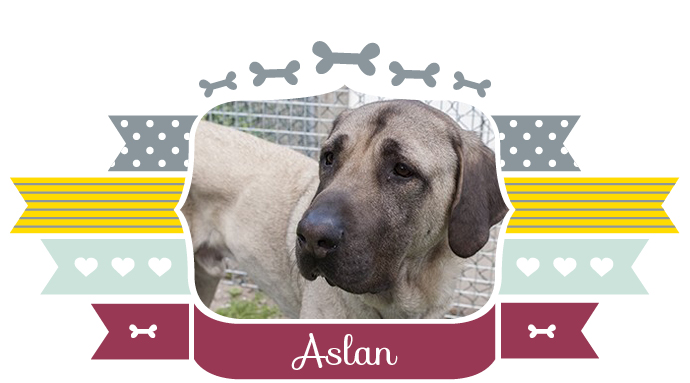 Aslan uit Rotterdam.
Aslan is een rustige Anatolische Herder van 4 jaar. Hij is afgestaan omdat zijn baasje niet meer voor hem kon zorgen. Hij is erg op zichzelf en terughoudend in onbekende situaties. Maar als hij vertrouwen heeft in de situatie is het een echte knuffelkont. Hij luistert naar de commando's. Buiten loopt hij heel rustig met je mee en heeft weinig aandacht voor zijn omgeving. Met andere honden is Aslan heel wisselend en kan als het hem niet zint, flink blaffen. Katten vindt hij echter helemaal niets. Ondanks zijn formaat is hij openbaar vervoer gewend, autorijden vindt hij minder leuk. Maar wellicht na een paar keer met de auto naar het bos is zijn mening wel bij te draaien.
Klik hier voor meer info over Aslan.
***
Knabbel en Babbel uit Enschede.
Knabbel & Babbel zijn twee leuke cavia's. Ze kunnen goed met kinderen. Ze woonden samen en willen ook graag samen weer geplaatst worden. Knabbel is met oppakken een beetje wild maar als je hem eenmaal vast hebt, gaat ie lekker bij je liggen slapen. Babbel is in het begin iets terughoudend, daarna wordt hij rustig en likt hij je gezicht.
Klik hier voor meer info over Knabbel & Babbel.
***
Heb je zelf geen plek voor een huisdier, maar ken je iemand die op zoek is, deel dit bericht dan met hen! Mocht je een slecht gevoel hebben bij een asiel, dan is daar geen enkele reden voor. Het is een goede plek om een nieuw huisdier te komen ophalen, maar ook een goede plek om een huisdier naartoe te brengen als je er niet meer voor kunt zorgen.