Gastblog door Ingrid – Ook dit jaar kan je zelf patroontjes insturen voor de Team Confetti agenda 2017. En omdat mijn illustratorenhart altijd sneller gaat kloppen van patroontjes maken, deel ik vandaag met jullie DIY patronen maken #3! Vind jij jezelf niet creatief genoeg? Of denk je dat je niet kan tekenen? Vanaf nu heb je geen excuus meer, want op deze manier lukt het écht iedereen, pinky promise!
Simpele basisvormen
Vandaag in deel 3 laat ik jullie een leuke en laagdrempelige manier zien van een patroon maken. Hierbij maak ik gebruik van simpele basisvormen die je niet zelf hoeft te maken. Op deze vormen kun je helemaal losgaan met alléén een fineliner. Simpeler wordt het echt niet! Alleen even je inspiratie afstoffen and your good to go.
Wat ik bedoel met basisvormen? Nou heel simpel: stickers! In dit geval gebruik ik polkadot stickers (ook wel markeringspunten genoemd in kantoortermen). Helemaal in confetti-stijl. Deze stickers zijn perfect van vorm, plakken zelf en zijn er in leuke kleurtjes. Hieraan hoef je zelf dus helemaal niks te doen, yay! Ready? Go!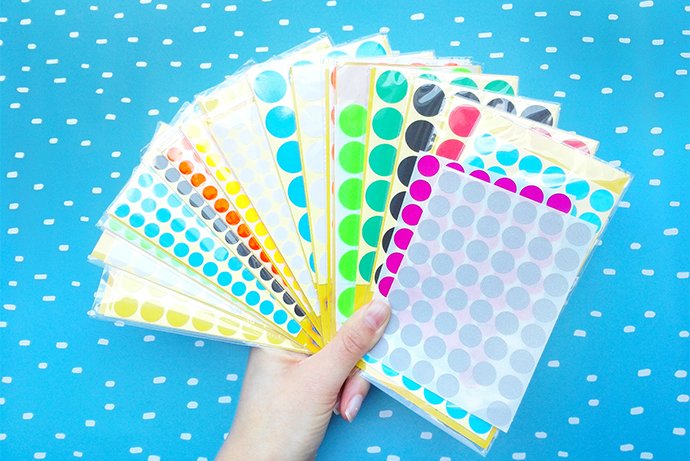 Goed om te weten vooraf:
♥ Officieel is een patroon een afbeelding die meervoudig wordt geplaatst en die naadloos herhaald kan worden. In deze DIY geen perfect repeterend patroon, maar ik laat zien hoe je toch de suggestie van een patroon kunt wekken zonder herhaling.
♥ Handig: maak van te voren een test van het patroon dat je in je hoofd hebt.
♥ Maak het patroon niet te ingewikkeld voor jezelf. Less is more.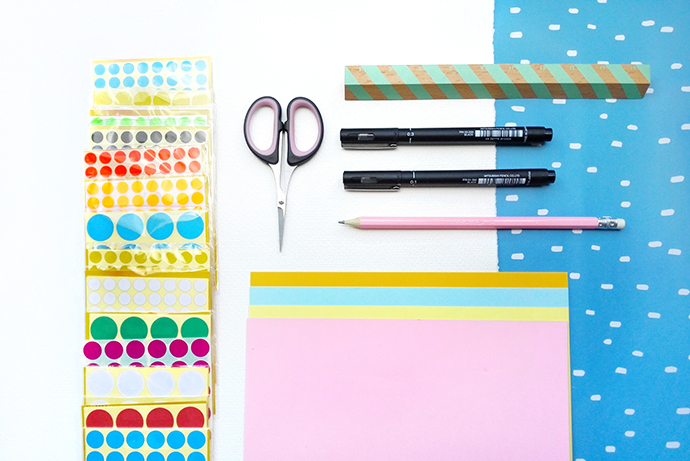 Wat heb je nodig?
✐ Gekleurd A4 papier
✐ Kleine ronde stickertjes (andere vormpjes zijn natuurlijk ook leuk!)
✐ Fineliners
✐ Schaar
✐ Scanner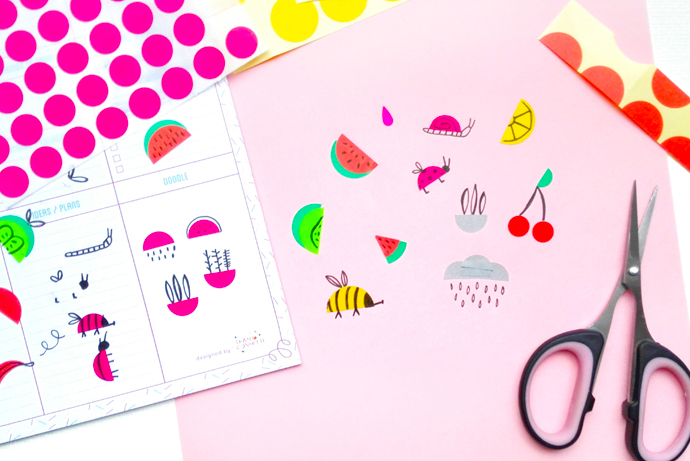 Stap 1: bepaal de kleuren en vormen die je gaat gebruiken
Ik maakte eerst wat testjes om te kijken wat ik allemaal met de stickers kon doen. Al gauw kwam ik uit op het maken van fruit. Past helemaal bij het seizoen en de kleuren stickers zijn er perfect voor. Ik koos voor een A4tje met een zacht roze kleur als achtergrond.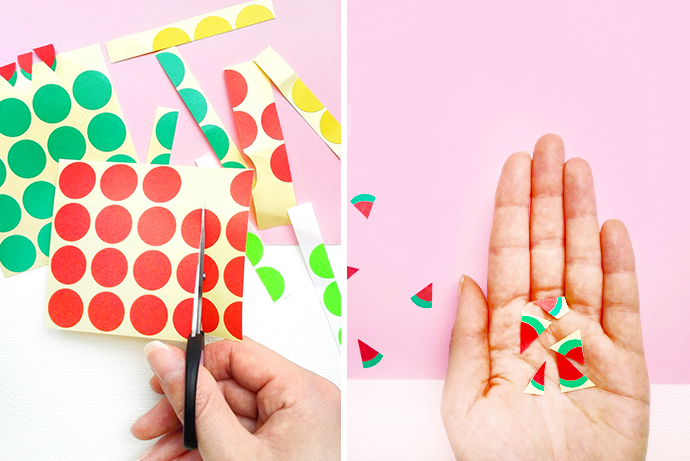 Stap 2: knip de stickers op maat en plak ze op elkaar (optioneel)
Mijn patroon bestaat uit watermeloenen, schijfjes citroen en variant op de passievrucht. Hierbij heb ik verschillende kleurtjes gebruikt om bijvoorbeeld de schil van het fruit te accentueren. Je kunt de stickers vast op elkaar plakken en eventueel in hun vorm knippen. Ik gebruik stickers van verschillende afmetingen (8/12/18 mm).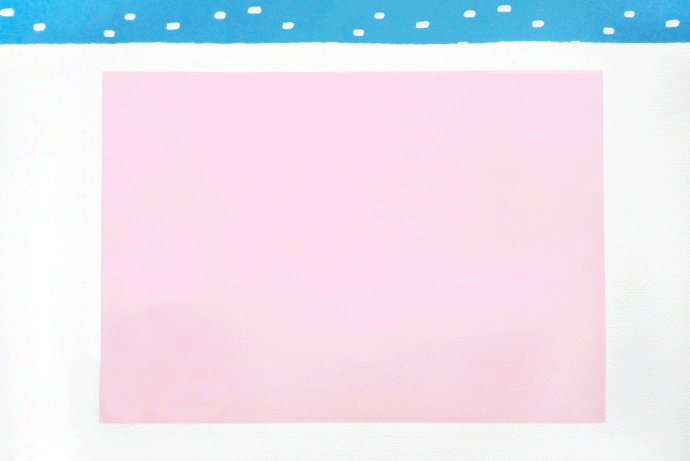 Stap 3: Plakken maar!
Omdat je dit patroon lekker uit de losse pols kunt maken kun je de stickers gewoon random om het papier plakken. Zorg voor een beetje variatie hier en daar om het interessant te maken.
Tip: zorg ervoor dat je niet te groot werkt en dat er niet al te veel ruimte tussen de illustraties zit. Over het patroon worden nog vlakken geplaatst met de dagen waardoor niet alles zichtbaar zal zijn. Hoe dichter alles bij elkaar staat hoe beter je het patroon zult zien.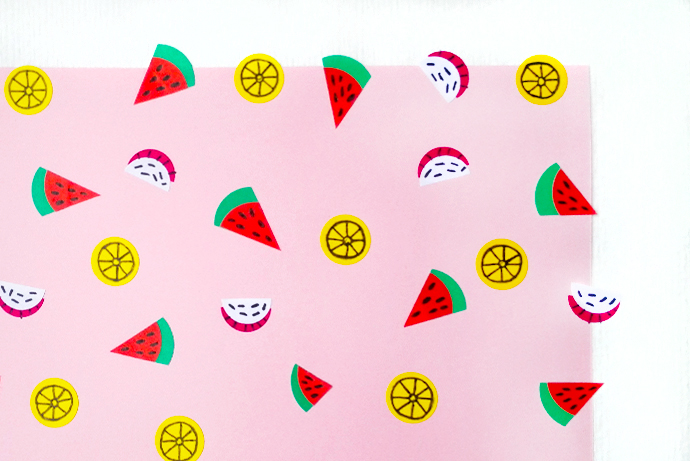 Stap 4: Fineliner
Wanneer je de stickers op papier hebt geplakt, kun je met een zwarte fineliner accenten aanbrengen. Dit kan op de stickers of op het papier. Zorg wel dat je niet met je hand over de inkt veegt want het kan eventjes duren voor de inkt op de stickers droog is. Zo krijgt je patroon net even wat extra's en meer detail. Je kunt het patroon natuurlijk ook lekker abstract laten als je dat wilt. Yasss, je patroon is nu klaar! En geeft toe, simpel toch?!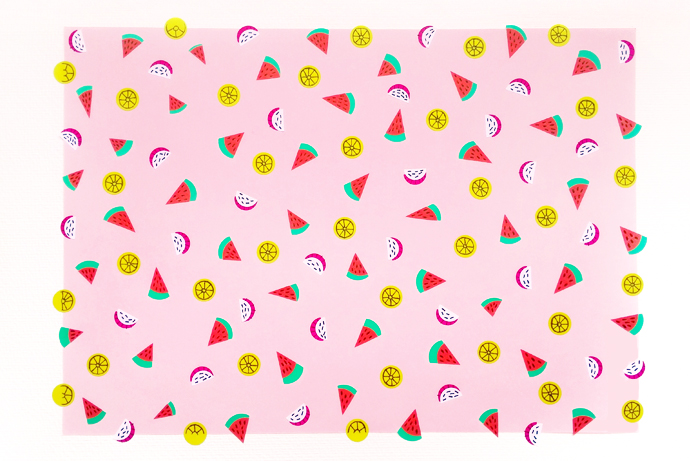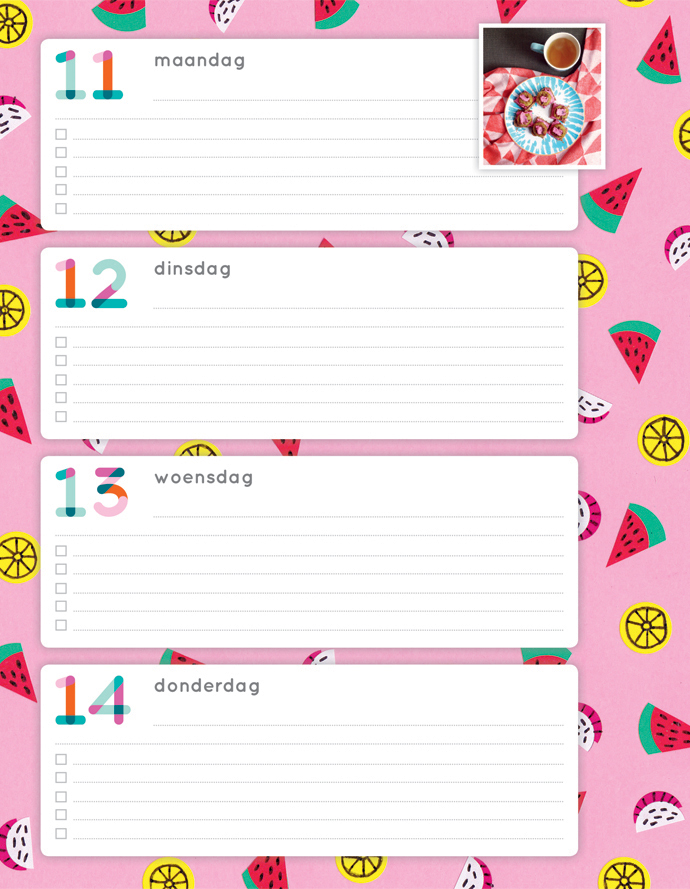 En nu jij!
Hopelijk ben je geïnspireerd geraakt door deze voorbeelden en kun je zelf aan de slag. Wanneer je een achtergrond-ontwerp gaat maken voor de TC agenda hou hier dan rekening mee:
♥ Belangrijk: scan je A4-patroon in op (minimaal) 300 dpi.
♥ Werken op A4 formaat is in principe groot genoeg voor de agenda, maar groter mag natuurlijk ook.
♥ Het patroon wordt uiteindelijk in liggend formaat geplaatst.
♥ Zorg dat de illustraties van je patroon niet te groot of te gedetailleerd zijn. Er komen nog vlakken op met de dagen en het is zonde als de illustraties niet goed zichtbaar zijn.
♥ Probeer zoveel mogelijk gebruik te maken van illustraties die je zelf maakt.
♥ Zorg dat je achtergrond (dus het papier dat je gebruikt) al iets van een kleurtje heeft, al is het maar een hele lichte tint grijs. Er komen nog witte vlakken over je patroon waar de dagen in staan. Met een tint op de achtergrond steekt je patroon lekker af.
Nog even opfrissen:
In deel 1 & 2 van het DIY patroon maken geef ik al een hoop basisinformatie. Zo liet ik zien hoe je met stempels een herhalend patroon kan maken en hoe je uit de losse pols een all over patroon tekent. Ook legde ik uit hoe je een echt naadloos patroon kunt creëren met de hand. Je kunt deel 1 & 2 nog eens bekijken voor extra inspiratie!
✐ DIY patroon #1: Stempel patroon + All over patroon
✐ DIY patroon #2: Naadloos patroon
♥♥♥
Ingrid Wuyster is illustrator / ontwerper en maakt veel moois onder de naam Teken-ing.
Eén keer in de vier weken blogt ze voor teamconfetti.nl.