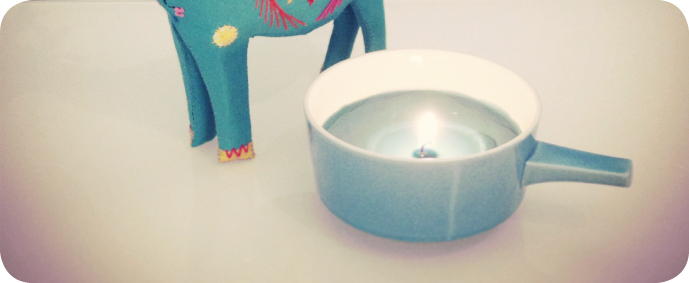 De kaars in het ouderwetse theekopje is volgens mij al wel bekend. Om net te doen alsof deze DIY iets nieuws is, heb ik geen theekopje, maar een heel mooi kommetje waar ik een kaars van wil maken. Omdat er op internet zoveel verschillende methodes te vinden zijn, besloot ik zelf maar wat te proberen.
Er zijn veel tutorials te vinden op internet hoe je een kaars moet smelten en in een ander vormpje kan gieten. De een zegt in de magnetron, de ander raadt dat af. Ik heb het dus gewoon allemaal geprobeerd en er een stap voor stap DIY van gemaakt (ik houd van stap voor stap met plaatjes, ik zou willen dat elk kookboek stap voor stap plaatjes had, dan zou ik misschien ook eens een fatsoenlijke taart kunnen maken).
Stap 1: Haal een (geur)kaars en een schattig schaaltje/kommetje/bakje in huis. Ik kocht een geurkaars bij Ikea voor € 0,99 in de nieuwe geur: kokos met mint. En het leuke kommetje vond ik bij de Kringloop voor € 0,25.
Stap 2: Als je een kaars een metalen dingetje onderop heeft om de lont mee op zijn plaats te houden, stop hem dan niet in de magnetron. Dan gaat het nogal vonken (kwam ik al snel achter).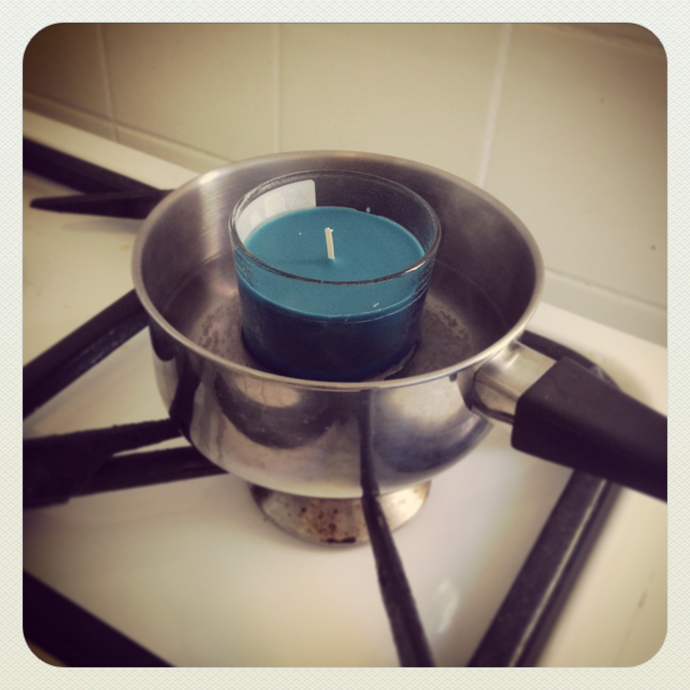 Stap 3: Doe een laagje water in een steelpannetje en laat het koken. Zet de kaars in het pannetje. Het water moet zo laag zijn dat de kaars niet gaat drijven. Dan wordt het een knoeiboel.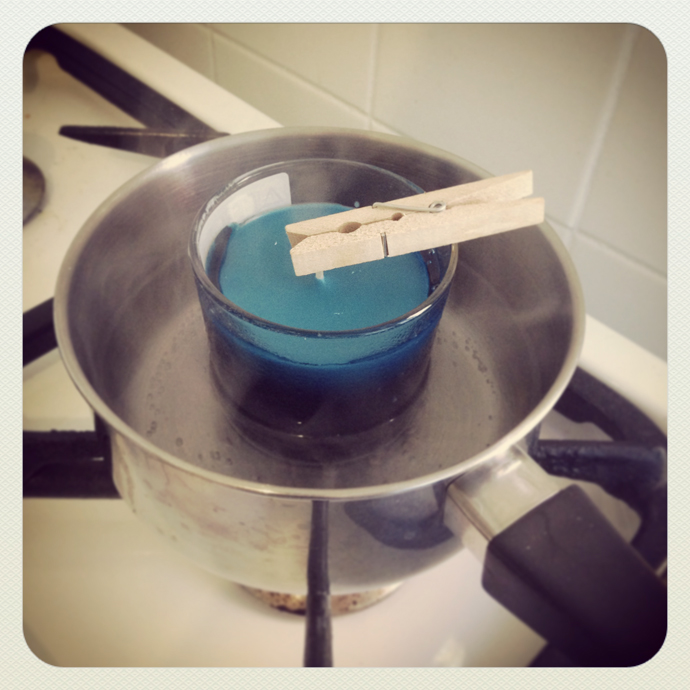 Stap 4: Zet een knijper op de lont. Als alles is gesmolten, raak je de lont niet kwijt. Het smelten van de kaars duurt minstens een kwartier.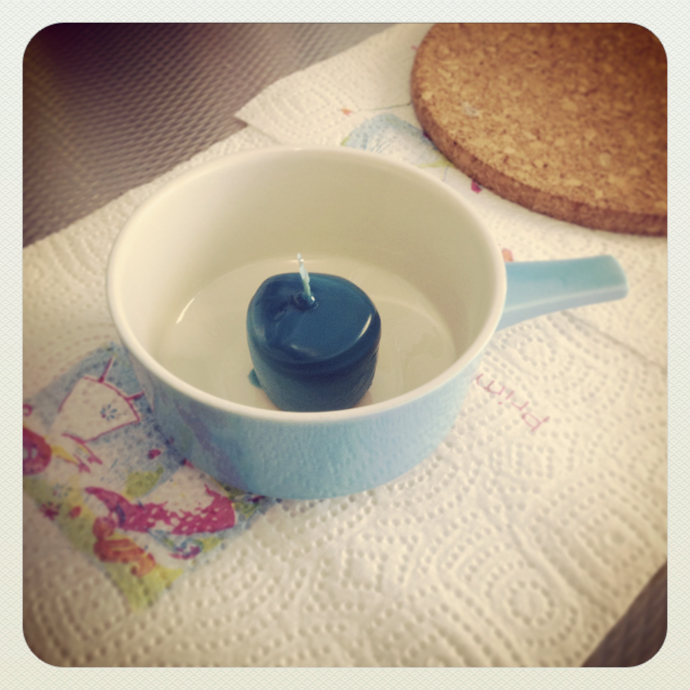 Stap 5: Mij leek het handig als er nog een beetje kaars om de lont heen zat, zodat ik de lont makkelijk in het midden van mijn bakje kon zetten. Op zich een goede gedachte, maar zorg dat je stompje klein genoeg is om niet boven het kaarsvet uit te komen wat je er zo bij gaat schenken.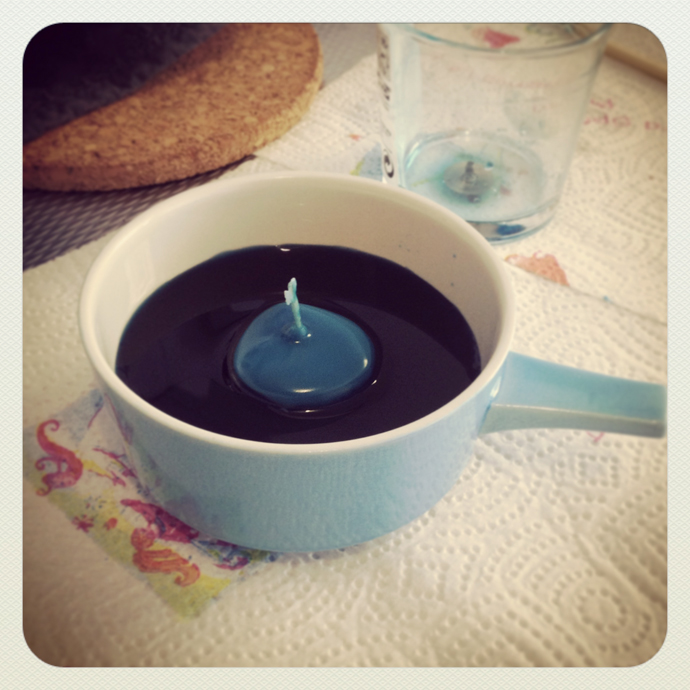 Stap 6: Giet het kaarsvet bij de kaars in. Zoals je kunt zien komt mijn stompje nog boven het kaarsvet uit. Jammer de bammer. Als ik iets meer geduld had gehad, was hij er wel onder verdwenen. Gebruik een pannenlap om de kaars over te gieten. De bovenste rand van het glas is niet heel heet. Ik kon hem dus makkelijk met blote handen eerst uit het pannetje vissen. Voor het gieten gebruikte ik dus wel een pannenlap.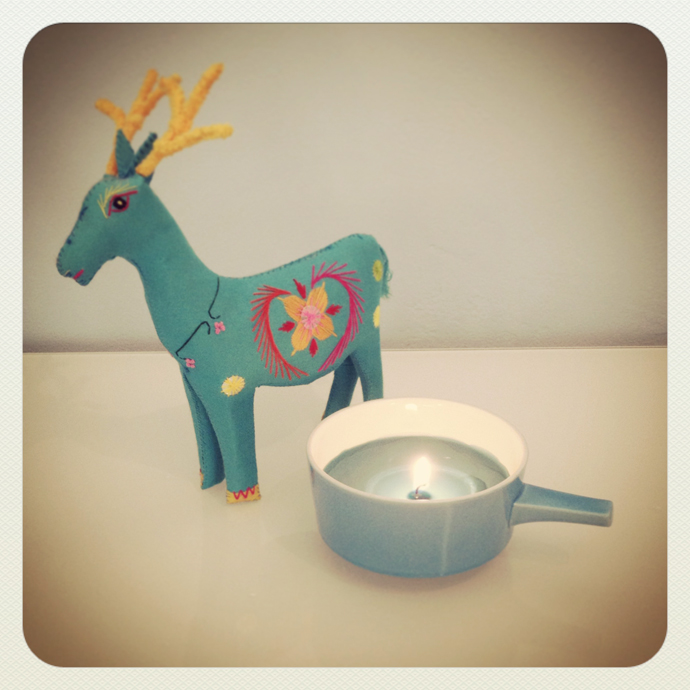 En klaar is je kaars!
Zo kun je je eigen originele kaarsen maken, of weggeven als cadeautje.
O, en vergeet dat theekopje en wees lekker creatief! Pak bijvoorbeeld een oude suikerpot, gourmetpannetje of een asbak. Go crazy en smelt ze!