Voor wie nieuwsgierig is naar wat we meeslepen voor de Kikeroni als we de deur uitgaan, heb ik een videootje gemaakt. I kid you not, ik heb er een studie van gemaakt (zoals ik doe with all things in life, research is my middle name) over wat handig is om mee te nemen en ik heb voldoende geëxperimenteerd en uitgeprobeerd. Dit is mijn versie van een minimalistische luiertas met maximaal resultaat!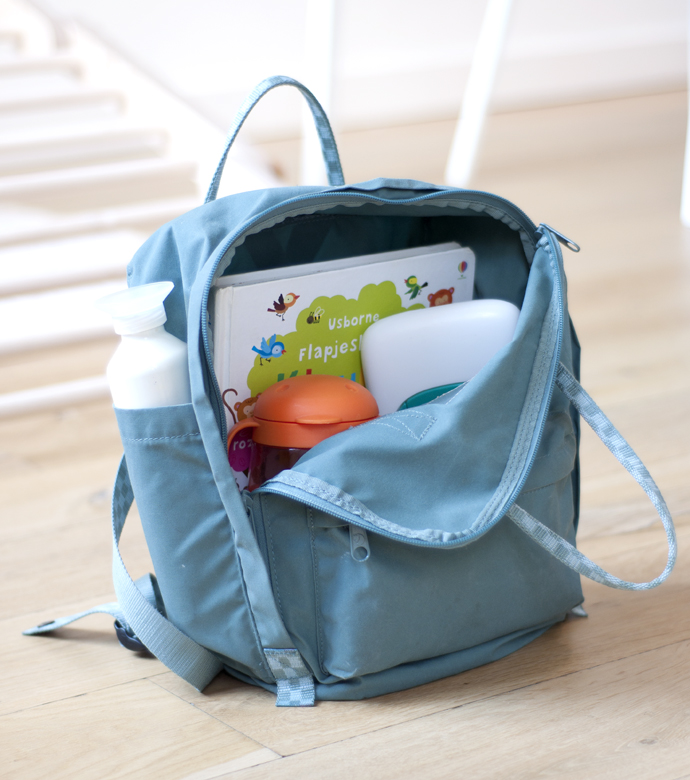 LUIERTAS OF DREAMS
Tadaa! Dit is de tas in kwestie: een Fjallraven Kanken in het originele formaat. Hij is súperlicht, waterdicht en er zitten geen overdreven aantal zakjes en ritsen in. En als het moment komt dat we geen aparte tas meer mee hoeven te nemen voor Kiki, dan kunnen we hem gewoon als rugtas gebruiken. Hij is gender neutraal dus ideaal om samen te gebruiken met je mede kinderverzorger. Minimal en mega multi functioneel. I love it.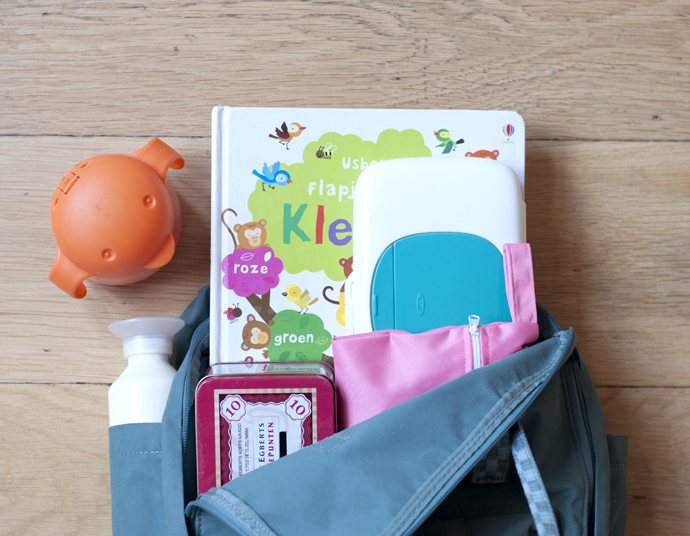 WHAT'S IN MY DIAPER BAG
Voor de exacte inhoud van de tas, moet je even onderstaande video kijken, daarin pluk ik alles uit de tas wat erin zit. Voor de linkjes naar de producten kun je het beste naar de video op YouTube gaan, in de beschrijving link ik praktisch alles door wat er in de tas zit.
Het postbode spelletje (oftewel het Douwe Egberts waardepunten blik met memorykaartjes die heel erg niet meer compleet zijn) is natuurlijk niet te koop in de winkel maar heel makkelijk zelf te fabriceren. De kringloop is your best friend als het om home made spelletjes gaat. Ik zocht eigenlijk naar een doosje waar ik zelf een gleufje in kon snijden maar had het geluk het puntenblikje tegen te komen, de memory kaartjes stonden twee rekken verderop. Ik heb al vele varianten van het postbode spel gemaakt intussen en de plastic pot waar Jodekoeken in zitten werkt ook heel goed (met een mesje snijd je daar zo een gleuf op maat in).
Just think outside the (mail)box (HAHAHA DAD JOKE).
ALL THE BAGS
Dit blogartikel is in samenwerking met Brandfield, een webshop waar je een tas kunt vinden voor elke gelegenheid. Ben je niet gecharmeerd van mijn true love, de Fjallraven Kanken, dan is de good old eastpak rugzak misschien meer iets voor jou. Ook licht en handig maar met meer opties voor patroontjes en kleuren. Zoals ik al zei: there's something for everyone!
♥♥♥
Alvast heel erg bedankt voor het kijken, vergeet je niet te abonneren op ons YouTube kanaal
en de thumbs up knop een lel te geven.
O! En heb je nog meer mega handige items voor in de peuter luiertas, please DO share.
Want sharing is caring.