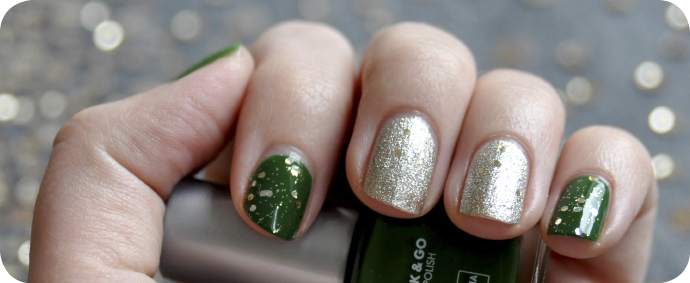 Voor mijn verjaardag kreeg ik (o.a.) een lief klein groen nagellakje van Hema. Ik had al wel wat blauwe lakjes in mijn collectie (jazeker, we kunnen echt spreken van een collectie…). Maar groen ontbrak nog. Het leek me leuk het groene te combineren met goud. En glitters. En nog wat meer glitters. Oordelen jullie maar: leuk? Of too much?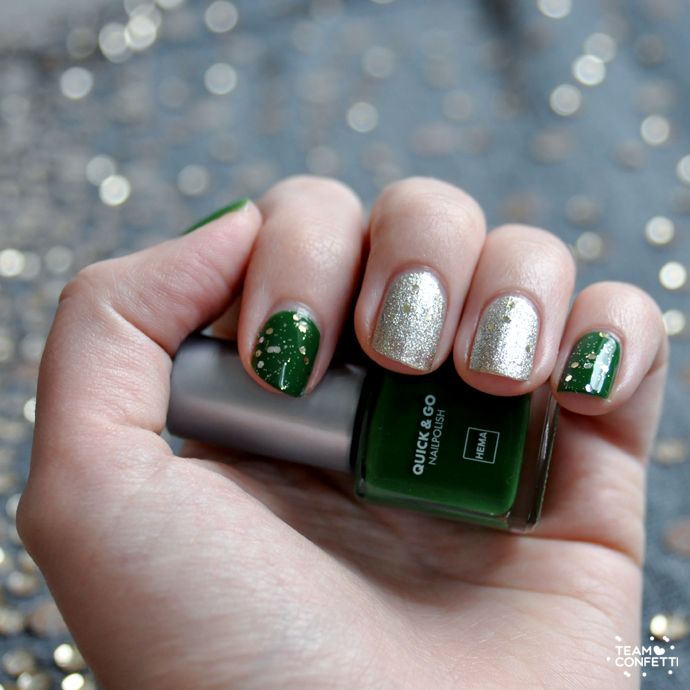 Dit is het lakje waar het mee begon: Hurry Green van Hema. Hij lakte wel ok, maar dekte pas echt goed na drie laagjes. Nu trek ik er normaal een avondje voor uit om mijn nagels te lakken, dus als het resultaat mooi is, vind ik dat niet zo erg. Maarja, als je 'Quick & Go' heet zou je eigenlijk met een laagje klaar moeten zijn.
Op mijn ring- en middelvinger zit Beyond Cozy van Essie. Lakt als een droom, hoef je geen moeite voor te doen. Dekt met twee laagjes. De kleur zit tussen goud en zilver in. Altijd goed dus. Dit kleurtje kwam al eerder een keer langs in een Nails Of The Week.
Om het af te maken topte ik het af met Stay Golden van H&M (die al eerder in deze Nails Of The Week langs kwam). Ik ging voor classy, maar ergens along the way werd het een soort sprookjesbos-glitter-prinses-look. Wat zeggen jullie ervan? Jay or nay?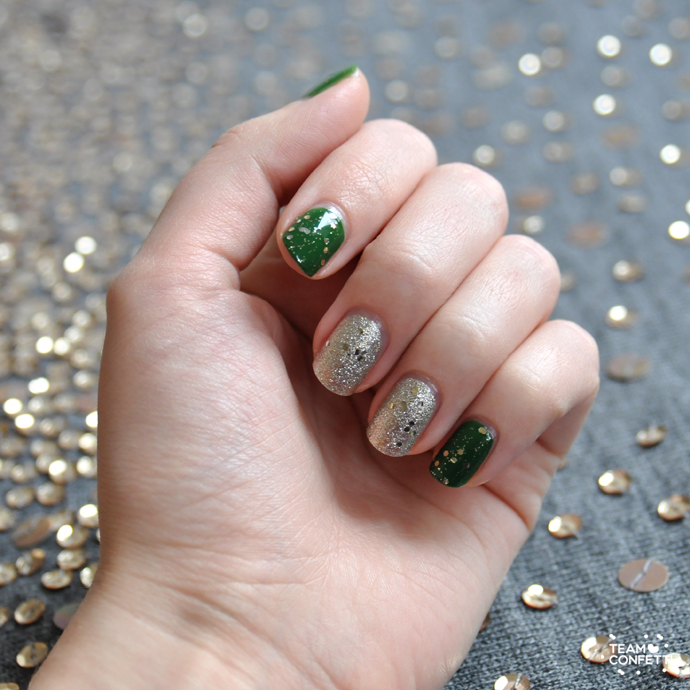 H&M nagellak kosten €3,95 en zijn online en in de winkel te koop.
Essie nagellakken kosten €9,99 en zijn verkrijgbaar bij de meeste filialen van Etos en DA. Beyond Cozy zat in een kerstcollectie van een paar jaar geleden, dus is helaas niet meer verkrijgbaar.
De Quick & Go nagellakjes van Hema kosten €1,95 en zijn in de winkel en online te koop.