Hallo iedereen! Guess who's back from weggeweest? Het is de minst happy zwangere van Nederland! En hoe gaan we dat vieren, dat ik weer een beetje de oude Olga ben (maar dan met een Pinda aan mijn tiet en een leeuwinnenhart die iedereen's kop eraf bijt die ook maar een beetje scheef naar mijn baby loert, oh moeder hormonen, what a joy)? Maar natuurlijk, met een gezellig geboorte verhaal! Met plaatjes erbij. Disclaimer: het zijn mooie plaatjes maar her en der zit er nog wat vieze smurrie aan ons geplakt dus als je dat niet zo leuk vindt om te zien, dan kun je dit artikel beter even overslaan…
Disclaimer twee: ondanks dat ik mijn uiterste, uiterste best heb gedaan (ik heb alle boeken gelezen, een happy hypnobirthing + yoga cursus gevolgd en had mijn woonkamer omgetoverd in een geboortecentrum inclusief bad en man die bereid was er bij me in te komen zitten) was het niet zo'n leuke bevalling. Ik ga mijn best doen het niet te griezelig te maken voor iedereen 'die nog moet' of erover nadenkt om een kindje te maken. Bij twijfel, lekker NIET LEZEN en op google 'positive birth stories' intypen. Echt hoor. Want het kan iets heel moois zijn, zo'n bevalling. Als mijn meisje niet zo vast als een huis had gezeten, was ze er heel zen in bad uitgekomen. Want ik deed het fantástisch (zeiden ze allemaal om me heen). Dus.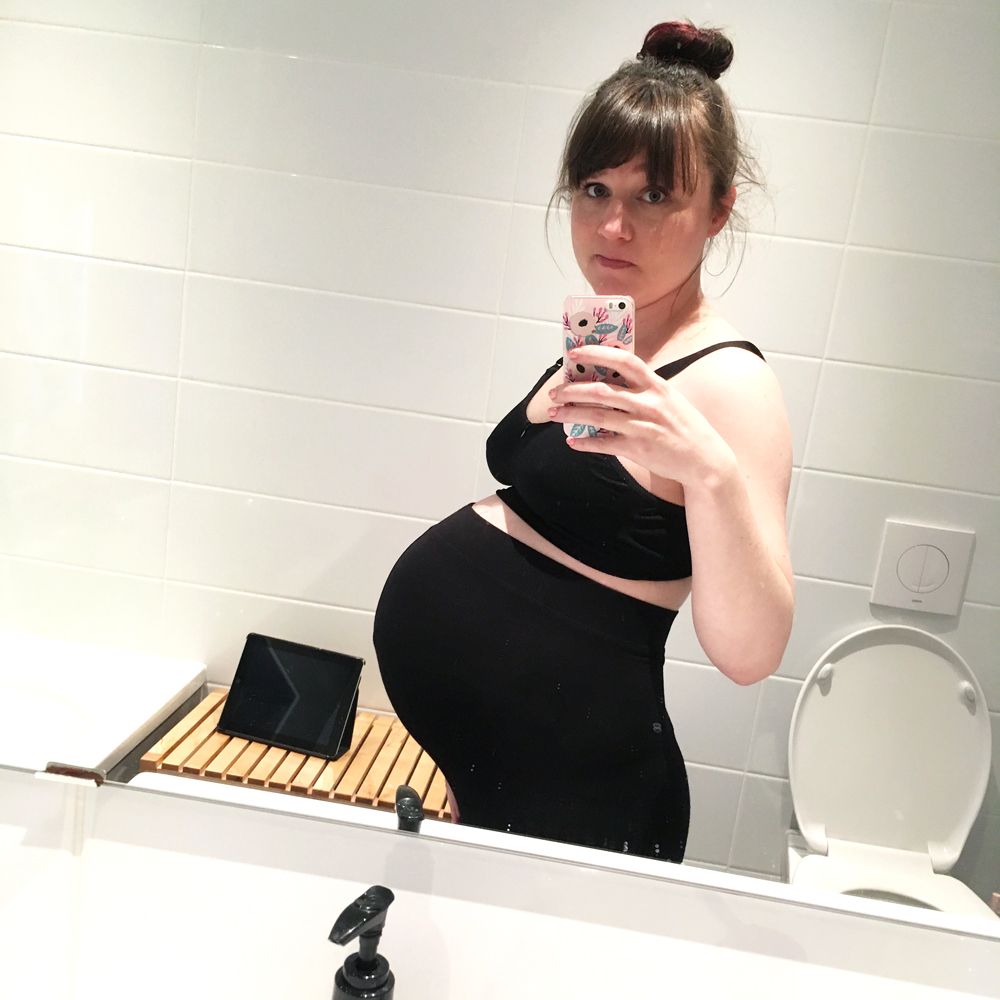 Tja, het was dus een beetje een tegenvaller, die bevalling. Ik wilde heel graag thuis blijven voor de geboorte van Kiki. Want wat ik vooral uit al die boeken en cursussen had gehaald, was dat het nooit loopt zoals je denkt (correct) en dat alleen ontspanning ervoor kan zorgen dat het een beetje te doen is. En thuis ben ik meer ontspannen dan in een ziekenhuis. Vandaar.
42 WEKEN = INLEIDING
De eerste tegenvaller was dus dat Kiki weigerde eruit te komen voordat haar tijd op was. Ondanks drie pogingen van de verloskundige om de boel aan de praat te krijgen (autsj) bleef mevrouwtje pinda 42 weken onbeweeglijk zitten. Met pijn in mijn hart vertrok ik dus op donderdagochtend 12 april met Tom en tassenvol verloskamer-opleuk-meuk naar het ziekenhuis om ingeleid te worden.
Schijt. Want die ontspanning die zo belangrijk is voor een natuurlijke pijnbestrijding, helpt super bij je eigen hormonen die weeën produceren, maar kunstmatige hormonen zijn andere koek. Daarnaast hoor je vaak dat je een weeënstorm om je oren krijgt bij een inleiding en ik ken bijna niemand die een inleiding heeft gered zonder halverwege om een ruggenprik te smeken. En met een ruggenprik mag je niet in bad. En mijn baby zou in bad eruit komen damn it! Want dat leek me de meest ontspannen manier voor haar om eruit te komen. Dus het zag er opeens een stuk minder rooskleurig uit voor die bevalling van mij…
De tweede tegenvaller was dat nadat het infuus geplaatst was (autsj) en mijn vliezen gebroken, (ieuw) Kiki niet genoeg ingedaald was en dat als ik overeind zou komen, haar navelstreng eruit zou kunnen piepen en afknellen en dat is heel, heel gevaarlijk voor baby's. Dus al die leuke houdingen die ik had geoefend bij de yoga-les gingen ook out the window en de belofte dat ik bij een inleiding helemaal niet op bed hoefde te blijven liggen, bleken in mijn geval ook niet waar. En dus lag ik urenlang onbeweeglijk te klotsen in mijn eigen vruchtwater op dat godvergeten bed. Grrrrr.
Precies op het moment dat ik mezelf weer een beetje had herpakt, de tweede tegenvaller had verwerkt, kwam tegenvaller numero trois! Deeeeeeee weeënstooooorm! Van het ene op het andere moment was het verstand op nul, blik op oneindig en puffen geblazen. Tom vroeg steeds als er iemand langs kwam lopen of het misschien ook al tijd was om het bad op te gaan zetten, maar daar reageerde men nogal ontwijkend op. Tom's theorie achteraf was dat (afgaande op de meeste verhalen) een inleiding zo pittig is, er vaak een ruggenprik nodig is om erdoorheen te komen. Met een ruggenprik geen bad, dus waarom al die moeite doen als ik er toch niet in zou gaan? Toen er op een gegeven moment werd gecheckt of mijn pinda nou eindelijk een beetje gezakt was, bleek ik al zes centimeter ontsluiting te hebben en kwam het zwembad team in actie. Yes!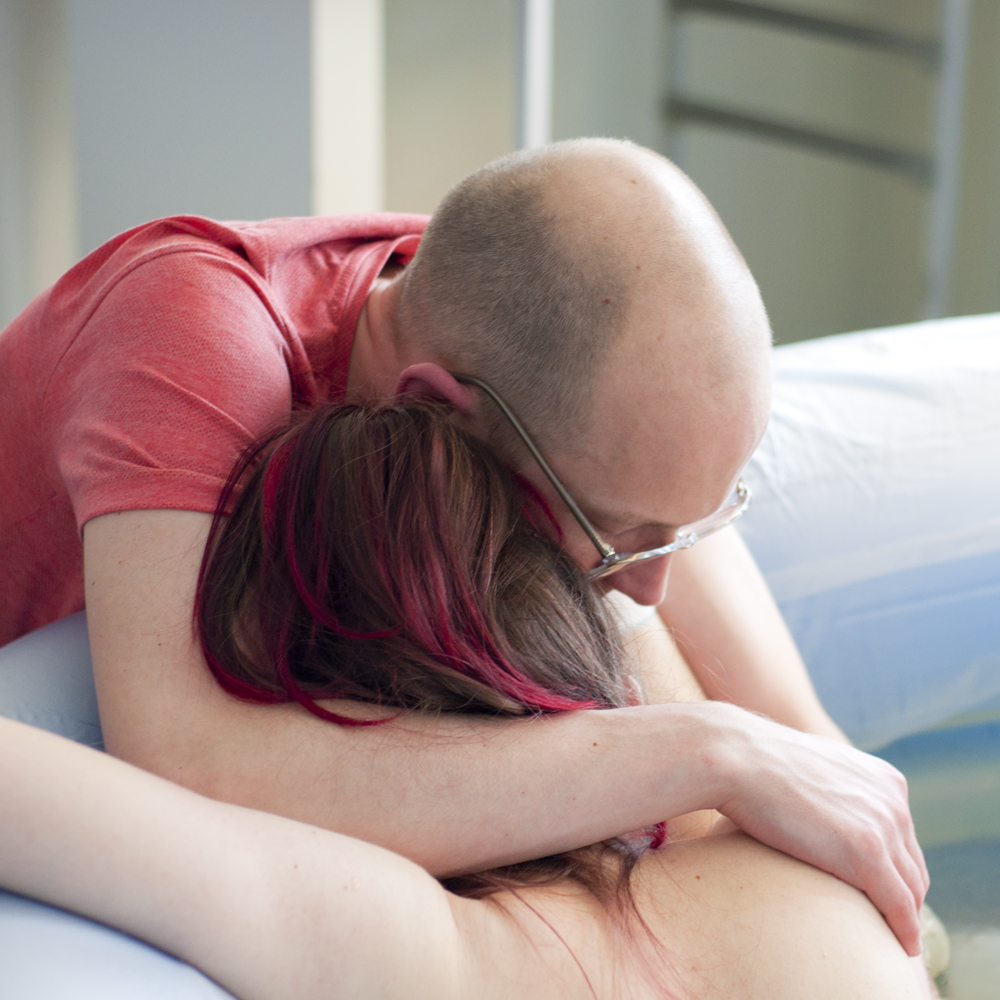 ZEN ZEEMEERMIN
Na wat gekloot in de badkamer (ik moest plassen van ze voordat ik in bad mocht, dat wilde niet en mijn rottige infuus paste niet door de deur, grom, grom, terug op bed, tijdelijk katheter erin, au, au, gedoe, gedoe) mocht ik EINDELIJK in bad! Ik moest even mijn draai vinden, maar toen ik eenmaal als een balletje opgekruld aan Tom hangend in dat bad dreef, man, toen ging het mooi. Op dat bed was het klotsen, kreunen en puffen als een karrenpaard en in bad ving ik de weeën op als een zen-zeemeermin. Mijn publiek (kraamzorg, verloskundige en verpleegster) was zeer onder de indruk en ik hoorde teksten als: 'jeetje wat mooi' 'dit is nog eens bevallen' en 'hier moeten we een foto van maken' langskomen. Yeah baby!
Maar helaas, tegenvaller nummer vier (de Koning Der Tegenvallers) was daar: ondanks de 10 centimeter ontsluiting en heel hard werken, bleef Kiki steken. En dus moest ik uit bad, werden de hormonen opgevoerd, kwam er een tafeltje aangerold met attributen die in een goede horrorfilm niet zouden misstaan en moest ik tegen de wil van mijn hoofd en mijn lijf mijn baby er op eigen kracht uit zien te duwen. Maar hoe hard ik ook mijn best deed, dat kind kwam geen millimeter dichter bij de uitgang. Ik moet eerlijk bekennen dat na een uur of twee met tegenvaller nummer vier bezig te zijn geweest, ik het niet meer zag zitten (dit is erg zwak uitgedrukt, maar we moeten het hier toch nog een beetje netjes houden). Dus toen er een gynaecoloog on the scene verscheen die na nog een paar (haar eigen woorden) 'gemene dingen probeerde' en concludeerde: 'dit wordt een keizersnede' was de opluchting immens. Tom barste in huilen uit en ik fluisterde: 'Ja, goed!' en 'mag dat ding dan NU uit??' (infuus).
Tegenvaller nummer vijf was dat ik nog geen ruggenprik had (eigenwijze ikke) en nou, die heb je wel nodig bij een keizersnede. You can imagine why. Dus die moest nog gezet worden. En daarvoor moest ik overeind terwijl die rottige weeën nog steeds doorgingen. Want dat infuus was uitgezet, maar dat spul jakkert nog een tijdje door. Kan ik kort over zijn: na alle avonturen die ik al achter de rug had, was dat een pittige klus (ok, fuck it, het was de hel). Maar ik werd bijgestaan door het allerliefste anesthesie duo die deze aarde bewandelt. Die kregen me toch een berg ellende (ik) in hun armen gedrukt! Maar wat waren ze lief, wat deden ze het snel en wat een machtig mooie peptalk werd er in mijn oor gefluisterd. Echt. Ik ben een hoop mensen dankbaar in dat ziekenhuis, maar deze twee. GOUD JONGENS, GOUD!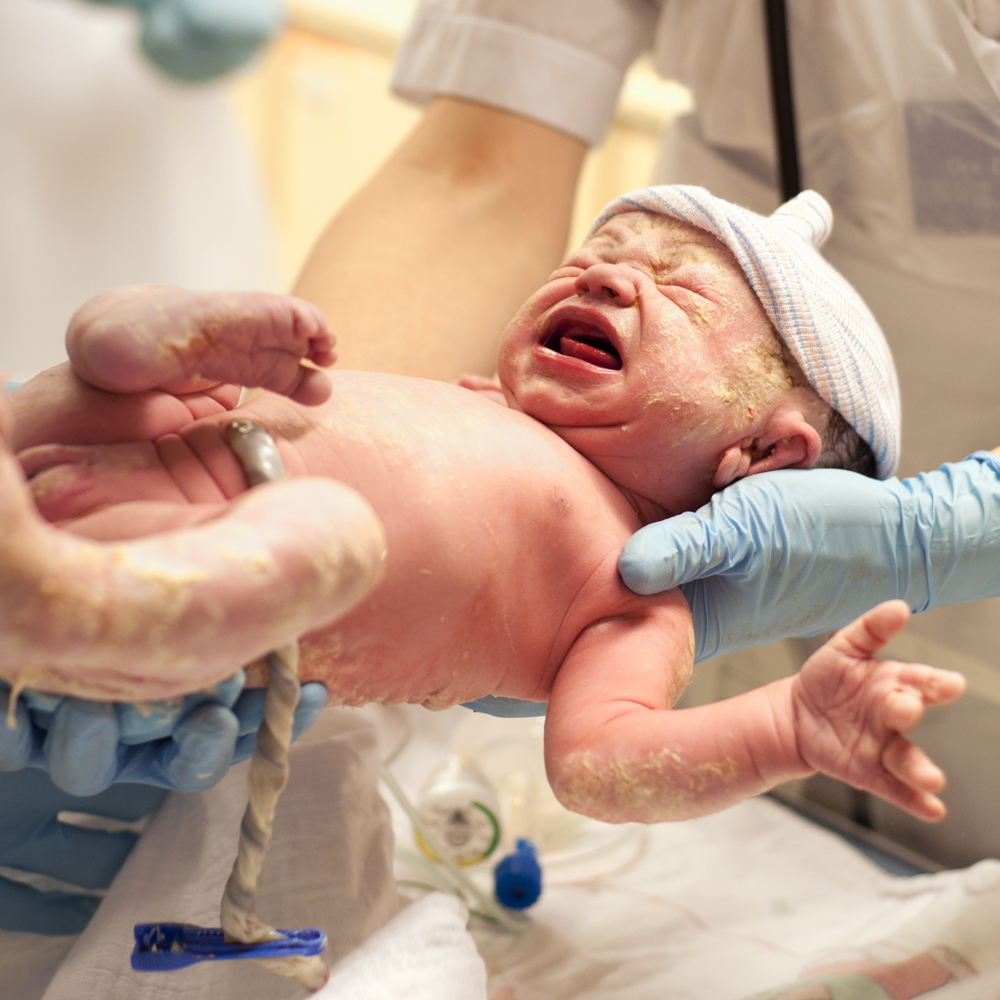 WELKOM BABY KIKI
Nou en daarna waren de tegenvallers voorbij. De ruggenprik ging werken, ik werd kordaat maar voorzichtig klaargelegd, Tom kwam bij me zitten verkleed als dokter, er werd een mini windschermpje opgehangen voor mijn neus, een beetje gewroet en hoppaaaaa! Daar was ze! 'Hè hè' dacht ik nog, 'hadden we dat niet gewoon meteen kunnen doen?' De volgende dag kwam ik erachter dat het toch niet de meest ideale manier van een baby eruit halen is, maar op dat moment vond ik het fan-tas-tisch. Iedereen was supervrolijk en aardig, de terror-pijn was voorbij en mijn baby was er veilig uit.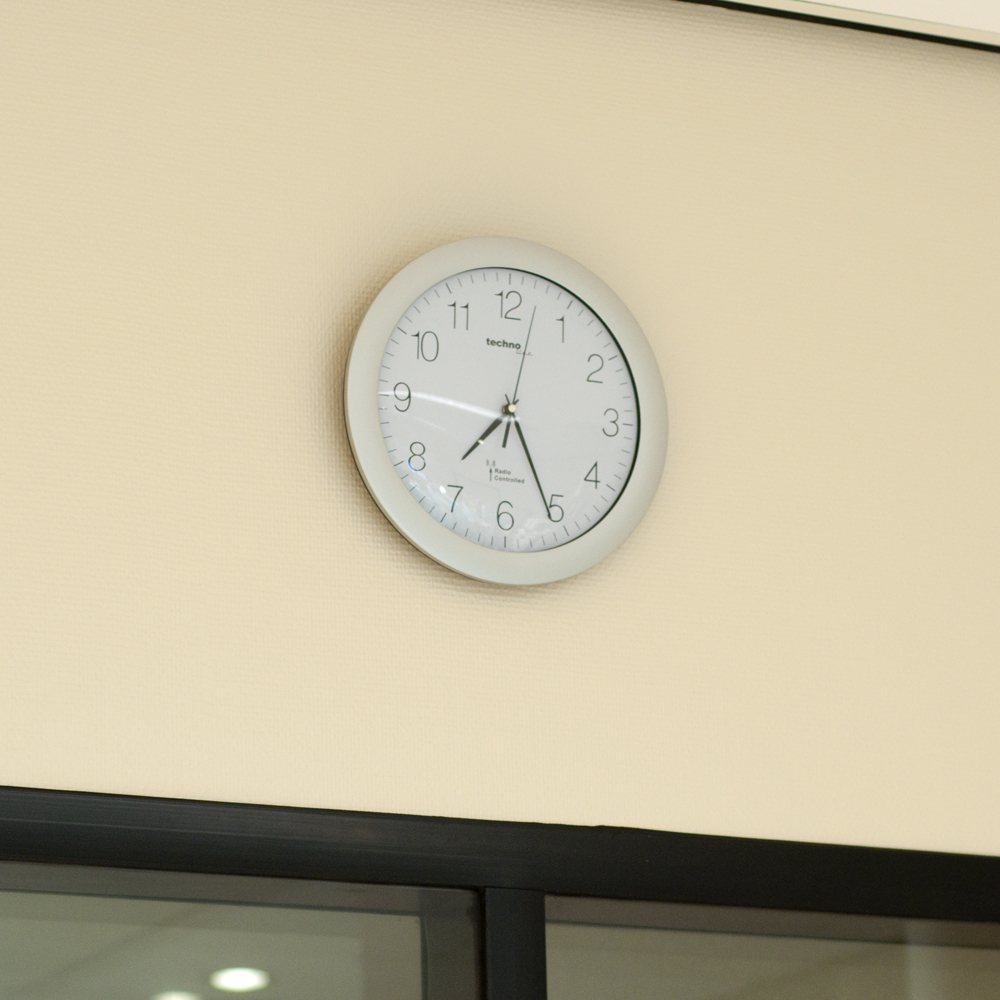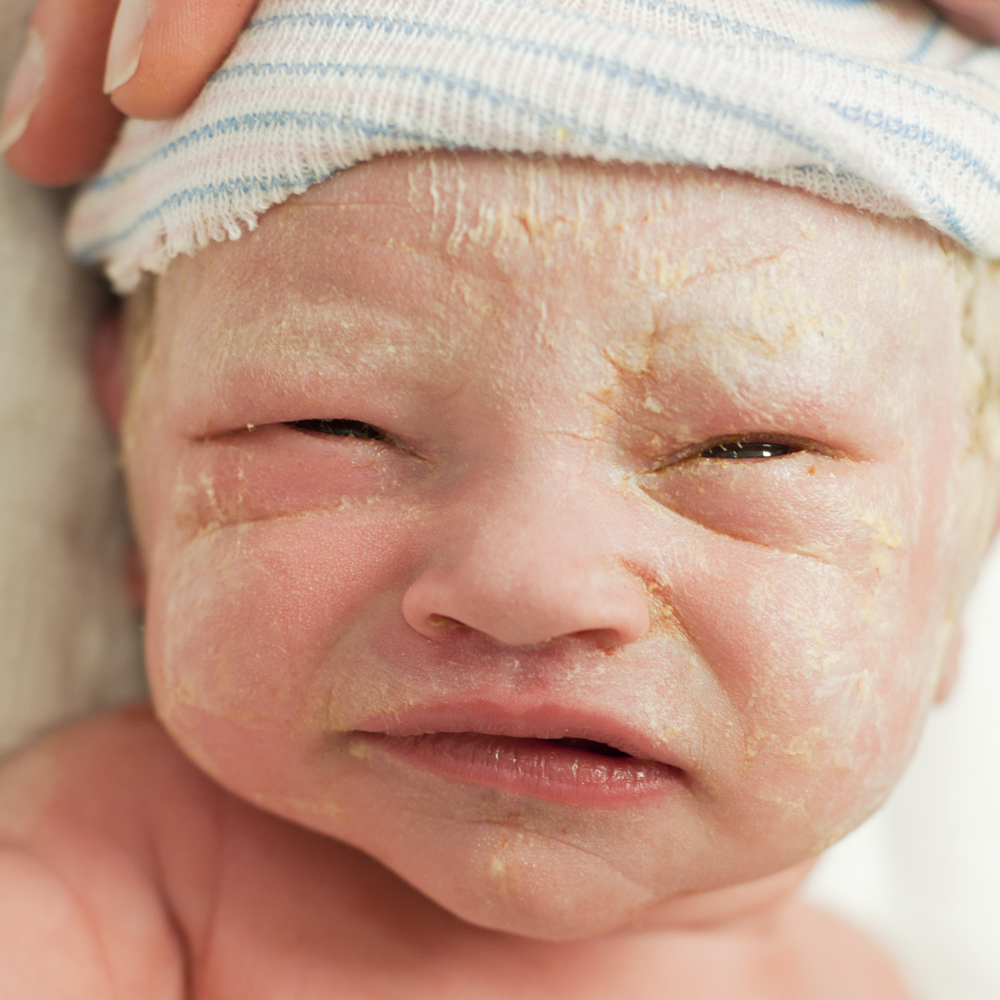 Om vijf voor half acht werd Kiki Marie Zijlstra geboren, ik zag haar drie seconden ennnnnn whoosh! Weg was ze! Mee met de dokters om gecheckt te worden. 'Geen skin on skin?' dacht ik, 'Nee? Ok, doen we dat straks wel. Let it gooooo, let it goooo.'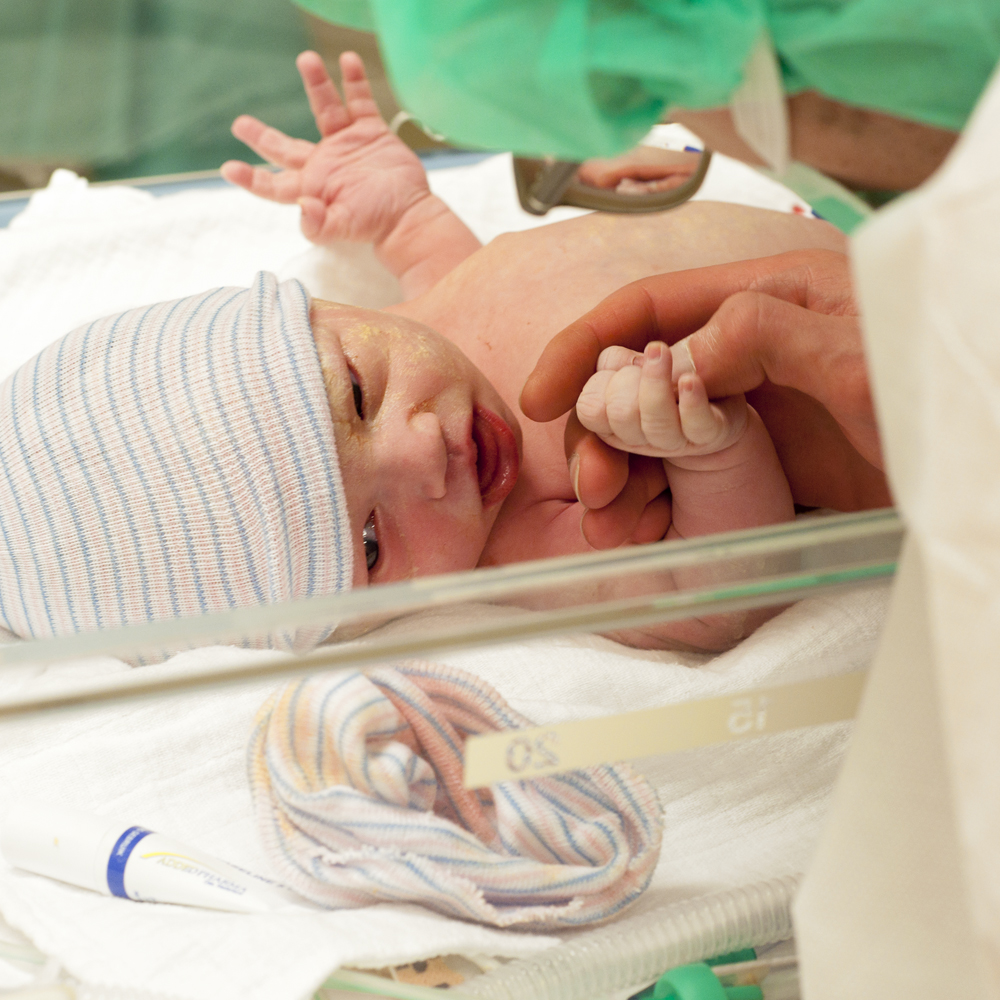 Wie ook meteen weg was (hij was aan zijn brillenpootjes meegetrokken door een verpleegster) was Tom. Alle dingetjes die ik heb gemist, kon hij gelukkig later navertellen en hij was bij haar om haar ieniemini handje vast te houden en haar eerste luiertje dicht te plakken.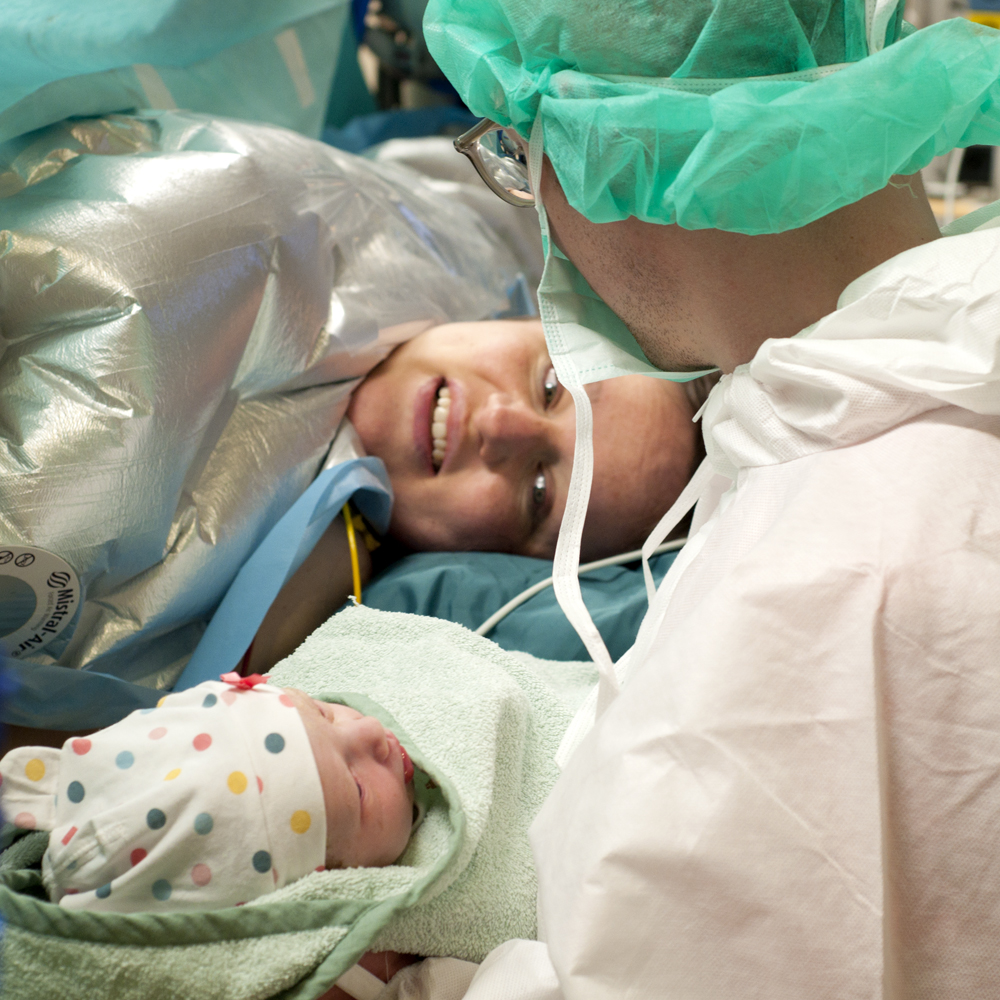 Een tijdje later kwamen mijn twee kale koppies terug terwijl het gezellige OK team me laagje voor laagje weer aan het dichtnaaien was. En nee, daar voelde ik niks van. Ik lag alleen te rillen als een malle want in een operatiezaal is het blijkbaar heel koud en nouja, shock enzo. 'Ze heeft donker haar! Dat had ik een keer gedroomd, wat leuk.' Zei ik. Verder kon ik ze alleen een beetje aangapen. Na een korte kennismaking moest mijn mini familie weer gaan voor meer baby checks en toen ik weer helemaal opgelapt was, werd ik naar de uitslaapkamer gerold. Daar kreeg ik een dikke morfine spuit en een ijsje.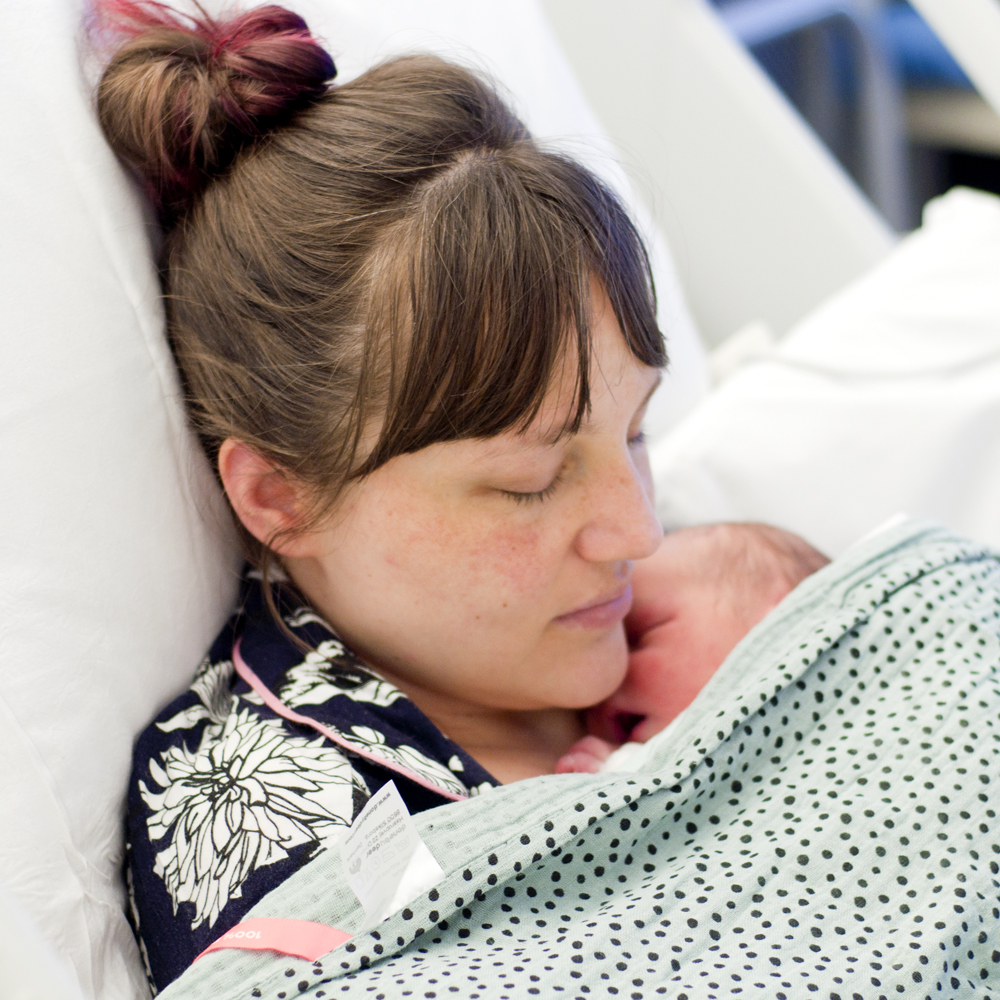 Na een paar uur werden ik en mijn poppetje eindelijk herenigd en kwam ze lekker in haar blootje op me liggen. De eerste keer borstvoeding was precies zoals ik had verwacht: SUPER RAAR. Ook wel omdat ik er een beetje bij lag als een zak aardappelen door de keizersnede en mijn hoofd nog na-draaide van ons heftige avontuur en de lange dag.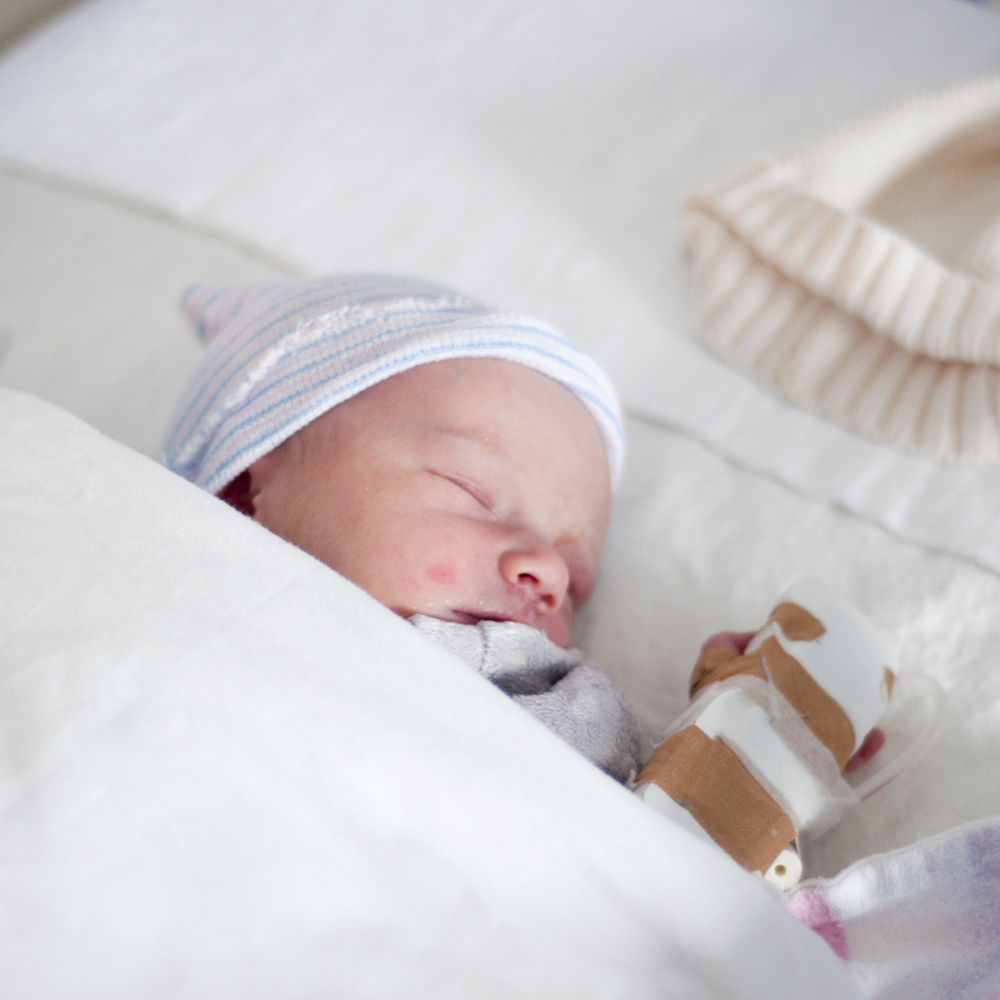 Ok, ik had gezegd dat de tegenvallers voorbij waren toch? Ooooh snap! Toch niet! Ons pindaatje had door de zware bevalling moeite om haar eigen bloedsuiker op peil te houden en moest daarom aan een mini infuus. Elke drie uur kwam er iemand een naald in haar voetje prikken om er bloed uit te halen en te controleren of het infuus zijn werk deed. Langdurig lage bloedsuiker kan bij een baby zorgen voor hersenbeschadiging en dus was dit enorm belangrijk en ik ben ze eeuwig dankbaar dat ze dit zo goed in de gaten hebben gehouden. Goed dus, maar wel echt superruk voor een mini baby die door het infuus een beetje vast lag in haar bedje en die steeds harder ging huilen na elk prikje.
En ook ik kreeg het nog even flink voor de kiezen helaas. Ik bleek een zwangerschapsvergiftiging te hebben en ook die zijn knettergevaarlijk. Door de combinatie zwangerschapsvergiftiging en keizersnede kreeg ik de volgende dag een golf van dokters en verpleegsters over me heen. De een wilde bloed van me hebben, de andere gaf me een prik in mijn been, ik moest aan een kolfapparaat om mijn boobies aan de gang te krijgen, dan weer iemand met pillen of een kraamhulp die mijn baby tien minuten aan mijn borst hing en haar toen weer mee nam. Ik wilde wat drinken en eten maar door alle drukte werd mijn tafeltje met boterhammen aan de kant geschoven en ik kon geen vin verroeren door de keizersnede. Tom was net zo kapot als ik maar bleef heen en weer rennen tussen zijn twee huilende meisjes om ze te troosten.
Het keerpunt kwam toen de dienstdoende verloskundige ons kamertje kwam binnengestapt, iedereen de deur uitjoeg en de gordijnen dicht trok. 'En nu gaan jullie eerst allemaal even slapen, anders komt het niet goed hoor.' 's Nachts was er een kei van een nachtzuster die ons erdoorheen trok en ook de dagen daarna was er een verpleegster die ons in haar hart sloot en ons met zachte hand klaarstoomde voor onze terugreis naar de bewoonde wereld.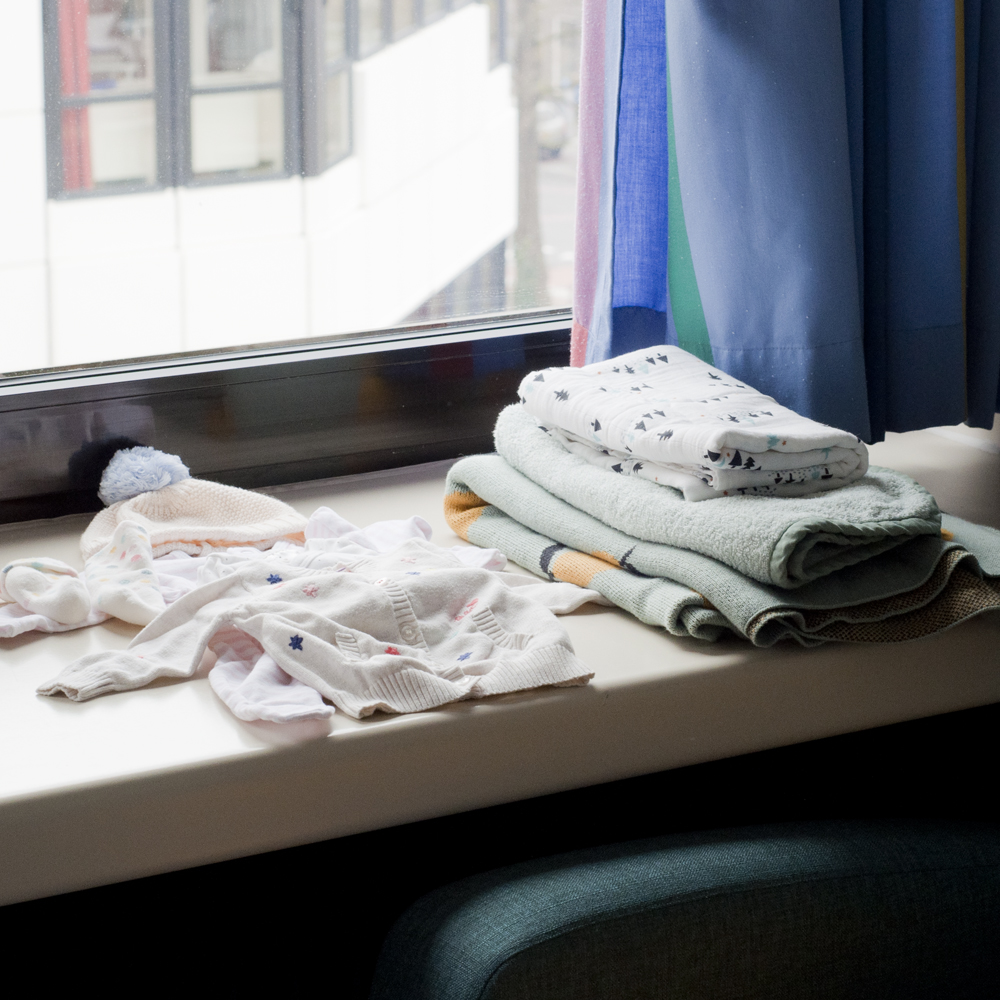 HOME SWEET HOME
Toen ons op zondagochtend werd gemeld dat we die middag naar huis mochten als we wilden, lachtten Tom en ik ze bijna uit. Yeah right. Miss Road Kill (ikke) kon nog niet verder komen dan de badkamer! Maar tja, ons eigen huisje lonkte toen wel heel hard en na een emotionele wandeling over de gang (als ik dat kon, dan mocht ik weg) pakte de kraamverzorgster onze spulletjes in en gingen we toch echt… Naar huis!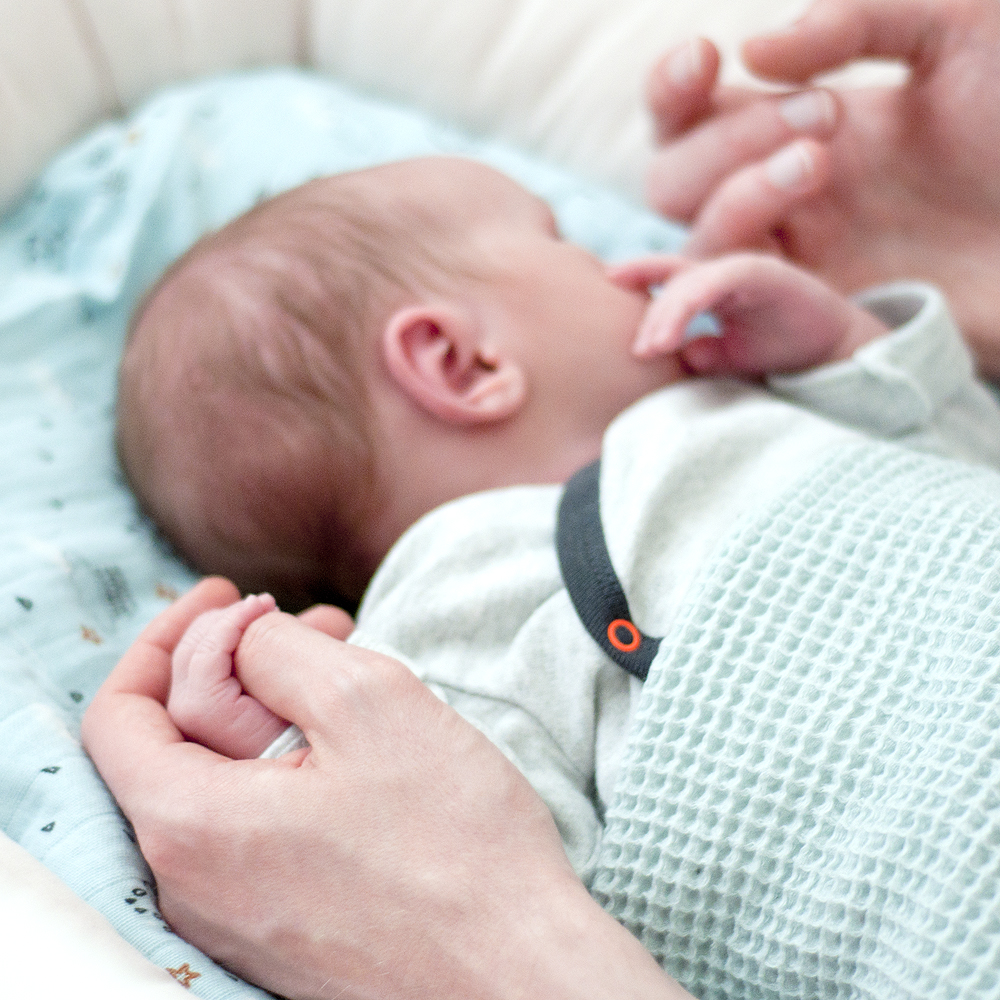 De weken die volgden zaten vol mini overwinningen en onze nieuwe huisgenoot aangapen maar we zaten vaker op een zwarte wolk dan op een roze. Ik was erop gebrand de heftige bevalling op een goede manier te verwerken en daarom huilden en praten we dagelijks over onze idiote avonturen. Kiki had niet bepaald de vredige bevalling gehad die ik haar zo had gegund en was een groot deel van de dag ontroostbaar. De eerste 24 uur na de bevalling hadden Kiki en ik ook erg weinig contact gehad en het duurde heel lang voordat we die pittige start weer een beetje hadden ingehaald.
ALL IS GOOD AGAIN
Voordat ik iedereen die dit leest in een depressie jaag, er is ook goed nieuws! Kiki is nog steeds licht ontvlambaar, maar door heel veel knuffelen, wat professionele hulp en erachter komen wat ze prettig vindt, wordt ze met de dag vrolijker. Ik ben na twee maanden verwerken en beter worden ook bijna weer de oude. Ik geniet van mijn machtig mooie mini familie en van het feit dat ik me na een jaar eindelijk weer mezelf begin te voelen. Mijn lichaam is weer van mezelf en mijn buik past weer in mijn allerstrakste lievelingsbroekje. En ook Tom is veranderd in een apetrotse vader die elke halve glimlach van zijn kroost vastlegt en laat zien aan iedere geïnteresseerde ziel die hij tegenkomt.
☆☆☆
Team Confetti is ready to party again!