Meestal als ik iets over de caravan verbouwing deel, is het een video of foto op instagram. Maar aangezien ik er zoveel werk van heb gehad, verdient ze een voorstelrondje op de blog. Dus internet, meet my caravan kitchen!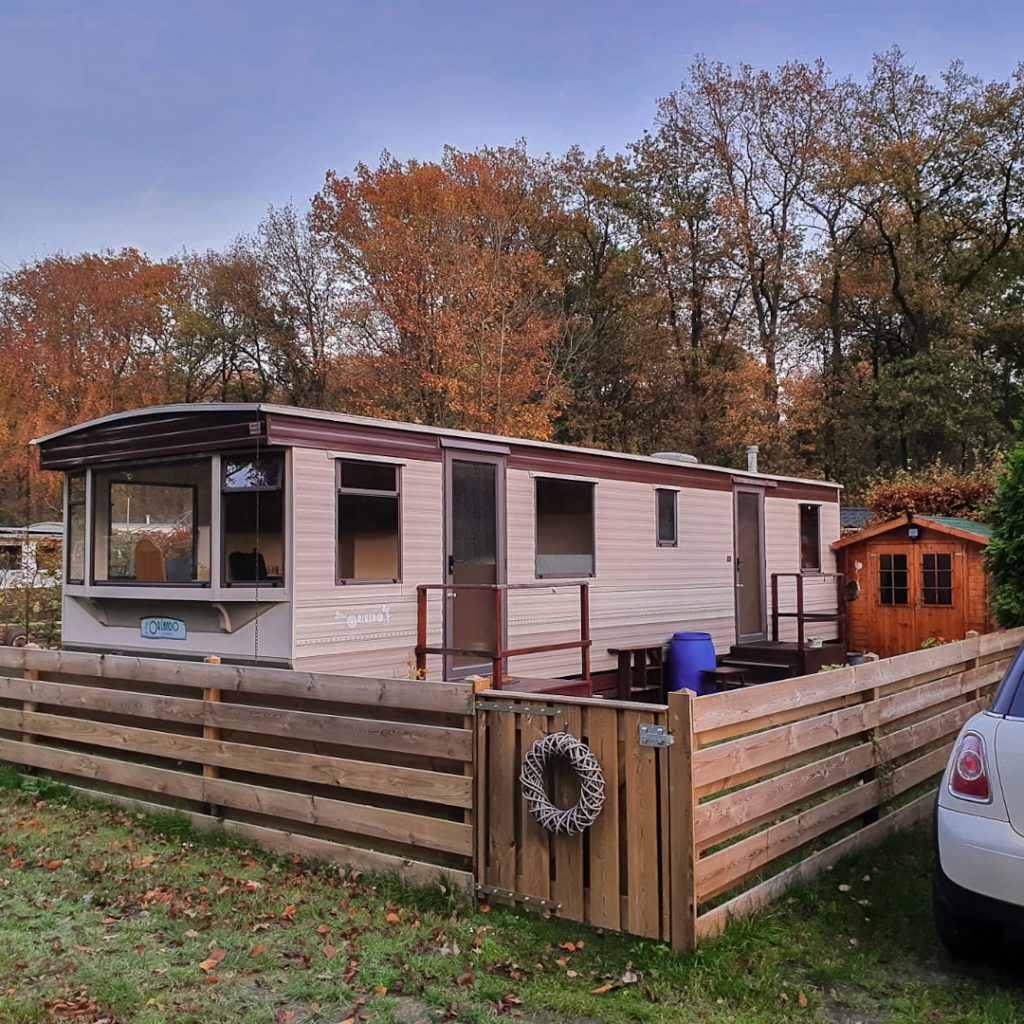 Aan het einde van Covid Jaar #1 kocht ik uit radeloosheid (ik móést een plek om ALLEEN te kunnen zijn) een oude, zwaar doorrookte en mega ranzige sta-caravan op een schattige camping in Drenthe. Bijna twee jaar later ben ik nog steeds niet klaar met verbouwen maar dat vind ik gek genoeg niet frustrerend. Want een uurtje fietsen door het Drenthse platteland en vervolgens iets uit elkaar trekken/zagen/schilderen of behangen is de beste hobby ooit en ik raad het iedereen aan!
Het eerste seizoen op de camping bestond voornamelijk uit afbreken en weggooien (ieuw ieuw ieuw) en het tweede seizoen verbouwde ik beide slaapkamers. Wat veel werk was maar nog niet super eng qua nieuwe dingen uitproberen klus-wise. En ik leerde behangen als een pro.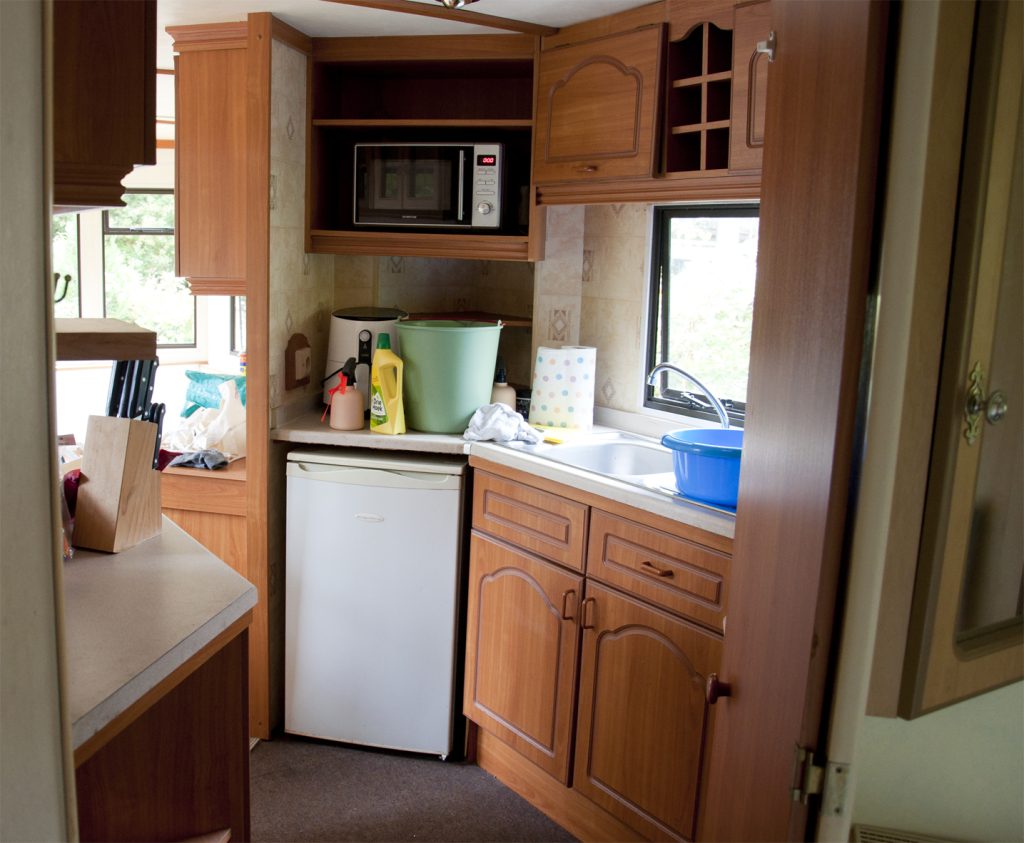 Dit seizoen begon ik aan de keuken… Oh boy! Aangezien het een houtje-touwtje-project is waar ik niet veel aan wil uitgeven maar wél veel van wil leren, kon ik er geen prachtige SieMatic keuken inzetten (hoe graag ik dat ook zou willen). Nee ik moest het allemaal zelf doen en op mijn wishlist stond een nieuwe kraan, nieuw aanrecht, nieuwe spoelbak én nieuwe tegeltjes.
Ik had géén idee hoe dat moest (ik heb alleen een lesje tegels zetten gehad van onze aannemer toen we ons huis lieten verbouwen) maar was vastbesloten me niet te laten afschrikken. Want ik had al wel gemerkt: alles in een sta-caravan is te repareren. Je kunt alles weer lijmen/solderen/afkitten. En omdat ik vooral dingen wilde vervangen, kon ik afkijken bij het oude spul hoe het vast zat. Het nieuwe spul was overigens zoveel mogelijk tweedehands. Scheelt qua kosten en milieu dus altijd een goed idee.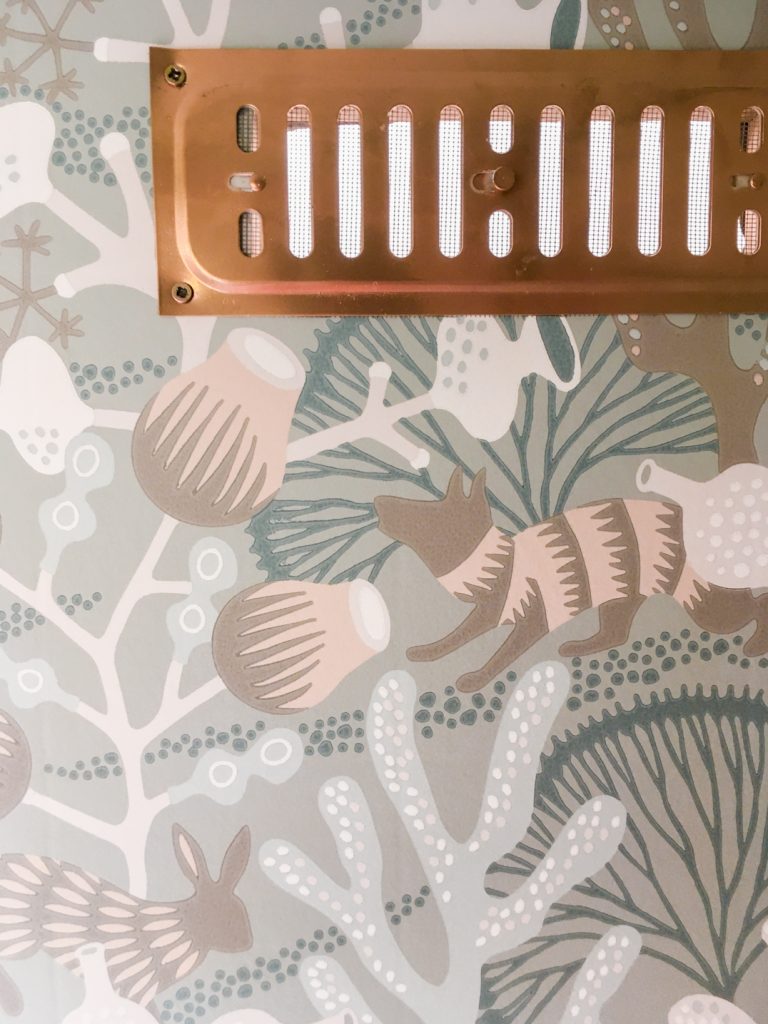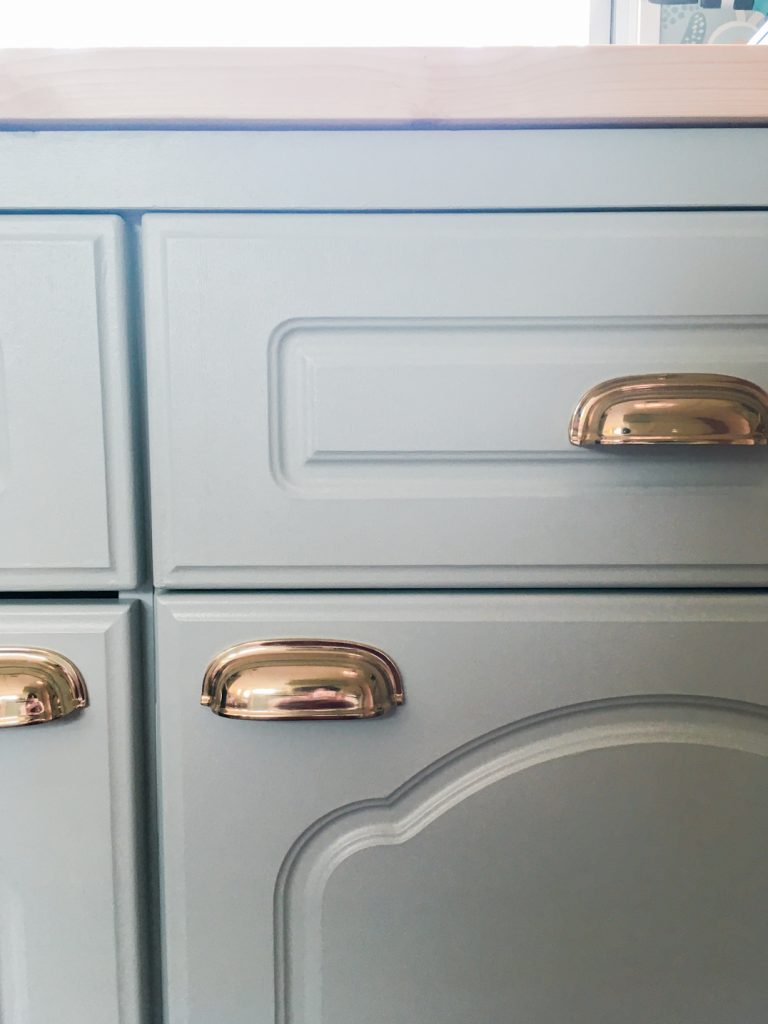 Na een paar dingen te hebben geprobeerd om een nieuw aanrecht van te maken, kwam ik erachter dat het het handigst was om de boel online op maat te laten zagen. Dat kon makkelijk vervoerd in onze Mini auto, ik bleef niet met ongebruikte resten zitten en het scheelde werk. Uiteraard maakte ik een rekenfout en moest er een stuk opnieuw besteld worden én bleek mijn caravan niet kaarsrecht te zijn (no surprise, het is immers een kartonnen doos) en moest ik toch nog zelf wat recht, eh, scheef zagen.
Terwijl ik wachtte op mijn stukken aanrecht, kon ik mooi álles primen, schilderen en behangen. Ook spoot ik roostertjes, ovenhendels en scharnieren goud en verving de plastic kasthendeltjes met prachtige metalen grepen.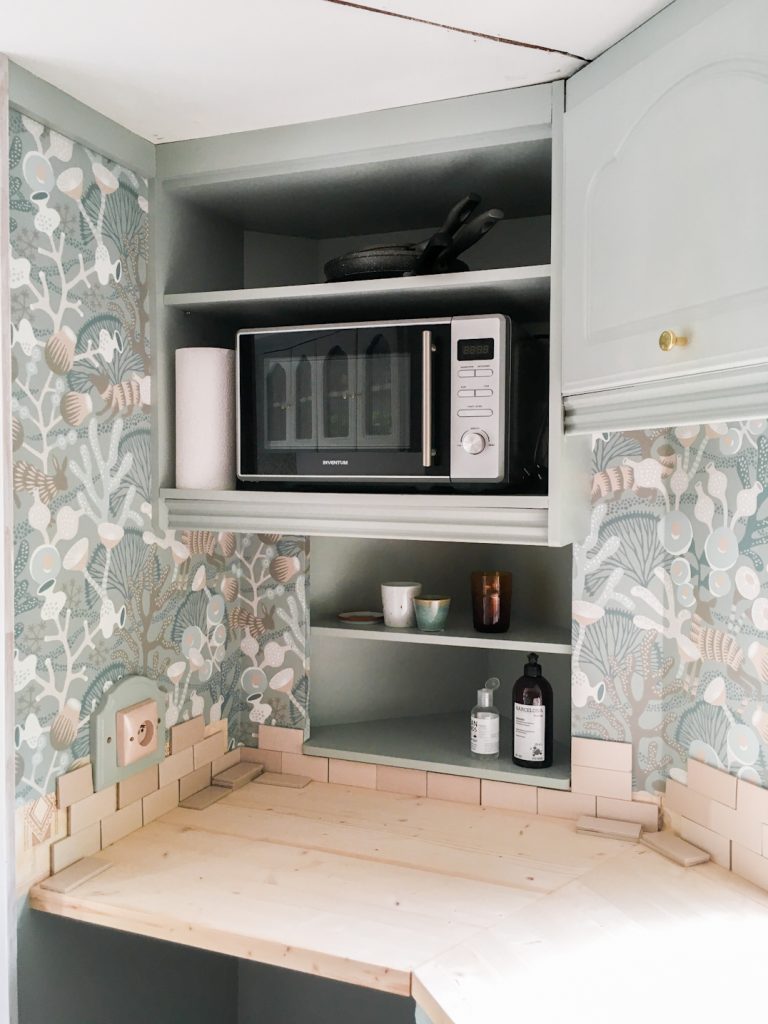 Ik hou ervan hoe het behang (OMG I LOVE dit behang) van de kleuren van de oude oven en het grijs op de kastjes één geheel maakt. En de lichtgrijze verf maakt alles zoveel lichter en frisser maar heeft toch veel meer karakter dan wit.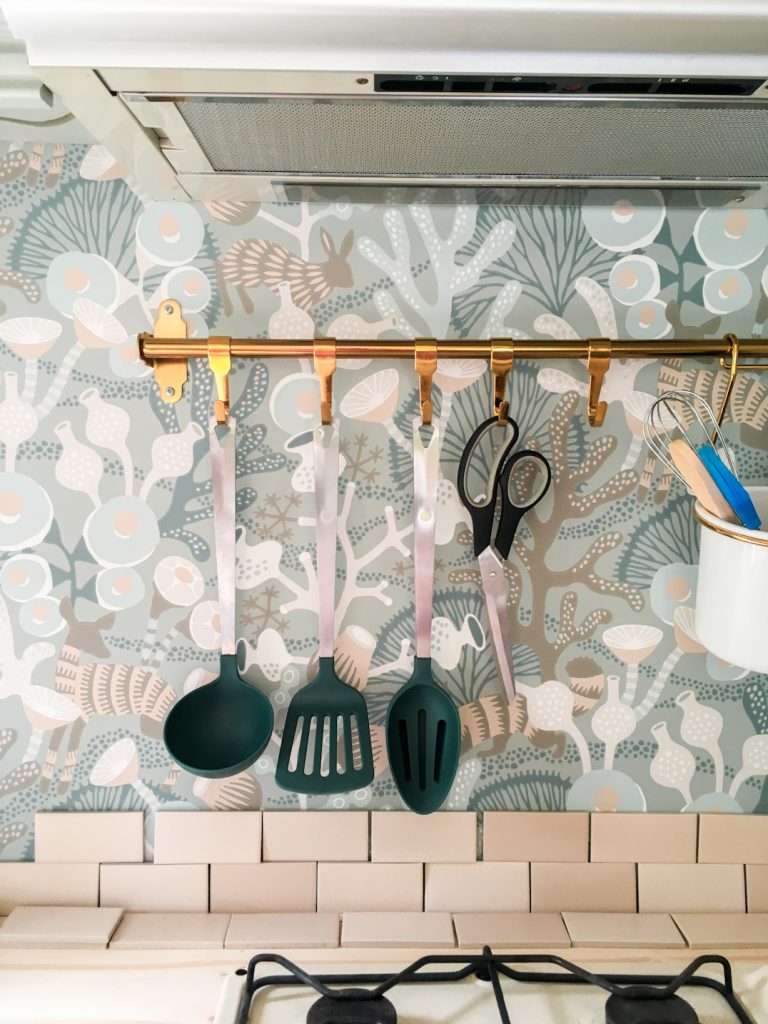 De tegeltjes vond ik verstopt ergens achterin een kringloopwinkel en ze hadden de perfecte kleur. Ze zitten nog niet vast omdat ik het aanrecht nog één laag lak wil geven voordat ik de tegels ga zetten, maar je kunt zo wel zien wat een gouden vondst ze waren.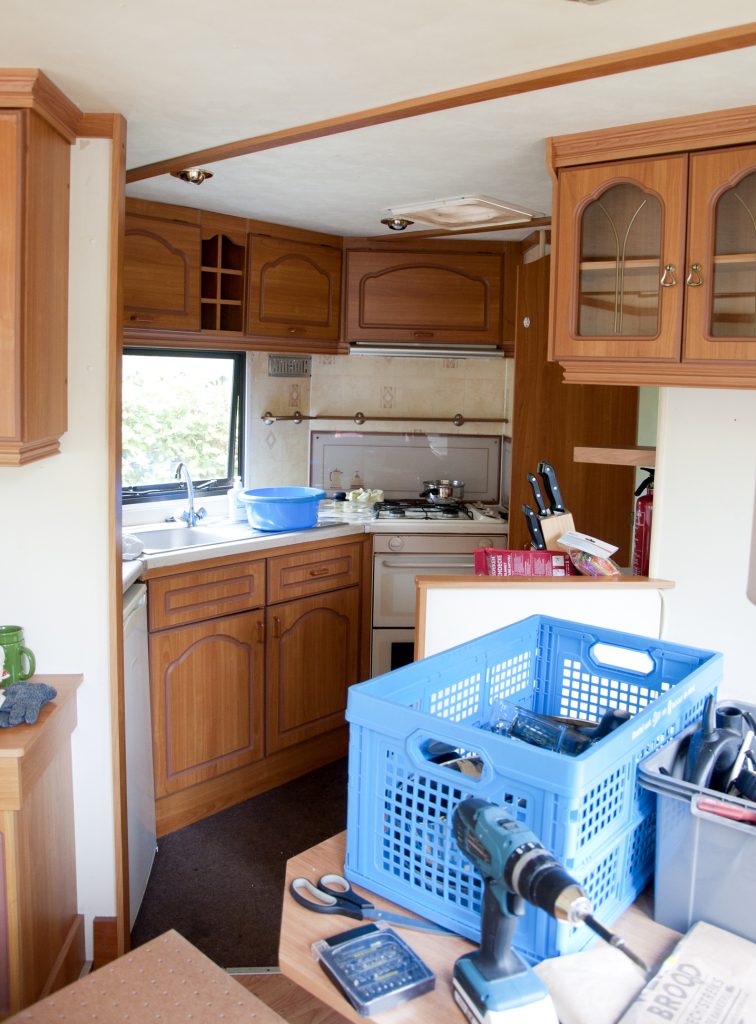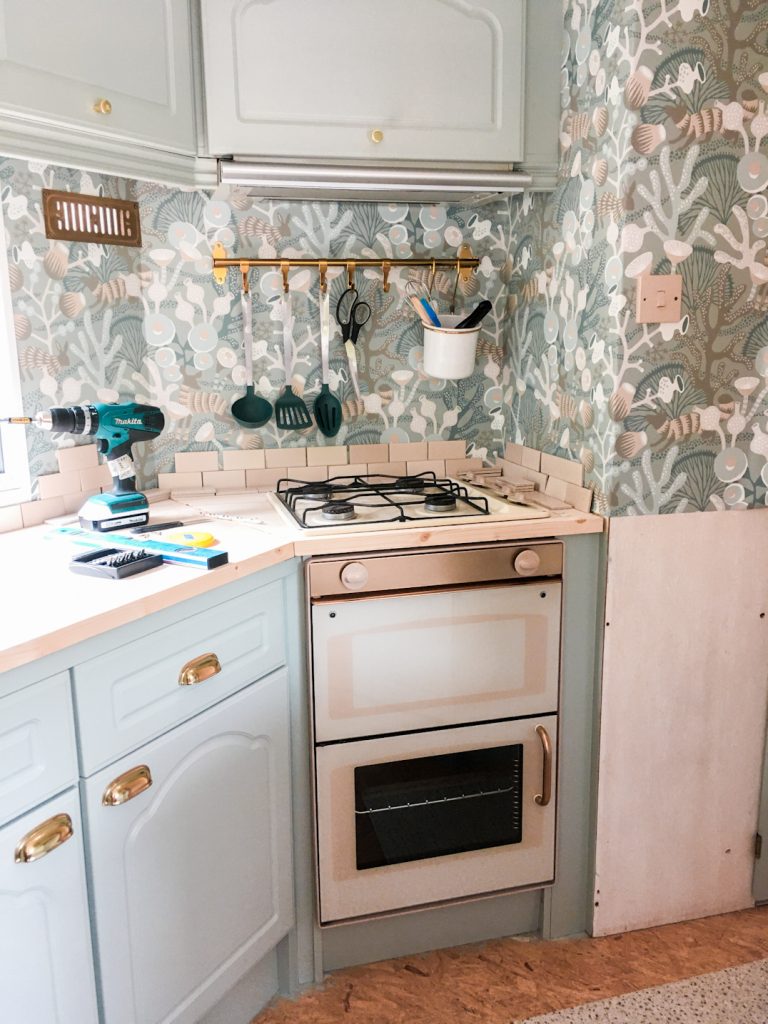 Nog even een cheecky before & after. Het was zó bruin en plastic en hopeloos gedateerd. Ok, het is niet een gelikte design keuken geworden want dat had gewoon gek gestaan en dan had ik veel minder kunnen hergebruiken. Maar het is wel heel leuk dat de vorm van de deurtjes in combinatie met een likje verf en een nieuwe hendel opeens een cottage feel krijgen in plaats van een jaren 80 poepbruin cafe sfeer die het eerst had.
***
Alhoewel ik by NO MEANS een ervaren caravan klusser ben, als je zin hebt om ook een klein plekje voor jezelf te maken ergens in de natuur en je hebt houtje-touwtje-klustips nodig (ik zie mijn caravan vooral als een soort boomhut voor volwassenen) vraag maar raak!