De babymadness. Het overvalt je. En het is héél makkelijk om je te laten meeslepen door alle instagram-moeders en pinterest plaatjes (en hormonen, damn you hormonen). Want als het om baby's gaat, is alleen het allerbeste (lees: allerduurste) goed genoeg, meer is veel beter dan minder en zo'n klein hummeltje neemt met al zijn/haar bagage zó je hele huis over. Maar ik heb een leuk nieuwtje: dat mag, maar het hóéft niet!
Disclaimertje om mee te beginnen: mijn pinda zit nog warm en veilig in mijn buik, dus praktische ervaring heb ik nog niet. Dit zijn dus tips voor alle mama's en papa's to be, die net als ik géén flauw benul hebben wat ze te wachten staat en erover nadenken om voor de zekerheid maar de hele Prénatal leeg te kopen, te verhuizen naar een degelijke woonwijk en dan ook maar gelijk hun kleine autootje in te ruilen voor een stationwagon…
Ik heb een paar keer gejojood tussen amper iets kopen voordat de baby komt en alles te kopen wat los en vast zat en uiteindelijk kwam ik ergens in het midden uit. Dit zijn de ontdekkingen die ik tot nu toe heb gedaan: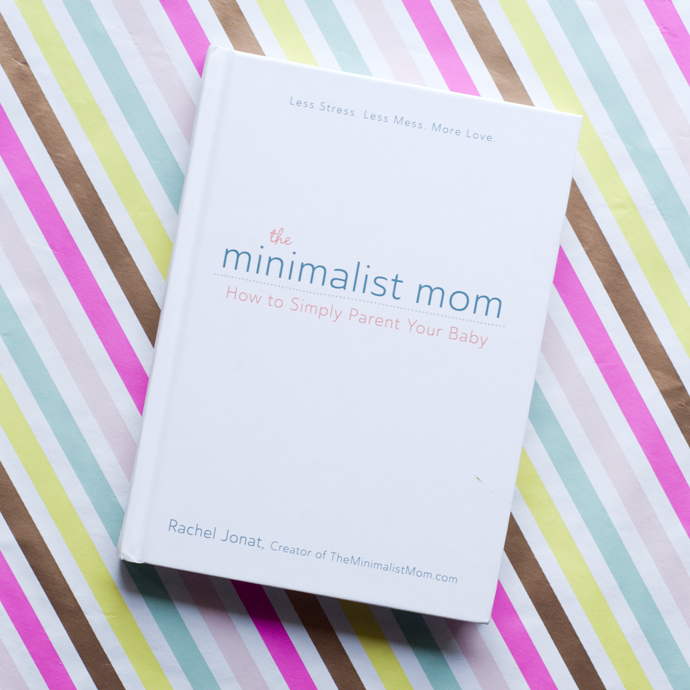 Tip #1: The minimalist Mom (boek)
Dit boek zorgde ervoor dat ik mezelf uit de babymadness kon halen en weer een beetje logisch na kon denken. TheMinimalistMom.com is een blog die (you guessed it) gaat over hoe je met weinig ruimte en middelen prima een fijn stel kinderen op kan voeden. Je kunt een kijkje nemen op de blog maar ik vond het boek handiger omdat daar alle tips & tricks keurig onder elkaar staan en het makkelijk is om dingen op te zoeken. De minimalistische aanpak met baby's en kinderen is niet ontzettend populair en ik voelde me wat eenzaam (en ook een beetje een freakshow) maar door dit boek kreeg ik veel meer zelfvertrouwen. Tom is het helemaal met me eens, maar het voelt soms een beetje als wij tegen de rest, dus een boek geschreven door iemand met ervaring heeft me enorm de goede weg op geholpen.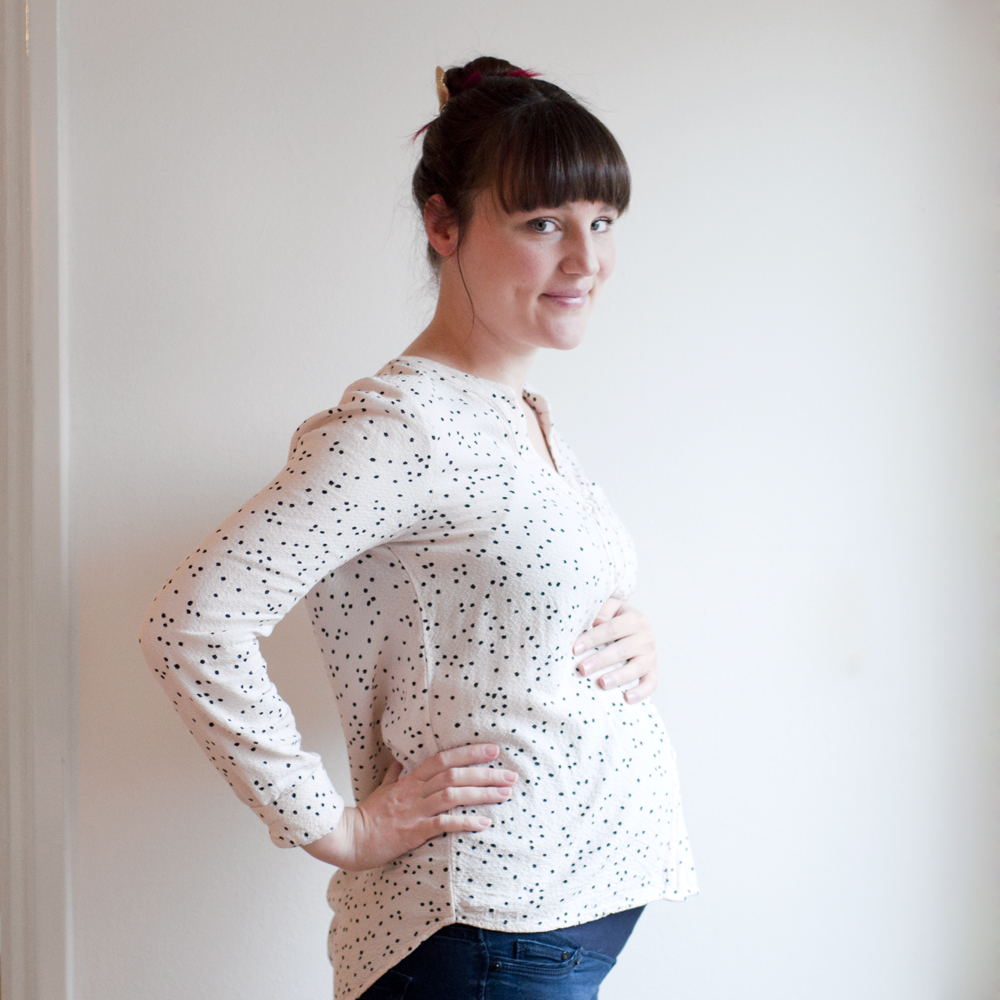 Tip #2: Tweedehands/alternatieve positiekleding.
Mijn babybump heeft er lang over gedaan om tevoorschijn te ploppen, maar ik pas al vanaf dag 1 niet meer in mijn skinny jeans. In plaats van meteen naar de Noppies te rennen voor dure preggopants, leggings en jurkjes, red ik het al 26 weken met leggings in een maatje groter, Tom zijn pyjamabroek voor thuis en twee heerlijk tweedehands wijde truien die net over mijn billen vallen (een kabouter formaat hebben heeft ook voordelen). Omdat ik toch wel weer eens een broek wilde, paste ik bij H&M een positiebroek met sexy elastieken band, noteerde de goede maat en kocht vervolgens een tweedehandsje via Marktplaats. Vier keer zo goedkoop en heel fijn om voor zo'n korte tijd niet een gloednieuwe garderobe aan te hoeven schaffen die na een jaar achterin de kast gaat liggen verstoffen. Marktplaats is perfect als je weet welke maat je moet hebben, maar fysieke winkels zijn dan weer fijn om te kunnen passen. Bij de kringloop kon ik amper iets vinden, maar bij tweedehands kinderkledingwinkel Popke in Groningen zag ik dat ze veel meer keuze hadden. Kijk in jouw woonplaats of er tweedehands winkels zijn die hier specifiek op zijn gericht. Toch liever nieuw kopen? Oversized kleding kan héél lang dure positiekleding vervangen. En die kun je na je zwangerschap ook nog gewoon aan! Het enige wat ik nieuw heb gekocht is een grotere, extreem comfortabele bh. Want alhoewel mijn buik op zich heeft laten wachten, waren mijn boobies er als de kippen bij met groeien (en zeer doen)…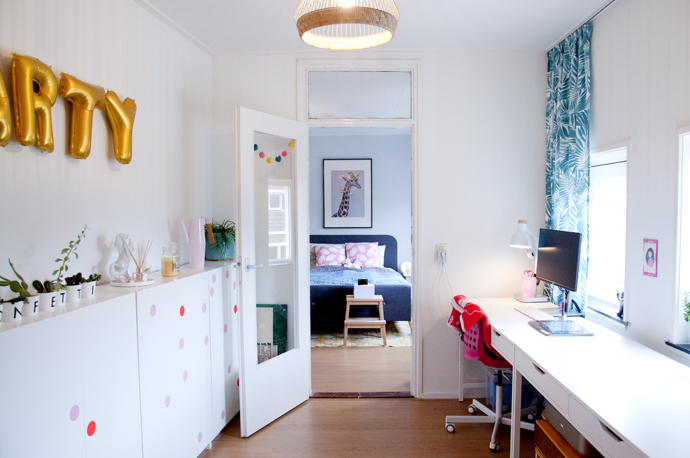 Tip #3: Koop (nog) geen grotere auto of een groter huis.
Geluiden die we veel hoorden om ons heen toen we vertelden dat we een kindje verwachten waren: 'oh, dan moeten jullie je Mini (auto) maar inruilen' en 'oh dan ga je naar een groter huis in een dorp verhuizen'. Geen adviezen, maar opdrachten en toekomstvoorspellingen. En bedankt. Natuurlijk kan het zo zijn dat we onze schattige auto op een gegeven moment niet meer prettig vinden en dat ons kindje straks een eigen kamer wil. Daar komen we vanzelf achter. Maar voordat die behoefte er is, gaan we lekker niks veranderen. De pinda komt eerst gezellig bij ons in de slaapkamer te liggen en als hij/zij/wij eraan toe is/zijn om ergens anders te slapen, dan past het wiegje prima in mijn werkkamer of doe eens gek, in de badkamer. We hebben een wandelwagen op het oog die je in drie tellen op kunt klappen tot een formaat die makkelijk in onze kleine kofferbak past. En aangezien ik nu iemand ben die praktisch óveral naartoe loopt, denk ik niet dat we straks opeens alles met de auto gaan doen. Een groter huis en een grotere auto zijn een stuk duurder, dus hoe langer je het volhoudt met de dingen die je nu al hebt, hoe meer geld je in die tijd kan besparen en kan uitgeven aan een goede babysitter, drie weken lang Deliveroo bestellen (in Groningen is dat Fooddrop, ik heb er nu al zin in) of een dagje minder werken in de week…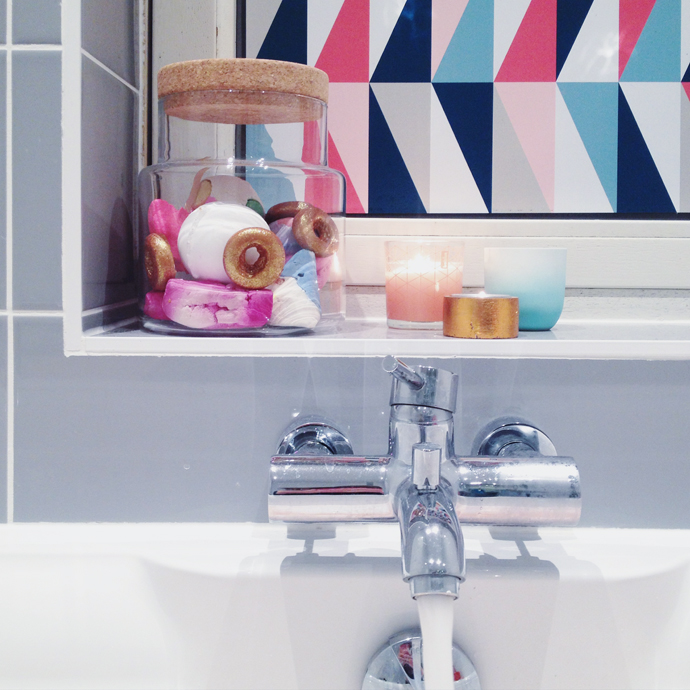 Tip #3B: Kijk naar de positieve kanten van je huidige huis (indien van toepassing).
Ik moet toegeven dat ik eerst wél ontzettend graag wilde verhuizen voordat de baby kwam. Niet persé omdat ik ons huis stom vind, maar onze volksbuurt kan heel rumoerig zijn, al onze kamers zitten aan de straatkant en ik mis wel echt een tuintje. Maar omdat we beide zelfstandig zijn (en Tom nog maar net), hebben we nog niet genoeg bewijsmateriaal voor de bank dat we écht wel genoeg centjes verdienen voor een nieuwe hypotheek. Iets waar ik eerst heel erg van baalde, maar nu kijk ik vooral naar de positieve kanten van ons huis. Dat ik in het donker alles kan vinden bijvoorbeeld. Of onze waanzinnige badkamer die áltijd lekker warm is met een bad en een enorme douche met deurtjes (natte baby's en tocht zijn geen goede vrienden heb ik me laten vertellen). We gluren dagelijks op Funda maar ik heb nog niet één huis gezien dat zo'n fijne badkamer heeft als die van ons. Als we dus op een dag wel verhuizen dan denk ik dat we deze badkamer exact na gaan bouwen, haha. En nee, we hebben geen tuintje, maar vorige zomer hebben we ons balkonnetje opgeknapt en er een prettig plekje van gemaakt. Niet groot, maar een ieniemini baby kan er prima in de schaduw liggen op een comfy kleedje. En die rumoerige buurt, tja, baby's kunnen ook flink wat lawaai trappen en schijnen heel lekker te kunnen slapen terwijl er een stofzuiger of föhn naast ze staat te brullen. Dus het zou prima kunnen dat wij straks meer geluid produceren dan iedereen buiten bij elkaar…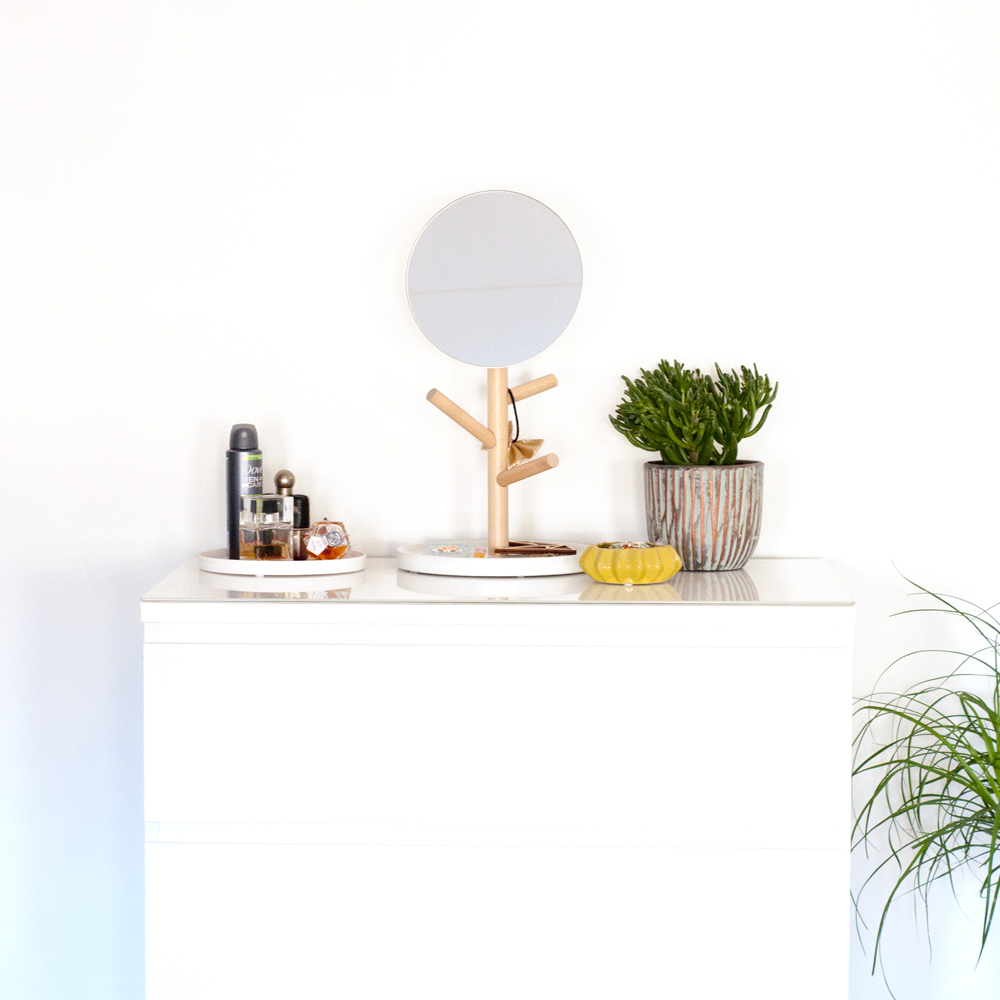 Tip #3C: (Nog) geen babykamer.
Voordat je je geliefde home office, man cave of walk in closet gaat opofferen: wacht nog maar even. Een baby heeft de eerste tijd écht nog geen eigen kamer nodig. Wij gaan heus een prettig plekje maken voor de baby om te slapen, om hem/haar te verschonen en opbergruimte voor de dingen die hij/zij nodig heeft. Maar als je je alleen concentreert op de dingen die hij/zij in het eerste half jaar (echt) nodig heeft, dan hoeven die spullen niet een volledige kamer in  beslag te nemen. Wij hebben het geluk dat we een hele royale slaapkamer en niet veel opbergruimte voor onszelf nodig hebben (voornamelijk door onze capsule wardrobe). De ladekast (zie foto hierboven) die we gebruikten voor beddengoed, sokken en pyjama's hebben we leeggemaakt om ruimte te maken voor alles wat de pinda nodig gaat hebben. Omdat we een dappere poging gaan wagen met wasbare luiers (dat is al een supergoede budget tip op zichzelf), komen we misschien wat ruimte tekort, maar ik verwacht dat dat probleem met een kleine extra trolley kan worden opgelost. Van vrienden kunnen we een wieg lenen en dus geven we in eerste instantie amper geld uit aan babymeubels. Als we van de trolley een luier/borstvoedings-wagentje maken, kunnen we ons kindje overal in huis verschonen en met wieltjes onder het wiegje, kunnen we van elke kamer een tijdelijke slaapkamer maken.
Baby's zijn onvoorspelbare wezens en kunnen hun mini neus ophalen voor de meest fancy wipstoeltjes of high fashion draagzakken en dus regelen we eerst de basics en als we straks weten waar de pinda blij of rustig van wordt, kunnen we dat altijd nog in huis halen als we het de investering waard vinden. We hebben een hele meute vrienden met jonge kindjes en na een maandje of twee/drie gaat onze pinda waarschijnlijk al een paar dagen naar het kinderdagverblijf. Genoeg plekken dus om babygear uit te testen voordat het allemaal ongebruikt in onze woonkamer staat te staan…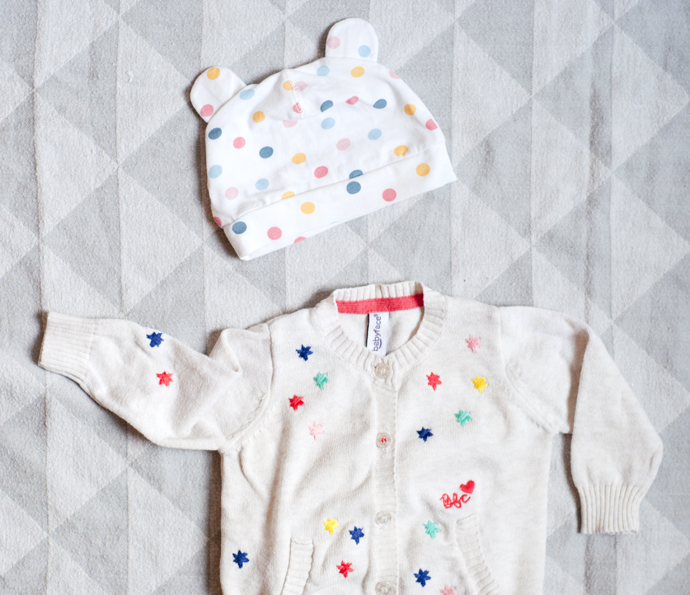 Tip #5: tweedehands babykleding.
Behalve dat je héél veel geld bespaart (€25,- voor een pakje wat je kleintje anderhalve week aan kan is in mijn ogen echt insane), is het ook nog eens een fantastische manier om fast fashion tegen te gaan. Zelf koop ik bijna alleen nog kleding die tweedehands is en als ik nieuw koop, dan kies ik voor kleding die gemaakt is onder goede werkomstandigheden en/of van biologisch katoen (uitzonderingen maak ik trouwens wel voor ondergoed en soms schoenen/tassen). Ik was een beetje bang dat dat principe moeilijk te combineren was met een baby maar dat viel gelukkig enorm mee! Marktplaats is een geweldige plek voor tweedehands baby kleding. Omdat die kleintjes overal zo snel uitgroeien is veel tweedehands kleding nog in perfecte staat en het kost maar een paar euro. Het is makkelijk te verzenden omdat het zo klein is en de keuze is eindeloos. Voor maat 50 (pasgeboren babymaat) zijn zo'n 5000 advertenties te vinden en je kunt ook hele paketten kopen om in één klap klaar te zijn. Een heel pakket haalde de fun van het babykleren shoppen er een beetje uit voor mij, dus ik heb vooral losse pakjes en setjes bij elkaar geshopt. De verzendkosten zijn dan vaak hoger dan de prijs die je voor het kledingstukje betaalt, maar het is nog steeds véél goedkoper dan nieuw en het is net zo leuk. Het aanbod in kringloopwinkels in kleine babymaatjes viel me heel erg tegen, maar tweedehands kinderkledingwinkel Popke in Groningen (die kwam in tip #2 ook al voorbij #nospon) had enorm veel keuze en de prijzen kwamen overeen met Marktplaats prijzen maar dan zonder de verzendkosten. Zo'n soort winkel is ook heel handig als je NU iets moet hebben omdat je baby OPEENS uit al zijn/haar kleertjes is gegroeid. Dat schijnt je te kunnen overkomen, ik ben daar verder clueless over…
♥♥♥
Want dat ben ik: volledig clueless! Maar zelfs als je clueless bent dan heb je de keuze om je niet mee te laten slepen door de babymadness. Als je iemand bent die zijn/haar hele leven heeft gewacht om he-le-maal loco te gaan op een prachtige babykamer, ga er dan helemaal voor! Het gaat er vooral om dat je dingen doet omdat je je daar goed bij voelt, het bij je past en niet omdat je het gevoel hebt dat het moet of omdat anderen het je opdwingen. Er zijn een heleboel dingen die het leven makkelijker maken als je een newborn hebt, maar een kindje heeft alleen eten, een schone luier, wat kleertjes aan zijn lijf, een lekker plekje om te slapen en een stel blije ouders nodig dat voor hem/haar zorgt. Of zijn/haar outfit matcht met het behangetje in zijn/haar gloednieuwe slaapkamer zal hem/haar een worst wezen…