Somehow I prefer stuff for kids. From clothing to accessories, I just like it bright and playful…
Het komt idioot vaak voor dat als ik iets leuks zie in een winkel, dat het eigenlijk voor kinderen bedoeld is… Als ik bij de kinderkleding afdeling van de Hema loop vind ik het vaak heeeeeeel jammer dat die schattige truitjes en jurkjes mij niet passen (and don't get me started about de sokjes, die wil ik ook aan!). En met kinderkamers is het niet veel anders…
Op de een of andere manier kun je met een kinderkamer HELEMAAL uit je dak gaan, terwijl een slaapkamer voor volwassenen veel rustiger en meer classy is. Om arme Tom te sparen blijft het in onze slaapkamer bij bloemetjesgordijnen en felgele kastjes, maar stiekem fantaseer ik over…
EEN BIJZONDER BED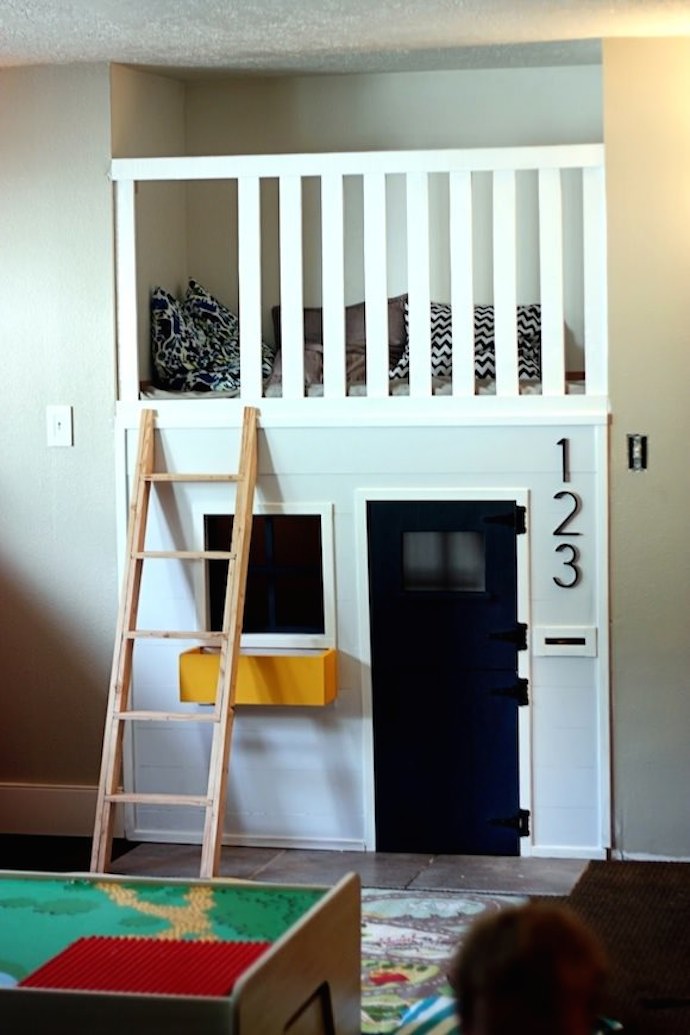 Closet no more by Fe Fi Fo Famma.
Een huisje in je kamer! Met een brievenbusje en een huisnummer!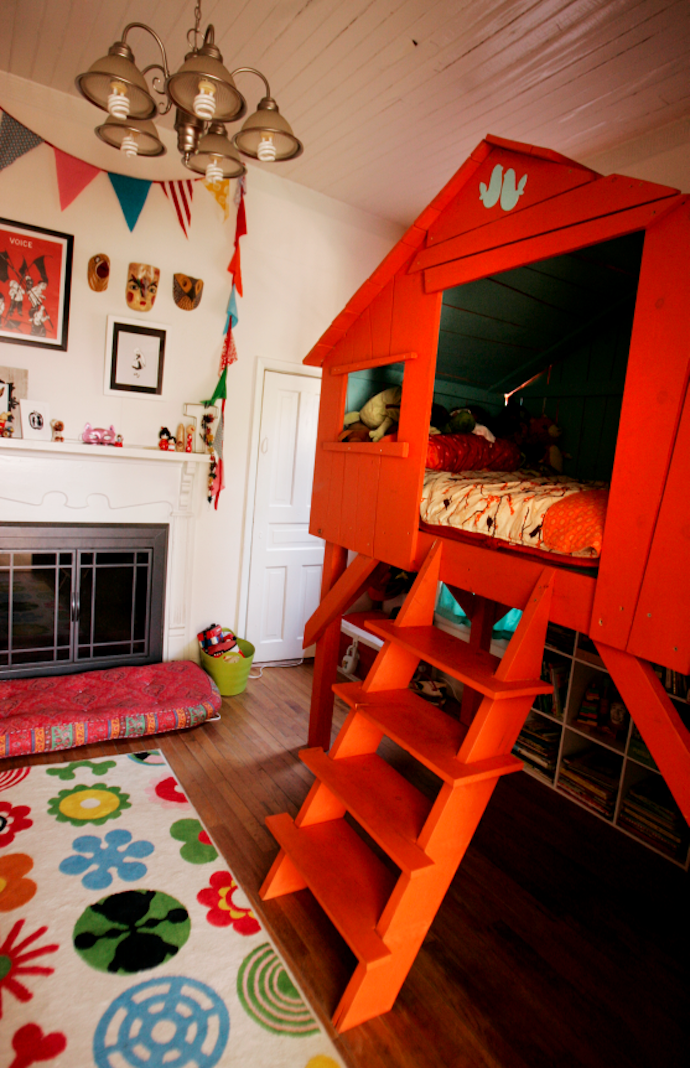 Treehouse by  The Slow Life NC.
Een knaloranje 'boom' hut! Zoooooo knus ziet dat eruit!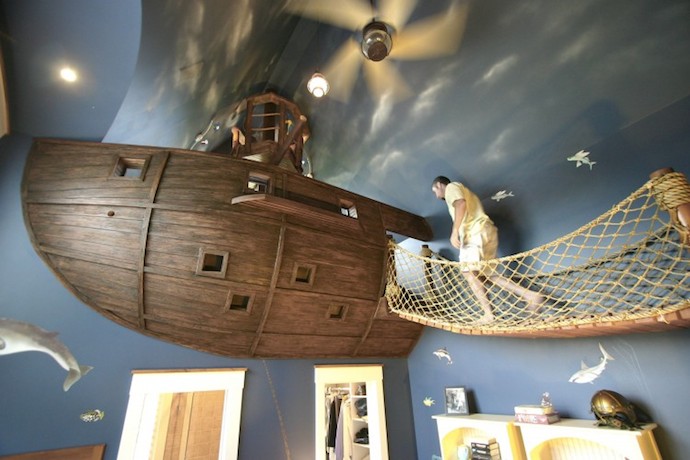 Ultimate pirate ship bedroom by Kuhl Design. 
Ok, ik vrees dat dit niet eens een kinderkamer is… Volgens mij is deze piratenbootkamer van de meneer die daar de loopbrug op loopt. Ach, hij heeft zijn kinderkamerdroom waar gemaakt, dat is meer dan ik kan zeggen!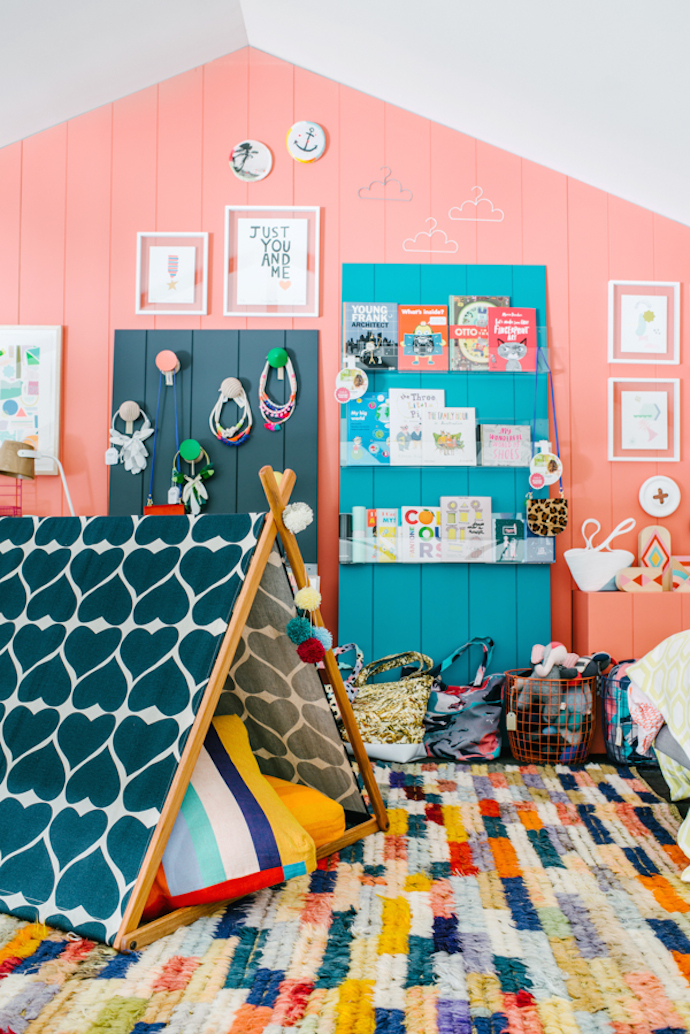 Design for kids by The Design Files. 
Dit is mijn favoriet: slapen in een tentje! Ik vind de hele kamer trouwens echt fantastisch, de kleuren, het kleed en de wolkenhangertjes aan de muur, so cute!
THEMA KAMERS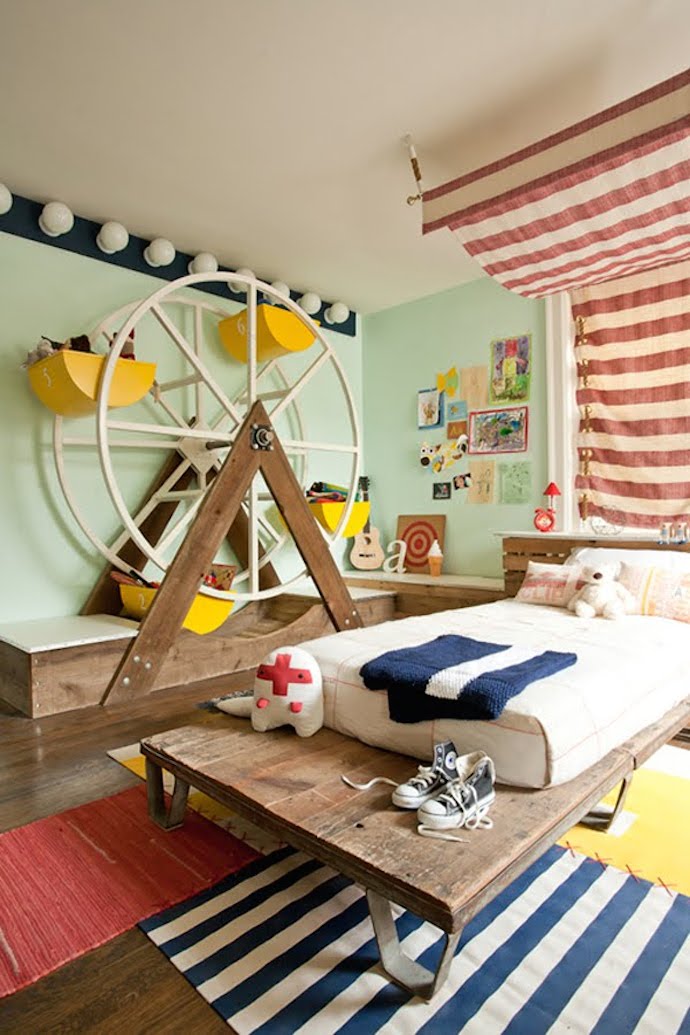 Circus Love by Dixon Style.
I'm dying! Een reuzenrad(je) in je kamer om spullen in op te bergen. Die lampen erboven zijn vast ook geweldig als ze aan staan.
Hoppekids theme bedrooms and accessories at www.OTTO.nl.
Kant en klare thema kamers kun je vinden bij OTTO! Met een echte kasteeltoren op je bed of lieve hertjes en konijntjes. En daar is het tentje weer in de indianenkamer. Blijkbaar wil ik graag een tentje in mijn slaapkamer. En stiekem wordt Tom ook erg enthousiast van tentjes, misschien kunnen we van de zomer een klamboe kopen tegen de muggen en er iets leuks mee doen of zelf een soort hemelbed knutselen…
Eclectic kids room by The Boo and The Boy.
Dit bosdierenthema vind ik ook geweldig. De muurschildering doet me denken aan 'painting by numbers'. Mooie kleuren en zo tof dat er gewoon OVER de deur heen is geschilderd… Je kan ook gewoon niet fout gaan met hertjes, tijdloos zijn ze…
KINDERBEHANG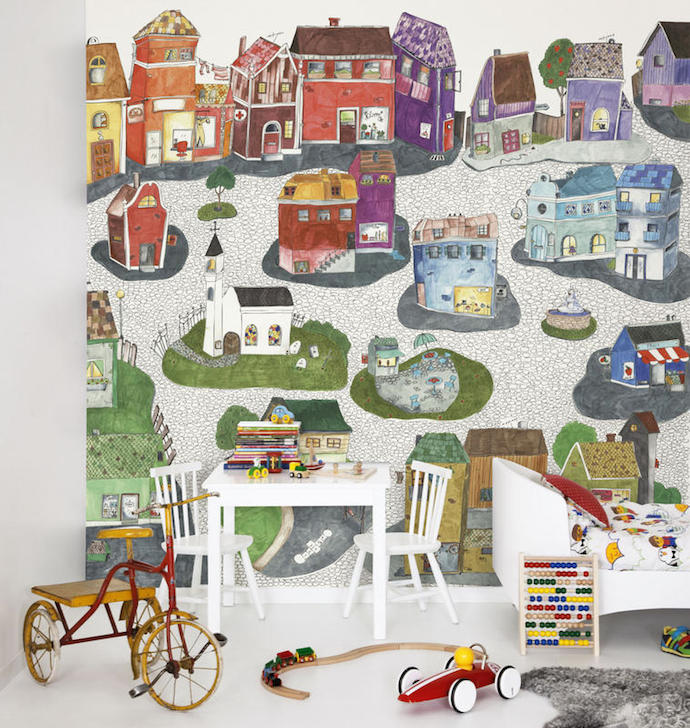 Joyville wallpaper by Mr. Perswall.
Volgens mij kun je dit behang zelf inkleuren. Awesome!
Sunny walls wallpaper by Jane Reiseger.
Meloenen, ananassen en kersjes, mijn favoriete fruitjes als het om patronen gaat. En hier zitten ook nog grappige gezichtjes op! De laatste heet tuti fruti en die vind ik natuurlijk het leukst, MORE IS MORE!
Magnetic woodlands wallpaper by Sian Zeng.
Nog iets geweldigs: magnetisch behang met figuurtjes die je erop kunt plaatsen. Geen woorden voor, ZO COOL!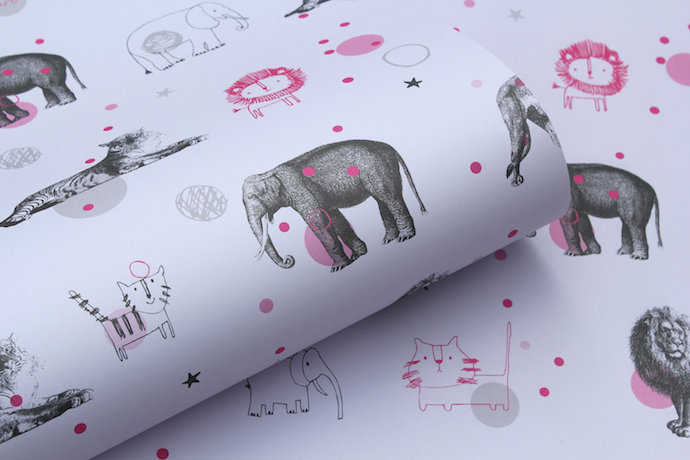 Wallpaper by Nikkiepea.
And I saved the best for last: Behang met diertjes en doodles. Zwart/wit en roze begint een van mijn favo kleurencombinaties te worden. En ik vind realistische illustraties met leuke doodles zo'n leuke combinatie!
***
Zijn er nog meer die stiekem nog een kindje willen zijn met een mooie thema kamer?
Any more kids room enthousiasts out there?